New 2022 Honda Civic Hatchback is All Grown Up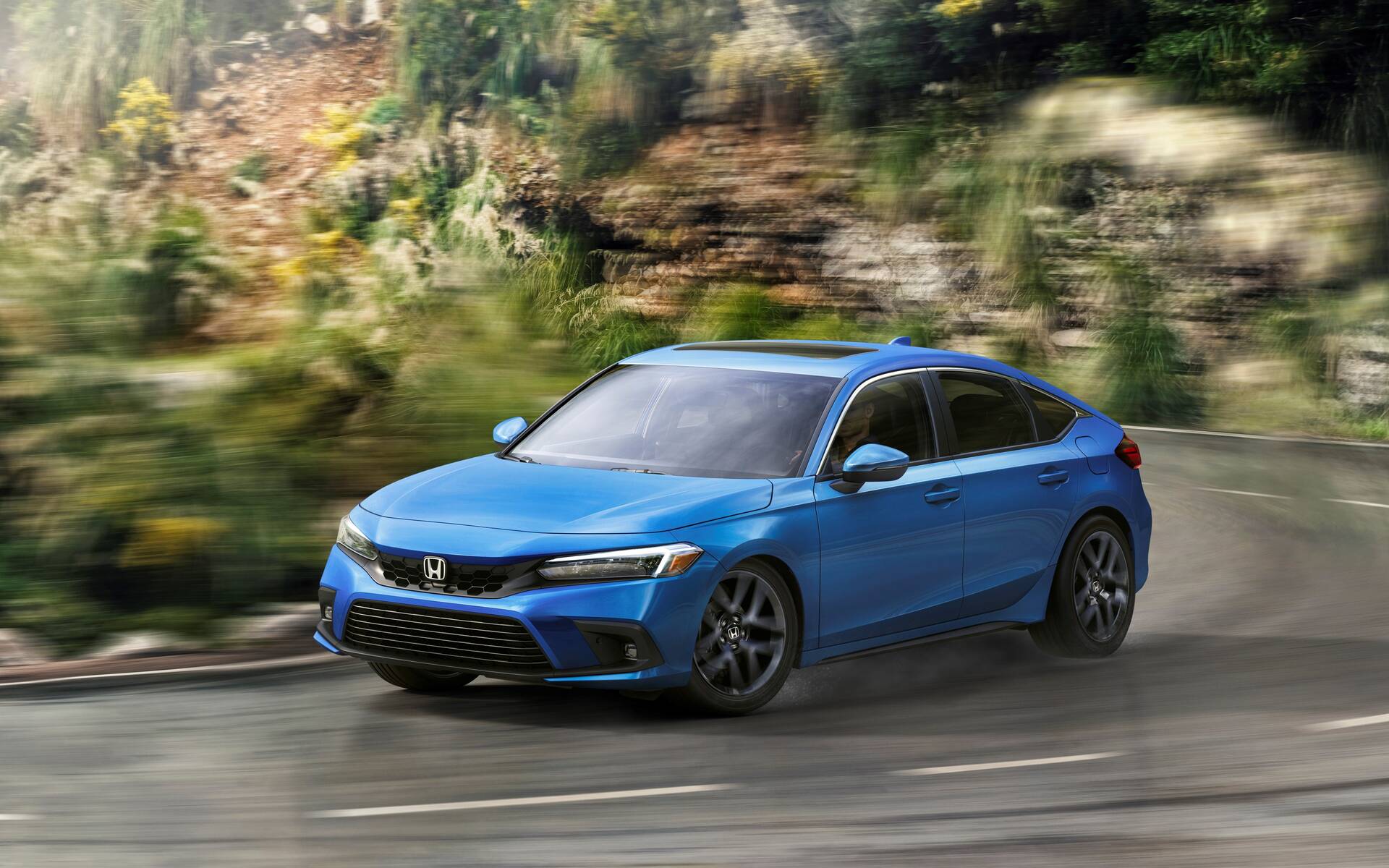 Following the Civic Sedan in late April, Honda revealed the next-generation 2022 Civic Hatchback on Wednesday night during a special event that aired on its Honda Stage YouTube channel.
With production moving from the U.K. to Indiana, the five-door Civic will reach Canadian showrooms in September. Pricing for all three trim levels, including the new entry-level LX, will be announced closer to launch.
Why So Serious?
Similar to the previous generation, the sedan and hatchback look alike when viewed from afar. In addition to the slightly taller, 124-mm shorter rear end, the new Civic Hatchback sports a different mesh design for the upper grille, as well as unique wheels and taillights, the latter connected by a light strip. The lower rear bumper has been revised and incorporates new tailpipes on each side of the diffuser.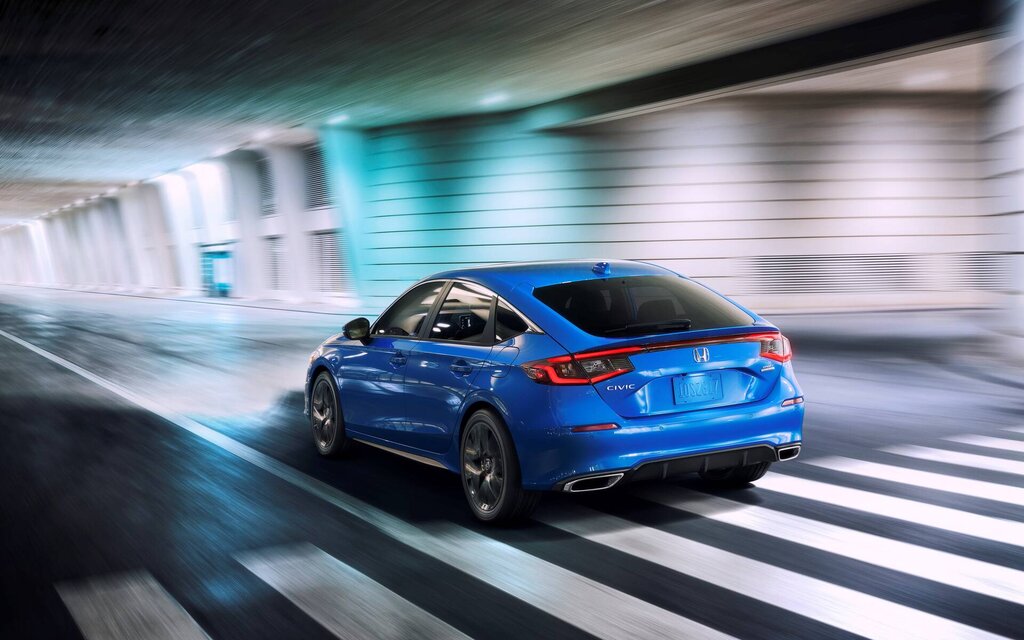 The new lightweight composite hatch structure reduces hinge size for a clean roofline, while its cargo opening is 40 mm wider. The Boost Blue body colour you see here is one of two additions for 2022 along with Smoky Mauve.
Overall, the 2022 Honda Civic Hatchback looks sleek and serious, though with less visual aggression than its predecessor. Will that please the young customers it targets? We'll see. By the way, Honda will show the new Civic Type R at a later date.
Two Engines and Transmissions
From a technical standpoint, the car boasts a 19-percent improvement in torsional rigidity versus the previous generation, while its suspension and steering were developed in Europe and fine-tuned for North America. Honda claims driving is more fun than ever.
Under the hood, you get the same two engine choices as with the 2022 Civic Sedan, or one more than the Civic Hatchback used to offer. Aiming to maintain a reasonable base price, the naturally aspirated 2.0-litre four-cylinder delivers 158 horsepower and 138 pound-feet of torque. The turbocharged 1.5-litre engine is back (Sport and Sport Touring models), producing the same 180 horsepower and 177 pound-feet of torque.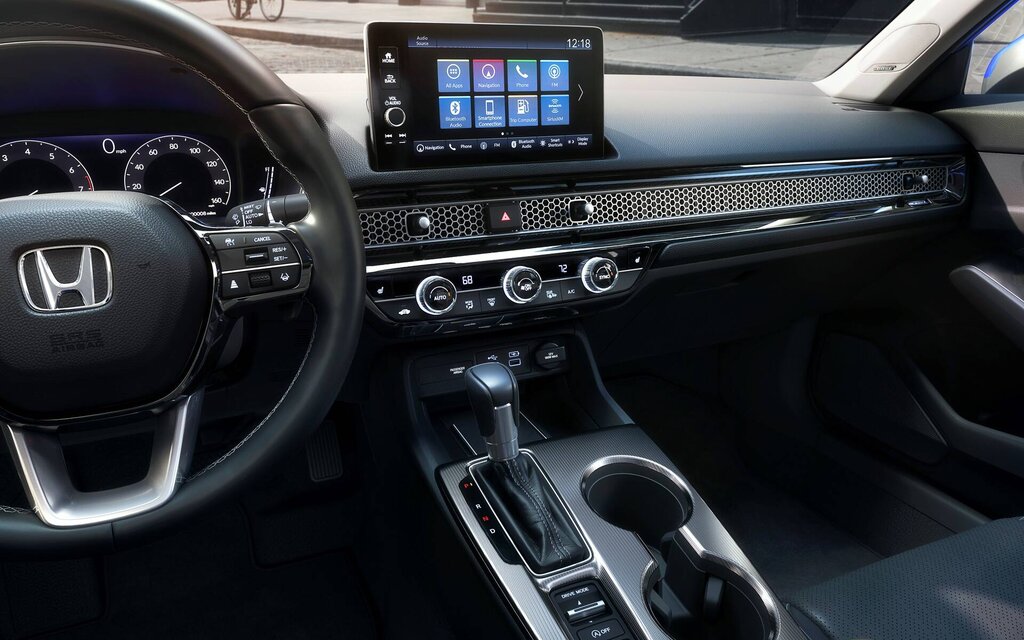 Both can be mated to an updated continuously variable transmission that's uniquely tuned for each engine and features revised Step-Shift programming that simulates physical gear changes under hard acceleration. Select models also get a new Sport mode. Unlike its four-door sibling, the Civic Hatchback offers an optional six-speed manual gearbox on all trim levels. The transmission has been revised for smoother and shorter shift throws.
While fuel economy is said to be improved, the official ratings have yet to be disclosed. A hybrid variant will be offered in select markets, but no plans have been confirmed for Canada yet. 
Modern Interior
Elsewhere, the 2022 Honda Civic Hatchback boasts pretty much the same interior features and technologies as the sedan, starting with a new seven- or nine-inch centre touchscreen with Apple CarPlay and Android Auto (wireless integration is available). There's a new heated steering wheel, too. At the top of the range, look for a 10.2-inch digital instrument panel, 12-speaker Bose premium sound system and wireless Qi-compatible smartphone charger.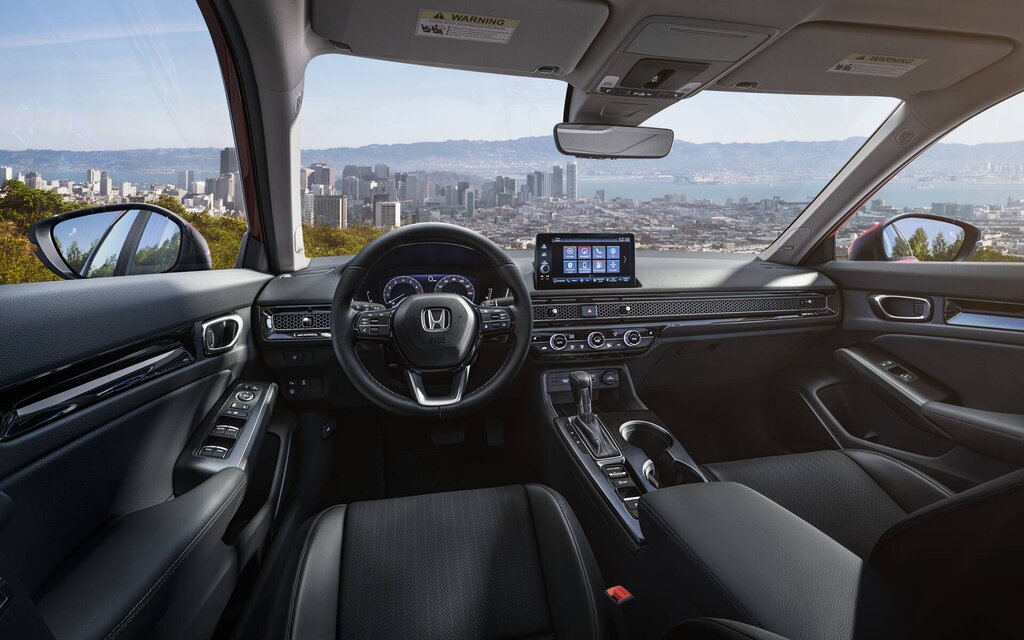 Up front, Honda's new Body Stabilizing Seats enhance comfort on long drives with added shoulder support available in Sport Touring trim. Rear-seat legroom has been improved by 36 mm and rear headroom has been preserved.
Furthermore, the standard Honda Sensing suite of active safety and driver assistance technologies uses a new single-camera system that provides a wider field of view than the previous radar-and-camera based system. It's also capable of more quickly and accurately identifying pedestrians, cyclists and other vehicles, along with road lines and road signs.
Traffic Jam Assist is a new feature for 2022. Plus, with the addition of eight sonar sensors, the Civic Hatchback Sport Touring features for the first time Low-Speed Braking Control and front and rear false-start prevention.
Next up: the new Honda Civic Si and Civic Type R. Stay tuned!
Watch: 2022 Honda Civic Sedan Walkaround
Share on Facebook