All-new 2022 Honda Civic Makes Official Debut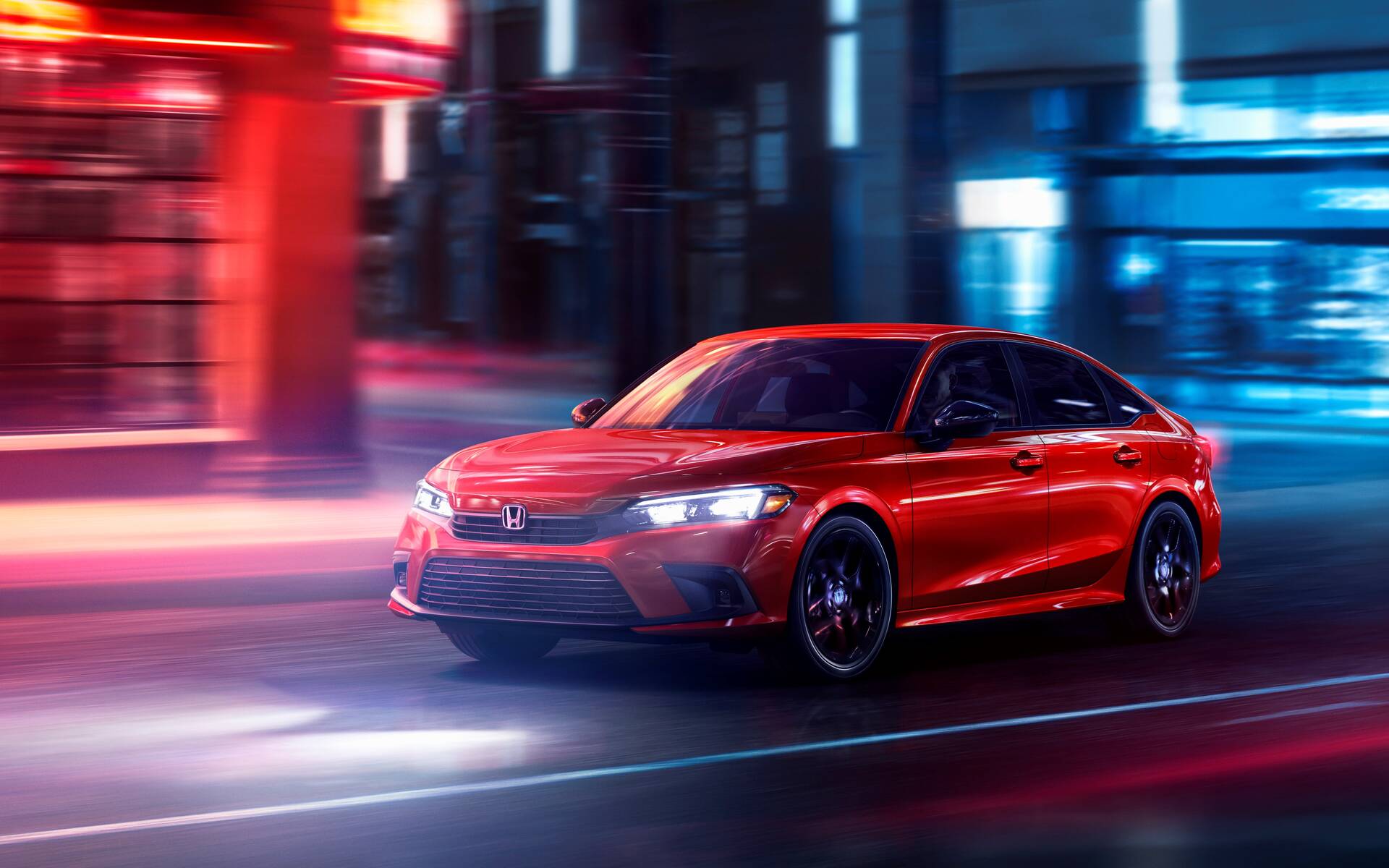 The completely redesigned 2022 Honda Civic finally made its official debut on Wednesday night during a special event on the Twitch platform, looking more than ever to attract young customers. It will arrive in Canadian dealerships this summer.
Right off the bat, the company hails it as the most fun-to-drive and technologically advanced Civic sedan in the model's nearly 50-year history.
"Civic is the best-selling car in Canada for 23 years and we're confident the all-new 11th-generation Honda Civic will continue to be popular with Canadians with its best-in-class features, class-leading performance and new, modern and sporty styling," said Dave Jamieson, senior vice president of Sales and Marketing at Honda Canada.
More Mature Design
We've pretty much known what the car would look like ever since Honda showed the Civic Prototype last November. The 2022 Civic is sleeker, more mature and more refined. Some will say more conservative or more boring—as always it's all a matter of personal taste.
A lowered hood, front fenders and horizontal beltline improve visibility for the driver, while the bottom of the windshield pillars was moved rearward by 50 mm for a slightly more premium silhouette. The upper grille is more subtle now, but the lower grille is significantly larger to emphasize the car's wide and athletic stance.
The redesigned headlights and taillights are connected by a gently arching character line, while a more prominent crease down low links the new-look wheels. In a curious move, the standard 16-inch wheels in LX trim are still made of steel. The sedan will be available in eight exterior colours, three of which are new: Meteorite Gray Metallic, Sonic Gray Pearl and Civic-exclusive Morning Mist Blue Metallic.
Radical Transformation Inside
The interior of the 2022 Honda Civic changes radically for the sake of simplicity, space and user-friendliness. The new 7- or 9-inch touchscreen (depending on the trim level) now rises from the top of the dashboard to reduce distractions while driving. It retains physical controls for volume and home/back functions. Meanwhile, the instruments behind the steering wheel—which is heated at last—come in the form of a 7- or 10.2-inch digital display similar to the Accord's.
A striking metal honeycomb mesh accent stretches from door to door across the dash. It serves both form and function, creating a visual dividing line between the audio, information displays and the climate controls, while the intricate flow-through design conceals the air vents.
Designers have also used higher-quality materials throughout, especially on touchpoints, with close attention paid to the operation of all switchgear and controls. There's a new premium centre console trim specifically designed to hide fingerprints and smudges. The front seats are completely redesigned, as well, providing increased comfort.
With regard to technology, wireless Apple CarPlay and Android Auto is standard for 2022, while the top-line Touring model gets wireless smartphone charging, not to mention the first Bose audio system in a Civic, complete with 12 speakers.
Oh, by the way, front- and rear-seat legroom hasn't changed one millimetre. As for the trunk, it's a tad smaller at 419 litres (previously 428 litres).
Same Engines, But...
On the road, expect sharper handling and a smoother ride thanks to an 8-percent improvement in torsional rigidity and 13-percent improvement in bending rigidity versus the previous generation. The naturally aspirated 2.0-litre engine and turbocharged 1.5-litre engine are back. The former delivers the same 158 horsepower and 138 pound-feet of torque, but the latter now generates 180 horsepower (+6) and 177 pound-feet of torque (+15).
Both are mated to an updated continuously variable automatic transmission that's uniquely tuned for each engine and features revised Step-Shift programming that simulates physical gear changes under hard acceleration. Select models also get a new Sport mode. A manual gearbox will continue to be available in the Civic Hatchback (including Type R) and sporty Civic Si variant.
Multiple measures contribute to improved fuel consumption ratings, Honda claims. In reality, we're talking about 2-3 tenths of a litre with a combined 6.9 or 7.1 L/100 km depending on the trim level. If you want more efficiency than that, let's say comparable to a Toyota Corolla Hybrid or Hyundai Elantra Hybrid, you need to turn to the Honda Insight.
Elsewhere, the suspension benefits from upgraded components. Together with the 35-mm longer wheelbase and 12-mm wider rear track, stability and comfort are increased. New front brake callipers are also part of the package.
Safety Taken to Another Level
The 2022 Honda Civic introduces multiple new active and passive safety systems. In a world's first application, both driver and passenger frontal airbags are designed to better reduce conditions associated with brain injury by better controlling head motions in certain types of crashes. This technology is similar in intent to the award-winning passenger front airbag featured in the 2021 Acura TLX and 2022 Acura MDX.
Furthermore, the standard Honda Sensing suite of active safety and driver assistance technologies uses a new single-camera system that provides a wider field of view than the previous radar-and-camera based system. It's also capable of more quickly and accurately identifying pedestrians, cyclists and other vehicles, along with road lines and road signs.
Traffic Jam Assist is a new feature for 2022. Plus, with the addition of eight sonar sensors, the Civic features for the first time Low-Speed Braking Control and front and rear false-start prevention.
The 2022 Honda Civic sedan goes on sale June 16 starting at $24,465 plus destination charges of $1,700. The coupe is dead, remember, while the new Civic Hatchback will be revealed on June 23.
Share on Facebook