2022 Audi RS 3 Coming to Canada With Drift Mode
The upcoming 2022 Audi RS 3 will be available in five-door Sportback and four-door sedan configurations when it goes on sale in Europe this fall.
In Canada, only the sedan will be offered starting in the second quarter of next year. The Car Guide took part in a virtual presentation recently and learned a bit more details about this high-performance model.
Five Cylinders
The second-generation Audi RS 3 sedan will retain the original's turbocharged inline five-cylinder engine while featuring two special drive modes including RS Performance and RS Torque Rear. The latter makes it easy to go sideways on a track and become a drift master thanks to a new Torque Splitter.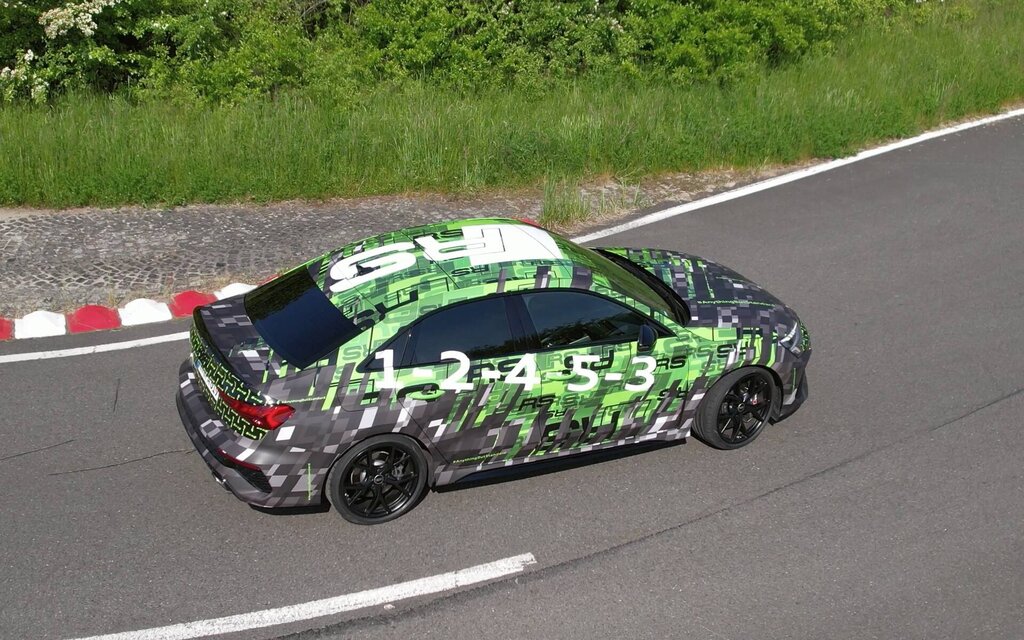 What is it? Replacing the Haldex differential, the system consists of two multi-plate clutches that handle torque vectoring from one side to the other. In RS Performance mode, the Torque Splitter ensures neutral handling by adjusting torque distribution to eliminate oversteer and understeer. It allows for maximum speed in corners with the outside wheel getting more torque and the tire providing more traction.  
Drifting Bliss
In Torque Rear mode, the Torque Splitter can send up to 1,290 pound-feet of torque to the rear outside wheel only. In a controlled environment like a race track, this can transform the drive into pure drifting bliss as seen in the following video.
What's more, the 2022 Audi RS 3 comes with launch control featuring red, yellow and green lights, as well as gear shift indicator lights to make the best possible use of the seven-speed S Tronic dual-clutch transmission.
More Twist
As mentioned above, the award-winning turbocharged inline five-cylinder engine is back. It still produces 394 horsepower, which you can now access from 5,600-7,000 rpm, while peak torque is increased to 369 pound-feet, accessible from 2,250-5,600 rpm. There's no dead spot in the rev range.
The unorthodox engine fires up in a 1-2-4-5-3 sequence that makes for a fabulous sound. When it comes to acceleration, 0-100 km/h is achieved in 3.8 seconds—two tenths quicker than the outgoing model. Top speed is rated at 250, 280 or 290 km/h depending on the package you select. Speaking of selection, you can choose between Pirelli P Zero and Pirelli P Zero Trofeo R tires, the latter featuring a semi-slick tread design.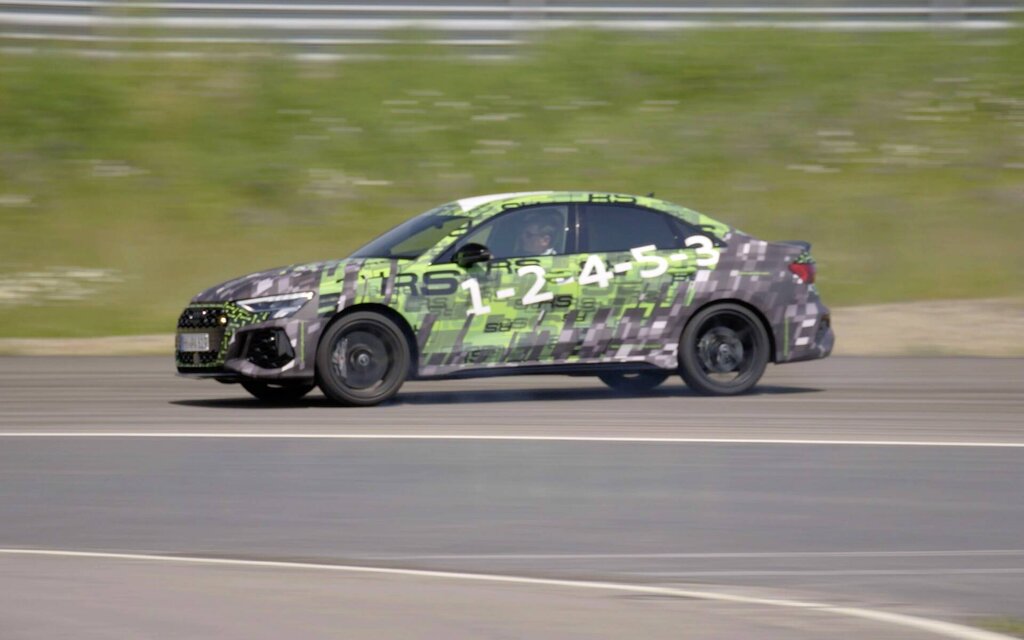 Seven Drive Modes
In addition to RS Performance and RS Torque Rear, the new RS 3 offers these five drive modes: Comfort, Auto, Dynamic, Efficiency and Individual.
Every one of them alters engine and chassis tuning including throttle response, shift points, steering assist, suspension stiffness and sport exhaust position.
Available RS Sport Suspension
In order to lower the centre of gravity, the new RS 3's ride height is reduced by 10 millimetres versus the S3 and 25 millimetres versus the base A3. The front McPherson strut suspension uses upgraded components, while the rear multi-link suspension is adapted to account for the new Torque Splitter. Optionally available is an adaptive RS Sport suspension that continuously adjusts damping characteristics based on road and driving conditions as well as the selected drive mode.
That's all the information we're allowed to share about the new 2022 Audi RS 3 at this point. The official reveal is scheduled for July 19. Auf Wiedersehen!
Watch: Gabriel Gélinas Drives the New Audi RS 6 Avant
Share on Facebook