2020 Hyundai Venue: Formerly Known as Accent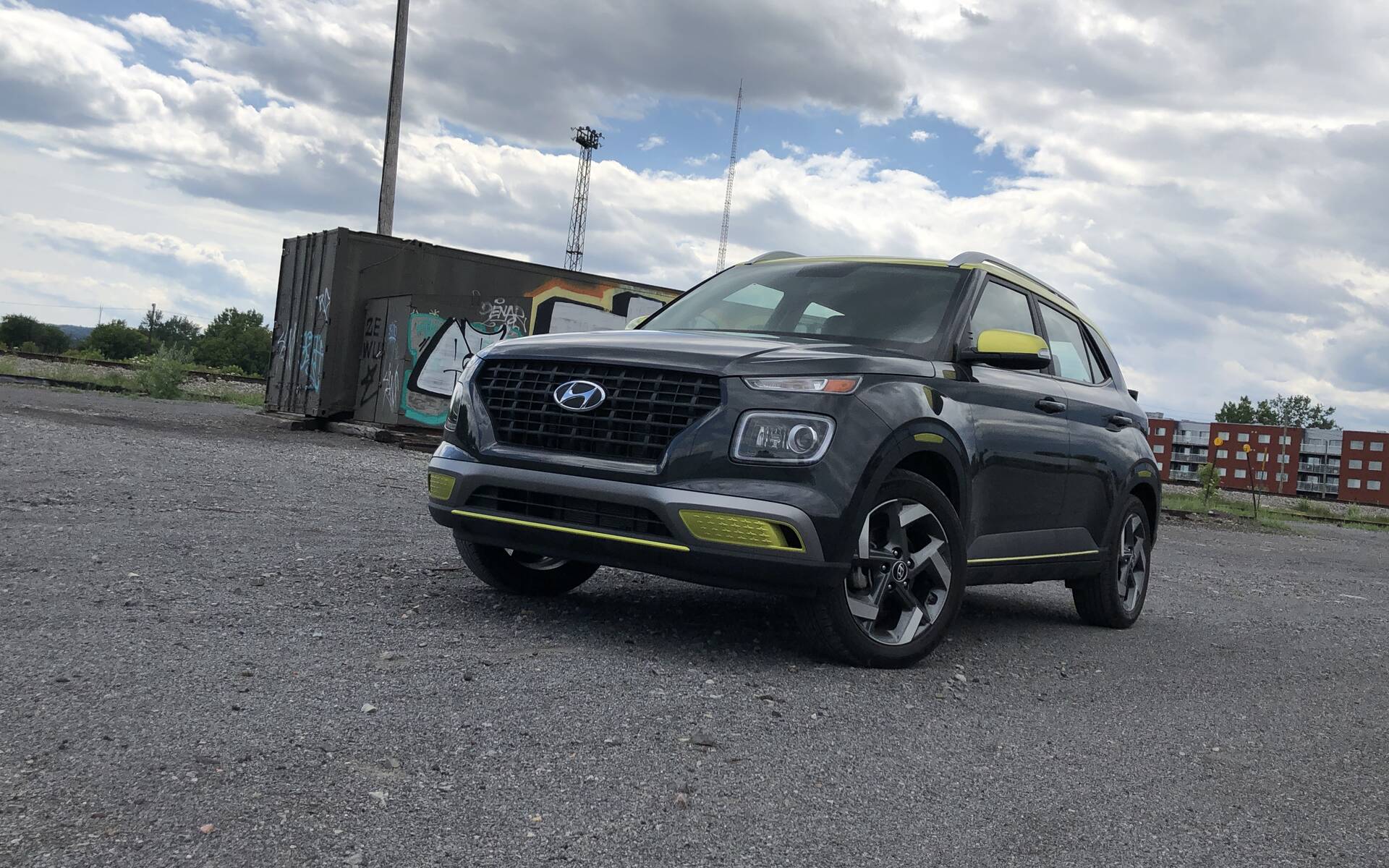 Strong points

Generous standard content
Nice interior
Great price

Weak points

No AWD
Loud cabin
Trunk is not big enough
Full report
Come 2021, Hyundai will stop selling the Accent in North America. From this point on, the Venue will become the brand's entry-level product, undercutting the completely redesigned 2021 Elantra compact sedan by a few dollars.
While the Korean automaker is marketing the Venue as a small utility vehicle, don't be fooled: this is nothing more than a raised Accent Hatchback with some extra attitude and style.
The engine is the same, namely a 1.6-litre four-cylinder that produces 121 horsepower. It is mated to a standard six-speed manual transmission, while a CVT is optional. And just like the Accent, the Venue is available with front-wheel drive only. In order to get all-wheel drive, you'll have to turn to the Kona.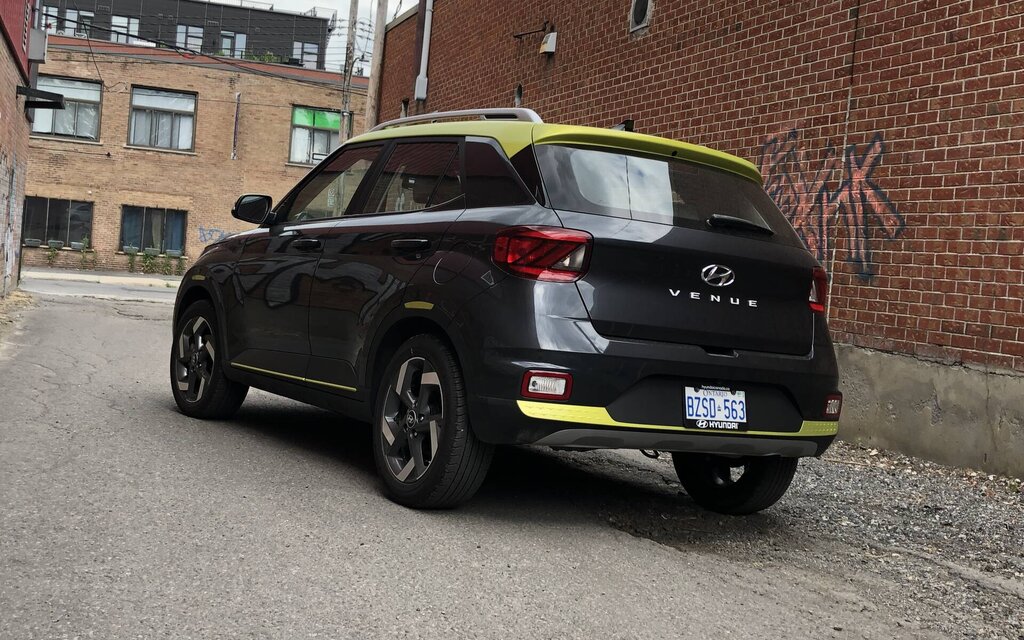 So, picture the Venue as an Accent trying to survive by throwing on an SUV costume. It's not necessarily a bad choice, mind you. With a base MSRP of just $17,099 combined with Hyundai's generously low financing rates, this cheap vehicle offers tremendous value.
Attractively Equipped
Built as a direct response to models like the Kia Soul and Nissan Kicks, the 2020 Hyundai Venue targets young drivers with lots of modern technology offered as standard.
The list includes an eight-inch touchscreen along with Android Auto and Apple CarPlay compatibility. Wireless integration of those systems can be found in Preferred trim, which also adds advanced safety features like blind spot monitoring, lane departure warning and automatic emergency braking with pedestrian detection.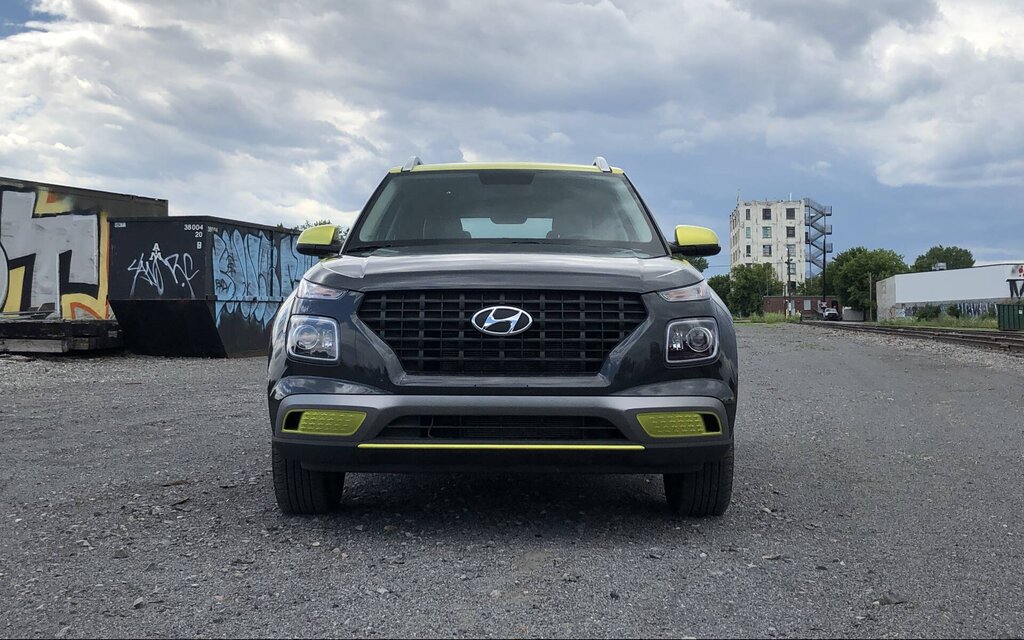 Higher up the ladder, Trend and Ultimate models get premium amenities such as 17-inch alloy wheels, a power sunroof and more. The top-line Venue Ultimate, at $24,999, is by no means a luxurious ride. Interior appointments are decent at best and it's not any quieter than the base trim.
The trunk is fairly disappointing by SUV standards. With just 528 litres, the Venue pales in comparison to rivals. The Kicks and Soul offer 716 and 668 litres, respectively. Designers missed their shot here.
Driving the Venue
The Venue provides an adequate driving position with an acceptable level of comfort given the price. Visibility is good, although we would have liked a slightly larger rear window.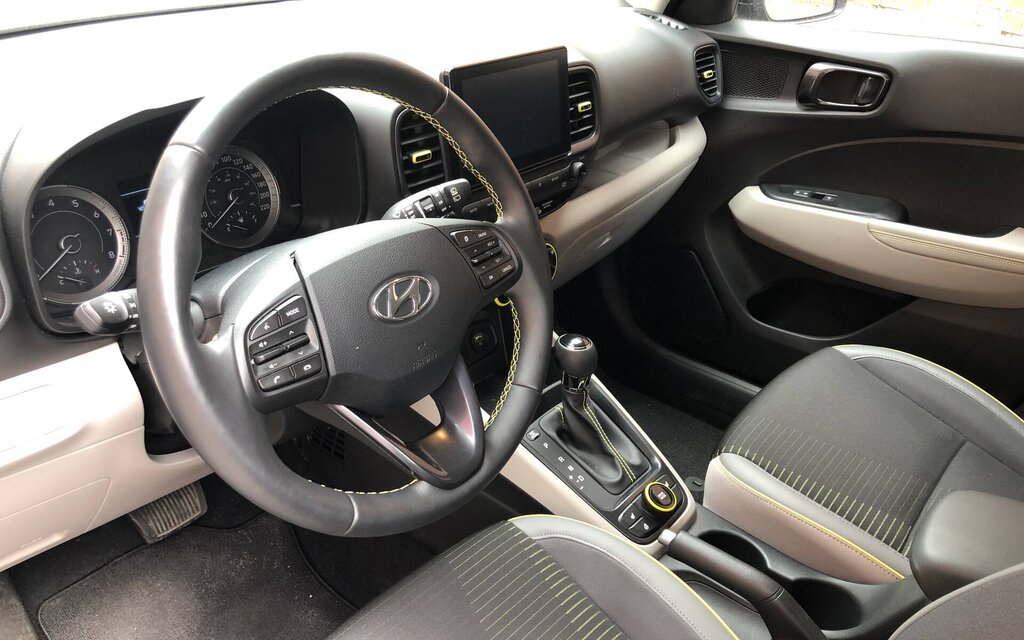 While driving around town, the Venue does its job confidently. The small engine is responsive and the CVT is not unpleasant, unless you really hammer the throttle. If you want brisk acceleration, you should look elsewhere.
The lack of noise insulation can be felt on the highway. Over time, this is probably going to annoy some drivers. Passing manoeuvres that require 80-120 km/h bursts are a struggle, but then again, this is what should be expected from such a small and low-priced vehicle.
After a full week of testing both in the city and on the highway, we wound up with an average fuel consumption of 7.4 L/100 km—good, but definitely not great for a subcompact SUV. In fact, the more powerful Hyundai Elantra and Honda Civic sedans are both more efficient than that.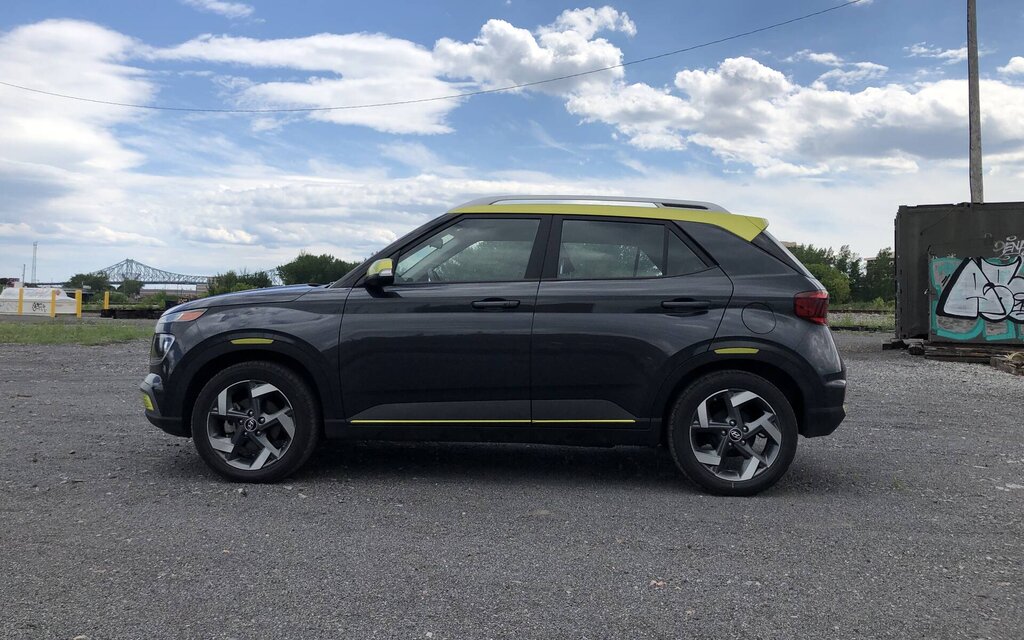 Our Verdict
Like we said earlier, the 2020 Hyundai Venue is not a bad product considering how affordable it is. It does a commendable job overall and technology will satisfy most potential customers.
On the other hand, you could spend a similar amount of money on a compact car and enjoy more comfort in addition to much better driving dynamics. Plus, if you really want a small SUV, we'd recommend paying a bit more to get a model with AWD.
We loved the Hyundai Accent for its highly competitive price. With the Venue, the company is using the same platform and powertrain, yet boosting the price up to capitalize on the SUV craze. Unless you really dig the Venue, it's best to buy an Elantra or Kona instead.
Watch: 2021 Hyundai Elantra N Line Preview
Share on Facebook