2019 Lexus UX 200: Less Saturated Fat
Strong points

Looks good
Solid ride and good driving dynamics
Top-notch interior build quality

Weak points

Not that fun to drive
Tight back seat
Irritating infotainment system user interface
Full report
Japanese luxury brand Lexus has expanded its line of utility vehicles in recent years, adding smaller and more affordable models under the top-selling Lexus RX. After introducing the compact Lexus NX for the 2015 model year, we now get the subcompact UX for 2019.
Calling it an SUV or a crossover is obviously a stretch, because it's small and its drive is nothing like that of a truck. Still, it's trendy and that's what consumers are looking for nowadays. So far in 2019, the UX is selling fairly well, sitting below the BMW X1, the Buick Encore and the Mercedes-Benz GLA, but ahead of the Audi Q3, the Jaguar E-PACE and the Volvo XC40.
The first thing shoppers might notice is that the 2019 Lexus UX 200 doesn't include all-wheel drive. An odd decision, but the hybrid UX 250h does benefit from all-wheel traction, so at least it's available.
The UX 200 is powered by a naturally aspirated, 2.0-litre four-cylinder engine that develops 169 horsepower and 151 pound-feet of torque. It's managed by a continuously variable automatic transmission that can simulate 10 conventional gear ratios. Performance isn't dazzling, but for zipping around town, it's perfectly fine and fuel consumption is low, with a combined city/highway rating of 7.2 L/100 km. The engine can run on regular unleaded, and we managed 7.5 L/100 during our test of the UX 200 with the F SPORT package.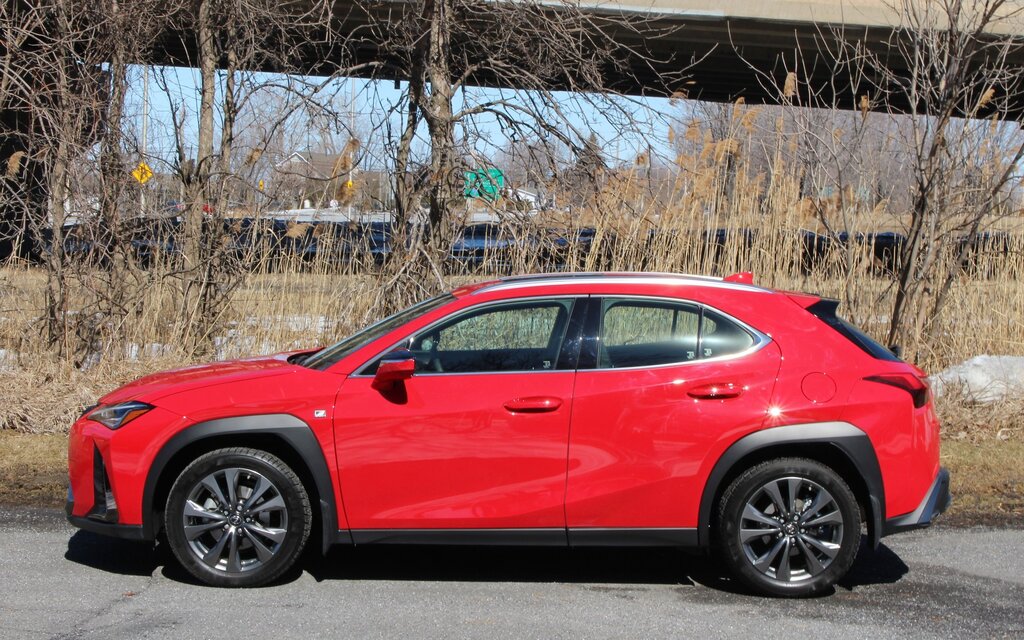 As for the hybrid variant, it's rated at 6.0 L/100 km, which is excellent, and its powertrain produces a combined output of 181 horsepower, managed by an electronically controlled continuously variable automatic. In Canada, no other brand currently offers a hybrid powertrain in the subcompact luxury SUV segment.
Riding on the company's new and very stiff platform, the UX feels extremely solid on the road, with good steering feel and a suspension that's not too firm, but not too soft, either. The F SPORT Series 1 package adds a sportier grille design, specific 18-inch alloy wheels as well as LED fog lamps, but it doesn't modify the vehicle's handling characteristics.
As expected, the 2019 Lexus UX's cockpit is small. Very small. The rear-seat area is particularly tight, with little leg- and headroom, while the lower portion of the doors is short, so climbing out is difficult. This is clearly not a family-oriented SUV. The cargo area boasts a decent volume of 617 litres in the UX 200, but 487 litres in the UX 250h due to the additional mechanical components.
The driver-oriented dashboard's design is tasteful and build quality is impeccable, just like in any other product. The meaty steering wheel feels like it belongs in a sports car and the switchgear gives the impression that it will last one hundred years. Most controls are within reach, except perhaps the drive mode switch that's awkwardly located on top of the driver instrument pod.
And then there's the infotainment system. The Remote Touch interface works a lot like a laptop computer mouse, which works fine… on a computer. However, in a moving vehicle, it's difficult to move the cursor through the on-screen buttons, and pressing the wrong button because we hit a bump in the road will happen on a regular basis. There are some additional buttons on the centre console where we rest our palm, which eases the pain a little, and while Apple CarPlay is standard, Android Auto isn't available yet. Simply put, Lexus needs to develop a better user interface for its vehicles, like reverting to a multifunction knob instead of a touchpad.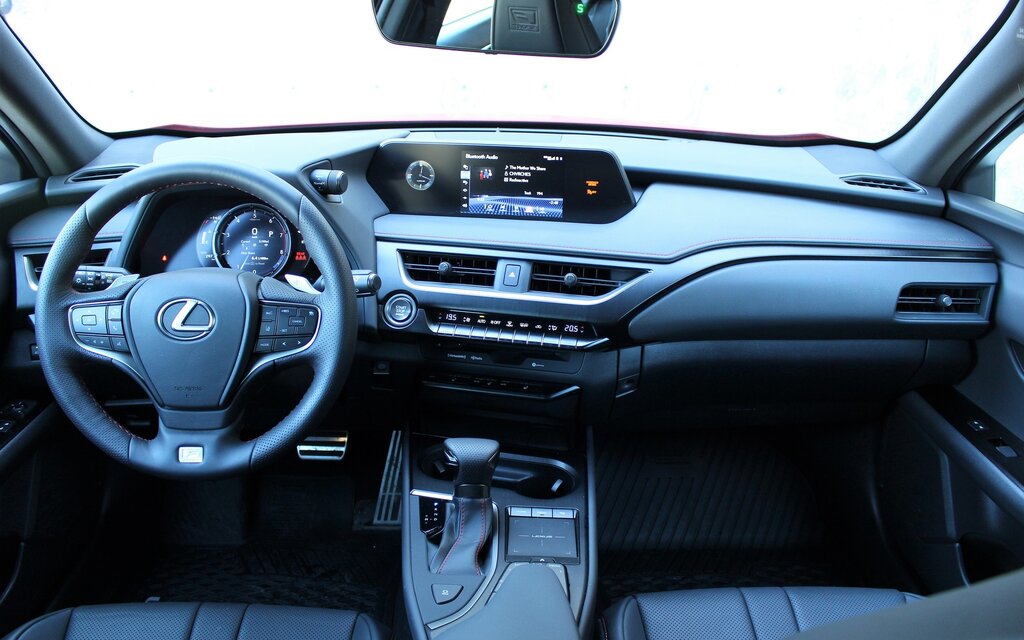 The 2019 Lexus UX 200 is priced from $37,100 before freight and delivery charges, while the UX 250h is listed at $39,700. Their standard feature list includes blind spot monitoring, adaptive cruise control, precollision braking with pedestrian detection, a leather-wrapped and heated steering wheel, heated and ventilated front seats, dual-zone climate control, power-adjustable front seats, a power sunroof and an intelligent key system. That's pretty good.
We recommend the extra flair of the F SPORT Series 1 package, which tacks on only a couple thousand dollars to the price, but we must point out that it deletes the front-seat ventilation feature. On the other hand, the Luxury and F SPORT Series 2 packages offered on the UX 250h add more content such as wireless phone charging, a navigation system, eight speakers instead of six, a 10.3-inch display screen instead of seven as well as a power-operated tailgate.
The Lexus UX seems to be on a different mission than most other subcompact luxury SUVs. It will please urban single people or empty nesters who want a posh and agile vehicle, and won't cost a lot to run and maintain. The brand's reputation for reliability is top-notch, and its vehicles hold their value for a long time.
On the hand, the UX isn't all that engaging to drive, but does it really need to be? Actually, it reminds us of the Lexus CT 200h hatchback, sold on our market from 2011 to 2017, so we think the UX is its spiritual successor. In a more popular but fat-free SUV format, with the added benefit of AWD.
Share on Facebook