2019 Lamborghini Urus: Heavy Artillery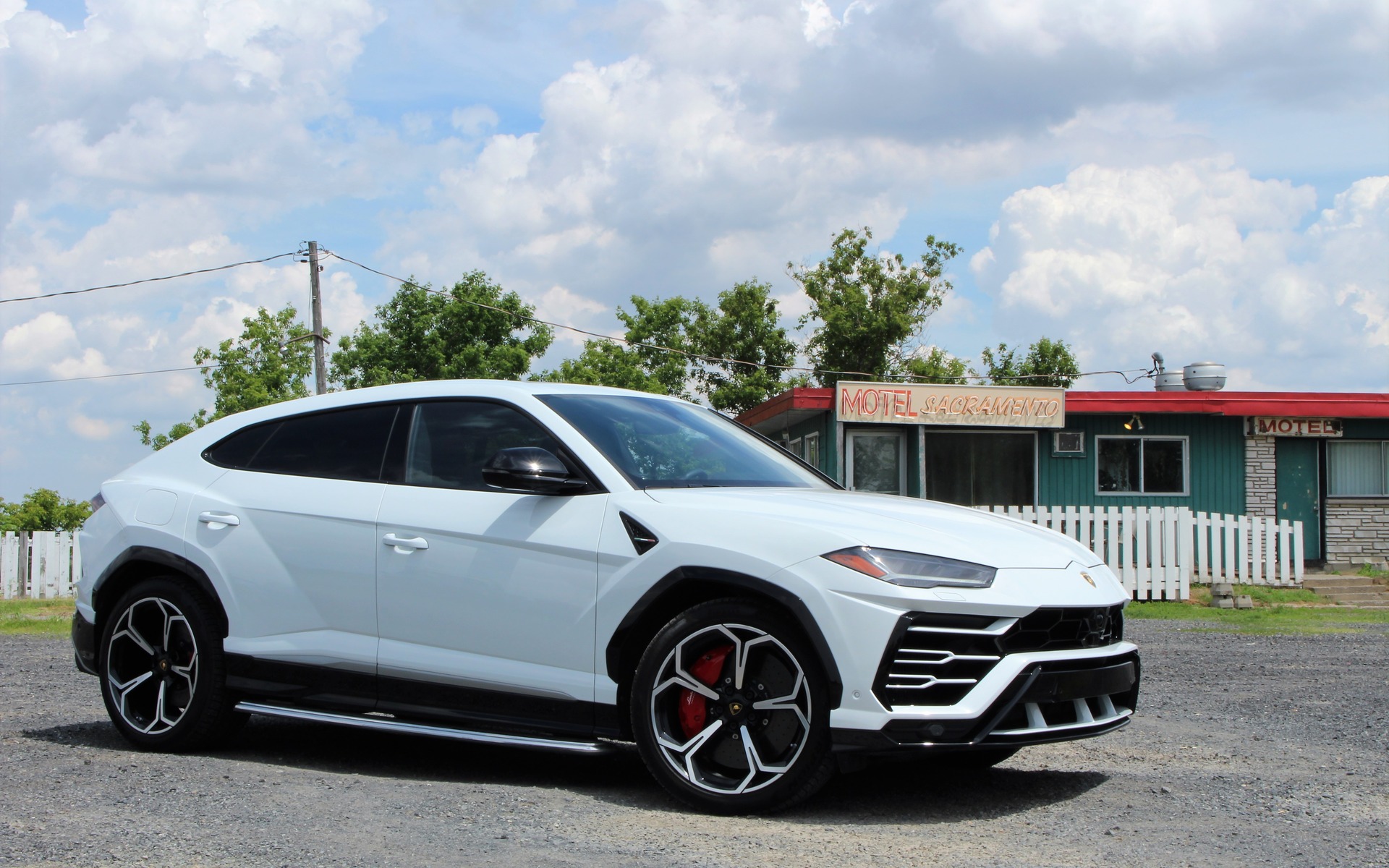 Strong points

Raging V8 engine
Amazing handling
Glorious cockpit

Weak points

Fuel consumption, obviously
Limited outward visibility
Fussy transmission controls
Full report
The Italian automaker has always relied on low-volume, super-expensive cars to turn a profit, but since consumers rich and poor want SUVs, Lamborghini had to create one of its own.
Well, not exactly. The 2019 Lamborghini Urus adopts the same platform as the Audi Q8, the Bentley Bentayga and the Porsche Cayenne, among others. They're all part of the Volkswagen Group, so it's only natural that every brand gets to save some development costs.
That being said, the Lambo does offer something unique in that it's the most powerful of them all, and arguably the one with the most character. Under the hood, it boasts a twin-turbocharged, 4.0-litre V8 that belts out 641 horsepower (or 650 PS) as well as a massive 627 pound-feet of torque that peaks from 2,250 to 4,500 rpm.
The brand says the Urus' performance level is unrivalled. Yet Bentley confidently claims the 626-hp Bentayga Speed is the world's fastest SUV. Regarding straight-line acceleration, the Lambo can hit 100 km/h from a standstill in 3.6 seconds, while the Bentley needs 3.9 seconds. However, the Bentayga can reach a top speed of 306 km/h, while the Urus is limited to 305.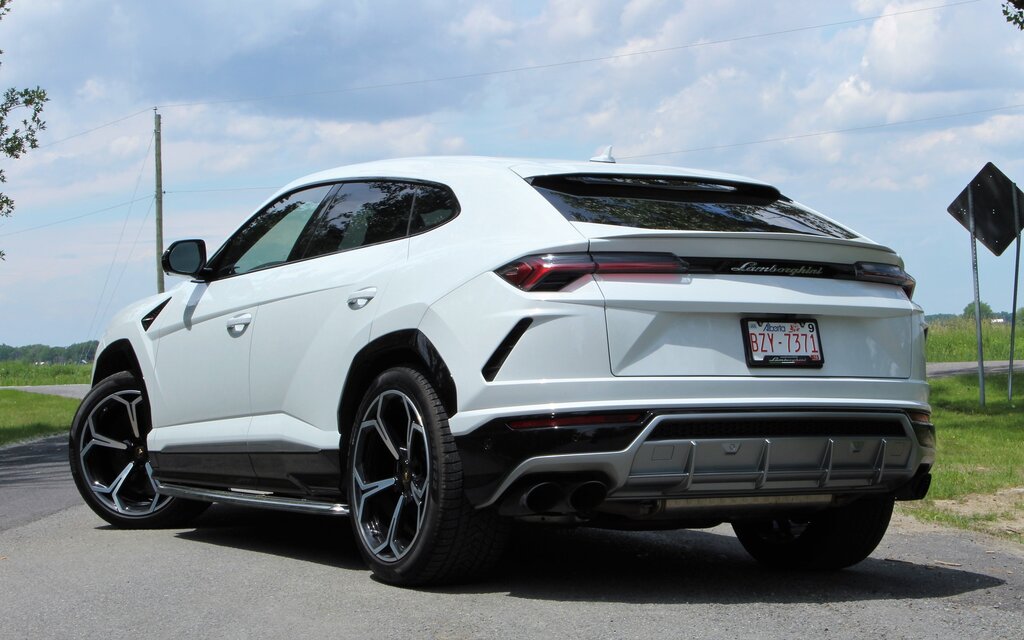 The Porsche Cayenne Turbo S E-Hybrid dishes out 670 horsepower, gets to 100 km/h in 3.6 seconds and reaches 295 km/h. The Mercedes-AMG G 63 develops 577 horsepower and can hit 100 km/h in 4.5 seconds. Actually, the Tesla Model X Performance is the quickest SUV with a claimed 0-100 time of 2.9 seconds.
On the other hand, the 2019 Lamborghini Urus isn't all about speed. Its sport-tuned suspension and four-wheel steering provide it with impressive driving dynamics. In the competitors mentioned above, only the Cayenne can match its abilities on a twisty road or a racetrack.
If Lamborghini isn't everyone's favourite brand, it seems to appeal to a younger crowed. In fact, when I arrived home with the Urus and asked my three teenagers if they wanted to go for a ride, they all unhesitatingly said "Hell, yeah!" That never happened before, even when I had a Porsche, a Mercedes-Benz or even a Rolls-Royce sitting in the driveway.
However, they chose the right vehicle for a thrill ride. The Urus accelerates with brute force, its force-fed engine roaring all the way up to its 6,800-rpm redline, its exhaust popping during transmission upshifts. Four seconds later, we've reached the highway speed limit and the forward thrust is over, even through the Lambo could've easily pinned everyone to their seat for a while. Hey, I'm a responsible dad—and I can't afford to lose my license. Driving supercars is both exhilarating and frustrating, because they can never be fully exploited on public roads.
From a design standpoint, the Urus is quite different from everything else that's currently available on the market. Along with its trendy coupe-like profile, the angular sheetmetal and sharp creases draw a strong resemblance to the company's other models, with the added visual effect of the humongous (and optional) 22- or even 23-inch wheels. We don't know who would actually choose running boards on their Urus, like the ones installed on our test vehicle. Not only do they spoil the look, but they're useless.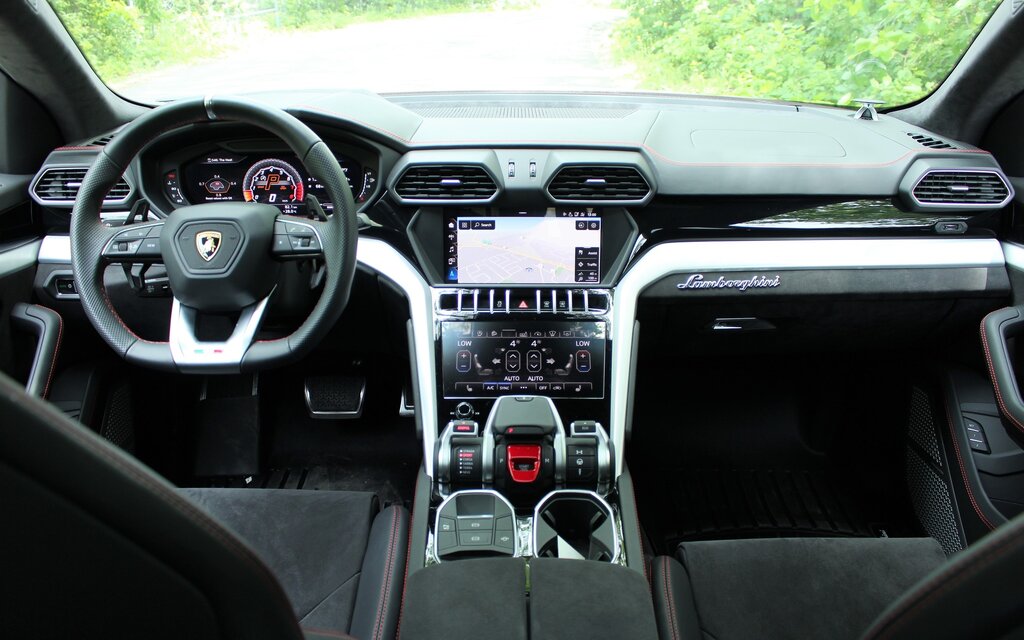 Inside, the trademark Lamborghini styling is accounted for, with hexagonal air vents, yards of red-stitched Alcantara and chrome lettering on the passenger-side dash. Buyers can also specify various hues of leather, wood trim or carbon accenting to personalize their vehicle, in addition to two individual chairs or a bench seat in the rear, for four- or five-passenger seating.
The jet-fighter controls, including the drive mode ANIMA Selector and the concealed start button feel a little plasticky, but works nonetheless and impresses passengers who've never seen a button and pull-handle layout like this before. Those folks likely won't recognize the window and steering wheel buttons lifted from 10-year-old Audis, but we did. We're nit-picking here.
The dual-touchscreen setup is much like the ones found in newer Audi vehicles. The top one handles the navigation map and audio information, while the bottom one is used mainly to set the climate system. The fully digital driver instrument panel hosts modern graphics and animations, making us feel like we're playing a video game.
Of course, Lamborghini's customers will choose the Urus for its everyday practicality and all-season usability. Cargo space ranges from 574 to 616 litres depending on the rear-seat layout, and our tester included the three-passenger bench, whose seatbacks easily fold down to create an almost-flat load floor.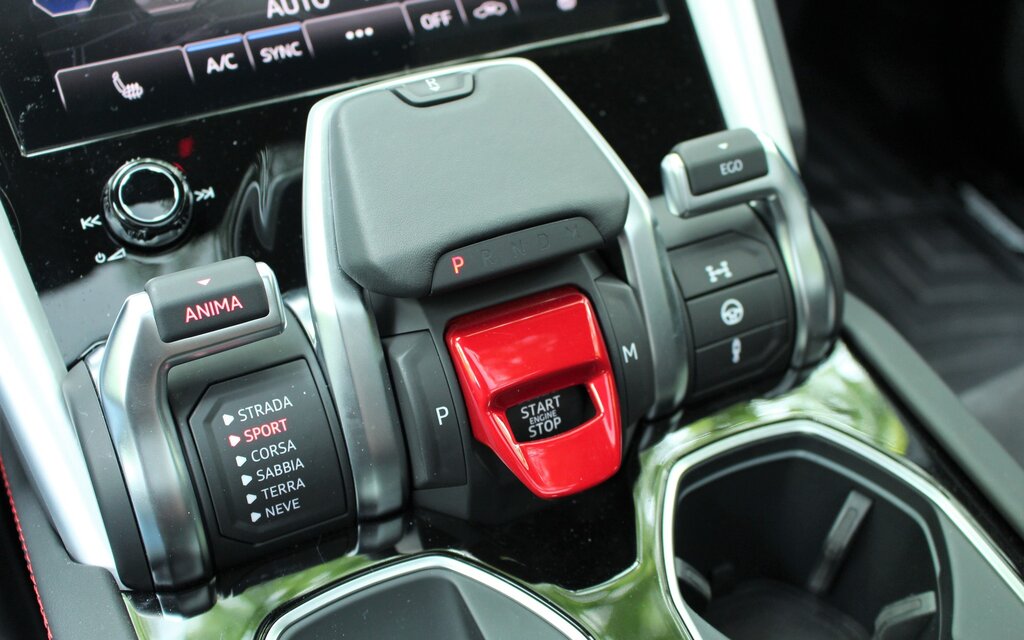 Pricing in Canada for the 2019 Lamborghini Urus starts at $232,000 before freight and delivery charges. Once we pile on the options—everyone does that—the bill can climb pretty quickly. Our test vehicle was equipped with 22-inch rubber, a panoramic sunroof, a Style Package with glossy black trim, an Off-road package, a night vision camera, an ambient light package ($4,000!), a Bang & Olufsen 3D sound system ($8,000!) and many other items. Total: $277K.
That's a lot of dough. Within the VW Group, the Bentayga costs about the same and the Cayenne Turbo S E-Hybrid is cheaper. On the other hand, the Mercedes-AMG G 63 gets as much attention and is priced from $170K.
As expected, the 2019 Lamborghini Urus has allowed the brand to double its sales numbers in North America and has the power to attract new customers. It's wickedly fast, with a goosebump-inducing soundtrack and distinct styling. This SUV makes us feel invincible, as if we we're piloting a very powerful battle tank. Yeah, we like it.
Share on Facebook