2020 Jaguar XE: Techno-dynamic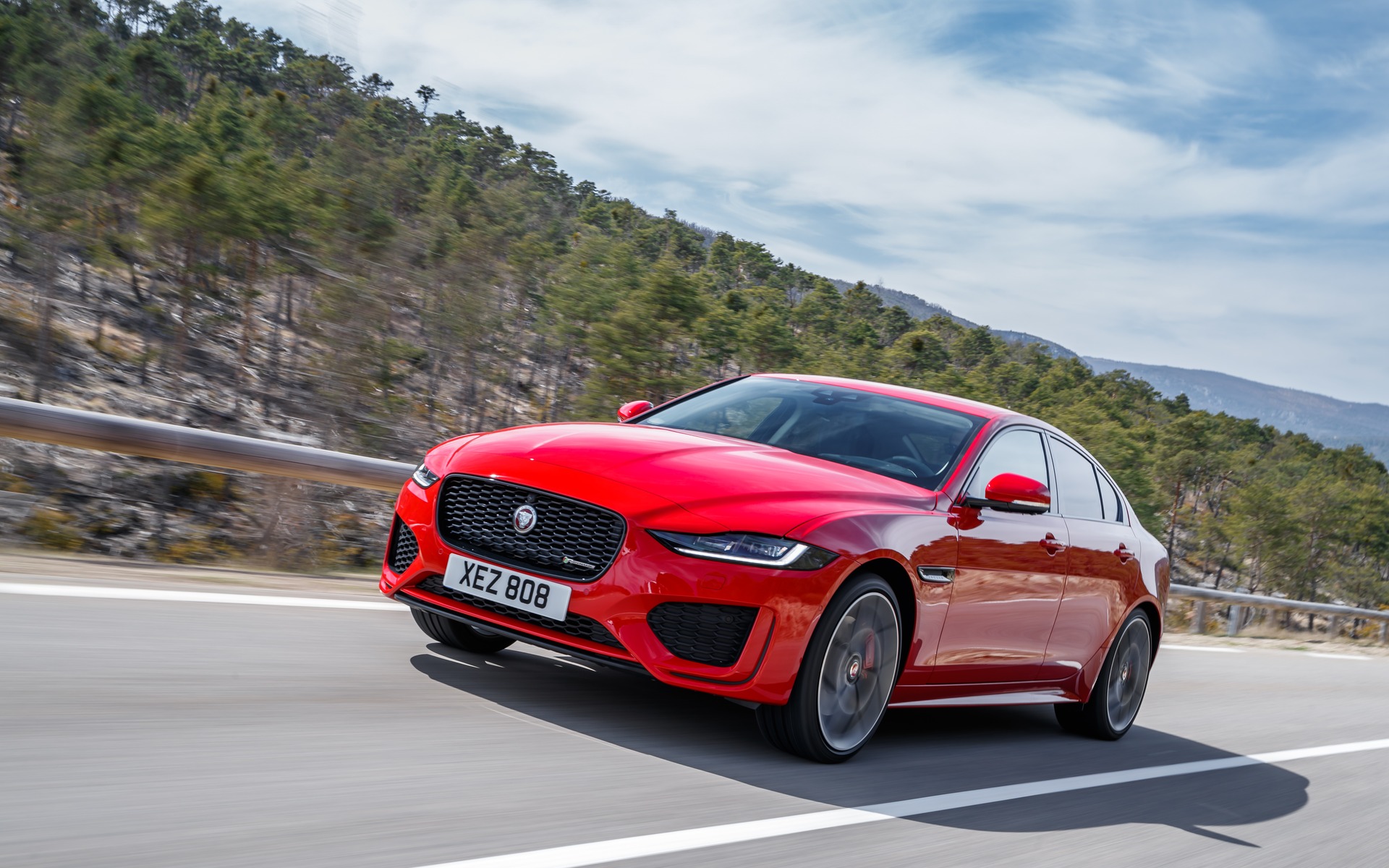 Strong points

Excellent dynamics
Superb design
More premium and high-tech interior
Torque-rich engine

Weak points

Tight rear seats
Limited trunk capacity
Steering lacks on-centre precision
Unknown reliability
Full report
NICE, France – Launched in 2015, the Jaguar XE sports sedan gets an update for 2020 that includes substantial tweaks to the exterior design and the addition of new technologies shared with other models in the lineup, such as the I-PACE.
Things are now simpler from a technical standpoint as the 2020 Jaguar XE offers just two trim levels, each with its own turbocharged, 2.0-litre four-cylinder engine. Both the P250 SE ($49,900) and P300 SE R-Dynamic ($55,800) are going on sale this spring with standard all-wheel drive.
We got the opportunity to test the car in the French Alps, a terrific proving ground where we were able to appreciate its highly satisfying performance. The XE's structure is made up of 75 percent aluminum for outstanding rigidity, while a double-wishbone front suspension and multi-link rear suspension keep it firmly planted. This is one nimble cat, my friends.
Driving dynamics are almost flawless. The chassis is exceptionally balanced, particularly in P300 SE R-Dynamic trim with the available adaptive suspension and 20-inch wheels. I said "almost" because the XE's steering lacks a bit of on-centre precision.
Abundance of Torque
The more upscale variant delivers a higher degree of performance in the form of 296 ponies unleashed at 5,500 rpm, but more importantly 295 pound-feet of torque across a super-wide range (1,500-4,500 rpm). Acceleration is quite ferocious as a result—and a fantastic match for this car. Equipped with a close-ratio, eight-speed automatic transmission designed by ZF, the XE P300 SE R-Dynamic sprints from 0-100 km/h in 5.7 seconds.
My only complaint is that the engine sounds a bit too much like a diesel at idle, which contrasts with the otherwise refined nature of this luxury sedan. Once up to speed, however, the XE proves fairly quiet in part thanks to its new acoustic windshield.
In sportier driving conditions, the turbo four gets louder and more exciting. Also, the transmission is a real treat to control using the paddle shifters on the steering wheel.
Transformed Interior
Speaking of which, the 2020 Jaguar XE shares its steering wheel with the I-PACE electric crossover and its pistol-style shift lever with the F-TYPE sports coupe. The transformation continues with the addition of a TFT display in place of the traditional instrument cluster, plus a twin-display Touch Pro Duo infotainment system that's also sourced from the I-PACE.
Apple CarPlay and Android Auto integration is included, while the rear-view mirror can be used either the conventional way or as an electronic screen linked to a camera mounted in the shark-fin roof antenna. While the image is rather unsettling in normal driving, it comes in quite handy when backing up with rear passengers blocking your view. You can alternate between viewing modes via a small button located under the mirror.
From the driver's seat, the updated 2020 Jaguar XE feels like it has caught up to other sports sedans in the segment. The front buckets are very comfortable. On the other hand, rear-seat room is tight and trunk capacity amounts to just 410 litres.
Racier looks
As far as styling is concerned, the XE's subtle facelift seems to give it much more character—just look at the wider front grille and thinner LED headlights. Jaguar designers wisely kept the car's beautiful coupe-like proportions untouched, including the sloping roofline and C-pillars. The available 20-inch alloys are simply magnificent.
Ultimately, here's a new-look sports sedan with an extra dose of technology that still ranks as one of the most pleasant to drive on twisty roads while delivering superb levels of comfort… at least on the slick pavement of southern France. Expect a stiffer ride on many roads across Canada.
The lack of space continues to be a problem when matched up against most direct competitors, while the brand's poor reliability record will turn some potential buyers away. Hopefully the 2020 Jaguar XE will improve its score in that department.
Share on Facebook