2018 Nissan Frontier: What the Heck is Instagram?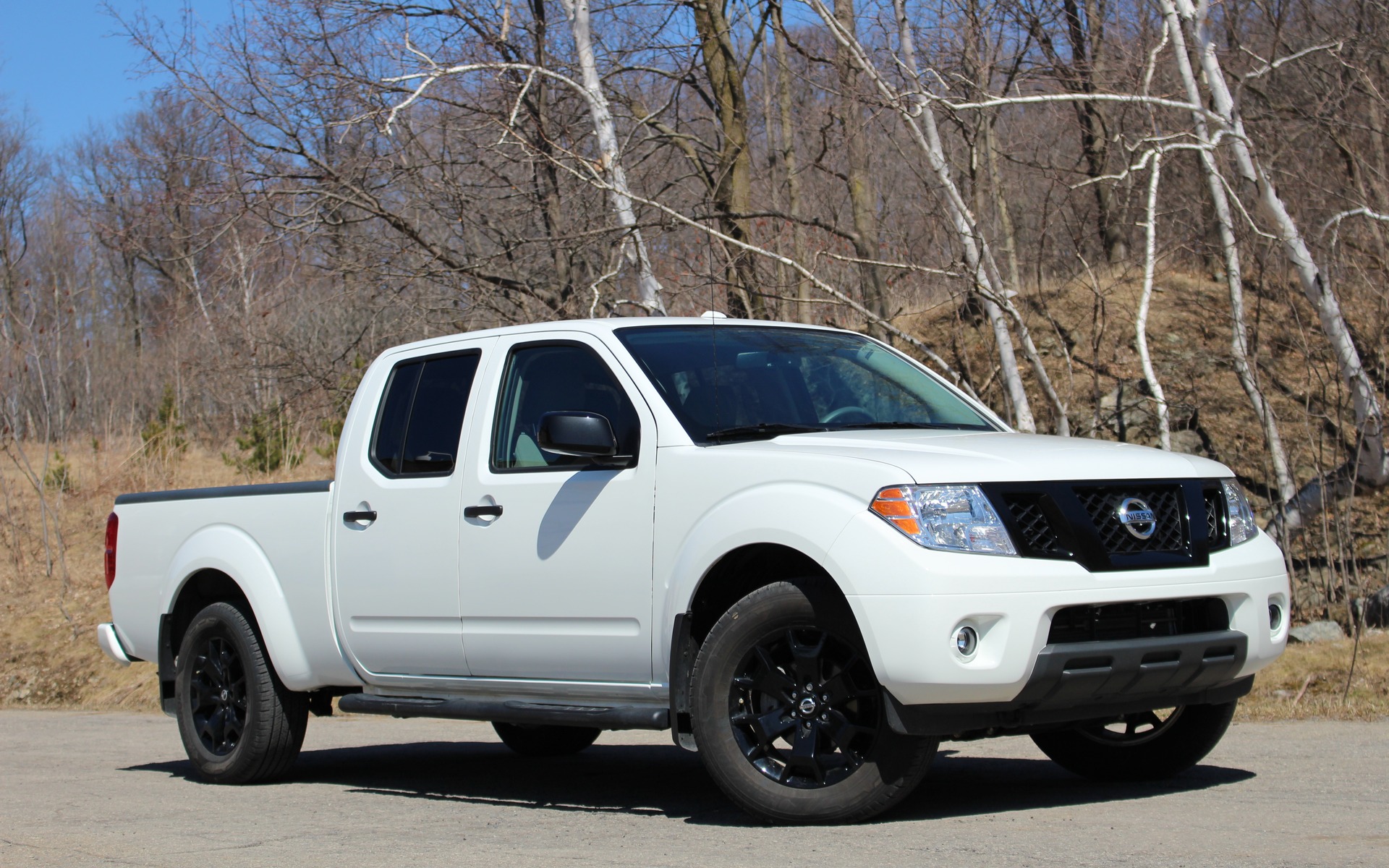 Strong points

Proven reliability
Strong resale value
Reasonable price

Weak points

Technologically behind
Serious fuel consumption
Jittery ride
Full report
The midsize pickup truck market will gain traction with the arrival of the 2019 Ford Ranger and the recent launch of the 2020 Jeep Gladiator. By 2022, the Ram brand will introduce a new pickup as well, and there are persistent rumours that Hyundai will bring one to market, too.
The current products in this segment include the Toyota Tacoma, the Honda Ridgeline, the Chevrolet Colorado and the GMC Canyon. And then there's the Nissan Frontier, which has soldiered on practically unchanged since it was introduced at the… 2004 Detroit Auto Show.
Alongside more modern rivals, the Frontier looks like Gramps wondering what's that mysterious thing called Instagram his grandchildren keep talking about. Back in 2004, the Apple iPhone didn't exist yet, Facebook had just opened for business and the U.S. population thought George W. Bush was competent enough to deserve a second term as its President. Back in 2004, Usher dominated Billboard's Hot 100 songs of the year. Usher?
And when we say the Nissan Frontier hasn't changed much since the current-generation truck went on sale 14 years ago, we're not kidding. Aside from a reshaped front grille and a more modern (read: less archaic) radio, the 2018 model could pass for a 2015. Or a 2012. Or a 2005. You get the point. Funny thing is Nissan launched a new pickup in other markets in 2014, but we didn't get it.
A 2.5-litre four-cylinder engine is available in the base Frontier S 4x2, which develops a paltry 152 horsepower. However, as soon as we climb up a trim level or chose a 4x4 variant, the truck gets a 4.0-litre V6. It boasts no technological innovations whatsoever, yet manages to produce 261 horsepower and 281 pound-feet of torque, managed by an equally low-tech five-speed automatic. Both are as quick to react as teenagers asked to pick up their dirty dishes, but the powertrain allows the 2018 Nissan Frontier to tow up to 6,710 pounds (3,044 kg) and haul a payload of up to 1,430 lbs. (649 kg).
Sure, some competitors can do better. The Colorado and Canyon equipped with their turbo-diesel engine can pull up to 7,700 pounds, while the new Ranger and its EcoBoost four-cylinder unit can tow up to 7,500 lbs. Where the Nissan's V6 shines is in regards to reliability—and low maintenance costs, since there's no turbocharging or direct-injection gadgetry that could break.
However, fuel consumption is pretty horrible. During our test of a 2018 Nissan Frontier Midnight Edition, we consumed regular unleaded at a rate of 15.0 L/100 km. The Tacoma V6 is only slightly better, but the GM cousins, the Ford and the Honda are significantly more efficient.
Climbing aboard the Frontier will also trigger some flashbacks to the time when social media wasn't a thing. The seat fabric hasn't changed in 14 years, although we do like that grippy cloth texture. The cabin is cramped by today's standards, and the rear seatback is at an almost perfect 90-degree angle, making occupants feel like they're the Hunchback of Notre-Dame. The rugged plastic dashboard and body panels could have been designed in collaboration with Little Tikes.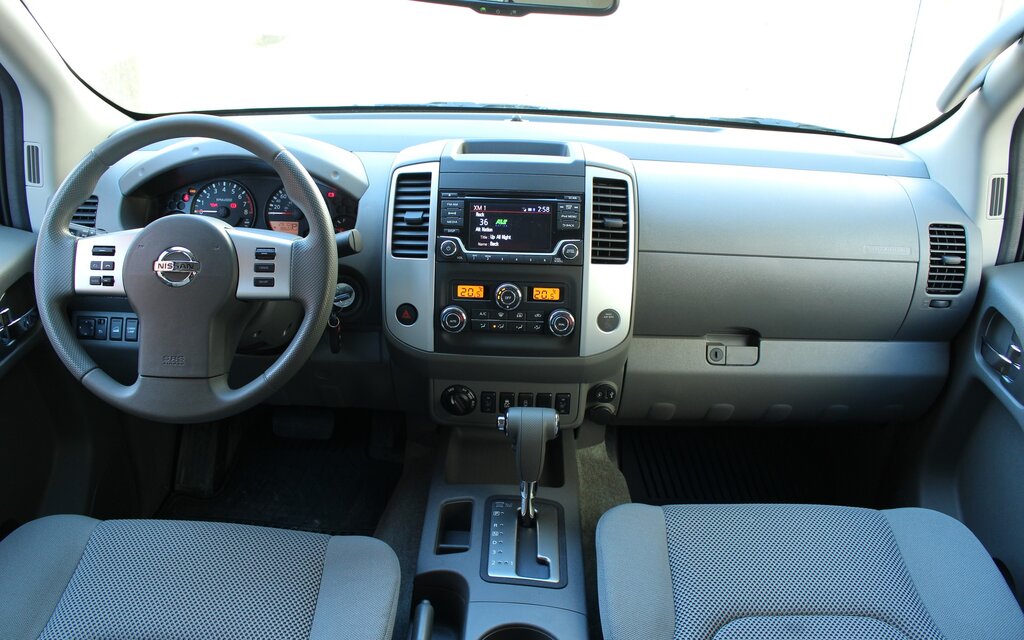 On the road, the Frontier serves up a jittery ride that plagued pickup trucks of yesteryear. A Ridgeline feels like a Rolls-Royce in comparison. Again, the Nissan's components are tried-and-tested solid, and the four-wheel drive system has a low range for some off-road abilities.
Forget about a touchscreen infotainment system and navigation in most versions, though they're available in the Pro-4X variant of the 2018 Nissan Frontier. Apple CarPlay and Android Auto aren't offered at all. The truck can be equipped with Bluetooth connectivity, a USB port and SiriusXM compatibility, in addition to rear park sonar, heated front seats, a power sunroof and dual-zone climate control.
Base price is set at $23,998 before freight and delivery charges, making the Frontier the least-expensive pickup truck on the Canadian market. However, choosing a four-wheel drivetrain—like the vast majority of buyers should—raises the price to at least $28,898. That's still a good deal.
The Midnight Edition is new for 2018, and for $35,398, it offers a fair list of features in addition to black 18-inch alloy wheels, a blacked-out grille, side steps, black mirror caps and door handles as well as body-colour bumpers. The truck looks good with this package, although it still can't hide its age.
So, how does the Frontier measure up to its newer rivals? Not very well. It's way behind in the infotainment and connectivity department, it consumes fuel at an alarming rate and its wide turning radius makes it difficult to park at the shopping mall. On the other hand, it's built to last, cheap to maintain and will keep its value over time. If we're looking for a no-frills, capable and reliable pickup truck, the Frontier is waving at us.
Share on Facebook