2018 Honda Clarity: Squeezed Between a Prime and a Volt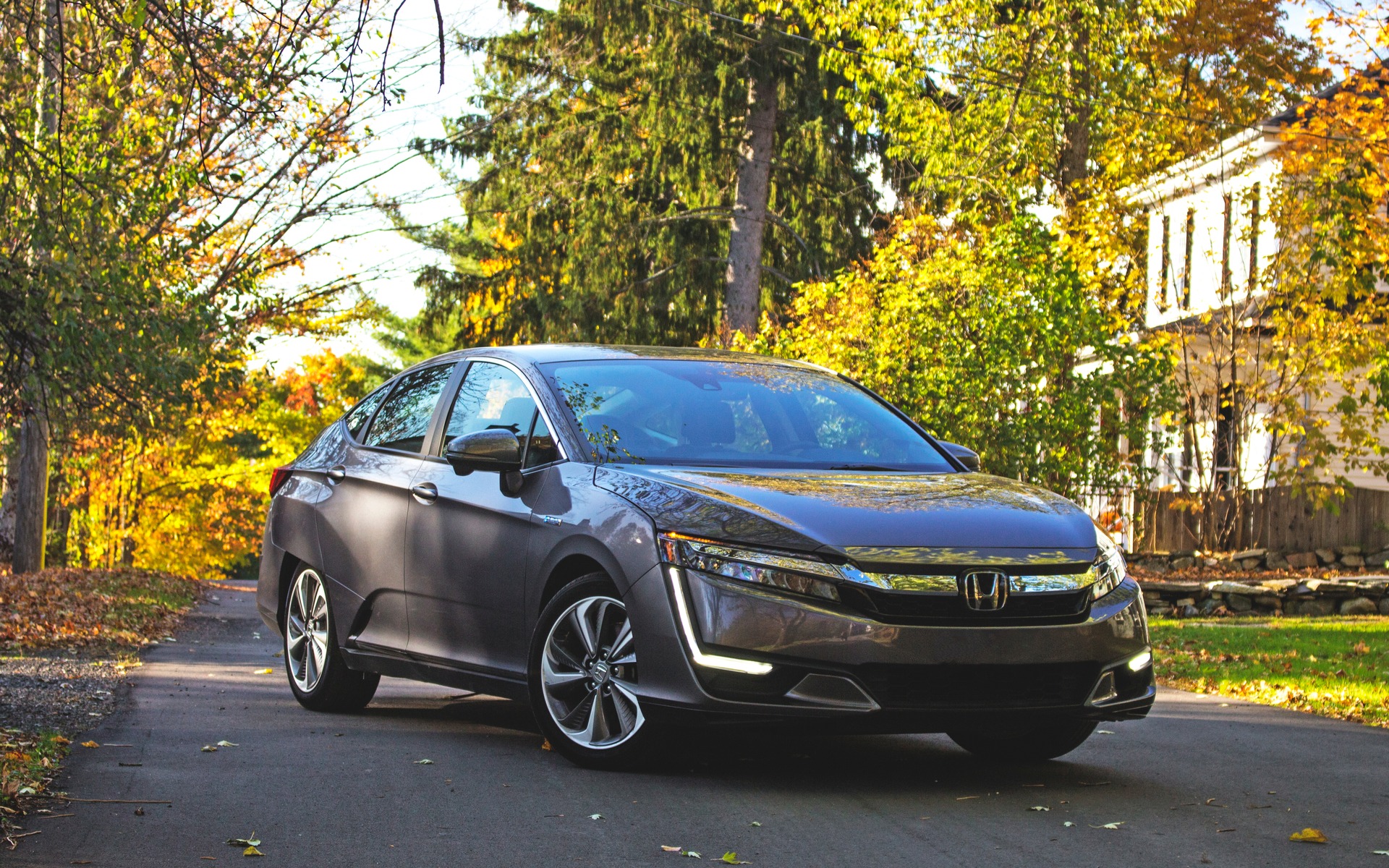 Strong points

High EV range for the segment
Impressive fuel economy
Premium interior

Weak points

Fluctuating EV range
Lackluster performance
Unintuitive infotainment system
Full report
If you count yourself amongst the individuals who criticize electric and hybrid vehicles for looking like odd spacecraft contraptions for the road, then you might not like this car.
It's no secret that the 2018 Honda Clarity isn't a normal-looking automobile. But while the late sixties sci-fi styling may not be your cup of tea (nor ours), Honda's latest plug-in hybrid ranks among the most capable ones currently out there, with a full electric range only rivaled by the almighty Chevrolet Volt.
Curious to see how it ranks among the fast-evolving EV landscape, we took one out for a drive.
One of Three
For Honda, the Clarity represents a serious bet for the future of the automobile. In Canada, we only get one flavour of the thing, the plug-in hybrid variant. But in other markets, the Clarity also comes as a fully electric vehicle or a fuel-cell powered one. This way, Honda ensures to cover all three prevailing alternative technologies. It's a clever way to measure out which method of propulsion will eventually dominate the automotive landscape. The Clarity is essentially a lab rat on wheels.
Conceptually though, plug-in hybrids represent the best compromise for our current state of affairs. While we wait for batteries to produce more range and charge up in a jiffy, or for hydrogen infrastructures we can actually rely on, plug-in hybrids currently bridge the gap between our fossil-fuel addicted world and fully electrified modes of transportation.
Capable of driving as an EV for up to 77 km—according to Natural Resources Canada—the Clarity is mainly powered by its 181-horsepower AC electric motor that also produces 232 lb.-ft. of torque. It's fed by a 17.0-kWh battery pack. A 1.5-litre four cylinder engine rated at 103 horsepower and 99 lb.-ft. of torque kicks in, with the electric motor still helping out, when the battery runs flat. Combined total output is rated at 212 hp.
Just like its direct competitor, the Chevy Volt, the Clarity's gasoline engine isn't connected to the drive wheels. It serves solely to turn a generator that recharges the batteries. There are some cases where the Clarity's internal combustion engine will directly send torque to the drive wheels through a planetary gearset, but the Clarity can't vary its gear ratio on the fly.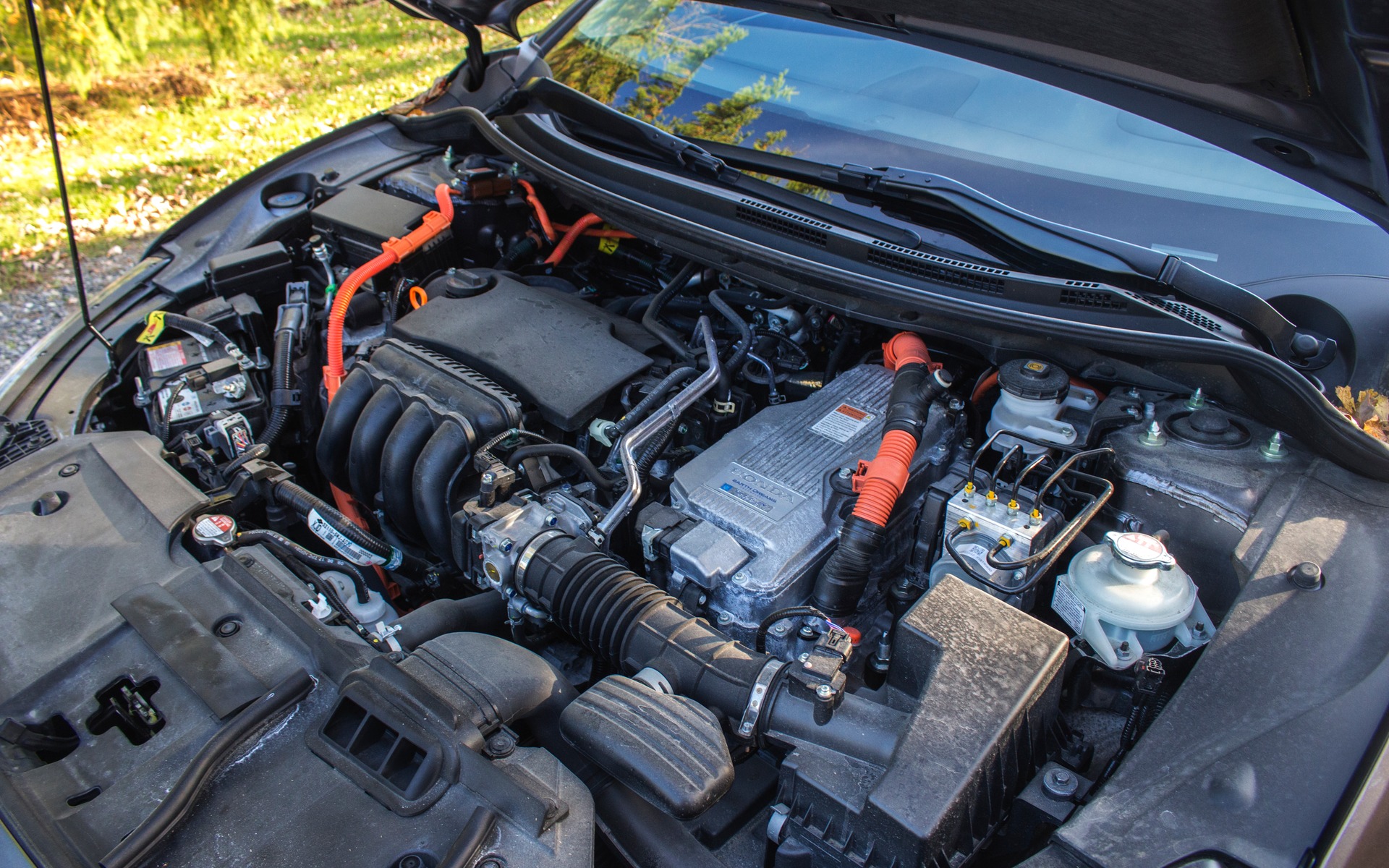 At the moment, the only plug-in hybrid that beats the Clarity in the range war is the Chevrolet Volt at 85 km. The Toyota Prius Prime trails the Honda at 40 km.
Fully prepped to give my Clarity a full electric test during a brisk October day, I connected it to a public charging station, just 200 metres from my home, which I found through Quebec's clever Circuit électrique phone app. About 2.5 hours later, my Clarity was ready to hit the road using nothing else but electrons.
What's up with the Range?
To my surprise, when I disconnected the car, the onboard computer told me I had only 58 km of range, 19 km less than promised…
On the road, the immediate sensation is of a smooth, quiet and buttoned-down ride. The Clarity is fitted with three levels of regenerative braking, which can be modulated using wheel-mounted paddle shifters. The car is a master at cruising along, thanks to a compliant chassis and hushed interior. But this thing is everything but quick. Stomp the go-pedal in fully electric mode and you don't get the instant rush of acceleration typically found in EVs, but rather a smooth, laid-back forward motion.
That's mostly due to the fact that the Clarity is a big and heavy sedan. Weighing in at just a hair over 4000 pounds (1814 kg), it's a whole 600 pounds (272 kg) heavier than a Honda Accord Touring powered by a 2.0-litre turbocharged engine. And at 4895 millimetres of overall length, it's the longest sedan ever manufactured by Honda.
While slow, the Clarity is a comfortable machine to spend some time in. A lot less busy than its exterior is a dashboard setup that's pure Honda functional, with neat design elements such as a floating centre console—under which one can store mobile devices—as well as the interesting use of plant-derived bio-fabrics, which help give the car's cabin a flavourful and warm feel.
Sadly, the Clarity is fitted with Honda's button-free infotainment interface, the same one found in the Civic. While we appreciate the Android Auto/Apple CarPlay integration, it's a mess of a system, with hard-to-access menus, unintuitive haptic controls, and a volume touch-slider that would drive any human insane after a few seconds of operation.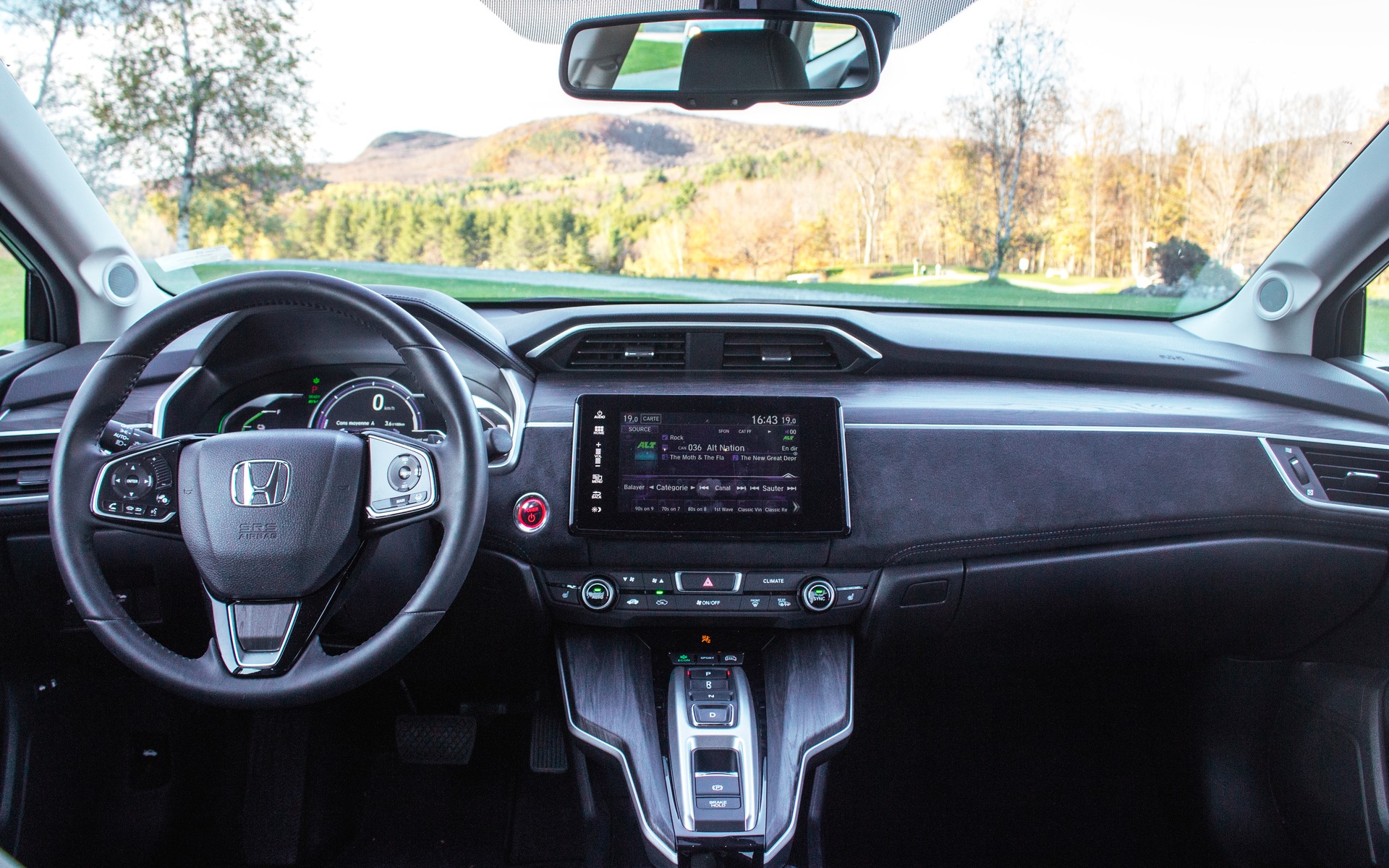 After driving the Clarity in full EV mode through a combination of urban and highway roads, on mostly flat surfaces, and the heater turned off, we covered a total of 62 km; four more than what the computer had anticipated, but still 15 km less than promised.
Thrifty all the Time
Before reconnecting what is essentially a super sophisticated Honda Accord to the charging station, I continued driving it with the gas engine to see how it performs. Or how it doesn't perform.
Don't get too excited, because even when good old gasoline is flowing through its veins, the Clarity is still extremely slow. Floor the gas pedal, and the little mill revs up and remains at a constant rpm, sounding pretty much like the Honda generator that powers your cottage.
At least, even when running on fuel, the Clarity won't drink too much of it. During our run from Sherbrooke to Montreal, a 150-km trip, the electrified Honda recorded a fuel consumption average of 3.2 L/100 km in hybrid mode. And when it was time to fill up the 26.5-litre fuel tank, it only cost us $29.84.
Confident my Clarity could get more EV range, I went for another go on pure electric juice. Again, seconds after disconnecting the charger, the trip computer refused to give me more than 58 km of range. And once I had finished my trip, I had actually covered less ground than the previous adventure—56 km to be exact.
We reached out to our local Honda PR representative about this. She claims there's something undoubtedly wrong with the software in charge of managing the car's battery. According to her, many journalists have managed to extract well over the promised 77-km range.
We checked, and yes, we've been hearing a variety of different numbers from both owners and members of the media, altering depending on weather conditions and driving behaviours. We'll have to give the Clarity another run to get the proper figures down, but so far, this has been the PHEV with the most fluctuating range we've ever sampled.
At the end of the day, you can't deny the 2018 Honda Clarity's skills. Sitting in a comfortable zone between the Prius Prime and the Chevrolet Volt, it still ranks among the top PHEV vehicles currently out there, with ownership costs that actually make a difference on your yearly budget.
Share on Facebook