2017 Chevrolet Volt: Savings Without Compromise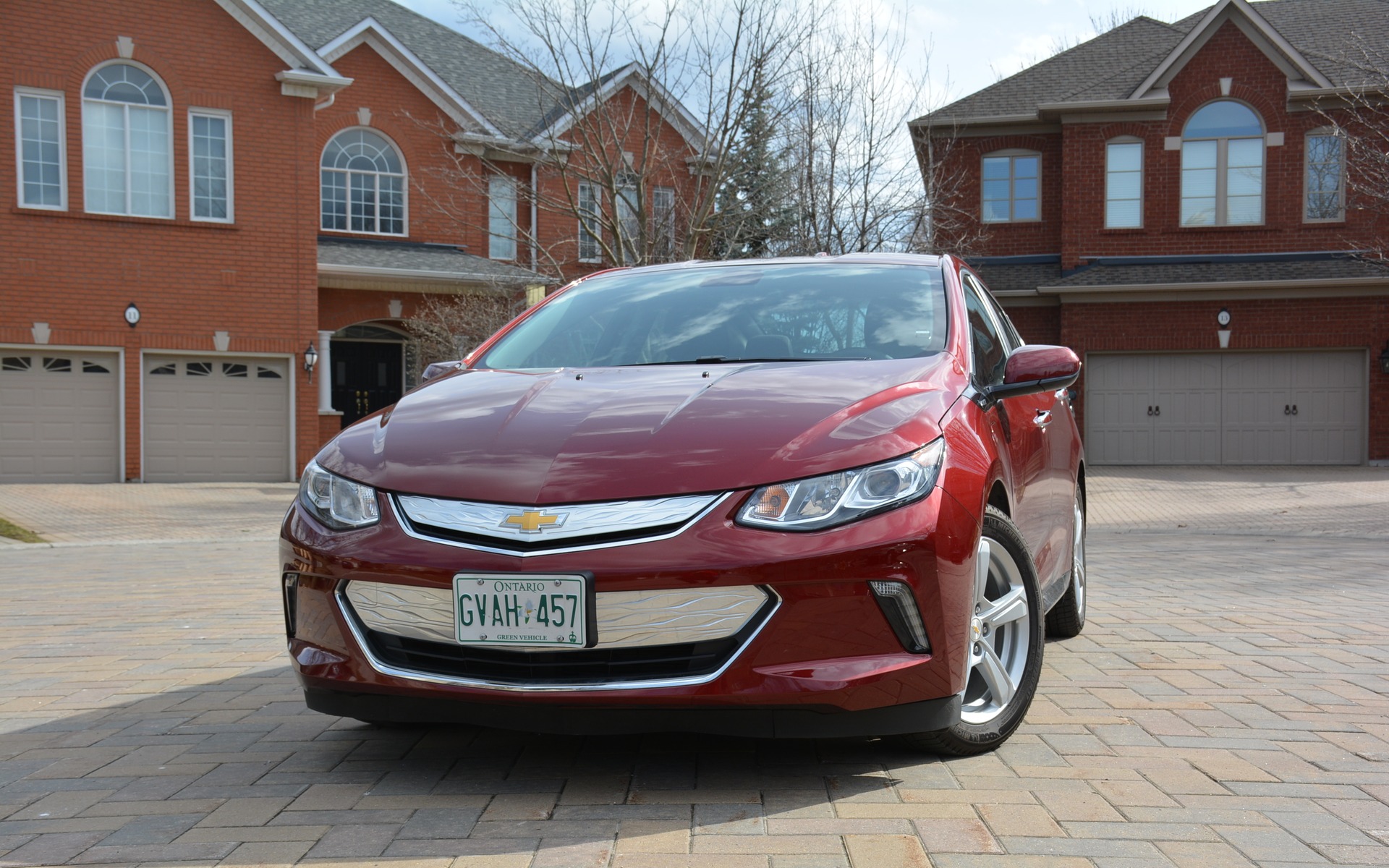 Strong points

Bold and aggressive exterior
Good EV range
Quiet and smooth driving

Weak points

Cramped rear seating
Unusable fifth seat
Price is high without incentives
Full report
Since 2011, the bestselling plug-in electric vehicle in Canada has been the Chevrolet Volt.
That may be surprising to some, as models like the Nissan LEAF or Tesla Model S come to mind when talking plug-ins. The Volt has been on top of the charts every year except for a surge in sales by the Model S in 2015, and it's not by a small margin – 4000 units ahead of the Model S thanks to an early 77.6% year-over-year sales increase showing as of April 2017.
That 2015 blip in the charts got Chevrolet to come to market the following year with a second-generation Volt that not only goes longer in pure electric mode, but also sports good looks with some refined features. The complete makeover of the Volt has evolved into a vehicle that's seen more as a fuel-saving compact hatchback rather than simply a marvel of technology.
With a range increase from 61 km to 85 in pure electric mode, the Volt has received more mainstream appeal at a time that coincides with an increase of charging infrastructure both in Canada and the United States. On top of that, a healthy government incentive package in British Columbia, Ontario and Quebec makes it more of a viable purchase with a lower asking price.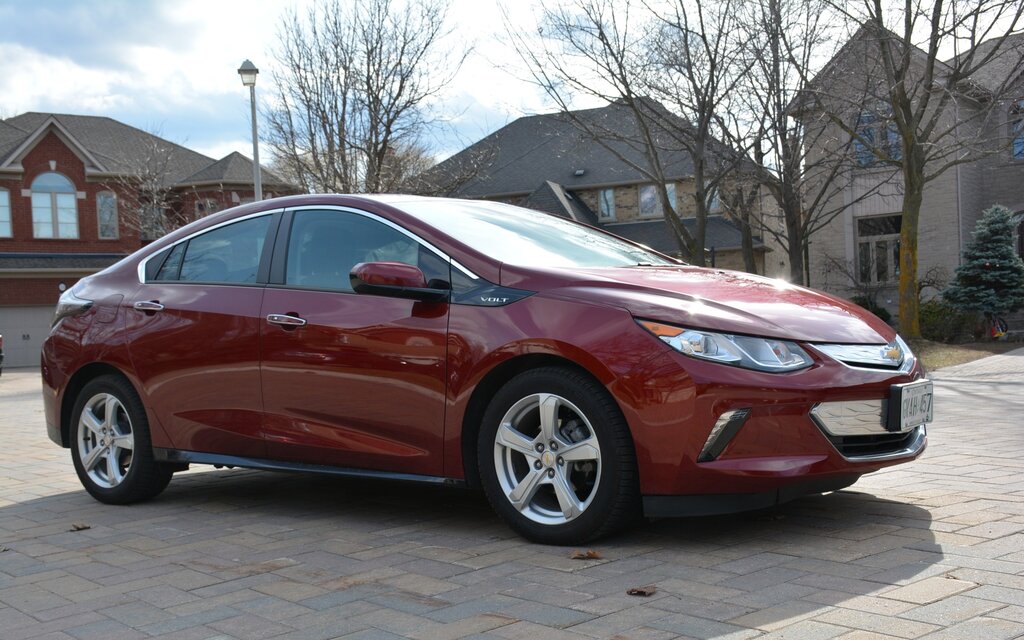 It's a looker and a pleaser
Looks aren't everything, especially when it comes to plug-ins, but that's still a big part of the purchase decision. Tesla's sleek and aggressive styling of its EVs paved the way for these alternative vehicles to save on gas and still look cool. Chevrolet has taken to that by designing a bold and rakish Volt that gets its fair share of attention on the road.
The new Volt's styling is more in line with other Chevrolet sedan products, but it's easily discernible from the rest by its two-panel silver grille design—a look that still to this day reminds me of Jaws, the monstrous, yet uncoordinated henchman from the James Bond movie series.
Inside, the 2017 Chevrolet Volt takes on a more conventional look compared to the previous generation, except for a few bright colour touches on the top of its shift lever and on its control panel where the statistics are displayed. It's the perfect amount of "green" colour needed in the cabin that complements soft-touch materials and a large eight-inch infotainment unit. The gimmicks of yesteryear need not apply any more, this is the new era of what a green car should look like without the need for tree leaves blooming or the cabin resembling something made from recycled material.
As for space, the Volt still lags behind others with a need for more headroom and legroom, especially for rear occupants more than six feet tall. I'm not sure why a fifth seat has been added in the back, as legroom is non-existent and more suited for bags and groceries.
My 2017 LT test vehicle is the base trim offered that comes standard with heated front seats and a heated leather steering wheel. The cloth seats are bolstered with two-tine blue stitching and its own funky design, but if there's a need for leather, you can opt for the Premier trim for $4K more.
Other technological amenities include a built-in Wi-Fi hotspot, Apple CarPlay connectivity, OnStar and a rearview camera.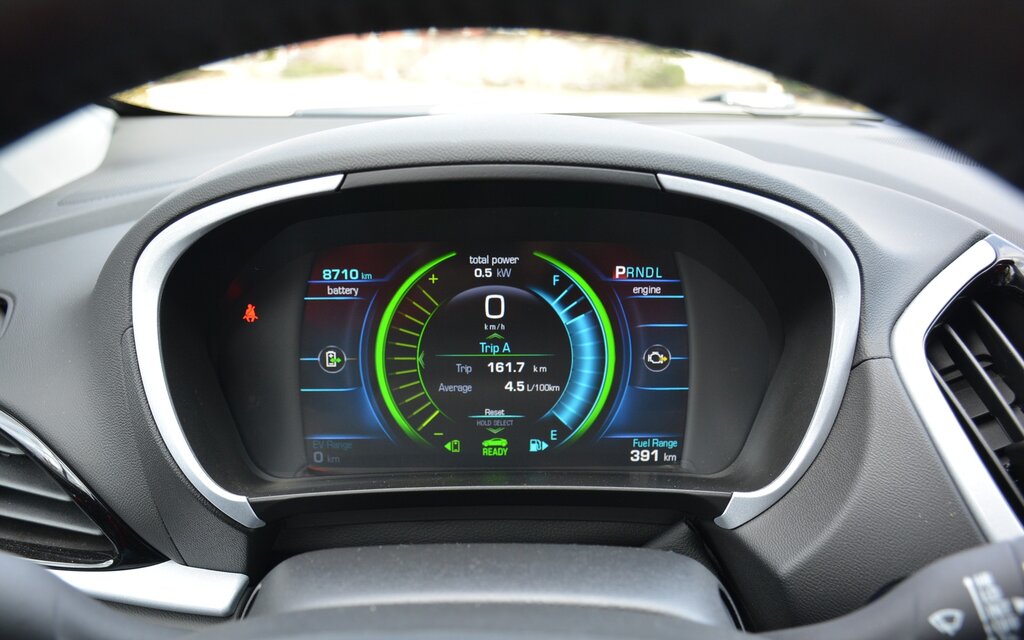 More range, more savings
The best part about any plug-in is its ability to go both in EV and gas mode. It's truly up to the driver, if they want to plug in or go stretches without that electric range, but its flexibility to go a long distance if needed without any range anxiety is its calling card.
The 2017 Volt uses a lithium-ion battery pack with a total capacity of 18.4 kWh to run the two electric motors, upping its EV-range to 85 km. It all works in conjunction with a 1.5-litre four-cylinder gas engine that produces a total output of 149 hp and 294 lb.-ft. of torque with the use of direct injection and a higher compression ratio. All of this internal technology allows the Volt to potentially go for a maximum of 590 km without charging or refuelling.
Throughout the week, the Volt was smooth, quiet and calming. It can accelerate fast due to its ample torque figure without giving off an electric hum. Around the city, the Volt surprisingly possesses exceptional handling and cornering abilities. Perhaps it's due to the low battery pack placement that adds weight to the vehicle in all the right places, but I was able to make sound manoeuvres in a responsive and precise manner. Just be careful of draining its battery on highways—that can quickly creep up.
In order to stay in the EV zone longer, Chevrolet has implemented a regeneration paddle on the back left side of the steering wheel. It's there for the driver to physically slow down the car without using the brakes. This helped in achieving a 4.8 L/100 km average before the EV-range was depleted; after that, I still managed a reasonable 6.4 L/100 km in full gas mode.
Verdict
The 2017 Chevrolet Volt has a high starting price tag of $38,390, but with government incentives in place, it can provide healthy savings over the long haul. Chevrolet has come a long way in making the Volt a total package worthy of purchase. It not only possesses exceptional fuel economy, it now comes with the trifecta of good looks, a spirited ride and an abundance of technology.
Share on Facebook