2018 Mitsubishi Outlander PHEV: Proving a Point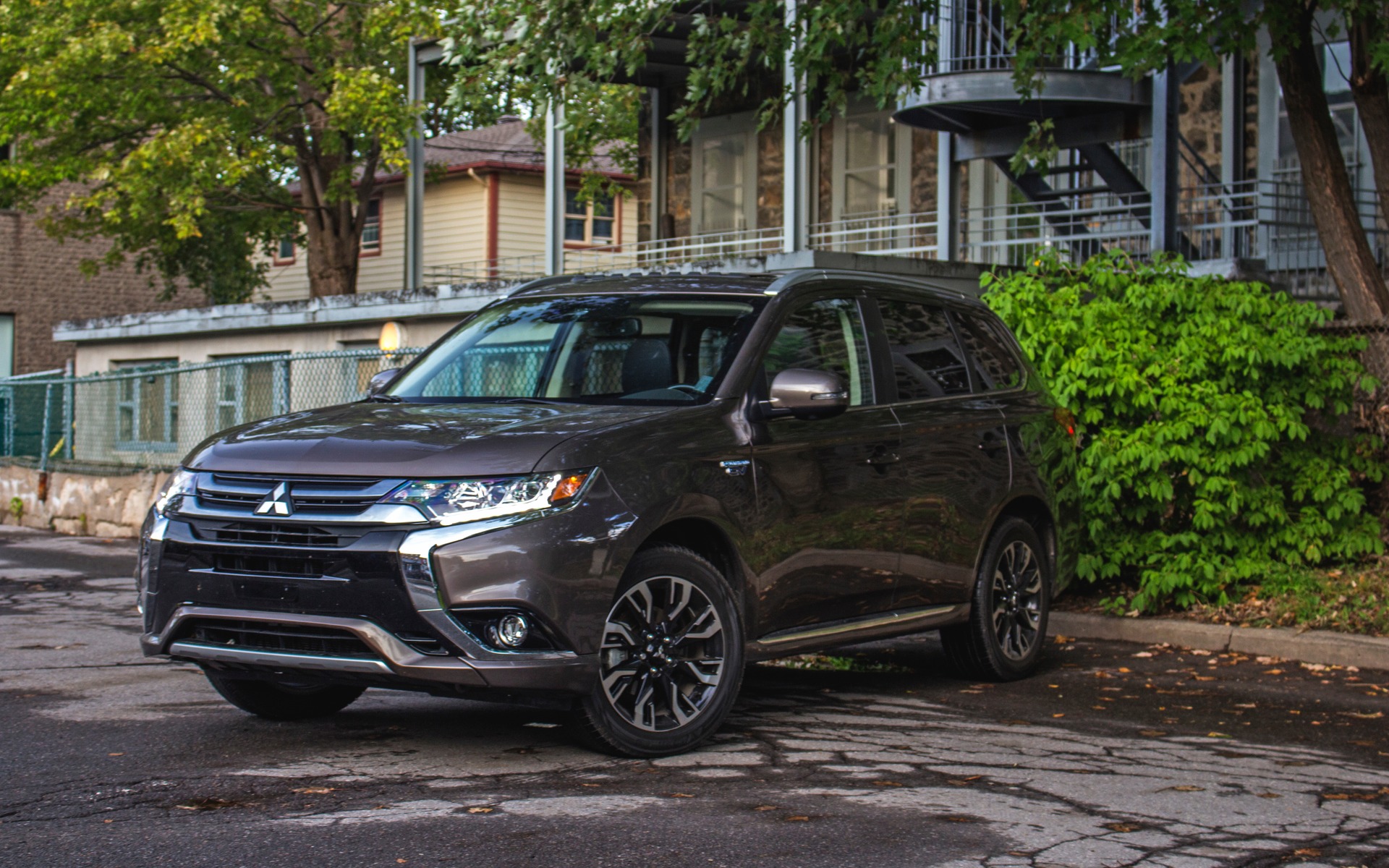 Strong points

Only plug-in hybrid in the segment
Large cargo hold
All-wheel drive, even in full EV

Weak points

Expensive
Dated interior
Not the most frugal gas engine
Full report
Mitsubishi Motors claims its plug-in hybrid compact SUV, the Outlander PHEV, will drive up to 35 km in fully electric mode. The user's manual says 60, and when we drove it in Vancouver during its launch this winter; we managed to do about 40 km.
However, ever since we published our article, owners have been writing to us, claiming they can do more. I even heard a crazy story about someone doing up to 100 km (which I have a lot of trouble believing). One of my good friends recently bought one, and he claims he's done up to 50 km with his, and one woman from Vancouver says she gets 60 km at 85-90% EV in stop-and-go traffic.
Such claims stemmed a doubt in my mind, and forced me to see EVs and PHEVs from a whole different eye. I concluded that driving a plug-in hybrid for a day during a media event only shines a small light on what these vehicles can actually do. Solely relying on its spec sheet tells half of the story; you need to live with one on a regular basis to fully understand how to drive one efficiently.
Wanting to prove to myself that I could also get more range out of the Outlander, I booked a press unit from Mitsubishi Canada to live with it for a week.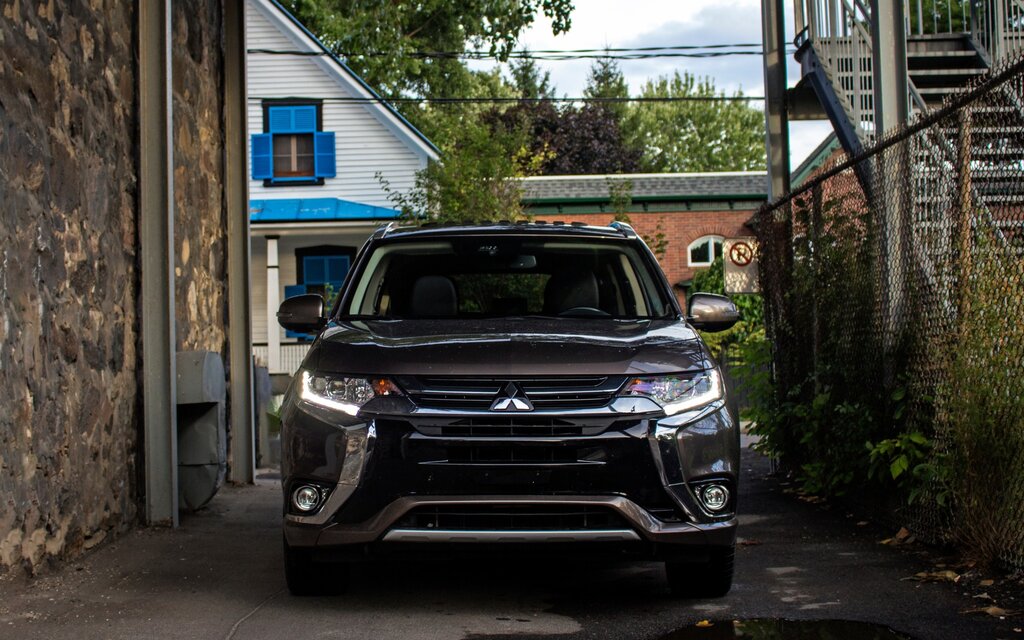 It's all in the Bs
The secret to getting more range from an Outlander PHEV, or any EV for that matter, is by cleverly using regenerative braking. Contrary to a conventional gasoline-powered car, whose engine gets pulled by the wheels once you release the accelerator and start coasting, an electric motor transforms into a generator, which helps put electricity back into the batteries. This also happens when applying the brakes, where the friction used to stop your car is recuperated.
See it as a large dynamo that allows your EV to generate electricity while it's moving, hence increasing the amount of total range you're getting. Carmakers who build electric cars have been perfecting regenerative braking to allow them to be more efficient. Some vehicles now incorporate different levels of regenerative power to increase the effect (and how aggressively the car slows down), in some cases, like Nissan's e-Pedal in the LEAF, you can actually slow down and entirely stop the car without even touching the brake pedal!
For the Outlander, Mitsubishi boasts five levels of regenerative braking, which are activated through the B position on the gear lever, and can be modulated via steering wheel-mounted paddle shifters.
Interesting observation: the paddles themselves are mounted on the column and not on the wheel, a configuration that I have always preferred in high-performance vehicles such as an Aston Martin Vantage. Of course, there's nothing performance-oriented about the Outlander—we're far from the Lancer Evolution here—but it feels good to see that Mitsubishi hasn't forgotten its past!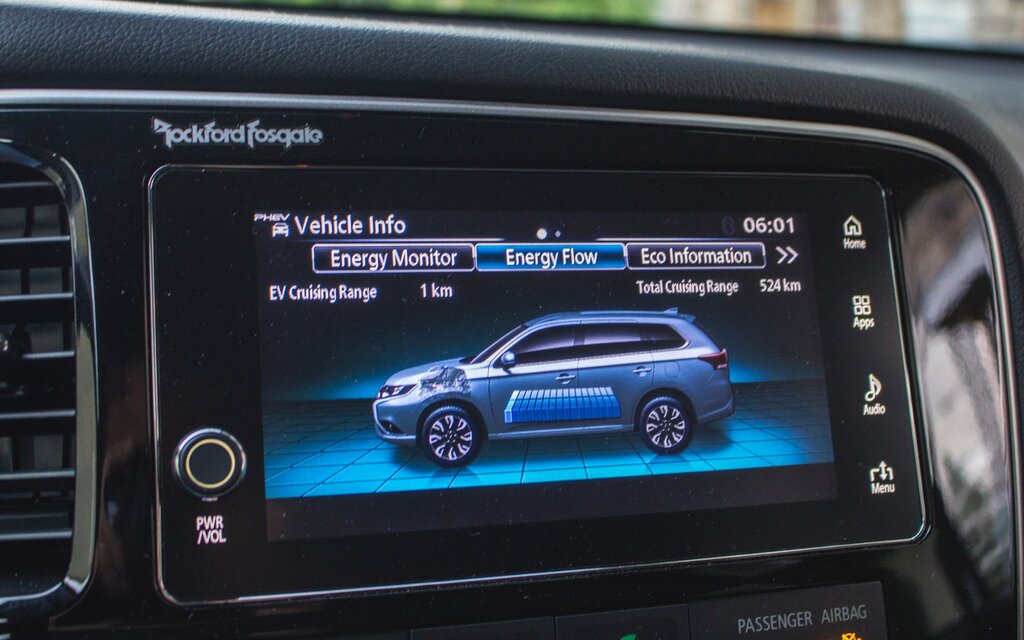 The Things You Need to Know
Alright, so what I have been told, which I didn't know before driving the car, is that regenerative braking works well to recharge the battery and slow down the car, but while accelerating, if the car is set to its most aggressive setting, the system causes too much resistance, hence draining the battery. I always drove my EVs in B mode thinking I'd get max regen all the time, when in fact, it's better to drive it in D, and using B only when it's time to slow down.
Also, driving any EV on the highway will heavily kill any range you've got left. Plug-in hybrids were first and foremost developed for urban drivers who do short commutes. The idea is that during the work week, you burn no fuel at all from your home to the office, or even stopping at the gym on your way back, but if you drive off into the country side during the weekend, you're not limited by range or charging times.
Plug-ins are essentially the ideal transition until we get more viable electric cars.
To encourage such driving behavior, the Outlander PHEV is equipped with three drive modes: full EV, Parallel Hybrid, and Series Hybrid, which actually utilizes the 117-horsepower, 2.0-litre gasoline engine to charge the batteries, an ideal mode when driving on the highway.
Parallel Hybrid is essentially a conventional hybrid system like the one found in a Toyota Prius, for example, where both electric and gas propulsion operate in harmony for optimum fuel economy. I'll get back to that one later.
Once my Outlander was fully charged on a public station in Montreal, which cost me $3.06 for a three-hour charge, the SUV's computer told me I had 39 km of range available, 4 km more than Mitsubishi's rather conservative claims.
I took off on a 50-km urban circuit, in full EV mode, transmission geared into D, windows down, with air conditioning turned off. Taking off at intersections in B0, and progressively going up the B1, B2, B3, B4, and B5 modes, I was able to slow down my Outlander without using the brakes. I live in a flat area, so I couldn't use regenerative braking to go down hills.
The batteries ran out of juice at 43 km. That was less than I expected, and not much more than what I did in Vancouver.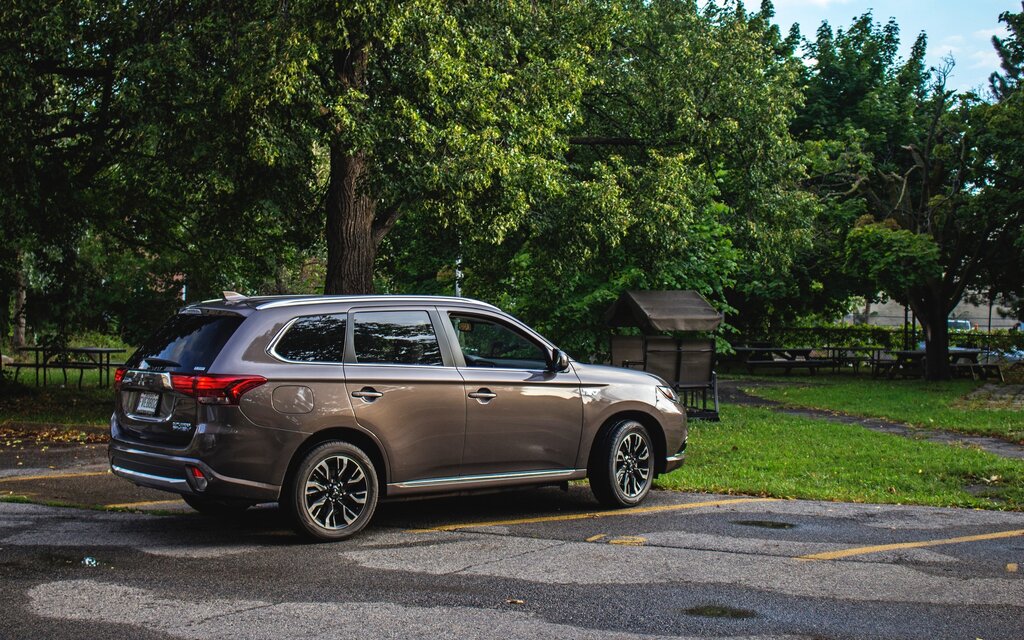 The Downsides
So, to Mitsubishi's credit, the Outlander PHEV has a lot going for it. At the moment, no mainstream carmaker still offers a plug-in hybrid SUV. The only other alternative is the Toyota RAV4 hybrid, but it can't be plugged in, nor be driven in full-electric mode. You'll need to go in the upscale brands to get close, like the Volvo XC60 T8 or MINI Cooper S E Countryman, but they have less range.
Also, the Outlander benefits from government rebates in Quebec (up to $4,000 after taxes) and in British Columbia (up to $2,500 before taxes). The Mitsu also gets free access to carpool lanes and toll bridges in Quebec.
But the darn thing sells for an entry price of $42,998 (before freight and destination). My tester, which was the most loaded GT S-AWC trim level, goes for a staggering $49,998. That's kind of high.
I mean, sure, equipped this way, the Outlander gets a full battalion of semi-autonomous safety features, leather seats, a seriously solid Rockford Fosgate sound system with subwoofer, all-wheel drive and one of the largest cargo holds in the segment (1792 litres in total). But its interior design is dated, appearing more like a product of the early 2000s. Material quality is all but ok, and the infotainment system's layout and interface resemble a unit out of a third-party supplier rather than something developed and conceived by Mitsubishi.
Then there's the fact that when driven in hybrid mode, the Outlander has trouble staying under the 9.2 L/100 km mark. That doesn't it make it much thriftier than gas-powered competitors such as the Honda CR-V and Mazda CX-5.
But hey, all of this doesn't seem to prevent Mitsubishi to sell these things. With already 4000 units sold since its launch in Canada, the 2018 Mitsubishi Outlander PHEV is currently the best-selling plug-in hybrid on our market. I guess owners have understood how to drive it, and to consider more than the spec sheet when shopping for a plug-in hybrid vehicle.
Share on Facebook