2018 Infiniti Q50 Red Sport 400: The Excellent Compromise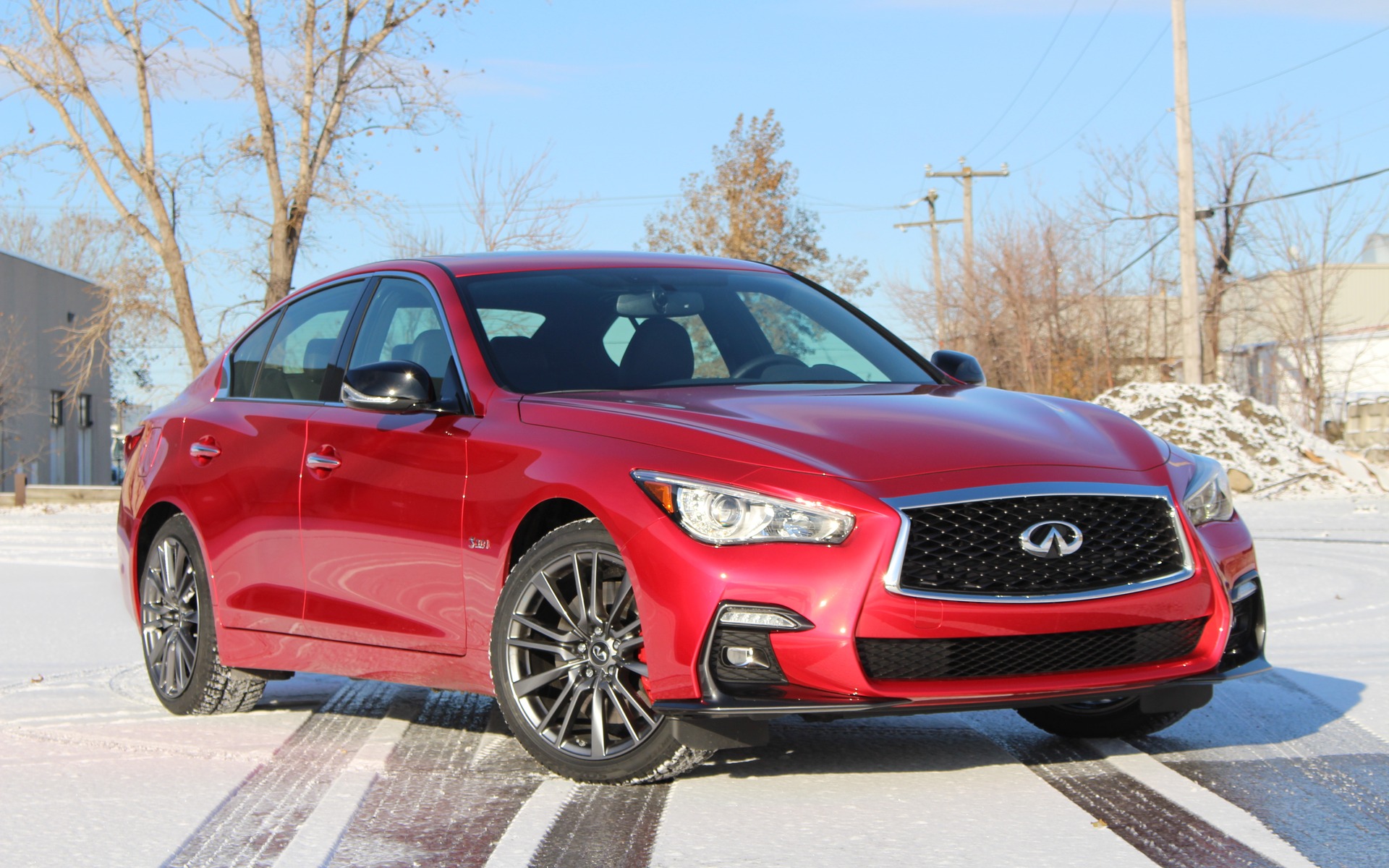 Strong points

Sweet twin-turbo V6
Interior finish and comfort
Priced right

Weak points

Underwhelming Direct Adaptive Steering
Infotainment system interface could be better
Lacks the prestige factor of its German rivals
Full report
We're looking for a powerful and luxurious compact sedan? Audi, BMW and Mercedes-Benz are probably the first brands that pop into our collective minds, but there are many more to choose from, such as Japanese brands Acura, Infiniti and Lexus, Swedish brand Volvo, Italian brand Alfa Romeo, Korean brand Genesis and English brand Jaguar.
Why are those Germans so privileged? Because they've pretty much defined and sharpened the luxury compact segment, and the BMW 3 Series has been more or less the benchmark for quite some time now. Meanwhile, the Mercedes-Benz C-Class is the category's top seller in Canada.
Infiniti's most recent answer to the Bavarian sedans is the Q50, which was introduced for the 2014 model year. For 2018, it receives some cosmetic revisions, new interior materials and a reworked Direct Adaptive Steering system, among other improvements. Is that enough to keep the Q50 competitive? No, but it's a step in the right direction.
The Red Sport 400 version has a marvel of an engine. Its twin-turbo, 3.0-litre V6 produces 400 horsepower as well as 350 pound-feet of torque from 1600 to 5200 rpm, and all that muscle is sent to the car's four wheels via a seven-speed automatic transmission. The 0-to-100 km/h sprint takes just over five seconds, so it's pretty fast. In terms of firepower, that compares well to the 320-hp BMW 340i, the 354-hp Audi S4 and the 362-hp Mercedes-AMG C 43. It also sounds terrific, something we've become accustomed to for Nissan/Infiniti V6 engines. During our test, we managed a decent average of 11.0 L/100 km, and super unleaded is required.
The twin-turbo V6, code-name VR30, has been on Wards' 10 Best Engines list in for two years in a row, which is further proof of just how good it is.
The 2018 Infiniti Q50 Red Sport 400 also looks the part, with its newly-added lower-body spoiler kit, dark 19-inch alloy wheels and—in the case of our test car—luscious red paint. Buyers can also choose the 3.0t Sport, which gets the same engine and styling, but its downtuned VR30 produces 300 horsepower and 295 pound-feet. To spot a Red Sport from a Sport, look for the red "S" badge on the car's front fenders. A more conservative Q50 can also be had with the 2.0t LUXE, which gets a 208-hp four-cylinder turbo—supplied by Mercedes-Benz—and the 3.0t LUXE.
As much as we love the Red Sport's engine, the Q50's Direct Adaptive Steering isn't as exhilarating. It's an electronic setup that is said to be quicker to respond than a mechanical steering system, but despite its improvements and more configuration options this year, it still feels artificial.
For this test, we had a Red Sport without the electronic steering, and the car is more enjoyable for both the daily commute and during spirited driving. However, Direct Adaptive Steering is part of the $3,800 ProActive package, which also bundles adaptive cruise control, lane departure warning and prevention, blind spot intervention (blind spot warning is part of the $2,000 ProAssist package, which our test car had) and some other advanced safety gadgets. So if we want all the available bells and whistles, we'll be stuck with DAS.
Inside, we're treated to semi-aniline, quilted leather upholstery, dark chrome trim and red contrast stitching, all exclusive to the Red Sport 400. The dashboard's overall design won't blow any seasoned luxury-car buyer away, but fit and finish is very good, and seat comfort is noteworthy. As far as space goes, the Q50 isn't any more or less spacious than its rivals.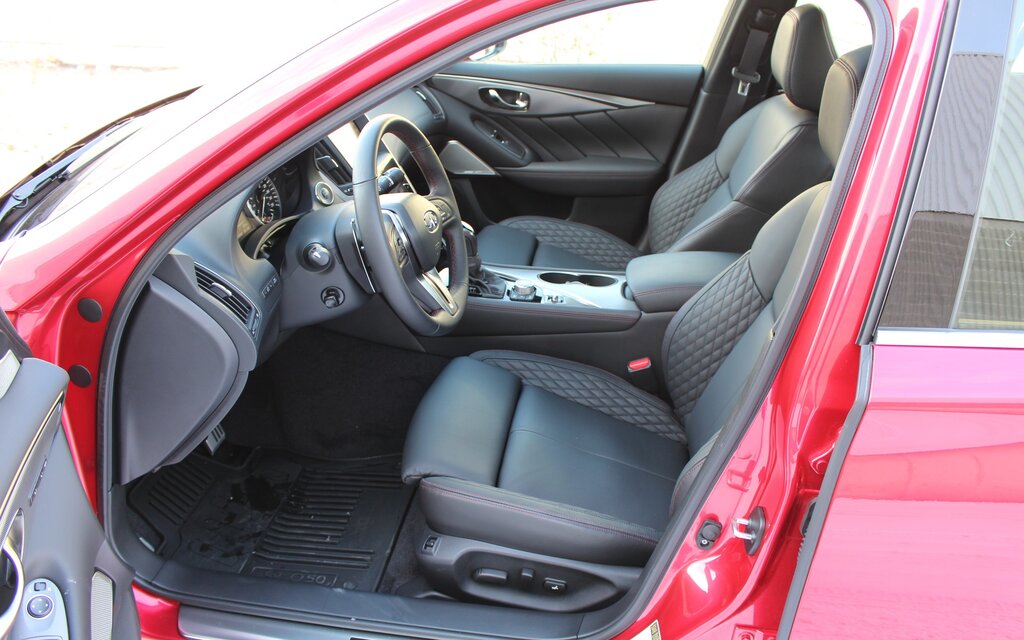 The 2018 Infiniti Q50's dual-screen infotainment system works fairly well, but isn't the slickest out there. The top screen shows the navigation map and displays such as the drive mode selection, what's playing on the excellent Bose 16-speaker stereo and climate control settings, while the lower screen—with its glossy, tablet-style finish—acts as the interface for browsing menus. That lower screen isn't the most reactive to finger poking, which can be distracting while driving. There's also a console-mounted multifunction knob, which helps a little.
With a base MSRP of $52,695 before freight and delivery charges, the Q50 Red Sport 400 undercuts the S4, the 340i xDrive and the C 43 4MATIC by a few thousand bucks in addition to offering more standard features. That may not be enough of a deal for those who cherish the prestige factor of the German brands. However, Infiniti has a better reputation for reliability and resale value, so if we're looking for a long-term purchase instead of a two- or three-year lease, this is something to consider.
As we're writing this, the 2019 model will also roll into dealerships soon, so there's definitely a deal to be had with remaining 2018 models. We've seen $10K knockdowns on Red Sport 400s, which is pretty interesting.
It's true that the Q50 is a somewhat softer approach to sportiness compared to what Audi, BMW and Mercedes-Benz offers. However, there are some buyers out there that don't like the firm suspensions and ownership experience of the German brands, making a Red Sport 400 an excellent compromise.
Share on Facebook