2019 Porsche Cayenne: Starting With the Basics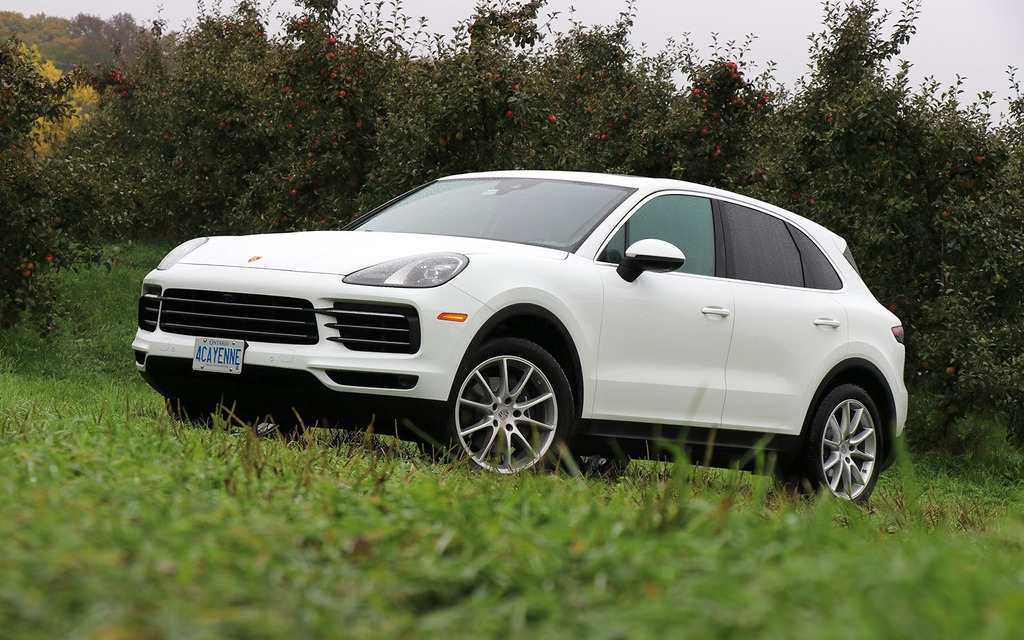 Strong points

Structural rigidity
Overall comfort
Modern presentation
Greatly improved performance (basic version)

Weak points

Annoying accelerator lag
Costly and necessary options
Disappointing engine sound
Partially lost personality
Full report
Has it been 16 years already? It's hard to believe that the first Porsche Cayenne SUV appeared in 2002, saving the business from a possible financial slump that would have deprived sports car fans from numerous wonderful creations. The SUV has since carved out such an enviable reputation that enthusiasts have all too often overlooked its reliability issues.
For 2019, Porsche is relaunching the third-generation Cayenne and proceeding with caution. Its progressive lines are characterized by elongated and slightly more sculpted features, including four-lamp headlights and a strip of taillights in tune with those of the 911 and Panamera. Now 63 mm longer, the new Cayenne has the same wheelbase despite its brand new platform borrowed from the Audi Q7 and Bentley Bentayga. This platform will also serve as the base for the next Volkswagen Touareg.
Like every new generation of Porsche vehicles, the lineup will be reduced at launch. The first to arrive will be the "basic" versions, which will account for about 50% of sales. They will be followed by the S, Turbo and E-Hybrid variants. For now, that will be it. The E-Hybrid will arrive later this year and will probably be followed by the Turbo S and GTS in 2020 or 2021.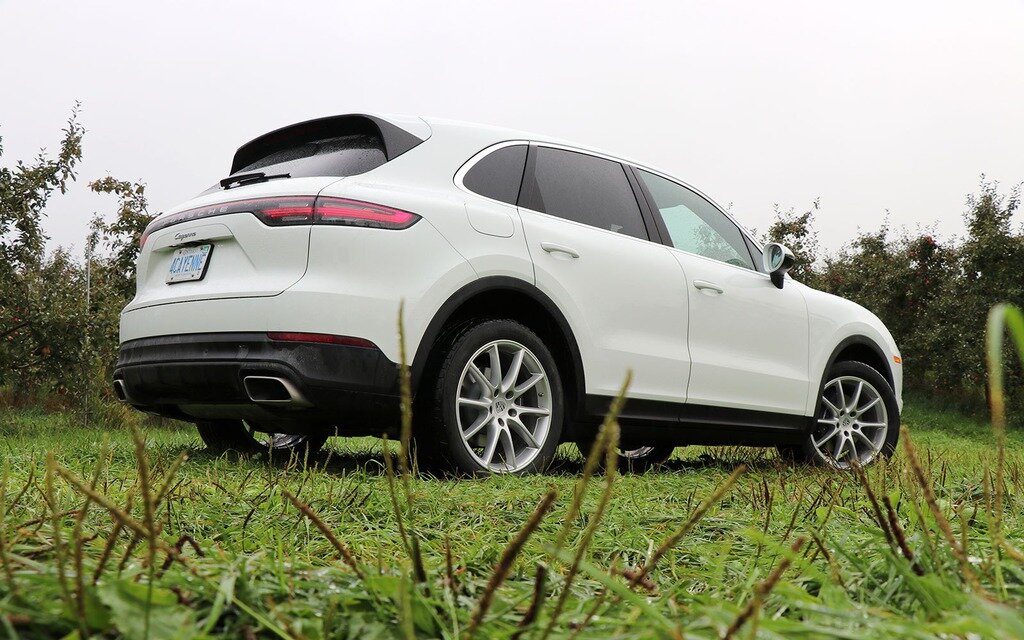 Significant—But invisible—Changes
Although the exterior differs very little from the old version, the 2019 Cayenne features several significant changes. Most of these are imperceptible, unless of course you bend down to take a peek underneath. There, you'll notice that in addition to a new structure, Porsche has completely updated the suspension. Gone are the front double wishbones in favour of a multilink suspension, which allows more wheel travel and better handling. They've also enhanced steering wheel feedback, which has always been one of the brand's strengths.
The new structure is lighter, 120% more rigid and features a lot of aluminum. In fact, the entire body is now made of aluminum, which explains how this technology-laden vehicle managed to shed 55 kilograms overall. Speaking of technology, this vehicle has Porsche InnoDrive, an adaptive cruise control system with a semi-autonomous driving function. This device can analyze up to three kilometres of road in front of you to optimize the ride, performance and energy efficiency.Since Porsche's strategy has always been to offer an incalculable number of options, this system is sure to come at an extra cost.
You could also add the All-Terrain Package ($2,280), air suspension ($4,750), active torque management ($4,090) or performance brakes ($3,990). And if those brakes aren't powerful enough for you, why not opt for carbon ceramic brakes for the price of a Nissan Micra ($10,350).
Under the hood, there's a new turbocharged, 3.0-litre V6 engine that produces 335 horsepower. This efficient, more frugal V6 is paired with a new ZF eight-speed automatic gearbox that replaces the old Aisin model. While it's not as exotic as the Turbo version's V8, this drivetrain remains flawless.
However, it lacks responsiveness, even in Sport mode. And then there's an acceleration lag to account for so as to not be caught off guard. Obviously, this handicap creates the impression of an unnatural reaction (which is the case) and affects the comfort of the occupants who are literally shaken by this delayed response. This is a recurring problem, particularly for Volkswagen products. I would add that the sound of the V6 is painfully flat. But don't worry, Porsche has a solution for you: there's an optional, more resonant sport exhaust at the cost of $3,670.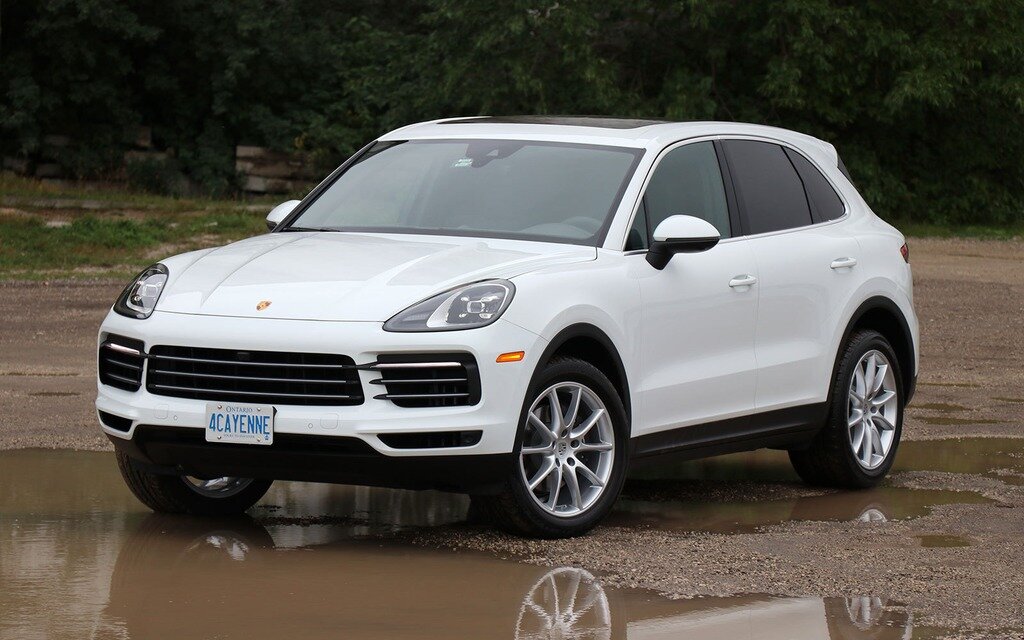 How Does it Perform?
The Ontario country roads where we put the vehicle through its paces barely let us tap 10% of the new Cayenne's capabilities.Long straightaways surrounded by fields criss-crossed by other long straightaways constituted almost the entirety of our nearly 300-kilometre trip, which took place in the rain. Nothing to really test its exceptional handling, all-wheel drive or off-road capabilities.
That being said, there isn't a lot to criticize when it comes to the Cayenne, with the possible exception of lacking a little bite. The steering is incredibly precise, the 20-inch tires are up to task (19-inch rims come standard), braking is prompt and structural rigidity is palpable. And three cheers for the total absence of cracking noises, often caused by heavy consoles and the panoramic sunroof panel.
The Cayenne could be reproached for losing its DNA, for no longer being easily identifiable as a Porsche product due to its now more sterile handling. But that doesn't make it any less competent a vehicle. On the contrary, instead of transmitting the thrills that only Porsche can provide, it does everything with more poise.
Contemporary
You like contemporary vehicles? New design trends? You'll enjoy the Cayenne's roomier and more pleasant cabin with quality materials that are beautiful even in the less posh versions. You'll also like the fact that you can customize the interior presentation. I'll admit that I was among those who appreciated the first Panamera's wide central console loaded with countless physical buttons—I'm not a big fan of large touchscreens. They all look alike and inevitably affect the creative spirit of their designers.
What Porsche was able to do with this dashboard is exceptional. They managed to improve the overall ergonomics while integrating both a 12.3-inch screen and a central console housing countless touch functions. The result is a pared down, understated, but sharp-looking dash. Kudos to the new, more compact shifter and support handles attached to the console. They are as practical as they are attractive.
Obviously, changing the Cayenne's overall approach only slightly meant that Porsche would not offer a third row of seats, unlike many of its rivals. On the other hand, despite increasing the cargo space by 100 litres, they created more room in the back seats. That's welcome news for those choosing it as a family vehicle.
My impression of the new Cayenne was unremarkable based on this initial contact. Clearly, I was unhappy with the lack of character and the acceleration lag, but I was impressed with the technical innovations and the attention to overall quality. Test driving a jazzier version in a more inspiring setting might change my perception of the product, which is not short on quality and will make those willing to part with the sum required to acquire it very happy. But $88,000 seems a steep price to pay for a model without much in the way of exoticism. Keep an eye out for the upcoming E-Hybrid version, which could definitely be more powerful, more original, exotic and—of course—more environmentally friendly.
Share on Facebook