2019 GMC
Sierra 1500

: Finally Different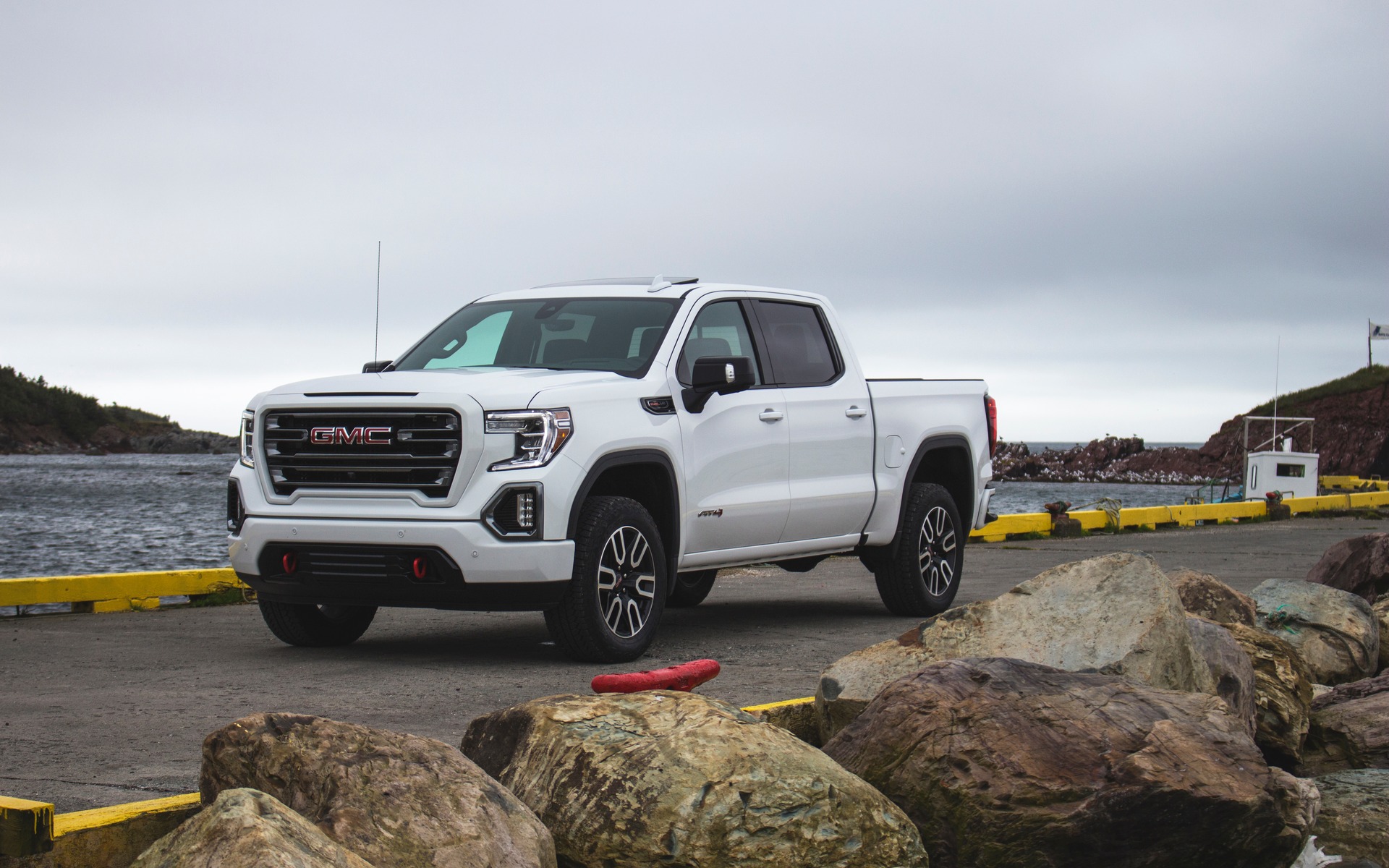 Strong points

Quiet cabin
Wide range of engines and trim levels
Witty MultiPro tailgate

Weak points

No electrified version yet
Disappointing interior design and build quality
5.3-litre V8 almost beaten by the four cylinder (on paper)
Full report
ST. JOHN'S, Newfoundland – Alright, so, the 2019 GMC Sierra, how is it? As you may remember, we recently drove its mechanical cousin, the 2019 Chevrolet Silverado 1500. We were pleased with it, calling it an ingenious truck, even though it deserves a better cabin design and a more convincing High Country trim.
So, when this new Sierra 1500 was unveiled earlier this year, many of us asked ourselves an important question: do we really need another GM truck? That's always been the mystery about these twins. They were never all that different, except maybe some trim packages cleverly put together to generate maximum profit from a segment that continues to be, even today, one of the most lucrative in the industry.
For 2019, General Motors answers the big question. For the first time since… a long time, the GMC Sierra finally distinguishes itself through new, high-tech and exclusive features. We'll even go as far as saying it's better than the Chevy.
The Same Basic Recipe
Let's begin with what isn't different, the available drivetrains. Like in the Silverado, a total of six engines are offered: two V8s, a naturally aspirated V6, a four-cylinder turbo, and a turbo-diesel straight-six.
The sixth engine is essentially the 5.3-litre V8 that can be had with a choice of two fuel management systems, either classic cylinder deactivation, or the all-new dynamic fuel management system, standard on the 6.2-litre V8. Six, eight, and ten-speed automatic gearboxes complete the package.
We'll avoid running down the details of the available drivetrains, as we covered them in our first drive of the Silverado. Mechanically speaking, these two trucks are identical. Well, almost.
The off-road AT4 trim, or the equivalent to the Trail Boss on the Chevy side, can be powered by the 6.2-litre V8, something that could convince buyers to tilt towards GMC. Anyway, the 5.3-litre engine is getting old, and on paper, it almost gets beaten by the all-new 2.7-litre turbo four in terms of power, torque and payload capacity.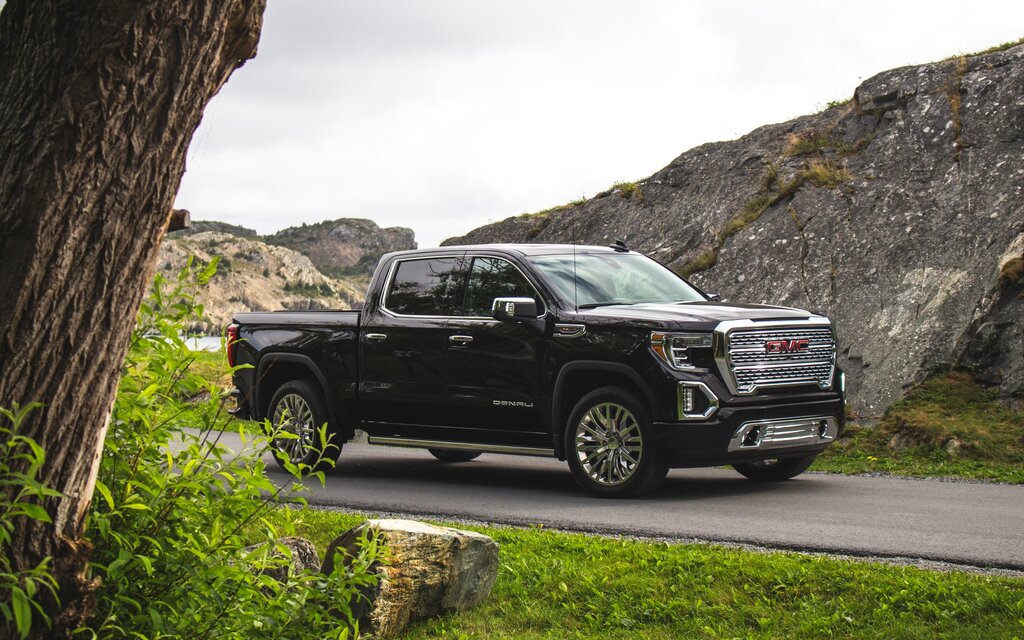 Denali, CarbonPro, MultiPro
Essentially, it's the three elements listed above that allow the Sierra to position itself as its own, bespoke pickup. That, and styling that is, let's be honest here, much more attractive, especially in AT4 and Denali trims.
That last one, the most luxurious trim level in the Sierra lineup, impressed us even though it significantly inflates the truck's price. It's is simply a more convincing package thanks to its large, chrome grille, chrome wheels, power-retractable running boards, advanced towing options such as 360-degree and lateral cameras, as well as a much more upscale interior by way of plush leather seats, wood trim, a head-up display, and a larger infotainment screen than in the rest of the lineup.
Basically, if you're looking for a luxurious half-ton truck at GM, we recommend opting for the GMC Denali over the Chevrolet High Country. You simply get more for your money. That being said, that interior remains a bit stale compared to that of a 2019 Ram 1500.
The other important distinction between the GM twins is the Sierra's bed which, for the first time in the history of pickup trucks, can be made out of carbon fibre depending on the trim level you choose. GMC calls it CarbonPro, and it allows the Sierra's bed to be 62 lbs. (28 kg) lighter than the Chevy's, all while being more solid. According to GM, aluminium was out of question for the bed because of its lack of durability.
Which is why, like the Silverado, the Sierra uses aluminum exclusively for movable parts, such as the hood, doors, and tailgate (for models not equipped with the CarbonPro bed).
Finally, there's that much talked about MultiPro tailgate which allows the Sierra to truly shine brighter than its direct rivals, the Ford F-150, Ram 1500, Toyota Tundra, and Nissan TITAN. No other truck in this segment offers such a tailgate, which can, thanks to three articulated sections, take six different shapes.
A stopper can be lifted on the tailgate itself, either when opened full, or partly, to prevent long objects from sliding out. The tailgate can transform itself into a work table, ideal for a contractor on a construction site. There's a tiny opening on top, preventing the tailgate to be opened fully, or the entire thing can become a large step, facilitating bed ingress. GMC will even sell you an optional speaker system for those occasional tailgate parties.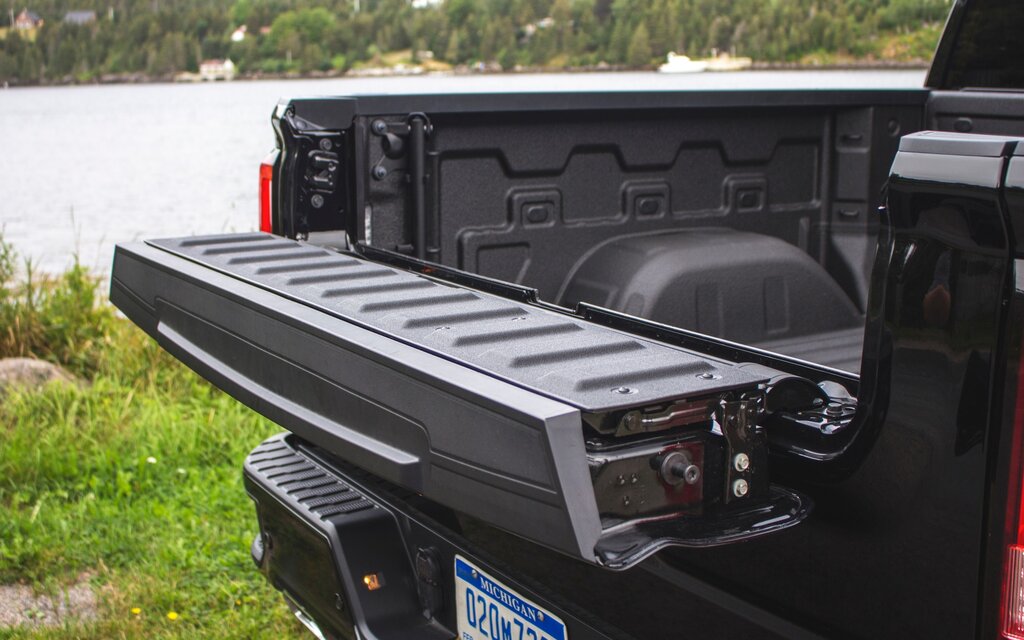 Raising the Bar on Handling
Like its cousin, the GMC Sierra impresses behind the wheel, with handling characteristics that lean more towards a unibody configuration rather than a body-on-frame rig fitted with a leaf-spring suspension. It's a smooth truck, one that exhibits very little cabin bouncing and chassis wobbles when driven over road imperfections.
The engine we spent the most time with was the 6.2-litre V8, and it remains GM's best asset in terms of acceleration and refinement. Now fitted with the new dynamic fuel management system, there's very little noticeable change between the firing order compared to the old cylinder deactivation system.
We had no issue with the ten-speed automatic, which reacts quickly under hard acceleration, downshifting when commanded to do so, all while remaining smooth the entire way. However, like in the Silverado, we didn't notice any improvements in fuel economy versus the last-generation truck. As a matter of fact, even if both trucks are mechanically identical, we recorded an average of 15.2 L/100 km, or 1.2L/100 km more than the Chevy we drove in Wyoming. Could high altitude and temperature variations have something to do with it? Oddly enough, even GM's own numbers illustrate the same portrait.
But, hey, let's be honest here, the 2019 GMC Sierra picks up on an already well-executed machine and goes even further in terms of engineering, incorporating cool and innovative features that allow it to be more capable than its brethren.
A part from a lack of an electrified version, like what you get in a Ram e-Torque or what Ford is promising next year, an interior that could use a bit more bling, and a Denali trim that should sell for the same price as some European luxury SUV's, the 2019 GMC Sierra 1500 is, so far, the best of GM's current truck duo.
Share on Facebook