2019 GMC
Sierra 1500

Elevation: What, Only Four Cylinders?
Strong points

A bold move by General Motors
User-friendly infotainment system
Also available with V8 engines

Weak points

Unknown reliability (2.7-litre engine)
Not more fuel-efficient when hauling or towing
Engine sounds like a compact car
Full report
While the idea of a turbocharged six-cylinder engine in a full-size pickup would have seemed ludicrous just a few years ago, it is now common practice for manufacturers. GMC even went a step further with a turbo engine that only has four cylinders.
It's the first such application in the segment and we at The Car Guide were among the first in North America to take it for a test drive.
New Engine
The engine under the hood of the 2019 GMC Sierra 1500 Elevation is a turbocharged 2.7-litre four-cylinder unit mated to an eight-speed automatic transmission. It produces 310 horsepower and 348 pound-feet of torque. On paper, this kind of output is more than decent.
Sierra owners who use their pickup as a daily driver will find it an interesting alternative. On the other hand, those who need to haul or tow massive loads should consider something else (the 6,900-lb maximum towing capacity is what you normally get with a midsize truck). Otherwise, abusing the turbo could prematurely wear the engine down and increase costs. Rigorous maintenance will be vital, here. As for long-term reliability, well, that is still a big question mark.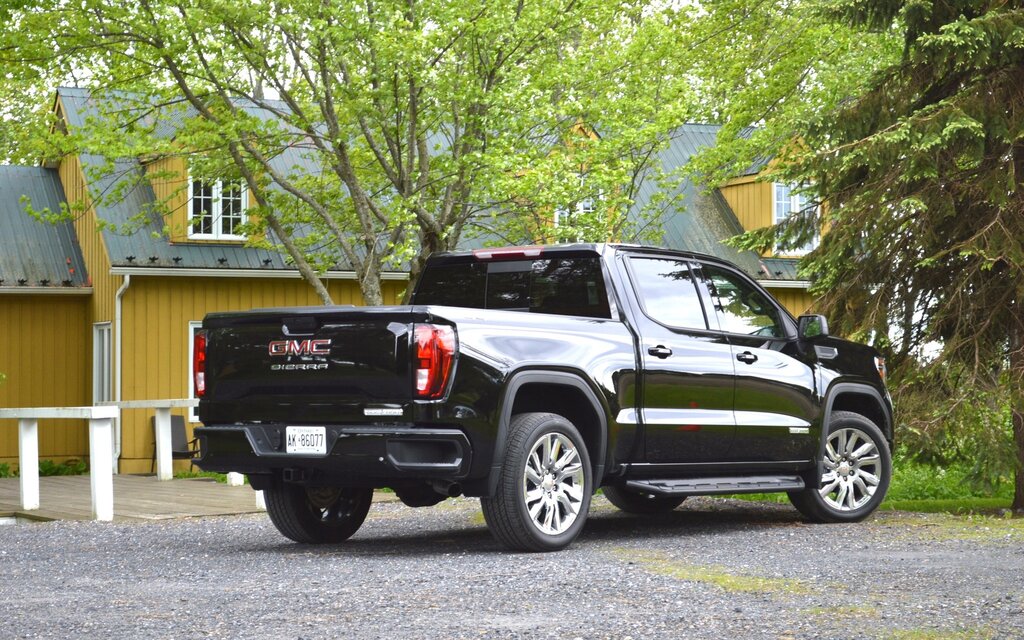 For some obscure reason, the GMC reps did not give us an opportunity to test the hauling and towing capacities of the Sierra 1500 Elevation. All we did was travel through the country and suburban areas—with a photo contest as part of the event. This is definitely not what typical pickup drivers have in mind. Is GMC afraid that its latest model won't be up to the task in the real world? It kind of looks that way.
The several hundred kilometres we drove with the four-cylinder Sierra 1500 revealed adequate performance under light loads. However, we hardly imagine it being the primary workhorse of a construction guy or road-repair crews. Compared to V8-powered variants, the nose felt lighter and the sound coming from the engine was unlike anything we're used to hearing in full-size pickups.
Returning Engines
Completely new for 2019, the GMC Sierra 1500 is also available with a 4.3-litre V6, a 5.3-litre V8 and a 6.2-litre V8. And just like Ford, which added a 3.0-litre turbo-diesel V6 to the F-150 lineup this spring, GMC is introducing a 3.0-litre inline six-cylinder Duramax for 2020. And guess what? FCA has also done the same with a 3.0-litre EcoDiesel V6 for the Ram 1500.
GMC does not, however, offer a turbocharged V6 like Ford does.
Real Savings?
According to Natural Resources Canada, the four-cylinder engine in the 2019 GMC Sierra 1500 Elevation burns 11.8 L/100 km on average—admittedly less than the 5.3-litre V8 (13.5 L/100 km) and 6.2-litre V8 (13,9 L/100km).
Then again, the minute you start pushing it, fuel consumption is likely to increase to a level that's awfully close to that of eight-cylinder variants.
Old-school Shifter
Unlike Ram, which replaced the conventional shifter with a rotary dial on the dashboard, Ford and General Motors are staying old-school.
The shifter in GM's full-size pickups is mounted on the steering column, which is the way we like it, whereas Ford puts it on the centre console.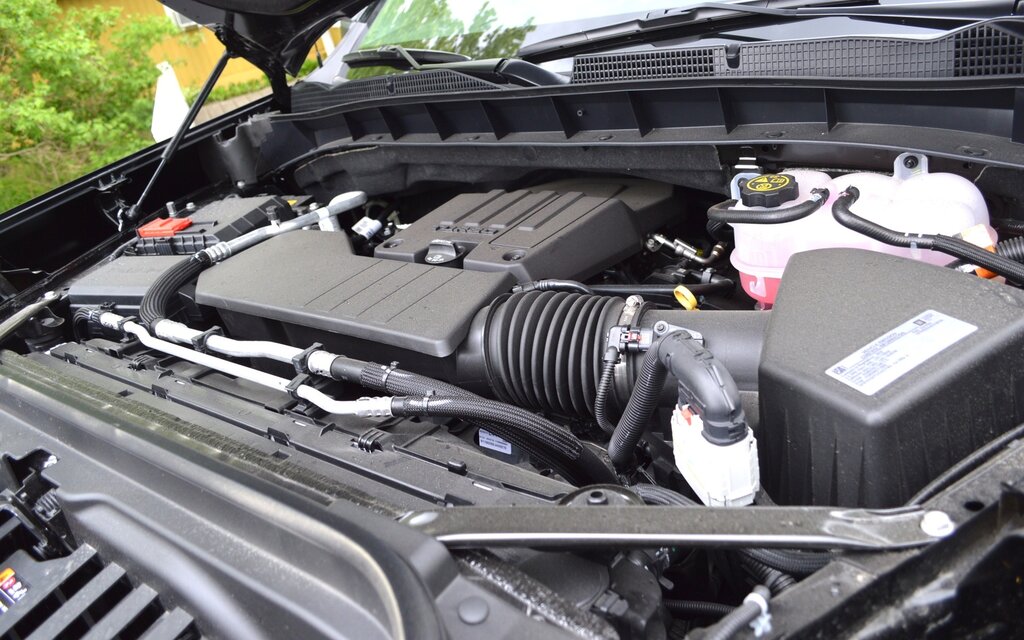 Strong Seller in Canada
On average, GMC sells just about as many Sierras in Canada as Chevrolet does with the Silverado. For example, the former put 53,500 units on the road in 2018, while the latter sold 55,000. A year before that, the numbers amounted to 62,000 and 59,000, respectively.
The gap is much bigger in the U.S., mind you. Chevrolet found approximately 580,000 takers for the Silverado last year, while sales of GMC Sierra pickups topped at 222,000 units.
Infotainment excellence
Compatible with Apple CarPlay and Android Auto, the infotainment system in the 2019 GMC Sierra 1500 Elevation is very easy to use. All the controls are within reach and the menus are clear.
Which system is the best? That's really hard to say. Ram's Uconnect and Ford's SYNC 3 are both super-friendly and easy to figure out, too.
Our verdict
If the four-cylinder Sierra interests you, we recommend considering a midsize pickup like the V6-powered Chevrolet Colorado or GMC Canyon. It's entirely possible that one of those will meet all of your needs. They're more nimble and they offer similar capabilities at a lower price.
Share on Facebook