2018 Buick Regal GS: Now We're Talking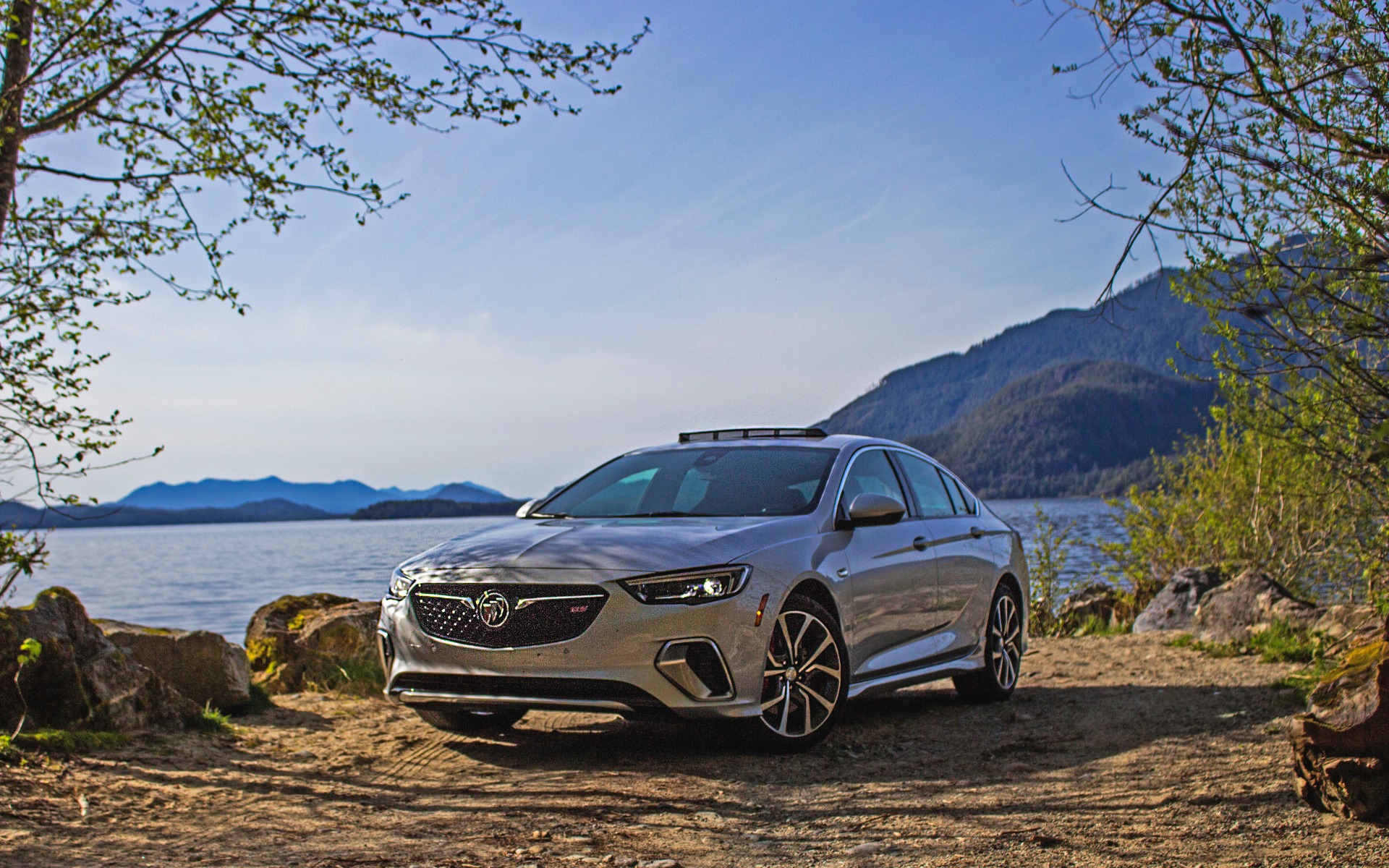 Strong points

Superb handling
Smooth and quick automatic transmission
Standard Brembo brakes

Weak points

V6 engine lacks low-end torque
No paddle shifters
Sunroof doesn't come standard
Full report
TOFINO, British Columbia – These days, if you're not a German carmaker and are trying to sell a midsize sports sedan, times could be hard for your business. While the current market is filled with great alternatives to the BMWs, Audis and Mercedes-Benzes of this world, their sales numbers aren't exactly going through the roof.
That being said, while the new players probably aren't generating as much profit as they'd like, they are plenty. There's the Genesis G80, the Acura TLX, the Infiniti Q50 and the Lexus GS. Even Kia is trying to grab a bite of the pie with its Stinger. So why not give it a try over at Buick?
Premium Performance
The idea of a Regal GS isn't new; GM is merely recycling a formula that proved successful over fifty years ago. On paper, this is a desirable car. But what do modern consumers think? They seem to be experiencing a love affair with the German sedans. Are they willing to spend their hard-earned money on a sporty Buick?
Thankfully, Buick isn't aiming the Germans with this car, but rather the Japanese, so there's hope. For a while now, Buick has positioned itself as a premium car brand, or what it calls "affordable" luxury, a move that seems to be working at convincing a clientele that's now younger and more demanding. Squeezed between Chevrolet and Cadillac in GM's brand portfolio, Buick is therefore targeting Acura and Infiniti.
Gran Sport
The 2018 Buick Regal GS is the sportified version put out there to steal Acura TLX SH-AWD A-Spec and Infiniti Q50 Sport sales. In reality, due to its fastback configuration, which gives way to quite a lofty cargo area (1718 total litres with the rear seatbacks folded down), the Regal GS competes more with a Kia Stinger GT.
Buick invited us to Vancouver Island to get behind the wheel of its new GS. The plan was to drive from Nanaimo to Tofino on Route 4. If you're familiar with the area, you know that it's one of the most curvaceous roads in the country, and also one of the most dangerous. You can imagine how eager I was to take this car out for a spin.
Because for me, and many enthusiasts, the GS badge represents Buick's great classics such as the Riviera and Skylark Gran Sport, the GSX, and even the iconic Grand National from the mid-eighties. While Buick has attempted to reignite the GS flame with the last-generation Regal, the car had more in common with an Opel than an American sports sedan. Sadly, its performance was still lukewarm.
As for the new car, well it's…still an Opel, but its level of performance is finally up to par with the fast Buicks of the past. Under its hood lies a naturally aspirated, 3.6-litre V6 pumping out 310 horsepower and 282 lb.-ft. of torque. Torque vectoring all-wheel drive comes standard, and the only available transmission is a nine-speed automatic.
The GS sets itself apart from a conventional Regal Sportback with more aggressive front and rear bumpers, a rear deck lid spoiler, 19-inch wheels and huge Brembo brakes. Those come standard by the way, and help contribute to what is a rather good-looking sedan. Adaptive dampers and sport bucket seats, which were co-developed with a group of chiropractors, help complete the go-fast package. Buick claims a 0 to 100 km/h acceleration time of 5.9 seconds.
So, is it Worth it?
Oh yes! However, it's not perfect. Thankfully, it's affordable, so its flaws are forgiven. With a starting price of $43,845 before freight and delivery charges, the GS comes pretty loaded…except for a sunroof. That's an option.
At least, the Regal GS is cheaper than a Kia Stinger GT, or even a similarly equipped Acura TLX A-Spec. I should have your attention now.
Let's begin with the good stuff, because there is a lot of it. On the winding road, the Regal's Opel-derived platform proved more than competent for the task. The adaptive suspension, which firms up at the push of the GS button, does a remarkable job at absorbing road imperfections and elevation changes, all while delivering handling characteristics on par with the best German sedans currently available.
And how about those Brembo brakes, which don't hesitate one minute to carry the car's heavy drivetrain on their shoulders all while bringing the car to a halt with authority. As a matter of fact, the Brembos are so good that I was able to push the car to its limits of adhesion, further increasing driver confidence during excessive cornering transitions and further revealing the excellent chassis tuning. Handling-wise, this car is spot on!
The nine-speed automatic is smooth, shifts fast and reacts so well to a half-pedal throttle application that it almost seems like it anticipates your next move. Sadly, the car isn't fitted with paddle shifters. For a sports sedan, that's somewhat disappointing.
The V6 engine, on the other hand, isn't as exciting. While it makes great sounds and loves to rev, it's missing the required oomph, especially at lower revs, to properly propel the car out of a bend or climb an incline the way a genuine sports sedan should. It's a good engine, and a smooth one too. But it needs more low-rpm torque only a turbocharger can provide.
So as far as performance goes, the Regal GS slots between an Infiniti Q50 Sport and an Acura TLX A-Spec. It's slower than the Infiniti, but more agile and competent than the Acura. Meanwhile, the Kia Stinger GT eats it for breakfast.
The Value Proposition is There
The 2018 Buick Regal has a spacious and comfortable cabin, especially when sitting in those massive front thrones, which will also massage your bum. The rear bench is roomy, but head clearance is a tad tight for tall passengers.
Ergonomics remain a Buick strong point, and the simplicity of the Regal's infotainment system would shame its competitors—especially Acura. Interior build quality is decent, but some materials used, such as the fake carbon fibre trim, lean to the tacky side.
Taken as a complete package, the 2018 Buick Regal GS is a well-executed premium sports sedan. With a price this attractive, reliability scores that are this solid, styling that's this unique, and handling that's this entertaining, there's no reason not to consider it over something Japanese of the same calibre. Let's just hope consumers will actually give a damn this time around.
Share on Facebook