2018 Buick Regal: Young at Heart, Old by Name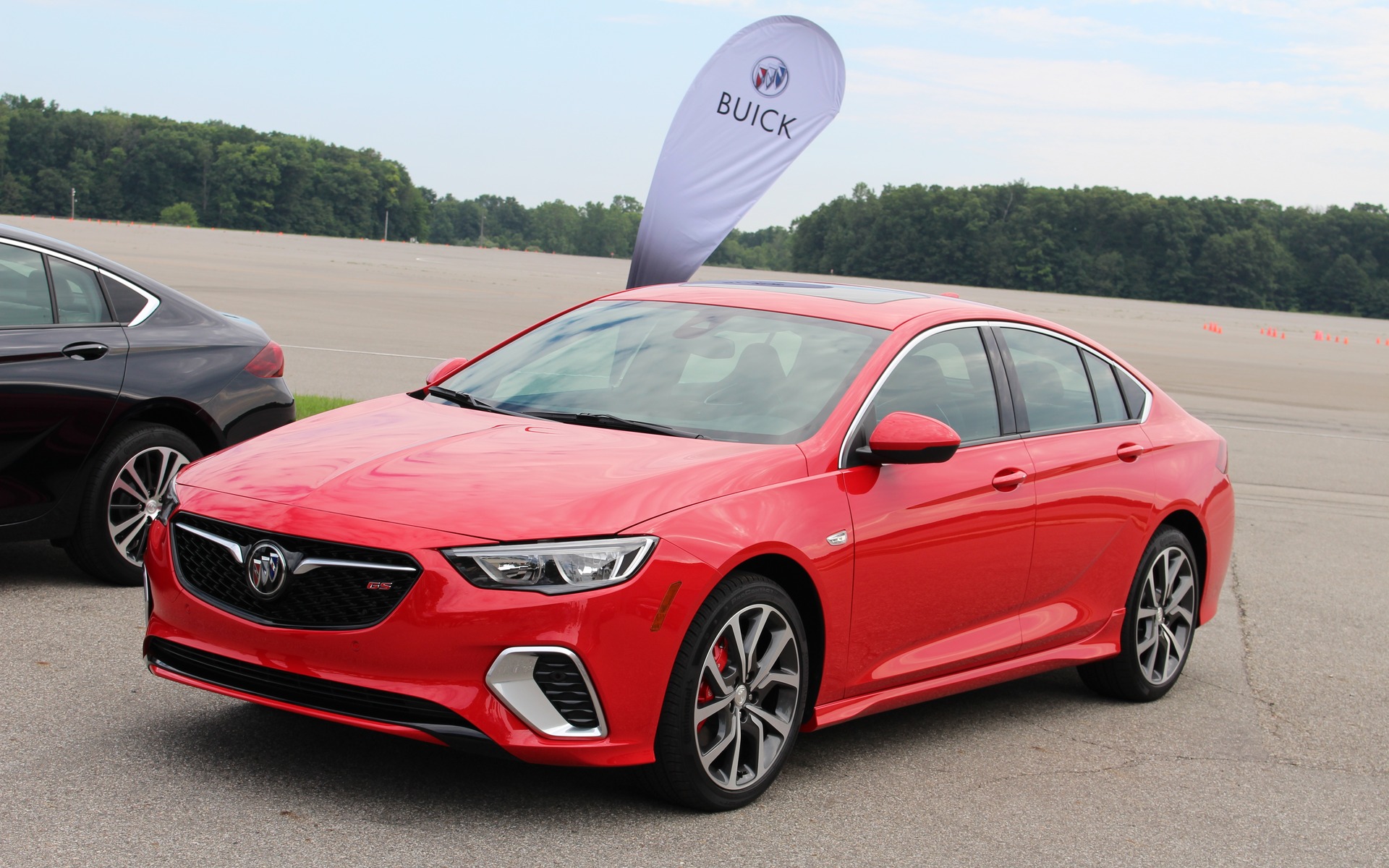 Strong points

Gutsy engines
Sweet handling characteristics
Quiet and refined

Weak points

Less low-rpm torque in the GS than in the regular Regal
Barely enough rear-seat headroom
High price (GS)
Full report
MILFORD, Michigan – Building on the success of its SUV line-up, which includes the refreshed-for-2017 Encore, the introduced-for-2016 Envision and the redesigned-for-2018 Enclave, GM's Buick division is slowly, but surely, gaining ground. However, as the Verano compact is being retired this year, the brand's car sales are down.
Hoping to turn things around, the 2018 Buick Regal has been revealed earlier this year, and in a bold move, it's swapping its four-door sedan body style for that of a five-door hatchback. Bold, because in North America, Buick is still—and might always be—considered a brand for an older clientele, which isn't necessarily looking for sportiness or performance. A group of journalists was even invited to GM's Milford Proving Grounds in Michigan to get a taste of the equally new 2018 Buick Regal GS.
Unlike mainstream midsize sedans that are adopting a "fastback" profile while keeping a proper trunk, and the 2018 Honda Accord and Toyota Camry come to mind, the Regal gets a practical hatchback. Buick is actually calling itself an "attainable luxury" brand, which means it's fearlessly aiming the BMW 4 Series Gran Coupé and the Audi A5 Sportback. The press documents also mention the Acura TLX and the Lexus IS as target competitors.
We have to admit that Buick has got quite a stylish car on its hands. It's once again based on the Open Insignia that's sold in Europe, and unlike the current-generation Regal that's assembled in Canada, the 2018 car will be built in Germany.
It's worth noting here that Buick is offering a wagon version in the United States, called the Regal TourX, but unfortunately, the Canadian market won't be getting it for now. That leaves us with the Regal Sportback and the Regal GS. Both offer a trunk volume of 892 litres, or 1719 with split rear seatbacks folded down. That's a lot.
The Sportback, which will be available in base, Preferred and Essence, gets a turbocharged, 2.0-litre four-cylinder engine that develops 250 horsepower as well as 260 pound-feet of torque between 2000 and 5200 rpm. A nine-speed automatic transmission is standard, as is a front-wheel drivetrain. All-wheel drive will be optional, matched to an eight-speed auto that allows the engine to boast a maximum torque rating of 295 pound-feet from 3000 to 4000 rpm.
The Regal GS will get a 3.6-litre V6 that pumps out 310 horsepower and 282 pound-feet of torque, matched to standard AWD and the same nine-speed automatic. It also features cylinder deactivation and automatic start/stop technologies. So more power, but a little less torque than the "regular" Regal. For the sake of comparison, all 2017 Regal versions—including the GS—are equipped with a turbo 2.0-litre four that produces 259 hp. The all-wheel drivetrain of the 2018 car sends 100% of power to the front wheels in normal driving, but can shift front/rear split up to 50/50 as needed. In addition, power sent to the rear wheels can shift from the left wheel to the right, and vice-versa.
About 30 journalists attended the event, and six cars—two Sportbacks, two TourX wagons and two GS'—were made available for brief drives around one of the numerous tracks of the Milford Proving Grounds. We were also limited to a top speed of 80 km/h and, obviously, no reckless driving was permitted in these pre-production vehicles.
The 2018 Buick Regal Sportback and TourX feel light on their feet, and their turbo engine is gutsy, especially down low where torque peaks. There's no drive mode system, not that the Regal really needs one to begin with. As usual in Buick models, cabin noise insulation is excellent.
Near the front-seat power-adjustment controls, there's a little AGR badge, which stands for Aktion Gesunder Rücken e.V. It's a seal of approval from this German association which campaigns for healthier backs, and according to it, the Regal's seats offer great support. Our time behind the wheel was too brief for us to judge that claim. Moreover, the GS' front sport seats get heating, ventilation and a massage function.
The Regal GS, or Gran Sport, is a sportier beast with slightly quicker acceleration, a meatier soundtrack and more dynamic handling characteristics. Three drive modes are available, including default or Touring as Buick calls it, Sport and GS. The latter serves up the firmest settings of the suspension and the steering system, changes shift mapping a little and provides a more rear-wheel biased torque split. The Sport mode is the balance between GS and Touring modes, and can be configured to dial in the driver's preferences. Throttle response is unchanged, no matter what mode we choose.
While the GS definitely has more character, the regular Regal's 2.0-litre engine has all the muscle a Buick buyer would really need. The Gran Sport is more about ride and handling than straight-line speed. The GS also rides on 19-inch wheels while boasting more aggressively styled front and rear fascias, a rear spoiler and side skirts.
Inside, the Regal Sportback includes an infotainment system with seven-inch touchscreen as well as Apple CarPlay and Android Auto integration, while an eight-inch screen is optional, but standard in the GS. Along with the bigger screen is navigation, a Bose stereo and, in cars equipped with AWD, active noise cancellation. Of course, a slew of advanced safety features are available too, such as forward collision alert with pedestrian detection, adaptive cruise control with autonomous emergency braking, blind spot monitoring, lane change assist and rear cross traffic alert.
Pricing for the Regal Sportback in Canada has not yet been officialised, but it will start at $25,915 in the United States, so we can expect a base MSRP in the low thirties when it hits showrooms early next year. The 2018 Buick Regal GS will start at $43,845 in Canada before freight and delivery charges.
As a more affordable alternative to a BMW 4 Series or an Audi A5, the Regal does seem interesting, even though from a performance and handling perspective, the Buick can't compete with its German counterparts. Indeed, it will have much better chance convincing buyers in the market for an Acura or a Lexus. The Sportback is a beautiful car, in either base or GS trim, and should have no trouble outselling the current-generation Regal. However, who would actually buy a sporty Buick such as the Regal GS? Not many people, and even the brand knows this, as it expects only a 10% proportion of customers will go for it.
Changing the perception of a brand takes years, maybe a decade or two, and younger car consumers won't flock to Buick showrooms any time soon. However, the Regal might surprise quite a few people who would give it a chance and take it for a spin.
Share on Facebook