2018 Hyundai Kona: Among the Best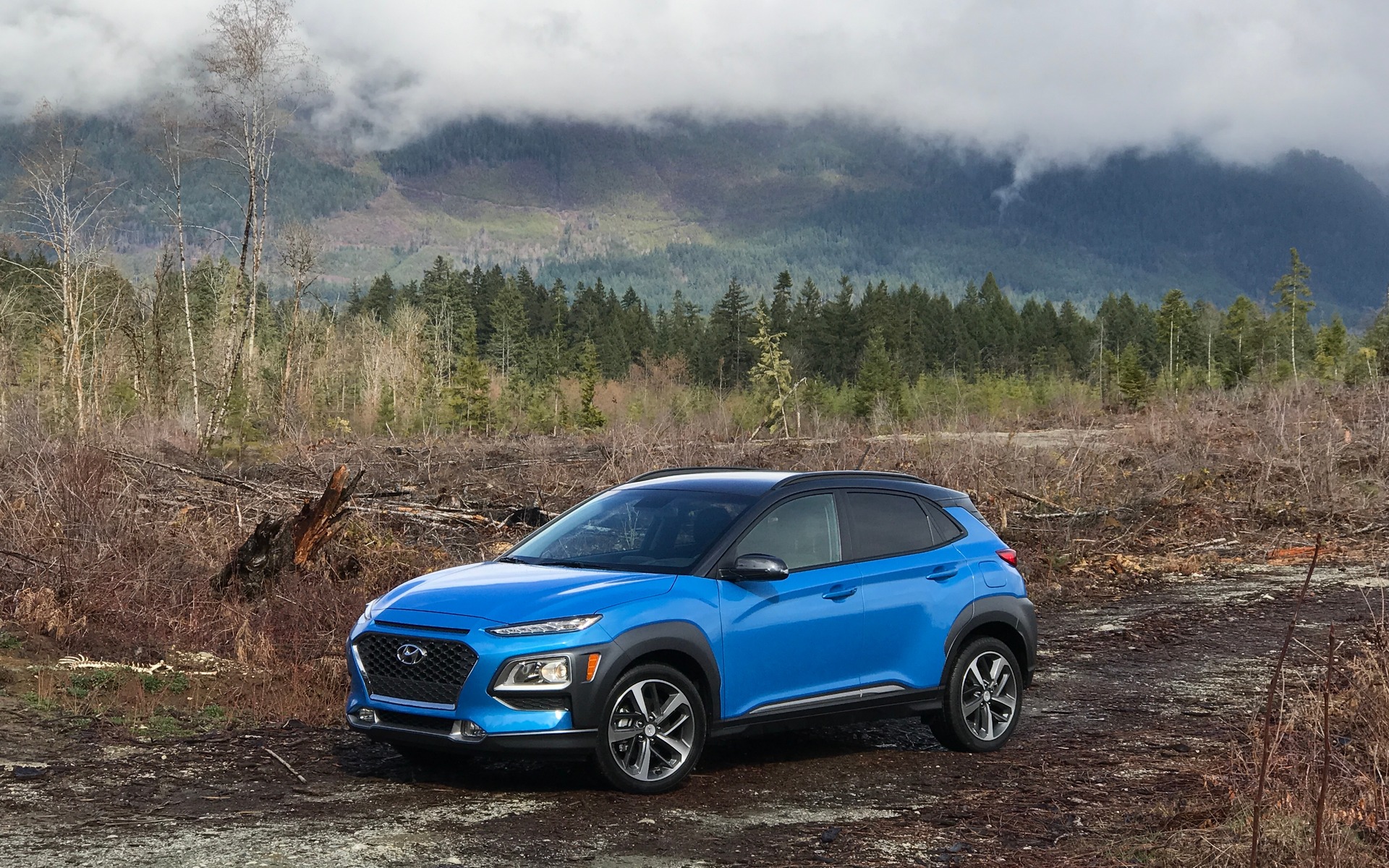 Strong points

Number of available versions
Exciting style
Dynamic ride
Good equipment level
Excellent warranty

Weak points

Driver's seat cushion is a little high
Noisier base engine
Less practical for family needs
Full report
This year, Hyundai is introducing the 2018 Kona, a vehicle that will become the smallest—and most affordable—SUV in Hyundai's Canadian lineup. Positioned under the Tucson, the Hyundai subcompact SUV has one mission: to go after the category's top models, like the Mazda CX-3, Honda HR-V, Nissan Qashqai and Subaru Crosstrek.
At first glance, the Hyundai Kona seems to have everything it takes to succeed. And after driving it for a few hundred kilometres, we can confirm that this little charmer does indeed have all the right qualities for a podium finish. It's going to fly out of showrooms. And the proof is in the pudding: it's only been in dealerships for a few days and stocks are already perilously low.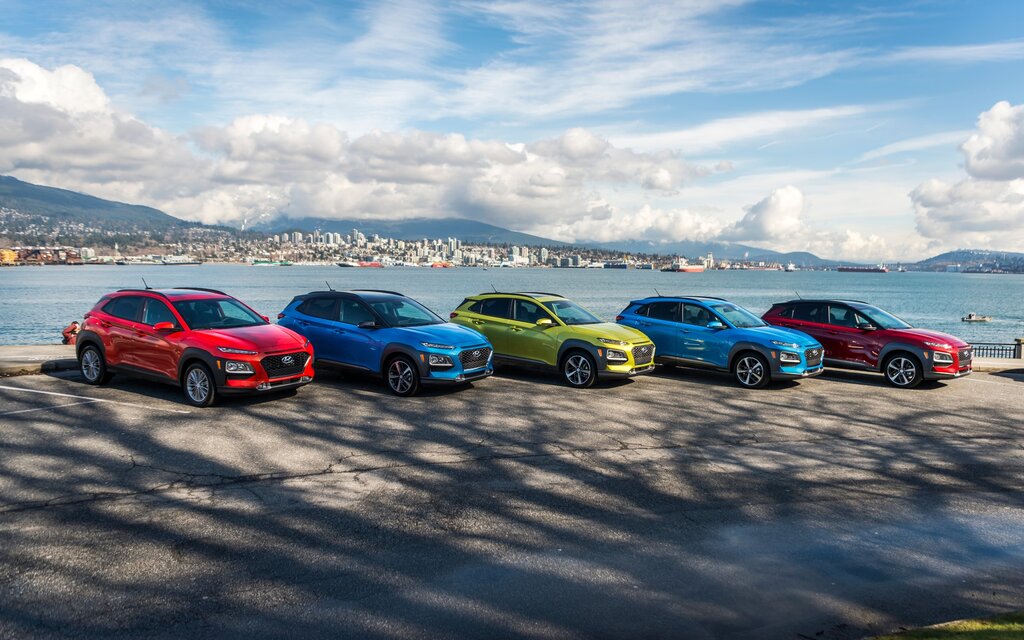 So many options. Which ones to choose?
Sold for just under $21,000, the 2018 Hyundai Kona offers interesting engine and mechanical choices. Front-wheel drive is standard and, unlike the competition, it's not only reserved for the base version. Of course, we strongly suggest that you opt for all-wheel drive for an extra $2,000. You'll be glad to have it every winter. With higher ground clearance and a low centre of gravity, the Kona will be a force to be reckoned with in the snow, especially if you fit it with quality winter tires.
The Kona is the only model in its class offered with a choice of two engines. If budget is your primary concern, the most affordable versions are equipped with a 2.0-litre four-cylinder engine that generates 147 horsepower at a very high 6200 rpm. A torque peak of 132 lb.-ft. is sent to the wheels using a six-speed automatic gearbox. Thankfully, there's no CVT.
The Kona is even spunkier with the turbocharged, 1.6-litre engine that generates 175 horsepower. We were even more delighted by the 195 lb.-ft. of torque deployed at low revs. And what a treat to learn that all-wheel drive comes standard with this engine. To top it all off, there's a seven-speed twin-clutch automatic gearbox too. Ok, ok, so it's no Ferrari, but this combination was really something. We'll come back to it.
Contrasting style
Style-wise, most little SUVs seem to have one thing in common: a strong personality. Note that I said "most," since the Honda HR-V isn't exactly the life of the party. However, the Hyundai Kona, which takes its name from a Hawaiian island, is all personality. Forget about conservative colour choices here! The Kona comes in several colours guaranteed to turn heads, like Acid Yellow and, one of our favourites, Blue Lagoon. You can also select a black roof, which really pops when matched with certain colours.
The front end looks a little like the Jeep Cherokee, especially because of the slender hood-level daytime running lights that are distinct from the headlight clusters. Ubiquitous grey trim makes it stand out and gives the body a more muscular and dynamic appearance. It's certainly sexy, but some of the rim options are dubious.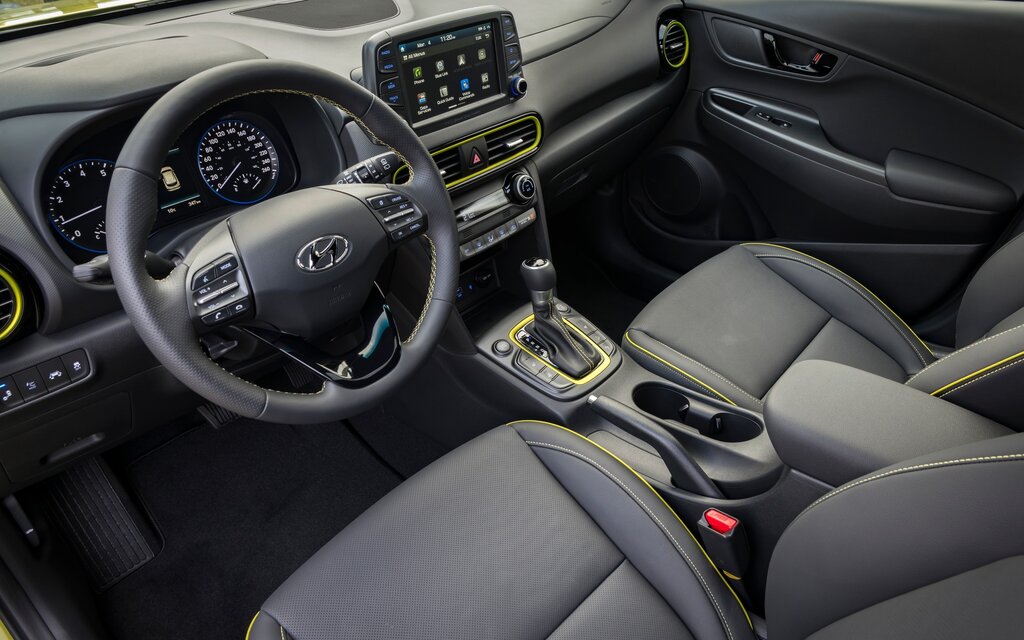 Always a good value
On board, you quickly recognize Hyundai's new signature environment. It's simple, but very well designed with flawless ergonomics. There's a touchscreen on the dashboard that seems to float in mid-air. It's used to control everything at your fingertips. Compatibility with Apple CarPlay and Android Auto maximize efficiency, especially since you'll be able to use your telephone's navigation system in versions of the Kona that don't come with their own.
Air conditioning and other usual functions are controlled by classic commands. The equipment levels are well thought out and the basic versions aren't too stripped down. In fact, they even come with standard heated front seats. Hyundai has always offered good value, and the Kona is no different.
Front passengers are treated to a spacious cabin, despite the fact that this is a subcompact model. It's a little narrower in back, as is the case with any SUV of this size. One the other hand, the Kona offers good cargo capacity, despite its plunging roofline. In fact, you get 100 litres more than in the Mazda CX-3. They managed to combine style and roominess.
Dynamic handling
Slide behind the wheel and you'll discover that the adjustable seats and telescopic steering column help you find a good driving position fairly quickly. The seat is higher than in a car, which buyers are looking for, but we would have liked to be able to lower the seat. Even in its lowest position, it was still too high for our liking.
We were pleasantly surprised by the version with the 2.0-litre four-cylinder mill. It comes with an effective gearbox that makes the most of the available power. That said, the engine has to work hard and rev really high to be at its best, which makes it noisier. Since it lags before the power kicks in, you catch yourself yelling "go, go, go!" at it. Despite all that, the steering and suspension are geared to making the ride more fun—a good thing!
The turbo engine makes the Kona's performance much more dynamic. You feel the power a lot quicker and pick-up is more energetic when you're driving at cruising speed. Other components, like bigger wheels and a multilink suspension, give the vehicle more poise in dynamic handling situations. This was our favourite of the two engines. Three driving modes (Sport, Normal and Eco) optimize torque distribution and gear changes while customizing vehicle handling to suit your mood.
Prepare to fall in love with the 2018 Hyundai Kona and then head-over-heels once the 100% electric version arrives later this year.
Share on Facebook