2018 Mercedes-AMG GLC 63 S 4MATIC+: The Family Missile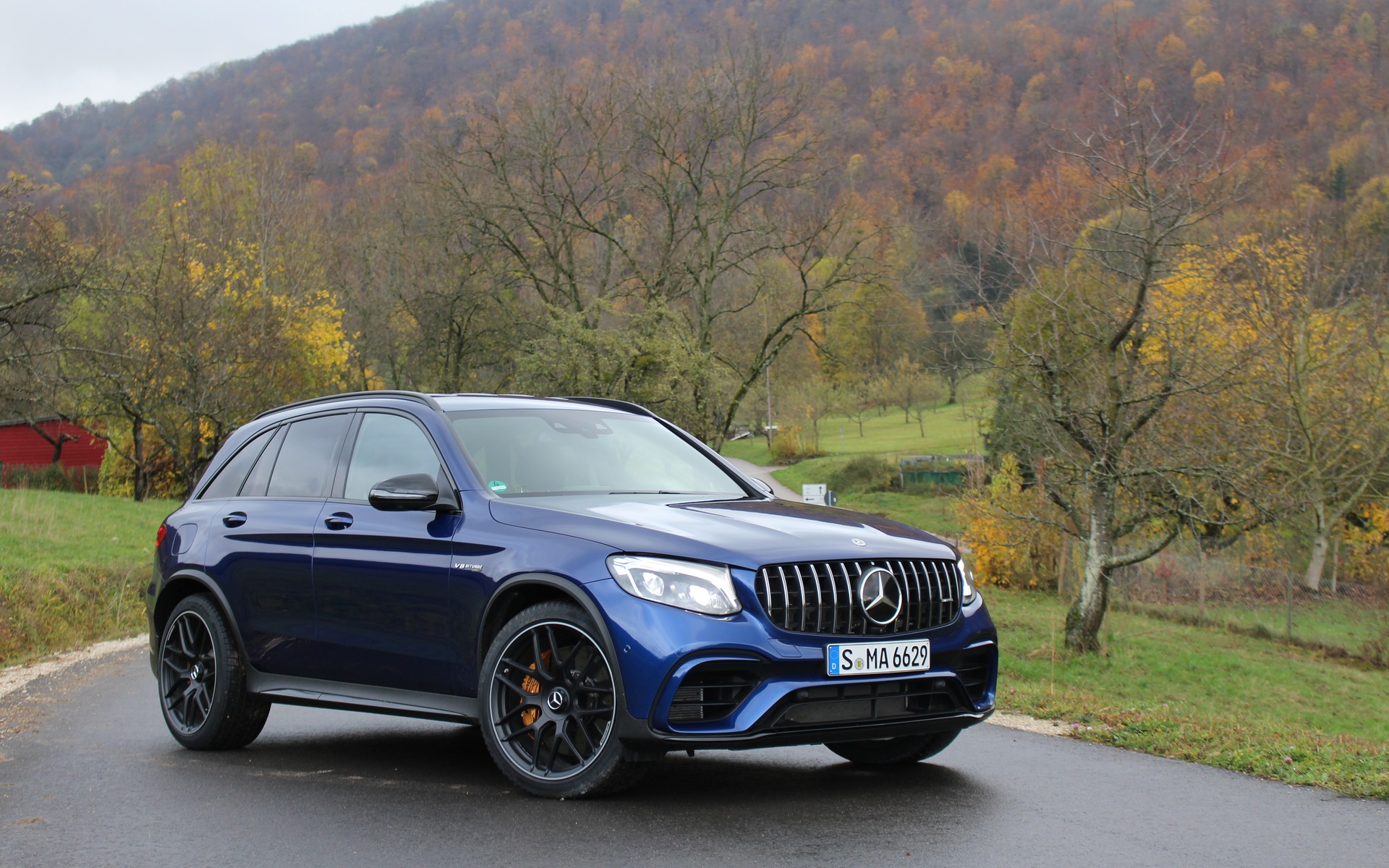 Strong points

Massive power
Dynamic drive
Still as versatile

Weak points

Price should be high
Complex infotainment system
Limited rear-seat and cargo space (Coupe)
Full report
STUTTGART, Germany – Seeing the growing popularity of AMG products, in Canada in particular, it isn't surprising to see Mercedes-Benz create high-performance variants of all its model lines. Well, almost all of them.
And since the North-American market in general scoops up SUVs in industrial quantities, it was only natural that the compact GLC would eventually benefit from its own AMG version. Make that two AMG versions, including the V6-powered, 362-horsepower GLC 43 and now, the V8-powered GLC 63. Make that four versions, since the GLC is available in SUV and Coupe body styles.
Actually, we almost had six versions of an AMG-favoured GLC. The "regular" 469-hp GLC 63 4MATIC+ won't be available in Canada, so we're going straight up to the more-powerful GLC 63 S 4MATIC+.
In the latter, we get a twin-turbo, 4.0-litre V8 that develops 503 horsepower as well as 516 pound-feet of torque that peaks between 1750 and 4500 rpm. This cavalry is sent to all four wheels through an AMG SPEEDSHIFT MCT nine-speed automatic transmission. It features two clutches, but one of them replaces the conventional torque converter instead of a usual twin-clutch setup that each rows through their set of gears. No matter how this transmission is configured, it's very quick, as its name suggests.
As is the case with the E 63 and S 63, the 4MATIC+ system is standard fare. The "+" symbol indicates that 100% of engine power is sent to the rear wheels under normal driving conditions, and up to 50% can be shifted to the front wheels during blastoffs and when wheel slippage occurs. In fact, according to AMG, the system can cleverly shift power front one end to another even before wheelspin is detected. There's also a limited-slip rear differential that reduces power on the inside wheel, the one that loses grip in a curve. With all this hardware and software on board, the 2018 Mercedes-AMG GLC 63 S 4MATIC+ can accelerate from 0 to 100 km/h in 3.8 seconds.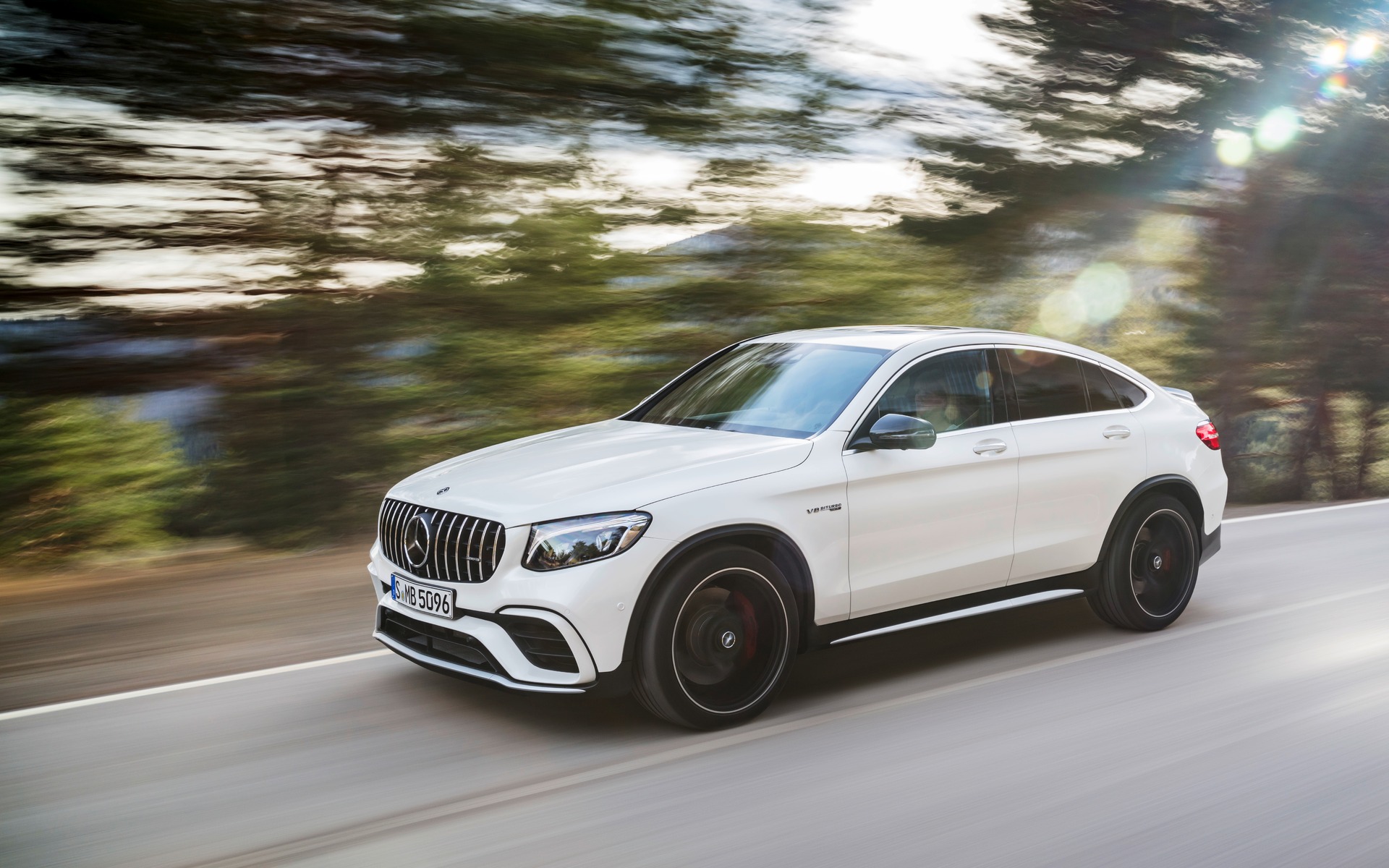 It's worth noting that right off the bat, this AMG rocket must confront the Alfa Romeo Stelvio Quadrifoglio and the Porsche Macan Turbo with the Performance Package, their twin-turbo V6 engines developing 505 and 440 hp, respectively. The BMW X3 M should also join this select group very soon, and will have to boast at least 450 hp to be competitive.
Let's get back to the GLC 63 S. The driver can choose between Comfort, Sport, Sport+, Individual and Race modes. Under normal driving, the first mode is ideal, as smoothes out gear changes and sets the air suspension for a softer ride. Obviously, the Sport mode livens up throttle response, delays upshifts and firms up the suspenders.
The Sport+ mode cranks up the driving dynamics a notch, but it especially opens up the exhaust system's lungs to let the V8 express itself vocally. At wide-open throttle, its melody sends shivers down our spine and when we lift our foot from the throttle, the GLC pops and hisses that enhances the aural experience. During our visit to the AMG factory in Affalterbach, the company's representatives told us something we already knew: engine sound is one of their customers' main purchase factors.
The Individual mode allows configuring the vehicle's settings to our tastes, while the Race mode maximises on-track performance while reducing the intervention of the electronic stability and traction control systems.
As standard, the 2018 Mercedes-AMG GLC 63 S 4MATIC+ wears 265/45R20 tires up front and 295/40R20 rubber at the rear. On the options list, and on the SUV we tested, there are 265/45R21 and 295/35R21 front and rear tires. Such thin sidewalls usually compromise ride comfort, but in this case, we didn't feel that downside, as the three-chamber air dampers do an excellent job compensating. At least on the smooth roads surrounding Stuttgart. It may be an AMG vehicle, it's still a family-oriented SUV.
For the rest, it's pure GLC. However, we can recognise the GLC 63 by its AMG Panamericana front fascia, with its bulbous grille featuring chromed vertical slats, an oversized logo and a resolutely aggressive front bumper. We also find subtly larger front and rear fenders to house the wider tires. Inside, the seats are covered in ARTICO man-made leather and DINAMICA microfibre, while Nappa leather can be ordered as an option.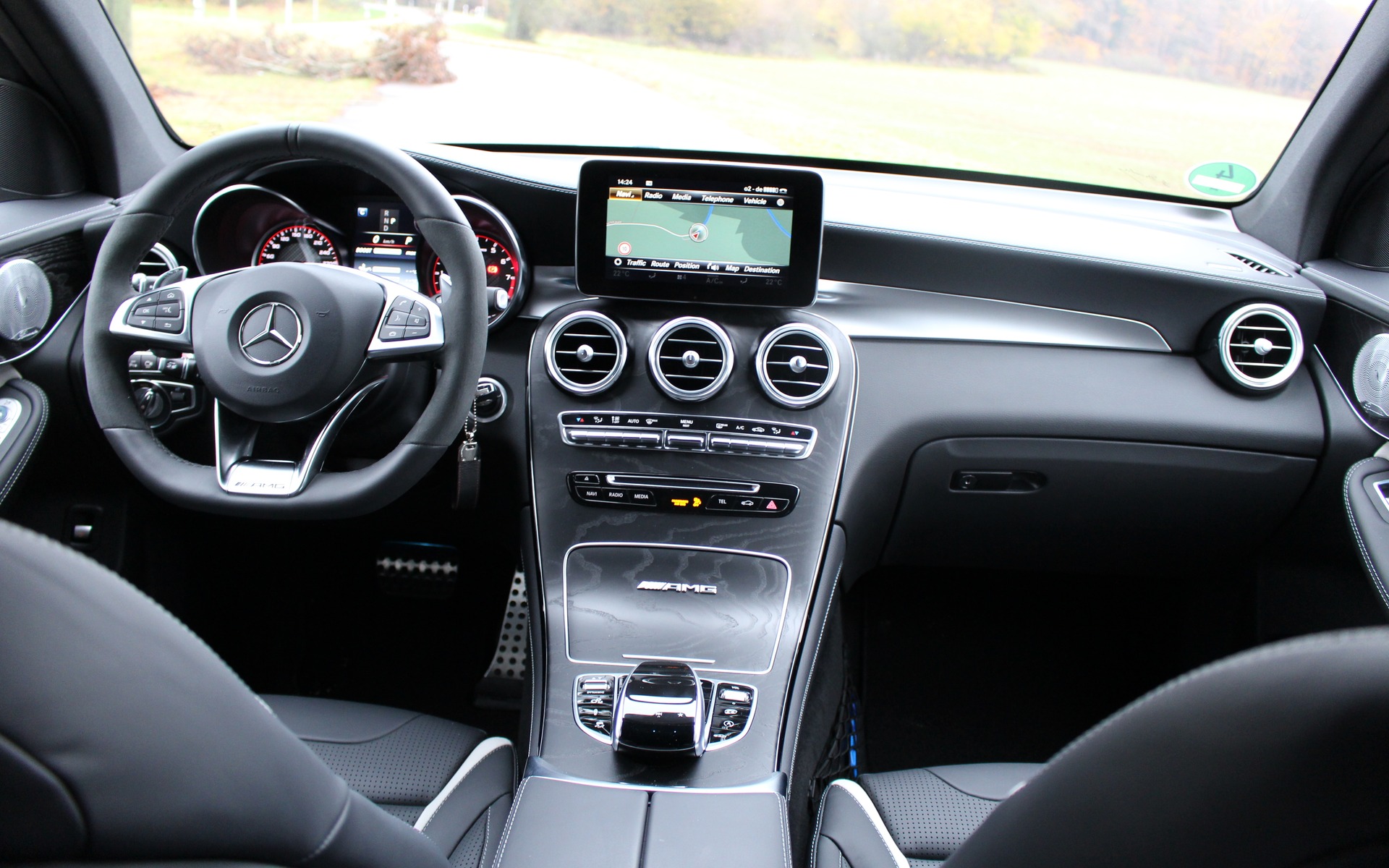 Also available are the AMG Night Package that adds glossy black trim to the vehicle's bodywork and an AMG sport exhaust, the AMG Carbon Fibre Package as well as several interior trims as part of the AMG Performance Studio upgrades.
The GLC SUV and Coupe share the same wheelbase, but the Coupe is slightly longer and its roofline is lower. In the latter, rear-seat space isn't as generous, and cargo space is down as well. It's simply a question of preference between the two, although the GLC SUV is a little more affordable. However, during its transformation into an AMG beast, the GLC lost nothing of its versatility.
Pricing for these two new sport-utility missiles hasn't been officialised for Canada yet, but we can expect it to hover in the $90,000 range when they'll go on sale in April 2018. It's a lot of dough for a compact SUV, but Mercedes-Benz will likely have no trouble selling every unit it brings here. With breathtaking performance, an awesome soundtrack and brutish looks, we should be seeing quite a few of them on our roads pretty soon.
Share on Facebook