Mercedes-AMG in Affalterbach: Where Dream Cars Come True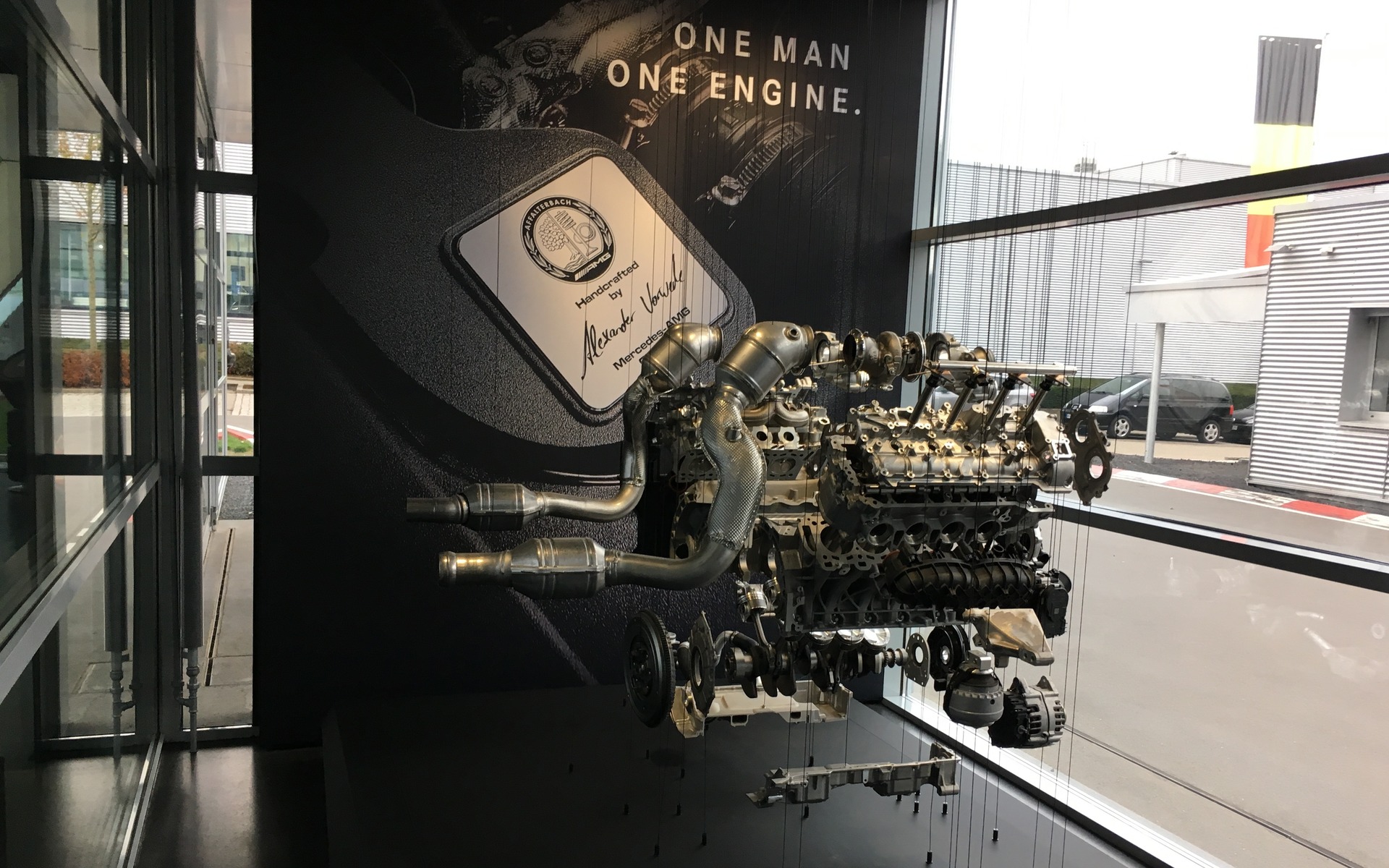 During our recent trip to Stuttgart in order to drive the 2018 Mercedes-AMG GLC 63 S 4MATIC+, the German manufacturer took the opportunity to give us a tour of the AMG factory in Affalterbach.
Back in 1967, Hans Werner Aufrecht and Erhard Melcher founded a little company with a desire to design and build racing engines. Although they set up shop in a town called Burgstall an der Murr, Aufrecht was actually born in Großaspach, a name used to form the acronym AMG. They drew a lot of attention by entering the AMG 300 SEL 6.8—now famously known as the Red Pig—in the 1971 24 Hours of Spa endurance race, finishing second overall. At the time, they probably didn't know that their little business would turn into a full-fledged, high-performance division at Mercedes-Benz, and responsible for creating the automaker's most exhilarating and lustful vehicles.
Over time, in addition to building racing engines, AMG started modifying Mercedes-Benz road cars, enhancing their performance and handling. It moved its headquarters from Burgstall to Affalterbach in 1976, and since then, the facility has grown in size. In 1993, AMG and Daimler-Benz signed an agreement of cooperation, and AMG-badged cars started to roll off Mercedes-Benz assembly lines—the first one being the C36 AMG in 1993. In 1999, the automaker (known then as DaimlerChrysler) acquired 51% of AMG, and bought the remaining shares in 2005.
Since then, Mercedes-AMG is a wholly owned subsidiary of Daimler AG, and is no longer a tuning company, but a development company first and foremost. It employs almost 1700 people—70% of which work in the development department.
Right now, the only things AMG builds in Affalterbach are the twin-turbo, 4.0-litre and 5.5-litre V8 engines that equip many of their models, but also the Pagani Huayra's twin-turbo 6.0-litre V12, of which only 35 units or so are built each year. The V8s are hand-built using the "one man, one engine" principle, meaning only one mechatronic—man or woman, mind you—assembles the thumping V8s from A to Z.
The turbo 2.0-litre four-cylinder engine that powers the AMG 45 models as well as the twin-turbo, 6.0-litre V12 that equips the AMG 65 models are built in other German factories. As for the AMG 43's twin-turbo, 3.0-litre V6, it's built normally alongside other Mercedes-Benz engines.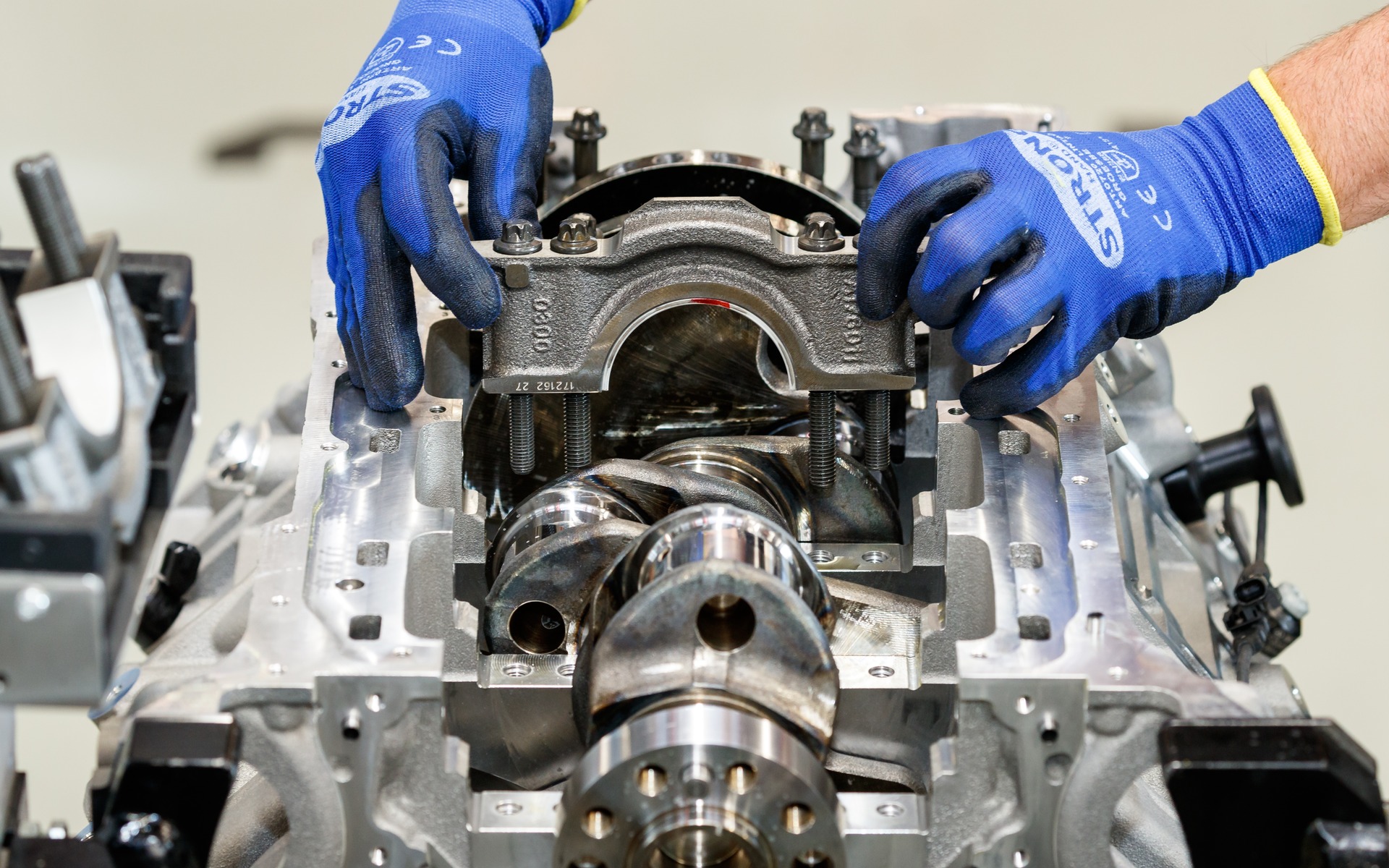 The process of creating an AMG V8 is fascinating. Each mechatronic starts building the engine from the bottom up on a trolley with computer-coded components. When each step is completed, the mechanic pushes his trolley from one station to the next.
At each of those stations are sensors and cameras that monitor the build process, and the slightest error or omission is detected. An overhead screen displays green, yellow or red dots according the work done, and as long as all the elements don't all turn green, the mechatronic cannot proceed to the next station, and the latter's tools are locked. Simply put, no one can make a mistake or forget something. Every step of every engine built is documented and archived. The technician completes his or her work by sticking a signed badge on the engine.
Each engine then gets cold-tested in a machine that runs it electrically to detect leakage, but only gets fired up with gasoline once it's installed in the vehicle.
It takes about 3.5 hours to build an AMG V8 and 5 hours to build a V12. When the work day is over, everyone pushes their trolley into a corner and puts a cover on the partially assembled engine. Again, only one person touches an engine while it's being built—even if the employee goes on vacation or sick leave, the engine will sit there until he or she comes back and finishes the job. That obsessive attention to detail is appreciated by AMG customers. Some even write letters to the mechatronics, thanking them for building such a great engine.
At the Affalterbach factory, there's also a workshop where customers can get AMG to custom build their vehicle. We couldn't take any pictures during our visit, but the area was filled with some fine machinery that would benefit from a power increase, some aerodynamic add-ons or a uniquely tailored interior. The folks at AMG pointed out that every vehicle that comes through the workshop was completely assembled and delivered to the customer before receiving the desired modifications.
Sales of AMG-badged models have been climbing considerably during the last couple of years. In 2013, 32,000 AMG-badged cars were sold; in 2017, more than 100,000 AMG vehicles will find homes, although the V6-powered AMG 43 variants are largely responsible for that. Right now, the fastest AMG model is the E 63 S sedan, which rockets from 0 to 100 km/h in 3.4 seconds—the E 63 S wagon needs 0.1 second more. In the near future, though, we should start seeing AMG engineers fiddle with electric motors to boost their vehicles' output.
We'll take the sound and the fury of an AMG V8, thank you very much.
Share on Facebook