2016 Toyota Tundra 1794 Edition: The Try-hard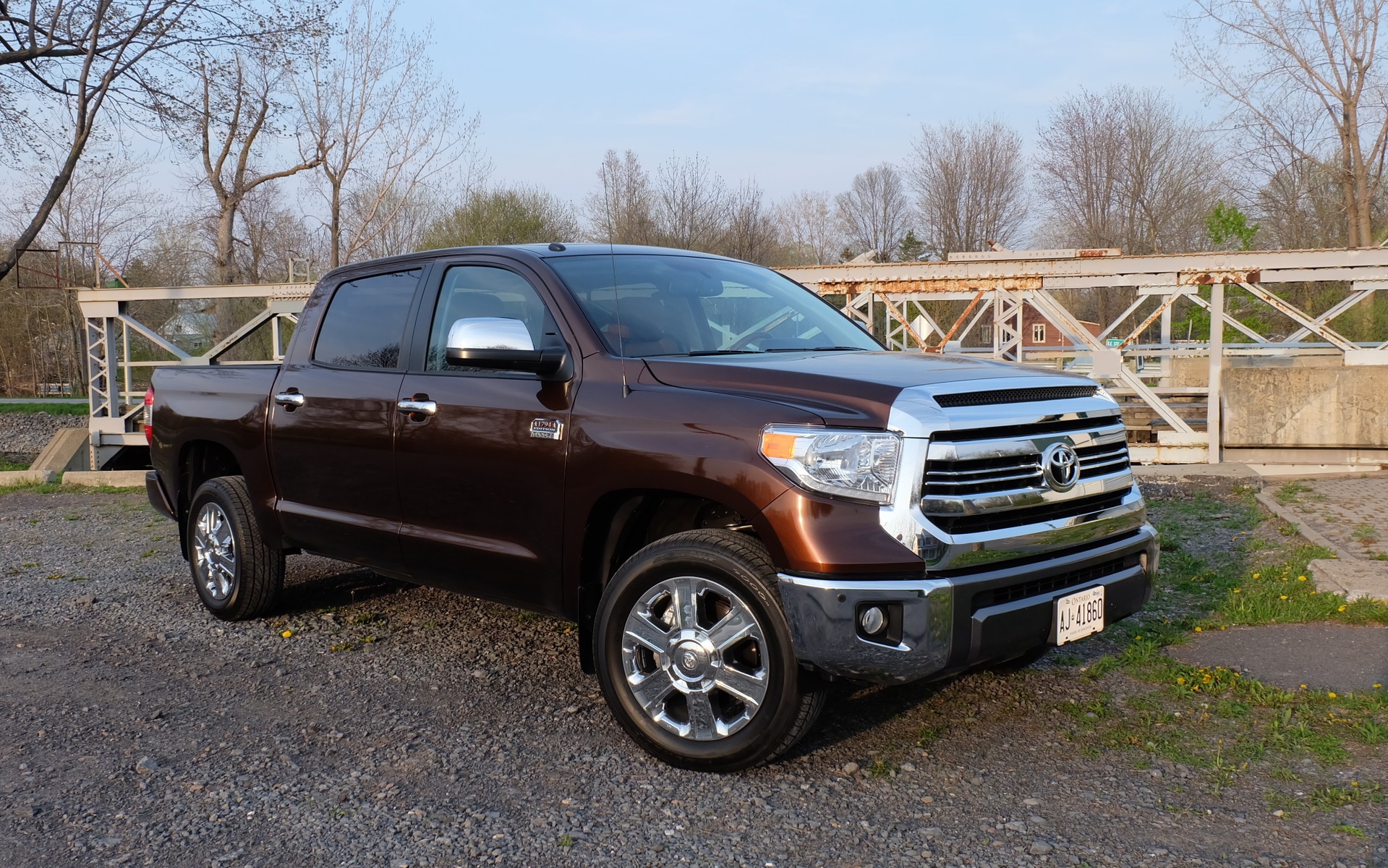 Strong points

Proven reliability
Plenty of power
Beautiful Bronze paint

Weak points

Catastrophic fuel consumption
Cheap-looking woodgrain interior trim
Subpar ride comfort levels
Full report
For years now, manufacturers have attempted to give their pickup trucks a Southern BBQ flavour. From the Ford F-Series King Ranch to the Ram 1500 Laramie Longhorn, we were conditioned to associate cattle farming with luxury, as these models are typically the top-of-the-line versions (or close to it, anyway).
Toyota wanted to get into the Gentlemen Farmer segment, which is why they rolled out the 1794 Edition. Basically, this is a fully-loaded Platinum model with some different styling cues.
Oh, and by the way, do you know where the 1794 name comes from? There used to be a ranch on the property where Toyota Tundra's San Antonio assembly plant was established, and 1794 was the year it was founded.
BBQ Sushi
On paper, the 1794 looks like it could belong with the Fords and the Rams. It features woodgrain accents on the steering wheel, door panels and centre console, saddle tan leather seats with suede inserts and unique badging, chrome-clad 20-inch alloy wheels, a huge chromed front grille and bumper caps as well as an available Sunset Bronze Mica paint job, which my test vehicle came with.
Unlike its competitors, the 1794 Tundra only comes in one body style, the 4x4 CrewMax with the shortest bed available, which measures 5.5 feet (1695 mm). Drivetrain-wise, the 1794 Tundra still packs Toyota's 5.7-litre V8 as well as a six-speed automatic. This combo works well enough, with more than enough power to accelerate sprightly and can tow up to 9490 lbs. (4305 kg). Fuel consumption is abysmal, but that's to be expected in a Tundra.
The Toyota Tundra Platinum 1794 Edition starts at $57,785 before freight and delivery charges, less than the Ford F-150 King Ranch ($66,199) and the Ram 1500 Laramie Longhorn ($62,495).
So is it worth the price? Well...
Here lies the problem
When you actually sit inside the 2016 Toyota Tundra 1794 Edition, the presentation is underwhelming, and that woodgrain trim is unconvincing. The plastics are flimsy, as are some of the knobs. I get that a truck's interior isn't everything, but when Ford and Ram's offerings are much better looking and feel much more upscale, you start wondering why somebody that wants a Western-themed truck would go to a Toyota dealership.
Driving the Tundra isn't exactly a revelation, either: the steering is very light (even for a pickup) and the rear suspension is harsh, causing the truck to bounce around on bumpy gravel roads. Again, you can't fault a pickup truck for not having sports-car handling, but both the F-150 and the Ram 1500 are miles ahead.
The Toyota Tundra isn't a bad vehicle, but I think the 1794 Edition tries to step into a segment where it has no business being; the next iteration of this Japanese pickup might cure some of its problems, but for now, there is simply better elsewhere.
Share on Facebook