2016 Ford F-150 Lariat FX4 Crew Cab: 5.0 Litres of Happiness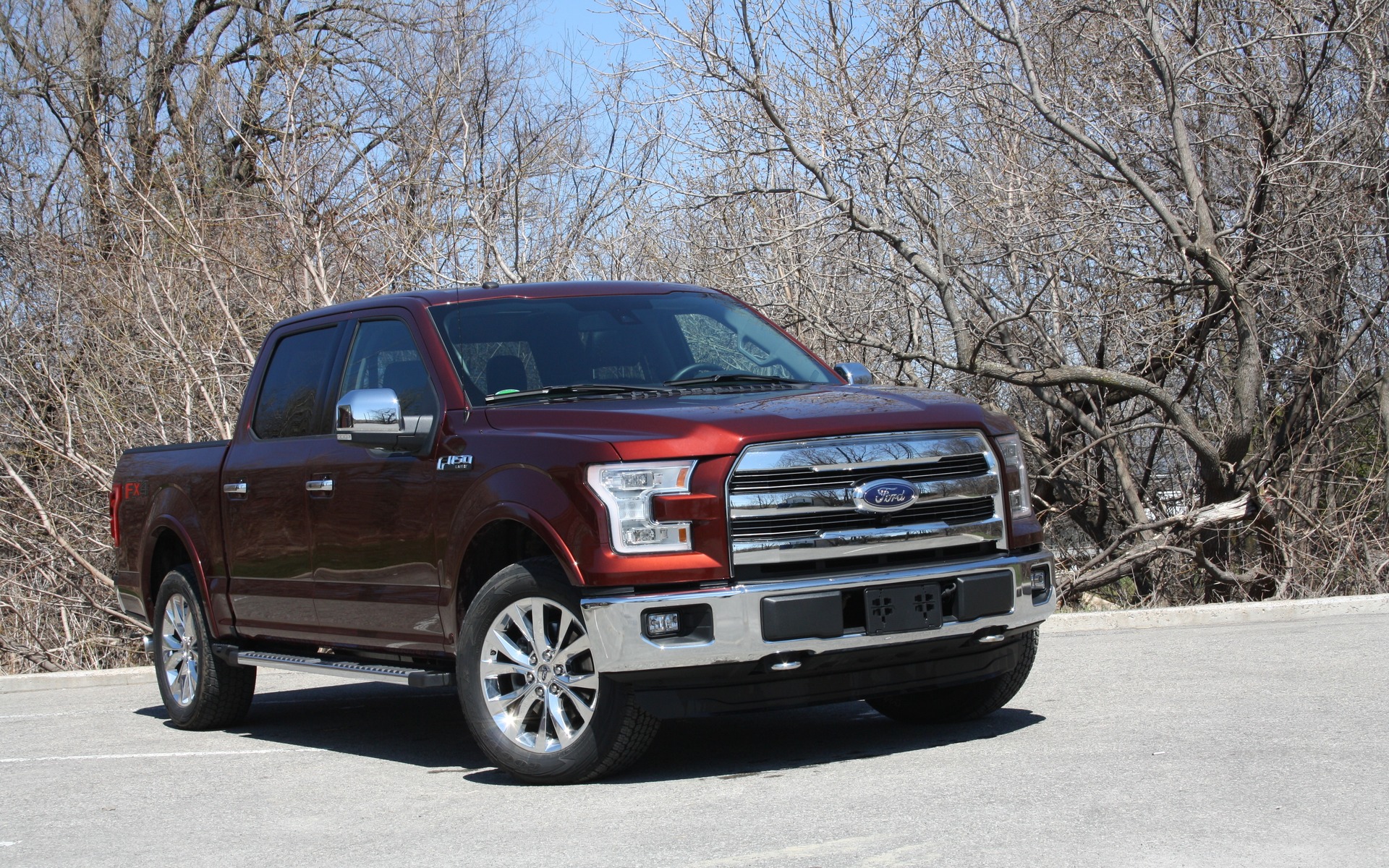 Strong points

Excellent towing and payload capacities
Handles well for a big pickup
Many thoughtful and practical touches, inside and out

Weak points

Price rises quickly with options
Questionable quality of some interior plastics
No diesel engine option
Full report
By now, you probably know that the current generation of the Ford F-150 is built with aluminum body panels, and that it offers several powertrains, including two turbocharged V6 engines. It's never an easy choice for us to decide which full-size pickup we prefer, as the Chevrolet Silverado 1500, GMC Sierra 1500, Ram 1500, Toyota Tundra and even the new Nissan Titan are all very competent rivals. Yet for the overall experience, the F-150 can be considered the best. For now.
One year after introducing the aluminum-bodied F-150, Ford is clobbering its rivals more than ever on the sales charts. During the first half of 2016, more than 72 000 units of the F-Series found homes in Canada, outpacing the Ram and the GM duo by at least 20 000 sales in each case. Clearly, Ford is raking it in.
EcoBoost or old-school muscle?
We're really fond of the recently introduced 2.7-litre EcoBoost V6. With 325 horsepower on tap and a towing capacity of up to 8500 lbs. (3856 kg), it's both capable and reasonably efficient. The 3.5-litre EcoBoost V6 is the top gun in terms of torque and towing capacity, able to pull up to 12 200 lbs. (5534 kg).
However, that doesn't mean the good old 5.0-litre V8 can't keep up. With 385 hp and 387 lb.-ft., the eight-cylinder mill can tow up to 11 100 lbs. (5035 kg) and carry a load about as heavy as with the 3.5L EcoBoost engine. With the 4x4 drivetrain, its fuel economy ratings are slightly higher than those of the turbo 3.5, but in real-world driving, the difference is negligible. We averaged 15.2 L/100 km over the course of our test, which was in line with our expectations.
So why choose the V8? Because it sounds good. And because it might be the more reliable choice in the long term, and the one that should normally be the least expensive to maintain. The 5.0L engine can also be converted to run on compressed natural gas or propane, if that's your thing.
All engines are managed by a six-speed automatic transmission that does its job as it's supposed to. However, know that for the 2017 model year, the F-150 with the 3.5-litre EcoBoost engine will gain a new 10-speed automatic in addition to more power and torque.
We've probably said this before, but thanks to the reduced weight of the aluminum body panels, the F-150 does feel lighter on its feet than its competitors, although the difference isn't a dealbreaker. The truck handles well for its size, but despite the weight reduction, it's still a burden to park at the local grocery store. You knew that already, but there's a 360-degree camera system for making sure the truck is perfectly aligned in its parking space, and the active park assist system will ease the pressure of parallel-parking while everyone around is looking and thinking "good luck squeezing into that space, buddy!"
No nonsense practicality
What might the F-150 stand out the most compared to the other full-size pickups is the amount of features and devices designed to make the working day more efficient, and playtime more enjoyable. The BoxLink locking cleats are sturdy tie-down points, while a bed divider, a bed extender, a remote tailgate release and the ever-useful tailgate step are practical add-ons. The rear seat of our Crew Cab Lariat tester can be folded in several ways to increase cargo space, and there's a flat, expansive load floor that can be used by simply flipping up the seat cushions. The mirror-mounted spotlights are very handy at night, too.
Not only is the 2016 Ford F-150 adept at towing heavy loads, but there's a new feature this year to help make backing up easier. Appropriately called Pro Trailer Backup Assist, the system uses the vehicle's electric power steering, cameras and sensors to help perfectly align a trailer, while the driver simply has to turn a dash-mounted rotary dial to guide the system. Our passengers will either find the feature very cool, or question our driving skills. Probably both.
What's not to like?
Well, not much. Some might question the fit and finish quality of the 2016 Ford F-150's cabin, but it varies on which trim level you choose. The climate control buttons are small, especially if we're trying to poke them with gloves on. And those optional, kick-out side steps end up being hard to use once dirt and grime bogs down its mechanism. Really, we're nit-picking here.
The new pickup truck buyer might also get a headache from having to choose between the plethora of trim levels, powertrains and options, but that's likely a game seasoned buyers love to play. And the MSRP can climb pretty quickly if we keep ticking off option boxes, as our loaded Lariat 4x4 tester rings in at more than $70,000, although there are year-round rebates and price adjustments to bring the price down a little.
They'll be even more choices in 2017 with the addition of the STX trim as well as the return of the mighty Raptor. After all, Ford sells more than 100 000 F-Series pickups every year in Canada, so customisation is necessary if we want a hint of uniqueness to our vehicle. Simply put, there's an F-150 for everyone, and that's why it's so popular.
Share on Facebook