2016 Chevrolet Cruze: The Quiet Cruiser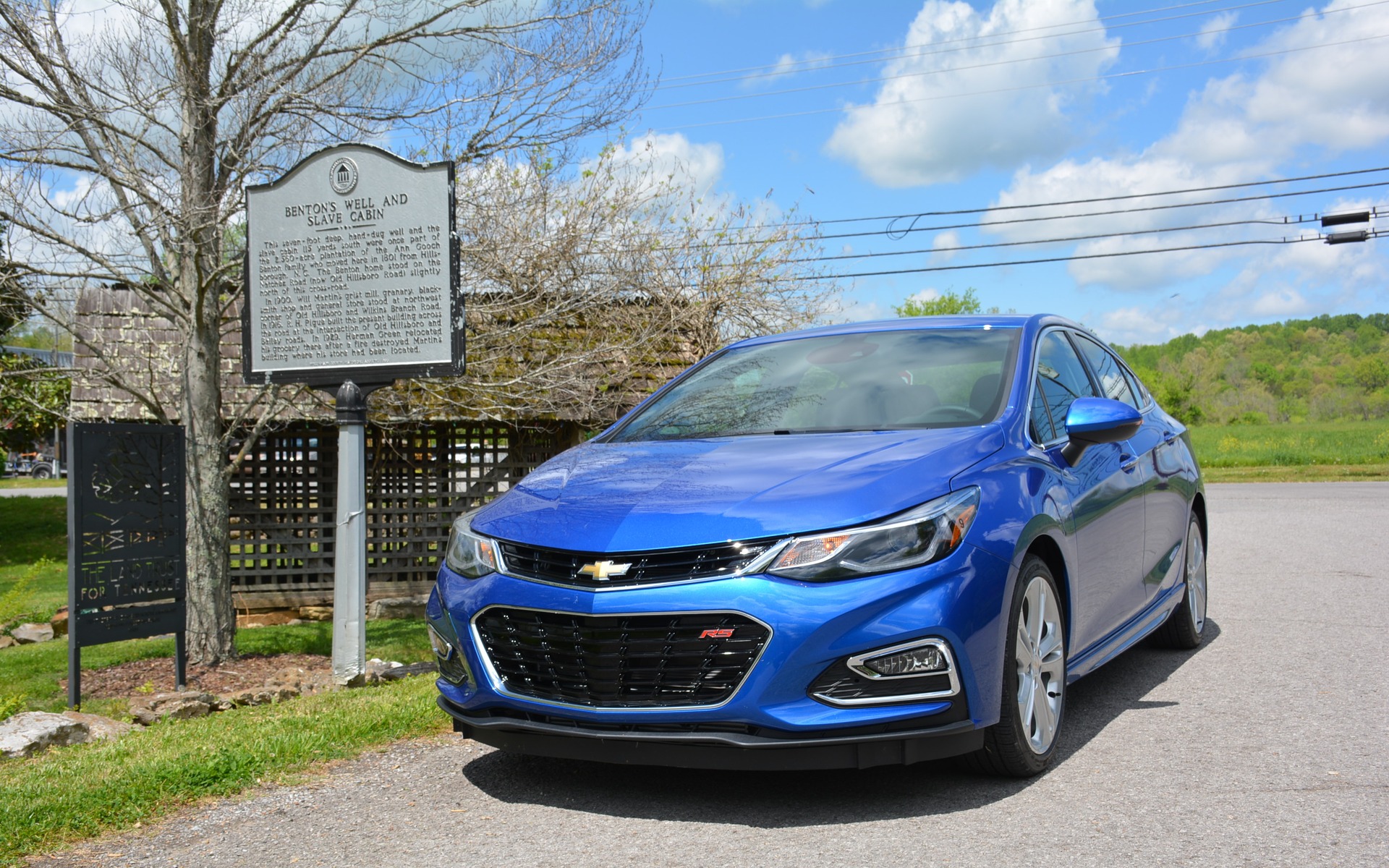 Strong points

Improved engine
Tech savvy
Quiet and relaxing ride

Weak points

No added performance in RS package
Some safety tech should be standard
Full report
NASHVILLE, Tennessee – First introduced in 2011, the Chevrolet Cruze was the new kid on the compact block. Chevrolet wanted to go smaller and make an impact in one of the largest segments in the auto industry.
Logic dictated that the Cruze made sense for the Detroit brand known for its trucks, but it wouldn't be easy considering the big players it had to contend with, namely the Honda Civic and Toyota Corolla. Chevrolet didn't envision taking over the segment; just merely taking a piece of that pie.
Fast forward five years later, and Chevrolet finds itself not only playing in the sand, but after three months of 2016 Canadian sales, it's currently running in fourth place ahead of the Mazda3, Volkswagen Golf and Jetta, Nissan Sentra and Ford Focus.
Chevrolet is now ready for its next step, which has us in the fun-loving city of Nashville to check its second-generation 2016 Cruze that's vastly improved in its design, performance and fuel economy, the latter being an area that it was weak in. 
Will these changes be enough to challenge the Civic, Corolla and Hyundai Elantra? Let's find out.
Longer, leaner and meaner
I've had great things to say about the new styling of the Malibu and Volt, and Chevrolet has brought this more aggressive look to the Cruze. We're talking a bold and fresh front and rear fascia, sharp lines and a flowing coupe-like silhouette.
The changes aren't as drastic from its outgoing model as seen with the Malibu and Volt, and that's what keeps the Cruze from being awe-inspiring. It has a handsome profile, especially in the front, just without any "wow" factor.
Even though we're testing out a smaller vehicle, it's clear that size has started to once again become a factor. The likes of the Elantra and Civic have grown, and now the 2016 Cruze becomes 2.7 inches longer, gained less than an inch in its class-leading wheelbase, and lowering its roofline.
All of these changes have been made, while shedding 250 lbs. (113 kg), thanks to a more rigid and lighter body structure with the use of hot-stamped, high-strength steel. The Cruze now takes on a longer, yet leaner look with a spacious cabin, especially in the rear legroom department. 
Quiet and calming ride
Chevrolet has gone with one engine choice for the new Cruze – a new 1.4-litre, direct-injected turbo four-cylinder matched to a either its retained six-speed manual or new six-speed automatic transmission.
The power numbers have been given a nice boost of 15 hp (up to 153) and 29 lb.-ft. of torque (up to 177), allowing the sedan to achieve a 0-100 km/h in 7.9 seconds. For more spirited drivers, this new engine no longer just provides that hint of excitement at initial acceleration, but now holds its own throughout the rev range in most gears.
Performance levels in the Cruze are respectable, but wouldn't be the major talking point when buying this car. What made me give my nod of approval came down to its quiet and smooth drive. The 1.4-litre Ecotec turbo is made from an all-aluminum construction that helps it be 50 per cent quieter and 18 per cent more fuel efficient.
After a drive in the top-trimmed Premier RS sitting on 18-inch tires (other trims offer 16- and 17-inch) through the windy roads of the Natchez Trace, the Cruze placed me in a state of calm. Sure, I was surrounded by a picturesque countryside, but the simplest of steering inputs and seamless gear shifts guided the Cruze on one of the more quiet and relaxing journeys, allowing me to admire the scenery.
No correction was needed in its tighter-steering Premier trim setup, as I picked up speed while the terrain sloped downward along with its fuel economy ratings. After my drive consisting of a 70/30 highway to city split, I was impressed with a combined fuel economy number sitting at 6.5 L/100 km – the official ratings are 5.6 L/100 km on the highway, 7.8 L/100 km in the city and a combined 6.8 L/100 km. 
A true value option
My test car for this program might have been the top-of-the-line that comes with a $23,895 price tag, but the new Cruze can be had starting at $15,995. For the person in need of a reasonably-priced transporter or one who's not too fussy about cars, but demands leather and technology – there's a Cruze for everyone. On top of that, there will be a hatchback and a diesel engine option coming out in the near future.
Regardless of the trim, everyone will get a plethora of standard equipment that includes a seven-inch MyLink touchscreen, a rear view camera, OnStar with 4G LTE Wi-Fi hotspot capability, as well as Apple CarPlay and Android Auto that can be used for navigational purposes or other apps. As you move up the trim list, everything improves, including heated premium cloth front seats, wireless charging, and advanced safety technologies. All of these additions make for a good argument to go with the Premier trim that won't cost you an arm, a leg and many strands of hair.
The 2016 Chevrolet Cruze offers a lot of bang for your buck and has improved in all my checklist areas for what makes a great compact car (styling, interior space, quiet ride, fuel efficiency and technology). Can the Cruze take the next step up to the Civic, Elantra and Corolla? Well, it has all the attributes to do so; now it's up to the marketing team to get more people to its dealerships, where it's currently on sale to test out.
Share on Facebook