2016 Chevrolet Malibu: Game on After Sweeping Changes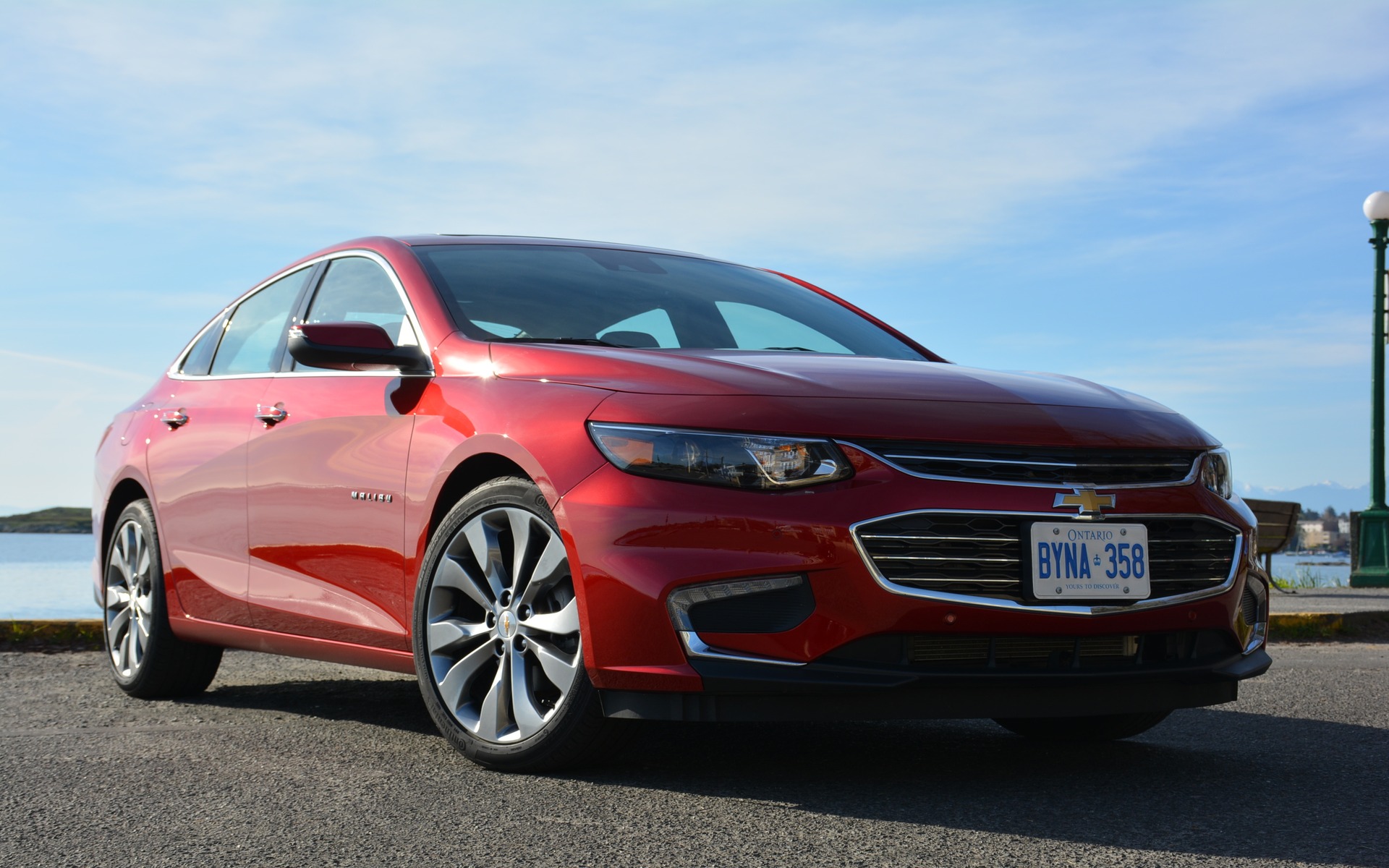 Strong points

Aggressive exterior styling
Tech driven
Comfortable ride and cabin

Weak points

Poor navigation system
Odd interior colour choices
Full report
VICTORIA, BC – The Chevrolet Malibu nameplate has been around for 50 years. It's a staple in the Chevrolet lineup around the world, but recently has lost some steam in a heavily contested market. With the midsize segment being second for cars in Canada and tops in the United States, led by the Toyota Camry and Honda Accord, Chevrolet wanted to change its fleeting image with wholesale changes without holding anything back.
And when I say a complete change, I mean it from an all-new midsize platform to its engine offerings to its increase in length by 2.3 inches and 4 inches in its wheelbase. The only thing it didn't change was the nameplate itself, and that was something I personally felt contributed to its status quo sales figures. 
Well, according to Shane Peever, Brand Manager at Chevrolet Canada, the Malibu name is here to stay. There was talk however about blowing the whole thing up, but after careful evaluation, the Malibu name was determined to be beneficial due to consumer recognition. 
I'm still not sold that keeping the Malibu name will be the correct decision; only time will tell, but what I can tell you is that the ninth-generation version of the car is exceptional in so many ways. So without further ado, let's start breaking down Chevrolet's latest gem after a first drive of it in the lovely British Columbia capital of Victoria.
It all starts with a new look
The new 2016 Malibu sets the tone with a new aggressive front fascia with help from the brand's slimmer dual-port grille. The shapely design doesn't end there, as the Malibu has a sleek flowing silhouette that works its way through its body, only to be finished off with LED taillights that add a little more character. The flow of its longer and leaner design was so coupe-like that I couldn't even rest my camera on top of the car, nor its rear bump; everything just slid downward. 
Inside, the Malibu has a new cool-looking instrument panel, a nicely organized dash and a seven- or eight-inch MyLink infotainment system, depending on the trim. The design doesn't come off as cutting-edge or high-end, but just right for the Chevrolet customer. The Premier trim showed off some nice touches with heated/ventilated front Jet Black leather seats and wood accompaniments. The volume-selling LT trim stayed comfortable, yet seemed to have some strange colour combination of a beige dash with a primary colour called Loft Brown that downgraded its excitement level. 
One of the most consistent deficiencies about the Malibu in the past comes down to rear-seat legroom. That has been addressed by its new architecture that allows for an additional 1.3 inches of rear legroom. The space was larger than expected and quite comfortable for three adults.
Inside is filled with tech wonders
General Motors has focused a lot of their attention on technology and is surprisingly still the only car company to offer 4G LTE connectivity with WiFi hotspot capability in their vehicles. The WiFi alone is a big deal, but that's only scratching the surface of the 2016 Malibu. 
Above the base L trim, you'll find many technologies such as Apple CarPlay and Android Auto that via a plug can reflect your smartphone interface onto your car's touchscreen. Additionally, the Malibu has OnStar, wireless charging capabilities and a host of safety technology that includes Low Speed Collision Avoidance Braking, Front Pedestrian Alert and Lane Keep Assist. The most unique technology feature is called "Teen Driver," only available with the eight-inch touchscreen. It provides speed warnings, an audio "mute" button when the front seat belts aren't fastened and a statistical report card for parents to read through the use of a pin number. It's a subtle approach to know if there's any funny business going on when your teen borrows your car.
A quiet, comfortable ride
Chevrolet offers up two gas engine choices: a new 1.5-litre turbo four that cranks out 163 hp and 184 lb.-ft. of torque and an optional 2.0-litre turbo that boosts its power levels to 250 hp and 258 lb.-ft. The Malibu offers a six-speed automatic transmission for its base engine, while the more powerful 2.0-litre gets a General Motors' first eight-speed automatic tranny for a front-drive passenger car. A hybrid powertrain will also be available, but we won't touch on that for this review.
After testing out both versions, I can undeniably say that the 2.0-litre can add more oomph to your ride, but paying a $7,000 premium for it is not necessary. The base engine provided a quiet and smooth ride with enough power to keep you satisfied. Even though horsepower numbers are down 36 hp from the 2015 model, it's not even noticeable due to its weight loss of 300 pounds.
It was hard to find any fault with its drive. In both the LT and Premier trims, visibility was exceptional, acceleration after a stop was instantaneous, gear shifts were seamless, bumps were coasted over, and braking was reactionary and smooth. Handling was another strong suit, as the Malibu performed brilliantly through some windy Vancouver Island roads with responsive steering and a quickly established road feel.
As for fuel economy numbers, the lightweight construction surely helps as it performed a respectable 7.5 L/100 km in the base engine and 8.1 L/100 km in the 2.0-litre. Under mostly highway driving, the ratings weren't bad for a midsize sedan, considering its combined ratings are 7.6 L/100 km and 9.0 L/100 km, respectively.
Conclusion
In the past, I could care less about the Chevrolet Malibu. It was an option if you were a loyal Chevrolet buyer, but there were so many better choices out there.
For 2016, this has all changed with the ninth-generation Malibu. The car put me in such a comfortable state making it the perfect family road-trip sedan. The only thing I would advise is to save a little money and go with the base engine in the LS or LT trim. The base version starts at $21,745, but to truly enjoy the Malibu, you need to spend at least $24,245. 
Chevrolet has hit a home run with the Malibu, and if we can get past the name and its fleet connotations, I would gladly advise you to take this new one out for a spin. 
Share on Facebook