2016 Chevrolet Spark: More for Less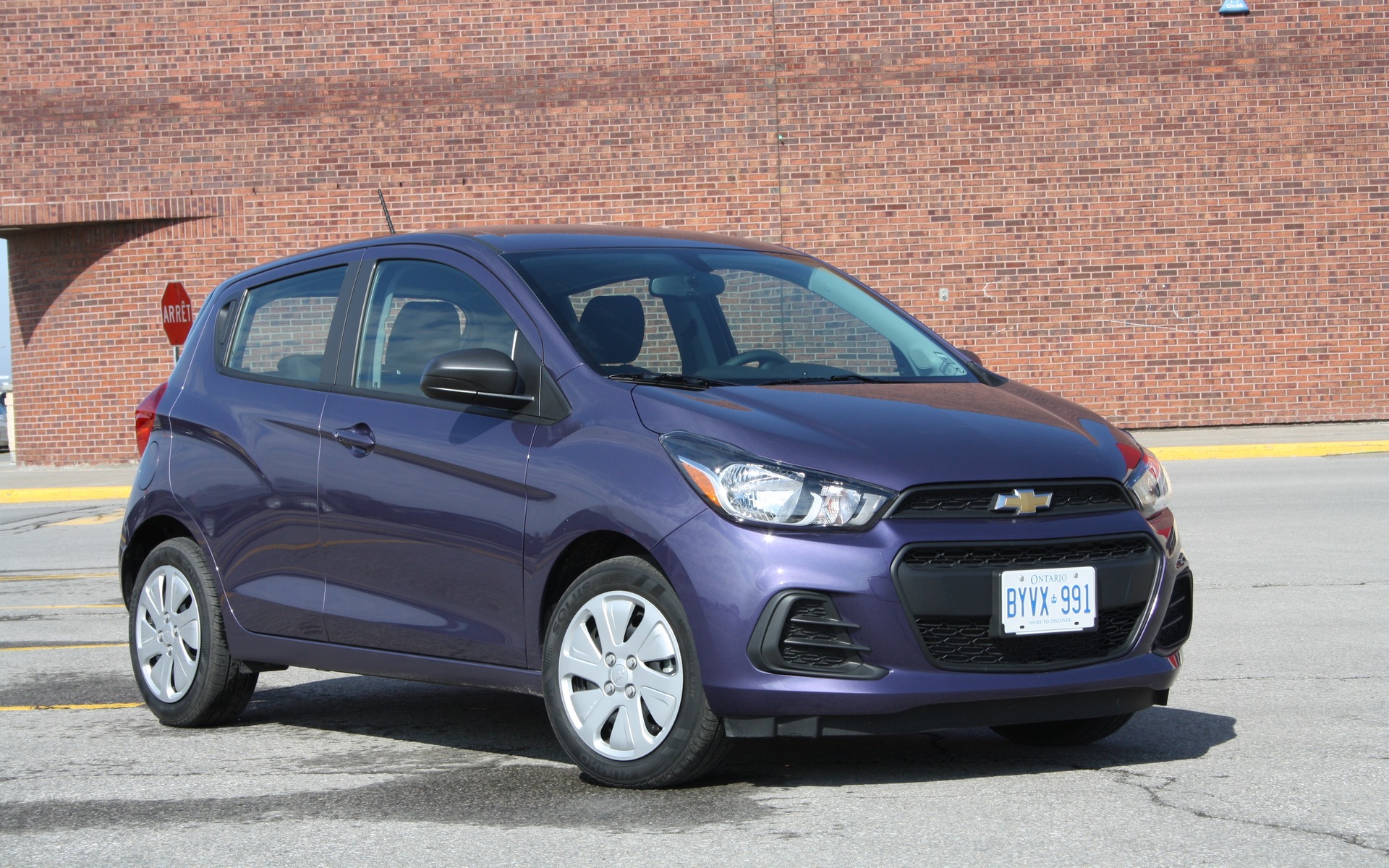 Strong points

Low entry price
More refined ride and powertrain
Bluetooth and backup camera come standard

Weak points

Not as spacious inside as before
Uneven price ladder
Fussy folding rear seat
Full report
MONTREAL, Quebec – The arrival of the Nissan Micra likely caused a lot of head scratching within the meeting room walls of several manufacturers. They've been trying for years to push their minicars on the Canadian market, without much success, and a newcomer blows them all out of the water.
The Micra's overnight popularity can be explained by its extremely low base price, aggressive marketing and—let's face it—cheerful looks. In less than two years, Nissan moved out more than 20,000 units on the Canadian market, and especially in Quebec, where if there isn't a Micra in our line of sight, it's hidden behind a Ford F-150.
Now, General Motors is retaliating with a similar strategy, because they also want a piece of the not-very-lucrative minicar action. The 2016 Chevrolet Spark is completely redesigned compared to the first generation sold here since 2012 (as a 2013 model), and it's priced at $9995 before freight and delivery charges.
When it was announced at the Montreal Auto Show in January, it became the most affordable car in the country—three bucks less than the Micra. Since then, the 2016 edition of the little Nissan quietly rolled into dealerships with a base price of $9988.
Chevrolet is stressing the fact that the new Spark offers a lot more features for the extra $7. And as before, it's targeting a young audience that wants plenty of connectivity, and isn't too concerned about horsepower and handling. Note that other segment competitors include the Mitsubishi Mirage, the Fiat 500 and the smart fortwo.
Rolling in my one-point-four
We hit the streets of Montreal aboard a base 2016 Chevrolet Spark LS, equipped with a five-speed manual transmission. GM had a "fun" day set up for us, which included selfies and hashtags and social media postings as we travelled around the city. Well, we're too old for that stuff. We just wanted to drive the car, and we did.
The little Spark is quite enjoyable. Gone is the wheezy, noisy, 1.2-litre four-cylinder engine of the previous generation, replaced by a more refined 1.4L four that develops 98 horsepower and 94 lb.-ft. of torque. Output is modest, but the car doesn't feel lethargic at all. The manual transmission does help make the drive more fun, though, with a light clutch pedal and precise throws.
Compared to its Micra nemesis, which boasts 109 hp, the Spark isn't quite as quick off the line, but the difference is marginal. However, Chevy's manual gearbox operates more satisfyingly. Overall, this is a toss-up.
However, we'll save roughly a litre of fuel for every 100 km travelled by opting for the Spark instead of the Micra. With the manual transmission, the new Spark's combined fuel economy rating is set at 6.9 L/100 km. The Mitsubishi Mirage sips at half-litre less, and remains for the time being the fuel efficiency champ among non-hybrid cars.
As for the optional continuously variable automatic transmission, well, we didn't get a chance to try it, but we will as soon we can get our hands on a CVT-equipped Spark for a more exhaustive test. On this first drive opportunity, we elected to jump into a stripped-down base version and see what we get for 10 grand.
New shape, less cockpit
The 2016 Chevrolet Spark's bodywork is all new, and compared to the outgoing model, we think its styling has matured. It rides on a slightly longer wheelbase, but with a shorter overall length and a narrower track. The new car's roofline is two and a half inches (66 mm) lower.
The car's tidier proportions also mean passenger space decreased somewhat, which was the old Spark's strong point. Front headroom is still generous, but we can no longer wear a Stetson—hipsters don't care for them either, so it's not a big deal. Rear head and legroom are also down, even though it's still comfortable for two adults. Remember, the Spark is a four-passenger car, while the Micra has five seat belts.
Cargo space has also diminished a smudge, from 323 litres to 313. Maximum volume with the rear seatbacks folded is rated at 771 litres for the 2016 Spark, as opposed to 884 in the previous edition. By the way, the Micra's trunk is rated at 407 litres, so it's a little bigger.
Interior fit and finish is a step above the Nissan's, although in both cases, hard plastic adorns the dash and door panels. The Spark's cockpit styling is more modern, which isn't surprising as the Micra is an older design.
A connected sales pitch
Where the 2016 Chevrolet Spark outshines it rival as in regards to standard features. Even with its ten-grand MSRP, onto which we must add $1,600 for freight and delivery fees in addition to $250 for "dealer fees," the base LS includes Bluetooth connectivity, a MyLink infotainment system with seven-inch touchscreen, Android Auto and Apple CarPlay integration, a USB port, a rearview camera and two free years of maintenance (basically oil changes). It also features OnStar 4G LTE on-board Wi-Fi, although a subscription fee is required for that.
The Micra has none of that for the same price, but both cars have crank-it-up windows, do-it-yourself door locks and pull-handle mirror adjustments. First-time car buyers, of which Chevrolet thinks many will be interested in the Spark, might not mind these, ah, minimalistic features.
Stepping up to an automatic transmission in the LS requires air conditioning, and the price climbs to $13,895. The $14,195 1LT offers content such as cruise control, keyless entry, power windows, 15-inch alloy wheels and more, while the CVT automatic adds $1100 to the price. The $18,195 2LT includes the CVT, a power sunroof, heated front seats, leatherette upholstery, pushbutton start as well as backup sonar, forward collision warning and lane-departure warning.
GM figures 25% of Spark buyers will choose a thrifty LS with the manual gearbox, while 50% will go for a 1LT. The rest will settle for the 2LT or the automatic LS, the latter being less appealing than a 1LT, which is only $1500 more and offers much more content.
Can we be happy in a sub-$10K automobile? If we can live without A/C and some convenience features we've come to expect in a modern car, then the answer is yes. If a modern infotainment system with connectivity features is a must-have, then the Spark might be a better option than the Micra, or any other minicar, for that matter.
Share on Facebook