2016 Kia Cadenza: Practical, Affordable Luxury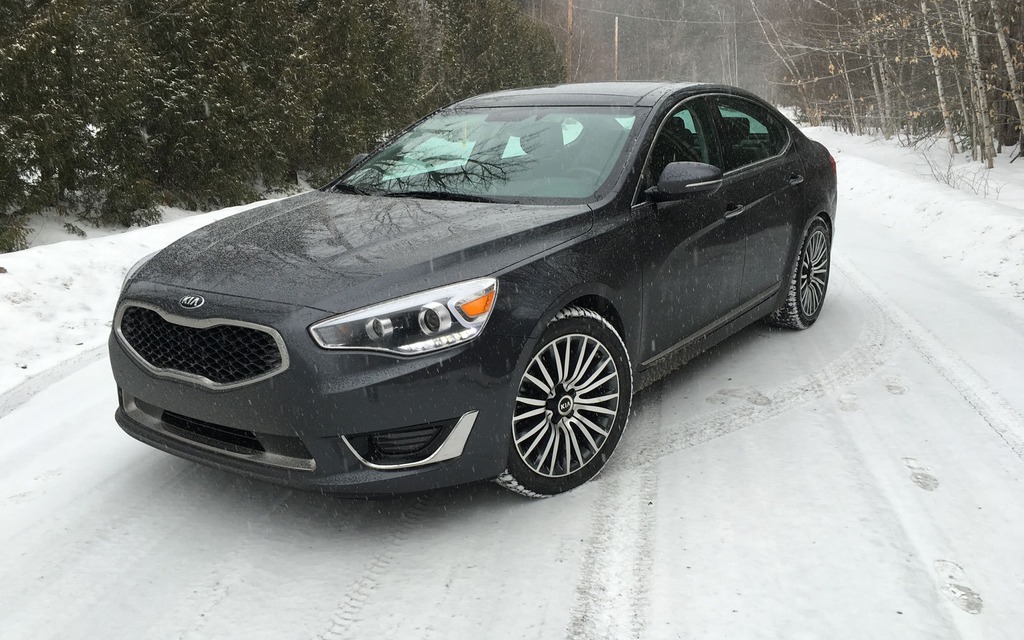 Strong points

Long list of standard features
Unique look
Comfortable to drive

Weak points

No all-wheel drive
Limited on the performance side
Kia Badge lacks prestige
Full report
When most people think of Kia, the words luxury and sport don't usually come to mind. Kias are known for being affordable vehicles and this doesn't usually jive with the definition of luxury. Don't tell Kia that, because the Korean brand has not one, but two luxury sedans in its lineup.
The Cadenza is the lesser of the two luxury models with the K900 being the brand's flagship. It's also Kia's equivalent to sister brand Hyundai's Azera which was discontinued in Canada in 2010. The platform is shared with the Optima, although modifications were made to accommodate the V6 engine as opposed to the four-cylinder units available in its smaller sibling.
Given its size and price range, the Cadenza is in competition with cars like the Acura TLX, Infiniti Q50 and - dare I say - even the BMW 3 Series, among many others. I was anxious to find out if the Cadenza is for real or if it's just another Azera destined to be pulled from Canadian showrooms.
Looks, feels and drives the part
The exterior of the Cadenza is really quite attractive and the car definitely fits the look of a premium vehicle. Words that come to mind when looking at the Cadenza are "thick", "beefy" and "big," which is exactly what you want in a luxury sedan. Kia's hiring of former Audi chief designer Peter Schreyer in 2006 is definitely paying dividends. Schreyer is also credited with developing Kia's "Tiger Nose" front grille which gives cars across the lineup a signature look.
Heading to the interior, we find it descent but not over the top. The comfort level is (as it should be) a notch up than what you'd find in a standard sedan like the Honda Accord, for example, and there is plenty of space to go around in both front and rear.
Kia has nice faux wood paneling on the dash, centre console and top half of the steering wheel, but the rest of the materials are fairly standard. An eight-inch touchscreen with Kia's easy-to-use UVO infotainment system is contained in the dash above the climate controls. However, the overall layout of things is starting to get a bit dated.
Powering the Cadenza across all trim levels is a 3.3-litre V6 making 293 horsepower and 255 lb.-ft. of torque. A six-speed automatic transmission puts the power to the ground smoothly and efficiently. While Kia won't be setting performance records with the Cadenza the vehicle is still quick enough with a very comfortable and quiet ride. This is a segment where many competitors have been offering all-wheel drive for years, so if Kia is looking to improve the next Cadenza (due out in 2017) they would be wise to add this as an option at the minimum.
Many Features
A selling point of the car is the many standard features Kia has incorporated. Among the more prominent items, we find LED daytime running lights and LED "light bar" taillights, navigation, premium leather seating, a backup camera, push-button start, steering wheel-mounted audio controls, an eight-way adjustable power driver seat, power-folding side mirrors, rain-sensing wipers, rear parking sensors and illuminated door scuff plates.
For 2016, the Cadenza adds the Tech trim level to accompany the existing standard and Premium trims. The Tech trim offers all the goodies you would expect, including 19-inch wheels, blind spot detection, lane departure warning, advanced smart cruise control, LED fog lights, HID headlights, a heated steering wheel, windshield wiper de-icing, climate controlled Nappa leather seats and an adjustable driver's seat cushion.
So what does all this add up to? What we have is a very practical and affordable premium sedan with plenty of comfort and luxury features to satisfy anyone. The Kia badge undoubtedly will turn off some buyers who are looking for prestige in a luxury vehicle regardless of the price or available features. That being said, there exists a demographic that doesn't care about all that stuff and just wants a luxury vehicle at a reasonable price, and those are the people Kia is targeting. If they can convert a few German fans in the process that would just be gravy on top.
Share on Facebook