Mazda CX-9 Vs. Hyundai
Santa Fe

XL: Two Asian Vehicles For Transporting Your Clan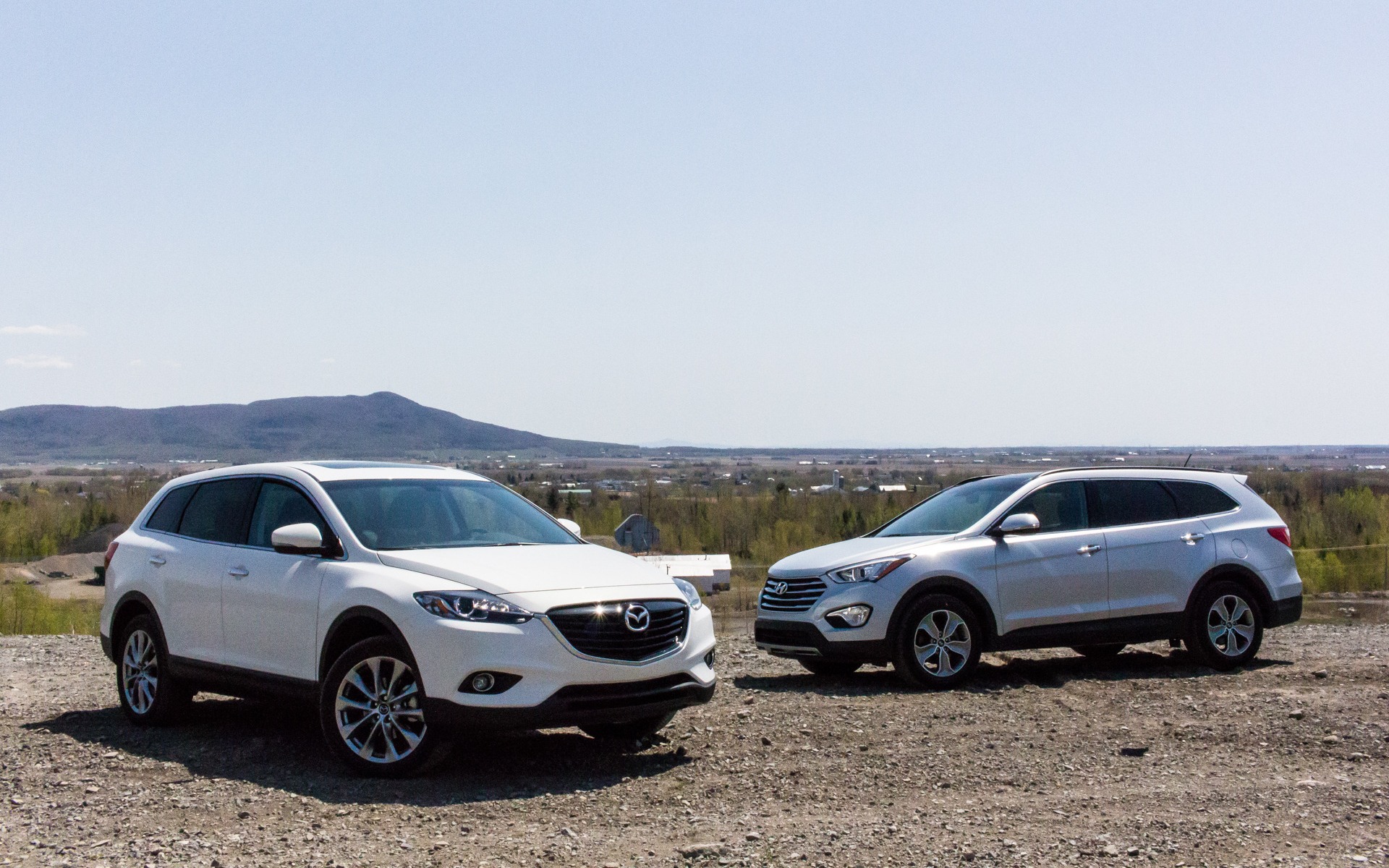 Not so long ago, choosing a vehicle for more than four passengers meant you had to go to your nearest American car dealership and choose between a wagon or a massive SUV like the Chevrolet Suburban or Ford Expedition.
But nowadays all automobile manufacturers make SUVs with three rows. These vehicles offer unrivalled practicality, since they can carry up to seven people, tons of stuff, or a combination thereof. Plus, these vehicles can be equipped with all-wheel drive for added safety in case the weather takes a turn for the worse.
The two models we're looking at today are both Asian products. The Mazda CX-9 hails from Japan, while the Hyundai Santa Fe XL comes from South Korea (though it's built in the U.S.).
Here's what they have in common:
Vehicle dimensions
Cargo capacity
Price
What could be better than a comparative showdown to see which one is best?
Mazda CX-9: An outmoded veteran
The contest begins with the CX-9, the biggest of all Mazdas. In production since 2006, this SUV dates back to a bygone era when the Japanese automaker still belonged to Ford. Thanks to this alliance, Mazda was able to make use of some of the Dearborn-based brand's resources to expand. For example, the CX-9's platform is the same one found under the old Ford Edge and Fusion. Same goes for the 3.7-litre V6; Mazda calls it the DZI, but it's actually Ford's good old Duratec engine. It produces 273 horsepower and 270 lbs.-ft. of torque in the CX-9, where it's paired with a six-speed automatic transmissions that relays power to the front wheels (though all-wheel drive is available on option). This drivetrain has aged well. It may not be modern anymore, but it propels the CX-9 with gusto. That said, the V6 gulps vast amounts of fuel (officially it's 14.3 litres per 100 kilometres in the city, 10.6 on the highway, but I couldn't do better than 16.2 litres combined), and the transmission is showing its age, with blasé upshifting and downright sluggish downshifting.
The CX-9's interior is more impressive. While it isn't youthful, the quality of the fit and trim is remarkably good. The suede door appliqués are attractive, while the red accents around the dashboard and doors add a hint of sophistication. The various materials are soft and supple to the touch, and all the components are solidly affixed—not even the worst vibrations will cause cracking sounds in the cabin. The front seats are comfortable, visibility is good and the rear seats aren't the least bit unpleasant (at least not for kids, though adults may find them narrow). As for cargo capacity, the CX-9 can take up to 2,851 litres of gear, in contrast with the Santa Fe XL's 2,265 litres.
The CX-9 also offers a terrific ride, and that's thanks to its age. Since it's got hydraulic power steering, it offers ample information about what's going on under the front wheels, and its handling is very reassuring. Meanwhile, the suspension absorbs bumps quietly and without jarring. In fact, the CX-9's interior is beautifully quiet.
Hyundai Santa Fe XL: Young and ambitious
The Santa Fe XL was launched in 2013, but it still looks like a whippersnapper next to the venerable SUV from Hiroshima. It features much more modern mechanical parts. For example, even though it also comes with a V6, its mill has 3.3 litres of displacement and pumps out 290 horsepower and 252 lb.-ft. of torque. Its automatic gearbox may also have six speeds, but it's infinitely smoother than the Mazda's. On this point, I tip my hat to Hyundai. In most of their products, the fluidity of the transmission is exemplary, as is the case in the Santa Fe XL.
Where this model disappoints is its interior, especially when you're actively comparing it to the CX-9. While the Santa Fe has a fresher look, some of the materials are hard and cheap. The seats are comfortable but lack side bolstering. And while we're at it, the dashboard could use some extra zing. The few silver accents don't do enough to break the monotony of the ubiquitous grey.
On the highway, the Santa Fe doesn't even try to be sporty. The electric power steering comes with three settings, Comfort, Normal and Sport, but my colleague renamed them Disconnected, Very Disconnected and Totally Disconnected! Essentially, these modes increase the steering wheel's resistance, but only just barely. The suspension is a bit harsh but at least it's quiet. Visibility is impressive, especially for a vehicle this size. After a five-hour road trip, I came away impressed with this crossover's long-distance capabilities. Even 600 kilometres later, none of us complained of discomfort (the vehicle I tested was a six-passenger model with two comfy captain's seats instead of a middle row).
I managed to get the XL's average fuel consumption down to 9.6 litres per 100 kilometres. This SUV's acceleration also proved more linear (and faster!) than the CX-9's. Not only does its V6 rev more quickly, its automatic gearbox shifts faster and without lurching. Finally, if you need to tow a trailer, you'll be interested to know that the Santa Fe XL can haul up to 2,268 kilograms, compared to the Mazda's 1,588 kilograms.
So who's the winner? Depends on your priorities
Once again, there's no clear winner. The Mazda is plusher and more fun to drive. In contrast, the Santa Fe XL is more fuel efficient and modern. The CX-9 is bigger but the Santa Fe XL can tow more weight. Both competitors bring a lot to the table, but each has its pitfalls too. The scales can tip to one side or the other, depending on what your priorities are.
If I had to buy one of them today, I think I'd go for the Mazda. Its ride, appearance and quality of assembly would be enough to make me forget that it's an outdated gas guzzler. But I understand why others might prefer the modern and efficient Santa Fe XL. Not to mention that, like many Korean products, it costs less than its competitor (the baseline Santa Fe goes for $29,999 compared to $33,995 for the CX-9, while the Santa Fe Limited sells for $42,744 compared to $47,890 for the CX-9 GT).
Share on Facebook