2015 Hyundai Tucson Hydrogen EV: $529/Month, Free Fuel, Zero Emissions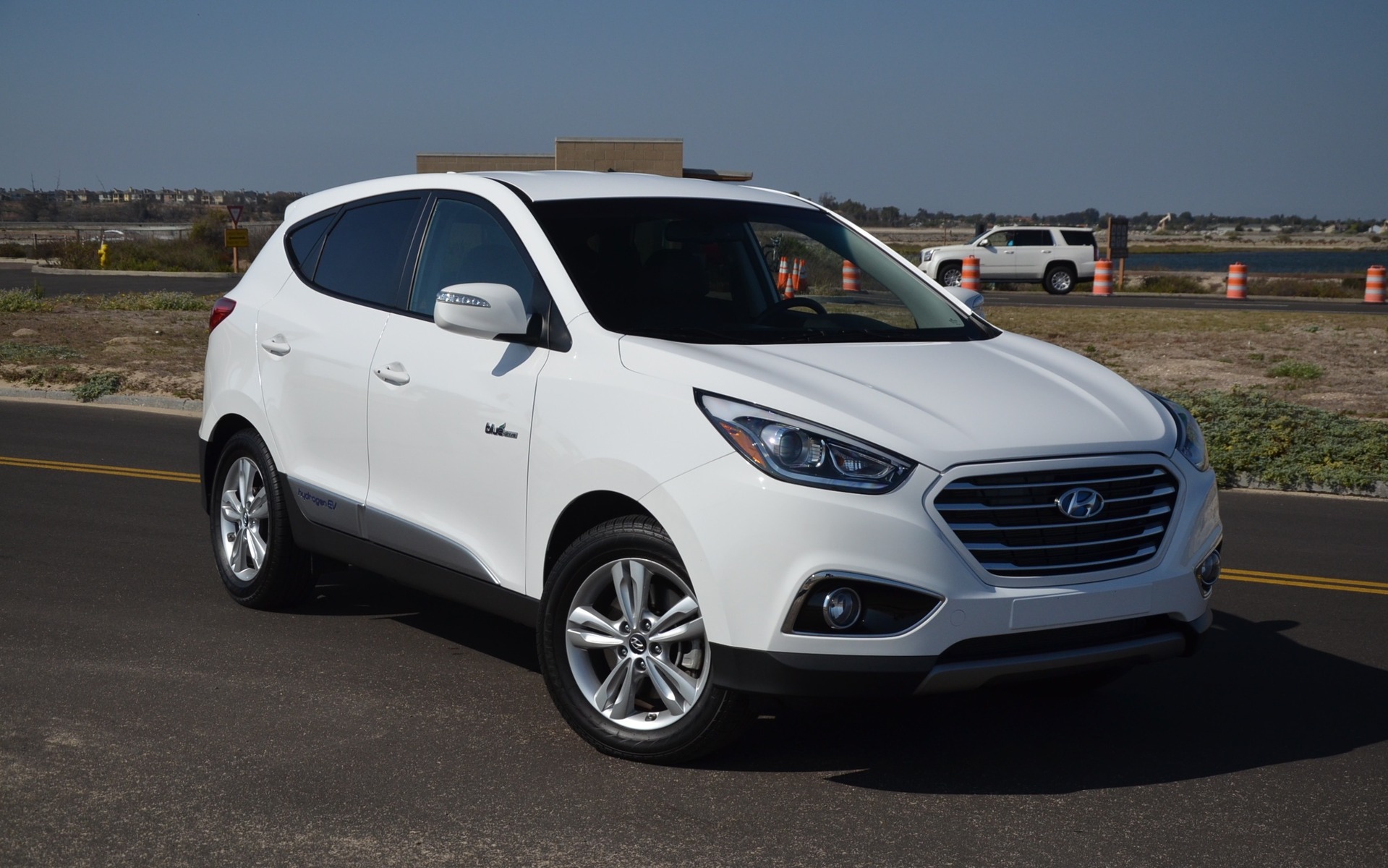 What costs $529/month, has a range of 425 kilometres per fill-up, costs nothing to fuel and only emits drops of water? Answer: a Hyundai Tucson Fuel Cell on the streets of Vancouver. 
At press time, there were just two Hyundai clients driving Tucson Fuel Cells. A third customer is expecting his vehicle soon. All are in the Vancouver area, since that's the only city in the country to have a hydrogen fuelling station. The leasing details are fairly straightforward. Customers pay $529/month for 36 months, and Hyundai pays for the hydrogen. 
Conventional looks with cutting-edge technology 
At first glance, the Tucson Fuel Cell looks almost the same as the conventional Tucson, except that it's got "Hydrogen EV" and "Fuel Cell" emblazoned on it. If you look closer, you'll see that the exhaust has been replaced with a plastic tube that releases little drops of water, the fuel cell's only emissions. Hydrogen is stored in two tanks and used to power the fuel cell, which produces electricity for the vehicle's electric motor. 
The Tucson Hydrogen EV is an electric vehicle that makes its own electricity using a hydrogen-powered fuel cell—kind of like what the Chevrolet Volt does with its gas-powered generator. As long as it has hydrogen, the vehicle is ready to run. When the tanks run empty, you just fill it, as you would with a gas or diesel car. The only difference is that its emissions are just water. There's no pollution produced. The other difference is that the Tucson Fuel Cell weighs 600 lbs. more than the gas-powered model. 
On the road in California
I had the chance to test the Tucson Hydrogen EV on the Pacific Coast Highway just south of Los Angeles, when they launched the Hyundai Sonata Hybrid and Plug-in Hybrid. After driving it just a few metres, I could tell that the vehicle was substantially heavier, but its accelerations were still satisfying when I pressed the accelerator all the way. 
Like other electric vehicles, the Tucson Hydrogen EV is equipped with a regenerative braking system that recharges the small electric battery whenever the vehicle decelerates. The ride is totally quiet, since the only thing you hear are the wheels and the faint sound of the electric motor.  
With just two clients (soon three), this vehicle's distribution is purely symbolic for the time being. Hyundai Canada nonetheless expects this model to attract 10 to 20 new clients per year. The main obstacle being the fact that the only hydrogen fuelling station is in Vancouver—for now. Hyundai is hoping that the Tucson Fuel Cell will prove that the technology is now at maturity and it's time supporting infrastructure was created.  
Share on Facebook