2015 Hyundai Genesis: All-Wheel Drive Now Comes Standard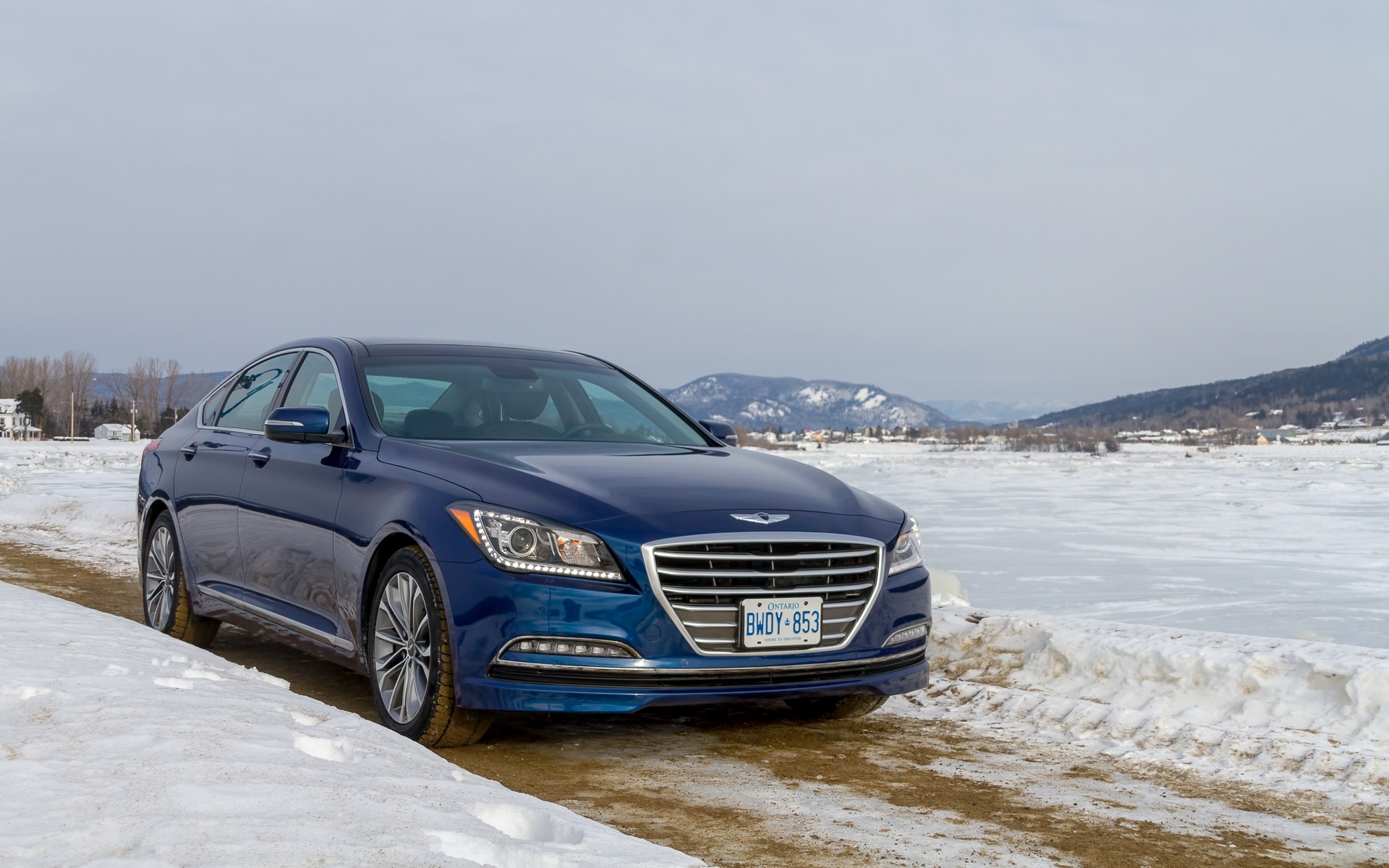 Strong points

All-wheel drive
Excellent equipment / price ratio
Sleek new dashboard
Comfortable interior

Weak points

Tendency to understeer
Not as sporty as its German rivals
Spongy brake pedal
Not the same cachet as European brands
Full report
Charlevoix is one of the most beautiful regions of Quebec, and it's also an ideal place to test drive the most recent versions of the 2015 Hyundai Santa FE XL and Genesis equipped with all-wheel drive. Mother Nature did her part by dumping a thick layer of powdery snow during the initial testing, which included acceleration, braking and slalom exercises. These were carried out on a closed circuit and on the area's mountainous roads.
For winter driving in Canada, everyone agrees that all-wheel drive is best, which is why Hyundai decided to make up for lost time and join the competition by converting its Genesis from rear-wheel drive to all-wheel drive. The manufacturer has transplanted its HTRAC (H for Hyundai and TRAC for traction) system factory standard into all versions of this luxury sedan. All-wheel drive has become practically essential for vehicles in the luxury sedan segment, so this decision from Hyundai comes as no surprise.
Factory-standard HTRAC for the 2015 Genesis
So we found ourselves at the wheel of a large sedan (its exterior dimensions are the most generous in the category) that handles with 10 times more poise on snow and ice than the previous-generation rear-wheel drive version. All it took was a "lap" on our "closed circuit" with the old version to confirm the obvious superiority of the 2015 Genesis. Developed by Hyundai and Magna, the parts manufacturer for the brand's rear-wheel drive sedans (Equus, Genesis), the HTRAC system electronically manages torque distribution between the front and rear axles. It is partly controlled by the Genesis' driving mode system. In Normal mode, 60% of the torque is sent to the tail end and 40% to the front end, but the system can send 90% of engine torque to the front axle on slick surfaces or 100% of torque to the rear wheels at high speed. Unlike Audi's quattro or Mercedes-Benz's 4Matic, which are equipped with a full-time central differential, Hyundai's HTRAC has a simpler design and engages after a delay of 30 thousandths of a second. In normal driving conditions, the mechanism is almost imperceptible and the Genesis retains typical rear-wheel drive handling when Sport mode is selected.
Between the 3.8-litre V6 with 311 horsepower and 293 lbs.-ft. of torque and the eight-speed automatic gearbox, you get invigorating performance when accelerating. We recorded an average fuel consumption rate well over 12 litres per 100 kilometres during this test drive, but it was in the middle of a snow storm. As for handling, while the steering is precise overall, it's a tad vague in the centre and the car has a tendency to understeer, which is typical of large sedans with all-wheel drive. Additionally, the brake pedal was spongy on more than one occasion, which doesn't exactly inspire confidence. However, these aspects are only noticeable when the car is pushed in dynamic driving situations. At an everyday pace, its handling should be totally predictable. The defrosting and heated seats are efficient and we also liked the passenger compartment's new look. I appreciated the wood accents and comprehensive list of factory-standard equipment. This should help the Genesis compete against mid-size luxury sedans even though it's offered at the price of a compact luxury sedan.
With the addition of all-wheel drive, the Genesis gives itself another asset to attract luxury sedan buyers. That said, this is the same group of buyers that tends to be swayed by irrational arguments, like brand image. In this sense, Hyundai still has a big mountain to climb—and scaling it may take more than all-wheel drive.
Share on Facebook