2015 Hyundai Genesis 5.0 Ultimate: The Logical Luxury Argument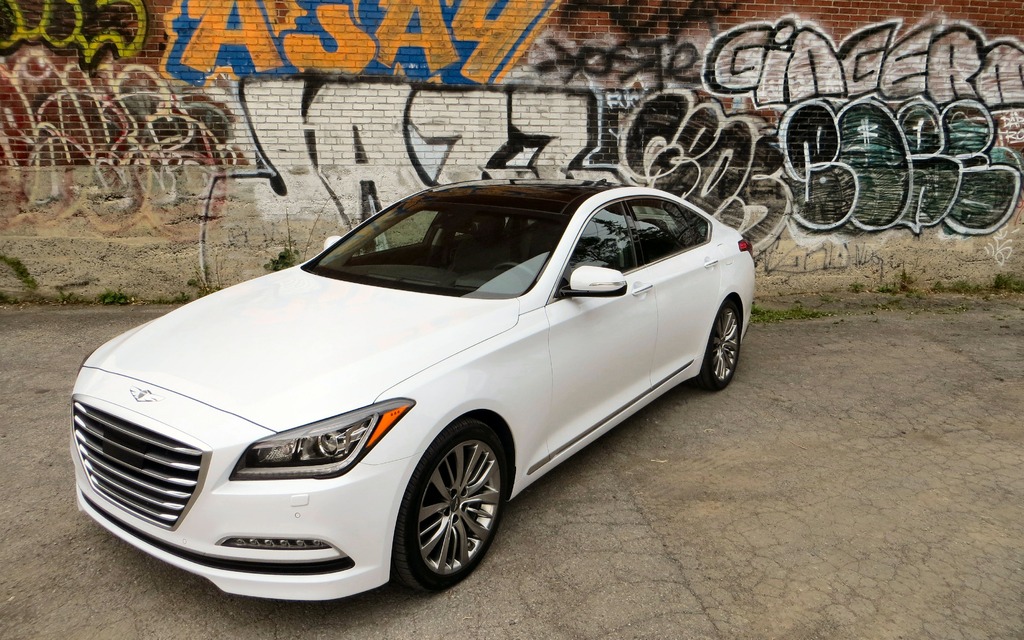 Strong points

Imposing, classy styling
Large interior
Good power from V8 engine
Smooth eight-speed automatic transmission
Standard all-wheel drive
High level of luxury features
Outstanding value

Weak points

Not as peppy off the line as some competitors
Fuel efficiency not a priority
No rear-wheel drive model offered for enthusiasts
Engine noise is loud when standing beside the vehicle (but quiet from the inside)
Full report
How do you know you're driving a luxury car?  It used to be as simple as identifying the badge on the hood, but these days it seems everywhere you look there's a premium model of a previously pedestrian car on offer from profit-seeking automakers looking to cash in on our never-ending thirst for more comfort and gadgets.  Enter the 2015 Hyundai Genesis, a full-size sedan that tears the still-beating heart out of traditional luxury and leaves it lying bleeding on the pavement.
How does it accomplish such a rebellious act of vehicular violence?  By way of a word that is seldom spoken in the luxury biz: value.  Once you cut through the marketing mumbo-jumbo that is the essence of the premium car segment and reduce things to a set of engineering specifications and equipment packages designed to please the widest swathe of buyers, you end up with a sedan very much like the all-new Genesis.  If you're an enormous multinational like Hyundai, you can then leverage your expertise and resources to create a vehicle that ticks all of the premium boxes without adding a brand surcharge.
A word of warning about the Genesis: take it for a test drive at your own risk, because once you've spent any amount of time behind the wheel, you'll very quickly see that the fleet of automotive emperors you once lusted after no longer seem to be wearing a single stitch.
Espresso Or Double-Espresso
In a world where even large luxury cars now feature entry-level engines of the four-cylinder variety, the 2015 Hyundai Genesis starts out with a 311 horsepower, 3.8-litre V6.  Skip past the base model and you'll find a 5.0-litre V8, the engine motivating my Genesis 5.0 Ultimate tester.  As the name might imply the 5.0 Ultimate bundles in all of the available equipment on the Genesis order sheet and also brings with it 420 horsepower and 383 lb-ft of torque.  If those numbers sound familiar, that's because they're only slightly lower than the output of last year's eight-cylinder Genesis model, as this one's seen its power delivery shuffled to the lower end of the rev spectrum.
An eight-speed automatic transmission remains standard with all versions of the Genesis, but new for 2015 is standard all-wheel drive across the board.  The system is capable of sending just a bit less than 100 percent of torque to the rear axle during spirited driving in order to better simulate the natural handling of a rear-wheel drive vehicle (in the U.S. rear-wheel drive is standard with the Genesis).  It's also been tuned to effectively deal with the harsh winter weather that is all-too-common here in Canada.
Big Velvet Pussycat
420 horses keeps the Genesis 5.0 Ultimate competitive with models like the twin-turbo Cadillac CTS Vsport's identically-rated V6 while surpassing the Mercedes-Benz E550 (although the latter delivers substantially more torque from its turbocharged V8).  Although not as explosive as either of these rivals when it comes to off-the-line acceleration, the Genesis certainly delivers more than adequate passing power at any speed, with its eight-speed autobox confidently and discretely dropping a cog or two as-needed on country roads to take advantage of a well-planned corner exit.
As for moving through the twisties, that's one area where the Hyundai doesn't impress when its drive select mode is left in the 'Normal' or 'Eco' settings.  Switch it over to 'Sport,' however, and the big, heavy sedan gets a fighting chance to keep up with smaller fare setting the pace, thanks to its more aggressive transmission settings, adaptive suspension system, and recalibrated all-wheel drive.  There's not enough driver engagement here to label the Genesis 5.0 Ultimate sporty, but you'll have to push hard before you find a dynamic situation that the Hyundai can't handle in absolute safety.
Bells And Whistles
Speaking of passenger protection, the 2015 Hyundai Genesis 5.0 Ultimate wants for nothing when it comes to advanced safety gear.  Specifically, the vehicle comes loaded with a blind spot monitoring system, a lane departure and lane keeping system, adaptive cruise control, forward collision warning, and an automatic braking system to go along with its full complement of airbags.
Safety is just the tip of the iceberg when it comes to the equipment offered by the Genesis 5.0 Ultimate.  Heated and cooled leather seats, a well-designed touchscreen navigation and infotainment system, 17 speaker surround sound, matte wood and metallic interior trim, HID headlights with LED fog lights, a power trunk lid, an air purity monitor, dual automatic climate control, a panoramic sunroof, and a head-up display are all standard with this version of the car.
The Hyundai's goodies come wrapped in a handsomely-styled sedan package that surpasses the previous generation Genesis when it comes to class and subtle aggression.  The interior of the car, in addition to being much larger than one might expect, is also exceptionally quiet when underway, striking a pleasant balance between isolation and road feel and dialling out much of Montreal's horrific lack of highway maintenance by way of its well-tuned suspension.
Drumroll Please
It's time to reveal the single biggest reason why you should be impressed with the 2015 Hyundai Genesis sedan: its price.  You can get behind the wheel of the base Genesis for just $43,000, or hand over $63,000 for the 5.0 Ultimate like the model I tested.  You'll understand why this is so shocking once you check out the window stickers on any one of the Hyundai's rivals.  The Mercedes-Benz E-Class starts at $58,800 for a six-cylinder base model with no options whatsoever, while a comparably-equipped Cadillac CTS will set you back $75,000.
This kind of pricing disparity is both a blessing and a curse for the Genesis, for while there is no question in my mind that the vehicle delivers 90 percent of what an E-Class has to offer for far less money, the fact of its modest pricing works against it by suggesting to status-conscious luxury buyers that corners must have been cut somewhere.  This is simply not the case: if you're happy parking an E550 or Lexus LX 460 in your driveway, chances are you'll feel the same way about the Genesis 5.0 Ultimate.
Share on Facebook