2015 Toyota RAV4 XLE: Most Things To Most People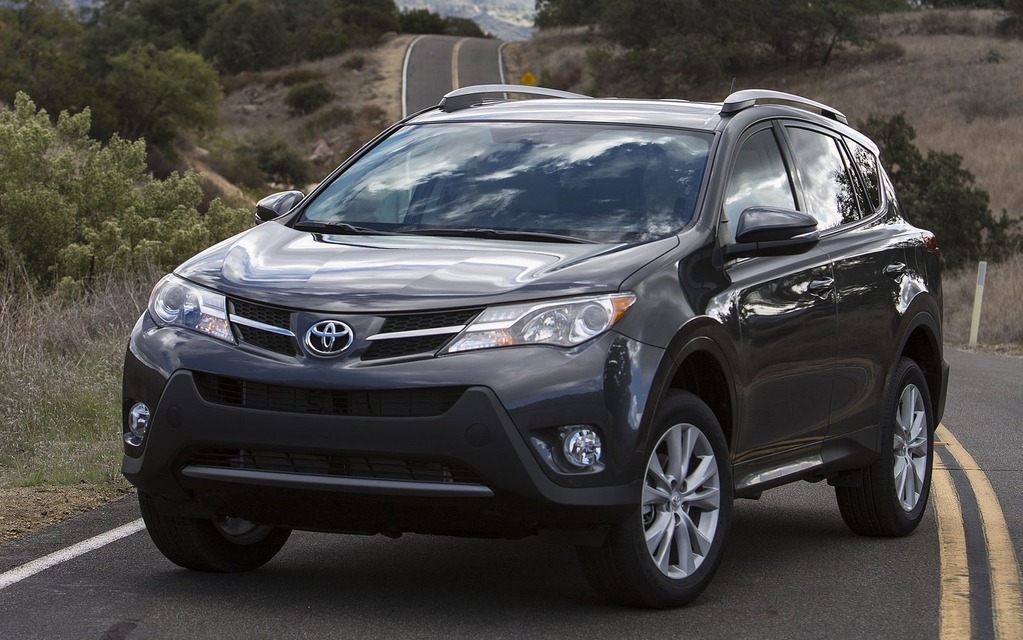 Strong points

Excellent cargo room
Usable second row seat
Comfortable ride
Available all-wheel drive
Good fuel efficiency
Reasonably affordable

Weak points

Lacks power compared to rival compact SUVs
Limited model isn't compelling from a value perspective
Active safety gear only available with Limited model
Heated seats should be standard for the Canadian market
Full report
How many vehicles get to claim status as one of the 'default answers' for their respective class? For more than a decade the Toyota RAV4's wide range of price points and appreciable practicality have been gobbling up Canadian customers left, right, and centre, consistently placing it in the top three best-selling compact SUVs on the market. There's no question that Toyota has the small people mover formula all figured out, but what is it about the 2015 edition of the RAV4 in particular that makes it such a strong choice in a field of stand-outs? I spent a week behind the wheel of the sport-utility vehicle in an attempt to better understand its charms.
A Better Box
To some people, 'packaging' is a word associated with frustrating, scissor-proof plastic blisters surrounding batteries or the big boxes of cereal designed to entice your kids to consume massive amounts of morning sugar. In the case of the 2015 Toyota RAV4, it refers specifically to the way the SUV presents families with everything they could possible desire in a task-focused daily driver.
Do you need to take the kids to school? Even lanky teenagers will have plenty of room to stretch out in the RAV4's second row (with the third set of accommodations thankfully banished by a recent redesign). More interested in hauling drywall and painting supplies home from the hardware store? The Toyota's 2,081 litres of total storage space (more than half of which is still accessible with all five passenger spots occupied) place it near the top of its class. What's more, the interior's design makes it easy to take advantage of all of the RAV4's available space, with a near-flat load floor and the ability to recline the back seats into the cargo area for extra comfort
Adequate Power
In a world where most compact crossovers now feature a variety of engine choices, some with turbocharged four-cylinders pushing out well over 200 horses, Toyota's decision to back away from the V6 that was previously available in the RAV4 in favour of the more efficient four-cylinder hasn't been universally popular. I took the 2015 Toyota RAV4 on a 500 kilometre road trip that involved both steady-state autoroute cruising as well as long passages of twisty two-lane driving. At the end of my journey, it was clear that the 2.5-litre, 176 horsepower four-cylinder engine that comes with each and every edition of the RAV4 was up to the task of motivating the small SUV.
The vehicle's six-speed automatic transmission was only occasionally perceptible - typically, when trying to find the right gear to climb a particularly steep grade - and while passing power was adequate, there were indeed times when I didn't chance an overtaking manoeuvre because I wasn't sure the truck had enough gumption to see me clear with an acceptable margin of safety.
The upshot of the RAV4's four-cylinder-only configuration was surprisingly respectable fuel consumption: I saw 12 L/100 km in mixed driving during incredibly cold weather. This is despite the presence of optional all-wheel drive, which contributed to excellent stability even on uncleared roads or when fording through snowbanks in an attempt to find a reasonable parking space.
Let's Talk Equipment
There are three versions of the 2015 Toyota RAV4 out there: LE, XLE, and Limited. The LE is fairly basic, and you'll have to pay a bit more for the 'upgrade package' if you want niceties such as heated front seats, a 6.1-inch LCD display for the vehicle's infotainment system, and a rearview camera. The model I drove was the XLE, which opens up the option of all-wheel drive and adds a sunroof, dual automatic climate control, and a louder stereo system. My tester's 50th Anniversary Special Edition package also installed navigation, spiffy red stitching on the vehicle's leather dashboard and door panels, a leather-wrapped steering wheel, and chrome 18-inch rims.
If you want to go whole-hog, the Limited will net you most of the above, plus genuine imitation leather seats, keyless entry and ignition, standard all-wheel drive and an auto-dimming rearview mirror, but you'll end up paying nearly $10,000 more than the base model's starting MSRP of $26,020. This isn't a 'bad' deal, but it's not exactly a strong value compared to the XLE with the 50th Anniversary Special Edition package that I drove, which came out to be somewhat cheaper while offering almost the same level of gear. Of course, only the Limited gets you access to advanced safety equipment such as a blind spot monitoring system and a lane departure warning system, and even then only if you spring for the Technology package.
All-Around Solution
The 2015 Toyota RAV4 is a reliable and cost-effective family Swiss Army knife. If you want to stick to the basics, then the LE is a viable alternative to a hatchback for those who crave cargo space and don't need all-wheel drive. In my eyes, the XLE is the happy medium that straddles the line between affordability, features, and utility (especially the all-wheel drive model). I recommend disregarding the Limited, because if you're looking for high tech gear and a touch of luxury, you'd be better served elsewhere.
Given that there are so many excellent compact SUVs to choose from, it's also a good idea to drive rivals like the Ford Escape, Mazda CX-5, Hyundai Santa Fe, and Honda CR-V before making your final decision. Does that seem like a long list of potential alternatives? It certainly is - and count yourself lucky to be shopping for a small crossover in what is certainly a buyer's market.
Share on Facebook