2015 BMW M3: Adventures In 21st Century Driving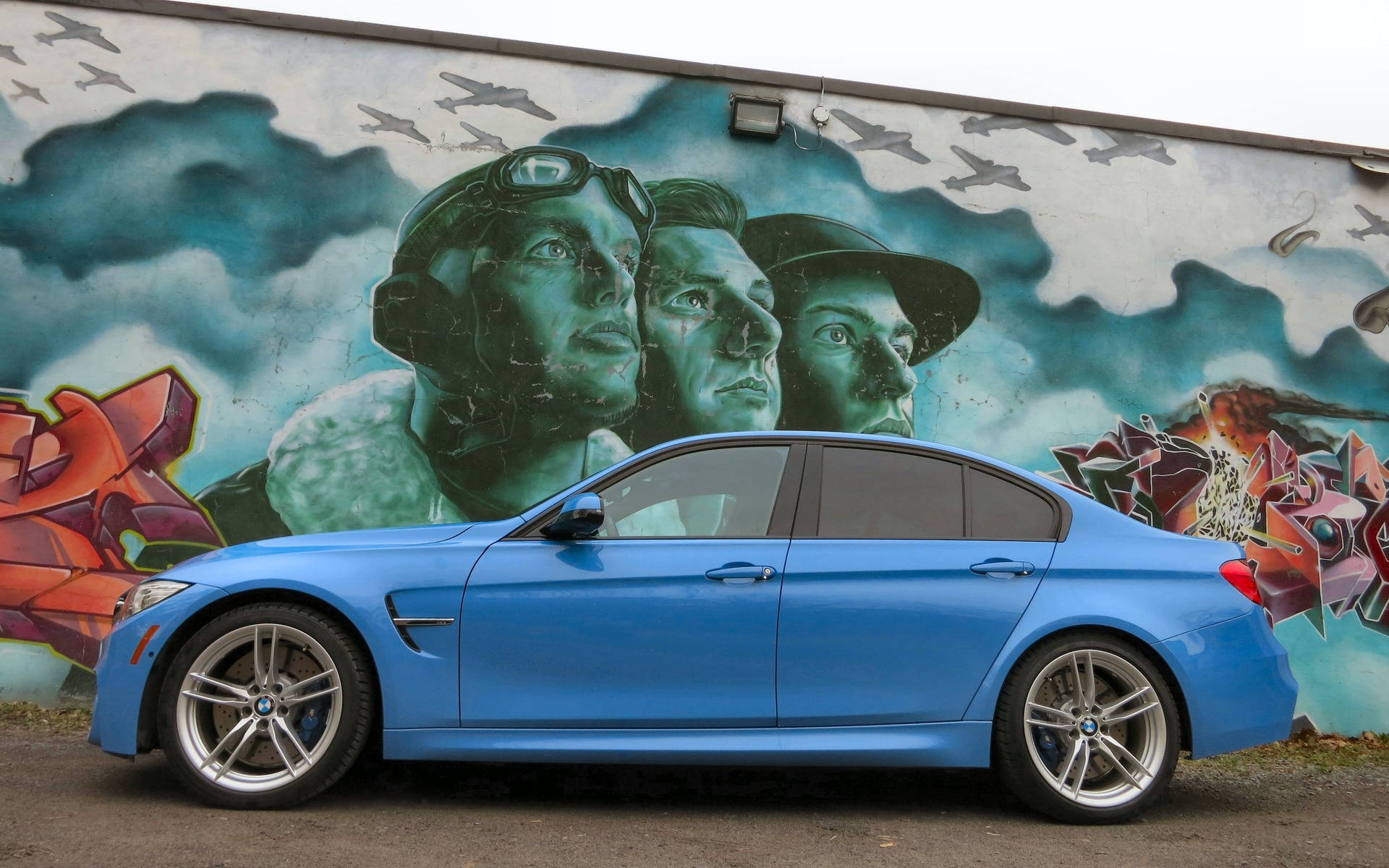 Strong points

Aggressive styling
Spacious rear seat for its class
Cool carbon fibre roof
Very fast in a straight line
Excellent corner-straightener

Weak points

Doesn't really engage the driver
Steering and suspension feel isolated from the road
7-speed automatic is not easy to predict
Balky transmission when cold
Full report
More and more often, sports cars are finding themselves on one side or the other of an increasingly well-defined line in the sand: those vehicles that strive to connect the driver as directly as possible to the road sitting under the rubber, and those that leverage technology to deliver mind-blowing acceleration and handling that's better measured by a g-meter than a butt-dyno.  After decades of championing the former, the all-new 2015 BMW M3 finds itself squarely in the latter camp, a sport sedan that is exceptionally quick by any objective measure but one that feels lifted from the digital stable of a video game rather than a real-life racing paddock.
Heart Transplant
The 2015 BMW M3 breaks with tradition in a number of ways, but perhaps most apparent is the new turbocharged power plant that sits under its hood.  The first forced induction engine to be outfitted to the M3, the 3.0-litre six-cylinder unit features a pair of turbos that feed it enough oxygen to produce a generous 425 horsepower and 406 lb-ft of torque – numbers that shame the high-revving V8 that was offered by the previous generation car.  The six-cylinder will spin up to 7,600 rpm if you really want it to, but there's no need: power peaks at 5,000 rpm and feels almost instantly available thanks to its wide torque curve that starts at around 1,800 rpm.
Spin The Seven-Speed Wheel
Helping to harness the explosive output of the M3's engine are pair of gearbox options.  The first is a six-speed manual that automatically blips the throttle on downshifts so as to make for the smoothest possible gear changes, but if you're not in the mood to swap cogs yourself you can also order an optional seven-speed dual-clutch automated manual transmission.  This was the tranny outfitted to my tester, and my experience with its diverse programming was one of the first things to distance me from the BMW's driving experience.
There are several different modes available that control how the DCT engages each gear, with three different levels of shifting quickness linked to a trio of throttle sensitivities, each of which can be mixed and matched with the M Dynamic stability control setting or even an 'all-off' switch for the vehicle's electronic nannies (you can assign your favourite grouping of settings to two M buttons mounted on the steering wheel for easier access).  Despite the drivetrain's configurability, I found the seven-speed to be frustratingly difficult to drive moderately and even more abrupt when pushed hard.  Even in its most relaxed setting gears were held longer than I wanted them to be, and with the drive modes cranked to the max I was never able to predictably trigger a downshift with the accelerator.  What's more, using the paddles mounted to the steering wheel felt as though I was asking permission, rather than commanding the dual-clutch setup to kick down to a more aggressive ratio.
Blaze Of Smoky Glory
Regardless of how much the 2015 BMW M3's transmission behaviour isolated me from its athletic abilities, there's no doubt that the talents it does possess are prodigious when exercised in a straight line.  Stomp the gas hard with the seven-speed option and the car's traction control absent and you'll engage what BMW terms 'smoky burnout mode,' which clutch-dumps the car and incinerates your rear tires.  Activate M Dynamic mode instead and you're still at risk of obliterating your tire budget in one sitting, especially on colder pavement: the 425 horsepower engine is all too willing to spin the standard 18-inch or available 19-inch meats mounted at the back of the car, and it takes the near-constant intervention of the car's electronic LSD to mitigate a sideways crab-walk off of the line.
Do everything right, however, and you're looking at a 0-100 km/h time of just under four seconds.  On the highway, the M3's acceleration feels like an endless surge relentlessly pulling you towards speeds that will quickly evaporate the good will of local law enforcement.  Approaching corners are dispatched with ruthless efficiency, and although the BMW is no lightweight – the use of a cool carbon fibre roof panel and several aluminium body and chassis components keeps its mass around 1,636 kilos – its more than capable of keeping up with a long list of sports cars in spirited driving.
Will you feel like a driver or a passenger while the BMW M3 executes its high performance game plan?  It's hard to say.  In combination with the car's weight, BMW's insistence on adopting electric power steering adds a further layer of insulation from what's actually happening at the front of the car when you are steering it through a twisty section of road.  The faux-feedback doesn't end there: the M3's engine note has been 'sweetened' by an electronic soundtrack that plays back through the stereo system, giving the six-cylinder motor a decidedly eight-cylinder feel and robbing you of the car's delicious turbo exhaust 'whump.'  I chose to drive with the windows down as often as possible as my own form of 'reality EQ.'
The Digital Ghost of M3s Past
It's not that you can't make a connection with the redesigned BMW M3 – it's just that you're communing with ones and zeros rather than gas fumes and steering feel.  The end result of this performance equation is one incredibly quick car – and a good-looking one, too, with its bulging hood and sky-blue paint – that simply never managed to boil my blood at any point.  Not having sampled the manual transmission, I can only assume that removing the DCT puzzler from the M3's personality would offer a somewhat more direct driving experience, but given that BMW estimates 80 percent of sedans will be ordered in automatic form, it all comes back to the fact that the vehicle I piloted represented the brand's definition of sport sedan perfection.
I'm not questioning the 2015 BMW M3's credibility on a road course or its potential as a comfortable daily driver.  I'm just nudging it away from the 'driver's car' label that it has worn for so many years and suggesting that, like so many modern sports models, this is a vehicle that takes you along for a thrill ride without ever really handing you the keys.  For data crunchers, that'll be enough, but for the rest of us, this most recent M3 represents a changing of the guard that suggests it's time to look elsewhere for pure and visceral four-door fun.
Share on Facebook