5 Ford Transits to Show up at SEMA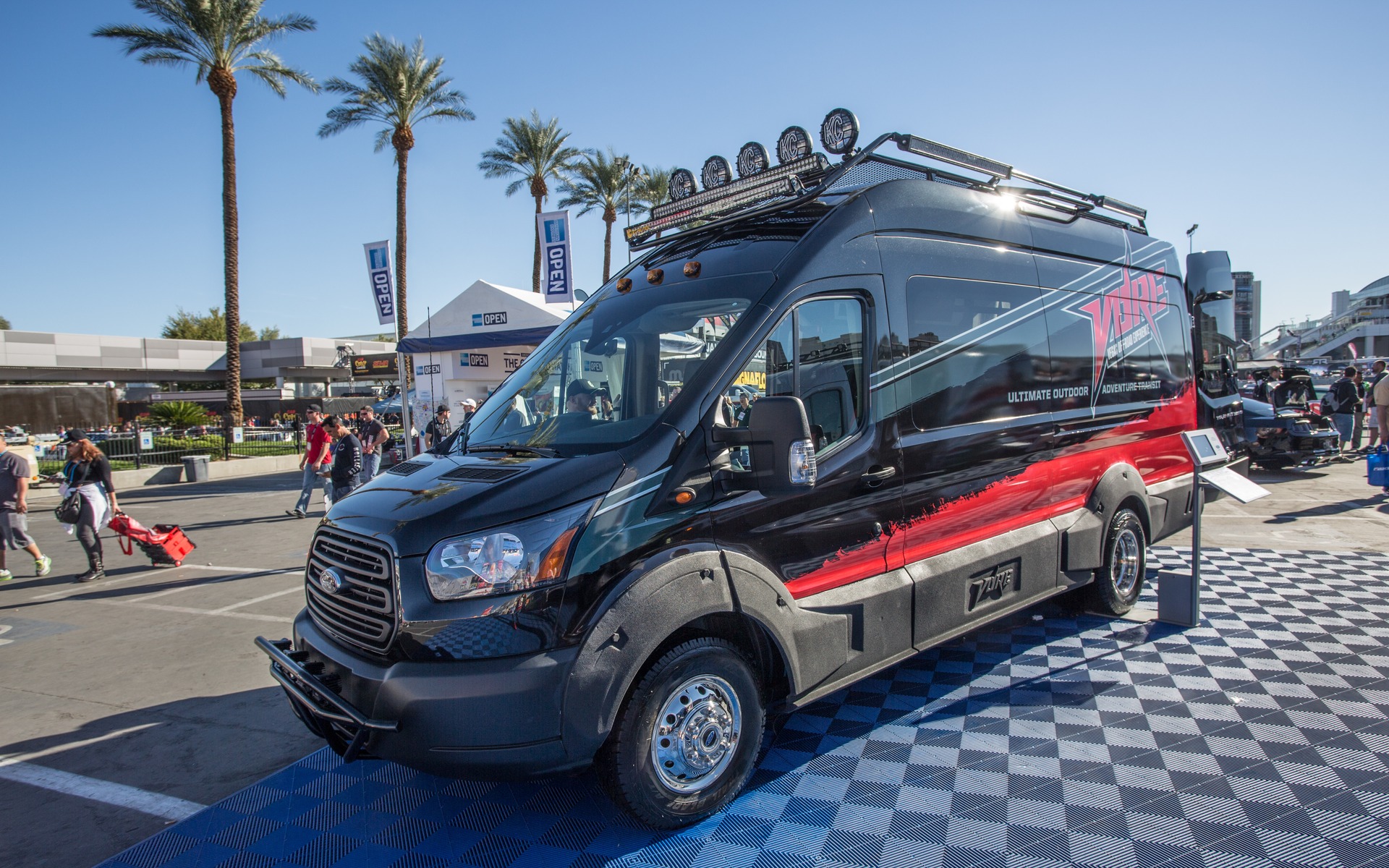 To drum up interest for its new Transit (which will replace the woefully outdated Econoline), Ford will bring 5 different versions of its new commercial vehicle to this year's SEMA Show. Each one will feature different upgrades to show just how modular the Transit is.
The one that stands out the most is the Vegas Off-Road Experience Transit. Its unique styling is inspired by the Ford Raptor: unique front grille, lifted suspension, large fenders, off-road tires, auxiliary lights and tubular steel bumper covers. Inside, TV screens and a video game console will entertain the passengers while the vehicle jumps over the dunes.
The red one is the Designed Travel Transit. As its name implies, it is designed to travel long distances. It features a wooden floor and four captain chairs that boast massage functions, heating and cooling functions, and electrically adjustable headrests. During the trip, passengers will be able to watch movies on the 50-inch, 4K television.
The Formula Drift-liveried Transit is sadly not designed to compete in the series. Instead, it will offer assistance in the event of an accident. It comes with full fire-fighting equipment, materials to extract drivers from their cars and even a Kawasaki Mule for added mobility.
The Business Class Transit aims at recreating the amenities of a business-class plane. As such, it can accommodate eight passengers while offering WiFi access, a portable computer recharge station, a work surface and a minibar.
Finally, Galpin Auto Sport will showcase the Transit Skyliner, which is an homage to the conversion van of the seventies. To coddle its occupants, the van has a 52-inch screen, a 7.2 Surround Sound home cinema system, a media server and an integrated bar.
These Transits will be exhibited at the SEMA Show, which starts on November 4th.
Share on Facebook