2015 Chevrolet Silverado HD / 2015 GMC Sierra HD: Heavy Duty Evolution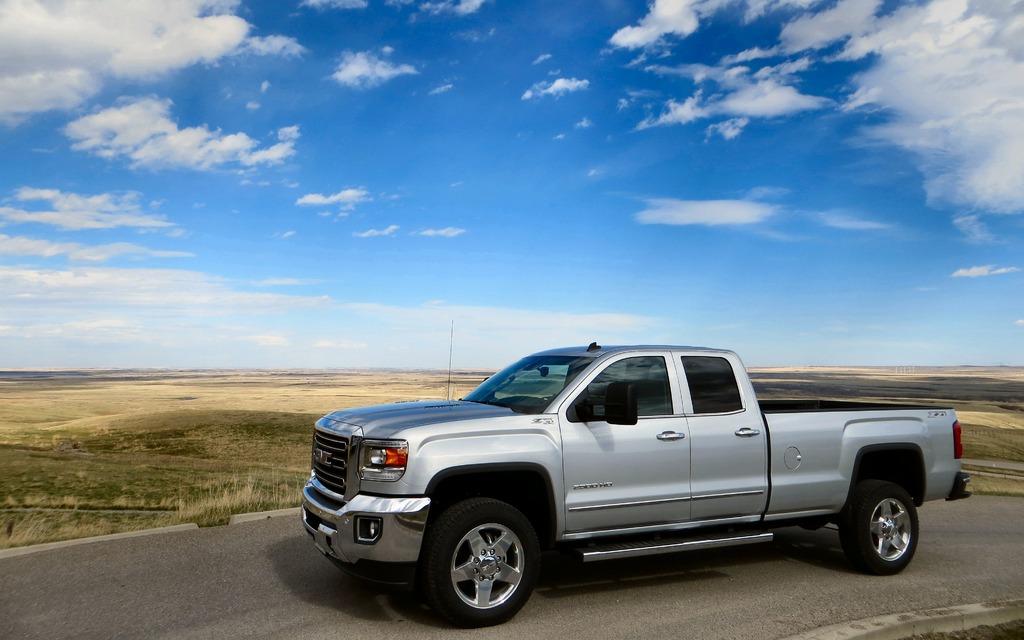 Strong points

Massive towing capacity
Smooth power delivery from Duramax turbodiesel engine
Comfortable, spacious crew cab interiors
Excellent integrated braking technology
Good highway ride

Weak points

Thirsty at the fuel pump
Large size makes them harder to drive on city roads
Price can escalate past $70k quite quickly
No significant chassis or drivetrain changes for 2015
Full report
Big trucks and wide-open spaces go well together, so it was only appropriate that my first time behind the wheel of both the 2015 Chevrolet Silverado HD and 2015 GMC Sierra HD pickups took place on the prairies of Alberta.  It seems like every second vehicle I encountered during my voyage across the plains and through the mountain passes near the Montana border was some form of truck, and after spending nearly two full days at the helm of GM's heavy duty rigs, I could understand why.  Setting sail across the slough from the top deck of an ultra-capable workhorse underscored the utility and ruggedness of the Silverado HD and Sierra HD, and perfectly illustrated just how competitive the professional-grade truck market has become.
Return On Investment
The most affordable version of either of GM's HD pickups - a 2500 series regular cab model - starts at just over $37,000, but it's possible to option up a 3500 series crew cab version of either the Silverado HD or Sierra HD until it's pushed past the $80,000 mark.  That's quite the price spread, but it's a reflection of the breadth of equipment available on these task-oriented vehicles, as well as the surprising level of luxury that can be outfitted to top models.
One of the priciest options available for both the Chevrolet and GMC HD trucks is also one of the most useful.  At close to $10,000, there's no denying that the 6.6-liter Duramax turbodiesel V8 engine significantly boosts the window sticker of either truck, but it brings with it 397 horsepower and 765 lb-ft of torque, output that conspires with the HD models' fully-boxed frames to provide a maximum towing capacity of 22,300 lbs (with a fifth-wheel trailer).  Bumper towing checks in at 19,000 lbs, and each of these capacities has grown compared to the year before despite no concomitant changes made to each truck's chassis nor its turbodiesel engine.  Even the base 6.0-liter, gas-fired V8 (360 horses, 380 lb-ft of twist) is identical to last year's mill.
Smoother, More Controlled Performance
So what has changed, then, with the 2015 Chevrolet Silverado HD and 2015 GMC Sierra HD trucks?  Although both the gas and diesel editions of the pickups come with a six-speed automatic transmission, the Duramax model features an Allison gearbox that now boasts an integrated braking feature that combines with the truck's cruise control, as well as its diesel exhaust brake, to keep speeds steady regardless of terrain or load.  The feature works quite well, and even the exhaust brake alone does an excellent job of preventing momentum from taking over when towing down an incline.
Then there's the chiselled styling that now graces both the GMC and Chevrolet HDs, with new-look cabs borrowed from the designs gracing GM's updated 1500 series pickups.  More upright than the look found on their light-duty cousins, it's a package that is more in line with the respective visual cues of each brand.  Better still, the new cabs bring with them more passenger room as well as quieter interiors, whether found in regular, four-door extended (rear-hinged) or four-door crew (also rear-hinged) specifications.
Loads of Luxury
Another important aspect of the new passenger environment offered by the 2015 HD truck cabs is access to the refined palette of plastics and other materials that first decorated light duty models in 2014.  This also means a more expansive cabin that places an emphasis on storage and power points, as well as a modern dash that integrates all of the data readouts one could need while hauling and which also makes use of the Chevrolet MyLink / GMC IntelliLink touchscreen interface.  It's a more upscale feel than was offered by the departing HD models, especially when ordering either the Chevrolet Silverado LTZ or GMC Sierra Denali trim levels.  The latter especially spikes the premium quotient by way of top-shelf leather seats, an LCD gauge cluster, and a host of exterior styling improvements designed to set the truck apart from other HD models.
Road Masters
What's it like to drive the 2015 Silverado HD and Sierra HD pickups?  Whether loaded or empty, both the gasoline V8 and Duramax turbodiesel demonstrate remarkable acceleration and responsiveness.  I was especially impressed by the way the Duramax was able to shrug off multi-tonne loads sitting in its cargo bed while motoring down the highway or climbing uphill.  Notable from the Allison transmission was its willingness to remain in top gear at speeds of over 100 kilometres an hour, even when the diesel was asked to add speed - downshifting was kept to a minimum in order to prevent load upset.
Naturally, the stiff suspension systems offered by the 2500 and 3500 series trucks felt smoother with a few thousand pounds sitting on the hitch or just behind the cab, but even when unloaded the HD pickups drove more civilized than I expected.  Even the dual-rear wheel editions of the heavy duty trucks were quite manageable in a suburban environment, with no real penalties associated with the extra weight, length, and width of the trucks.
Office On Wheels
The 2015 Chevrolet Silverado HD and 2015 GMC Sierra HD make improvements where they will be most appreciated while standing firm on the attributes that were already well-received by commercial customers.  Given that so many heavy duty truck owners spend considerable hours in their vehicles - whether in transit from one job site to the next, crawling across rough ranch terrain, or towing for hundreds of kilometres a day - it only made sense to provide a more spacious, and comfortable, passenger environment for each model.  The addition of the cruise control braking logic and integration of the exhaust brake is also a usable benefit that any Duramax buyer will instantly appreciate.  Overall, despite not offering a sweeping set of changes, both the Silverado HD and Sierra HD have evolved enough to remain competitive in the hardcore truck wars.
Share on Facebook