2014 Jeep Cherokee: An Auspicious Debut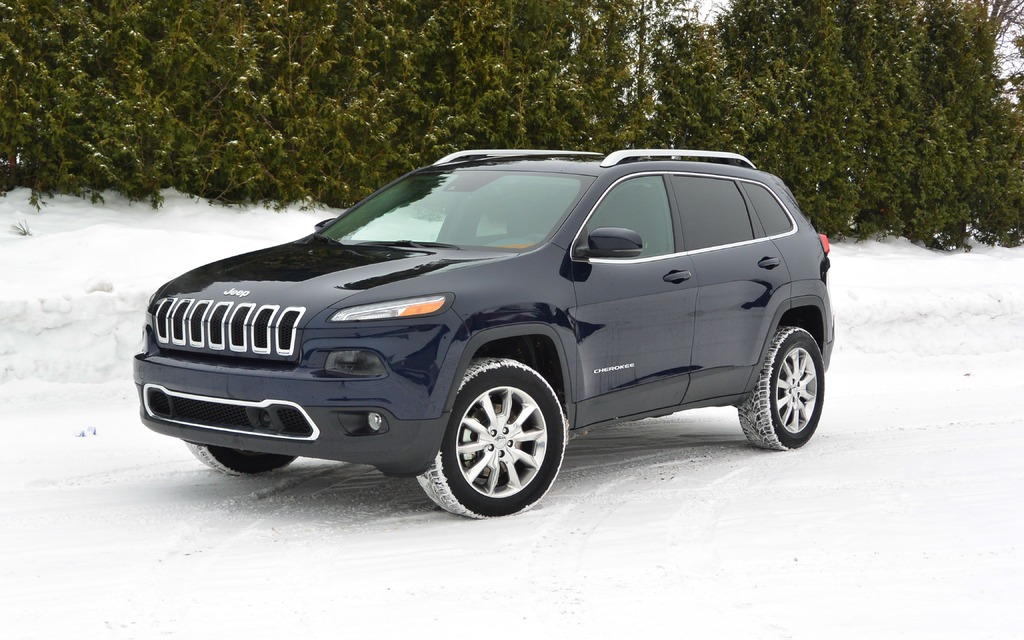 We have entered an era where automakers are increasingly unwilling to take risks, especially in the bread-and-butter compact SUV segment where vehicles ply their trade to shoppers with an increasingly broad range of choices.  This is a big part of what makes the 2014 Jeep Cherokee so refreshing: here is a small sport-utility vehicle that not only embraces bold, almost unusual styling, but which also tempts the fates (and the slings and arrows of the Jeep faithful) by riding on a platform snagged from corporate parent Fiat.  You know, the Italian automaker that has approximately zero history producing off-road-ready rigs of any description, and which until very recently was a relative stranger on Canadian shores.
The funny thing about taking risks, however, is that sometimes they pay off.  The 2014 Jeep Cherokee embodies just enough of the rugged image that has long been the brand's calling card to tempt the significant percentage of SUV buyers who will only occasionally exercise a vehicle's all-terrain chops.  At the same time, it erases the tepid memories left behind by the vehicle it replaces, the lamented Jeep Liberty, by proving to be as pleasant on the pavement as it is capable in mud and rocks.  As a marketing exercise, it's a success.  As a real-world commuter, it's even better.
Nicer Than It Has To Be
Many compact crossovers are function-first machines that prioritize practicality over the upscale treatment of their passengers, but the 2014 Jeep Cherokee stands out as an exception.  The leather upholstery and trim found in the range-topping Cherokee Limited that I drove for a week felt like it was part of a cohesive interior strategy, rather than simply slathered over economy-oriented bones.  This impression is further driven home by the amenities offered by the Cherokee Limited, including the superb Uconnect touchscreen interface (8.4-inches of LCD goodness), heated seats up front, and a small driver information screen mounted at the center of the vehicle's gauge cluster.  Both displays provide the high end graphics and slick feel that are often missing from vehicles at its price point.
Passenger room is also surprisingly generous, especially for a vehicle whose exterior footprint doesn't come across as all that large.  Second row passengers in particular enjoy a seat that can slide for and aft to accommodate longer legs, and while this might intrude somewhat into the cargo area, there's still a very usable amount of room to be found out back (albeit not as much as in class leaders like the Toyota RAV4).
The Vanishing V6
Fuel efficiency concerns have largely wiped the option of a V6 engine off the table when it comes time to order a compact SUV.  The 2014 Jeep Cherokee, however, once again defies convention by providing buyers with the choice between either four our six-cylinder power.  The Limited I drove came with the latter, a 3.2-liter version of Chrysler's Pentastar V6 that generates 271 horsepower and 239 lb-ft of torque, which is a substantial upgrade over the 184 horses and 171 lb-ft provided by the base Cherokee's 2.4-liter, four-cylinder mill.
Whither fuel economy, you might be asking?  Don't think that the Cherokee is all power and no responsibility - it simply takes a different route to achieve its gas-sipping goals.  Regardless of which engine is found under the hood of the compact SUV, it comes with the first ever nine-speed automatic transmission to be offered in North America.  The unit is largely successful at balancing frugality with power delivery, although on occasion gear changes can feel somewhat abrupt (especially off of the line).  The payoff of so many gears is fuel consumption that checks in at 6.4 l/100 km on the highway, which is quite respectable for such a robust engine.
More Than Lip Service
To a certain subset of hardcore Jeep fans, any vehicle bearing a seven-slot grille - even one as stylized as the sharply-creased Cherokee - can't be considered worthy of its heritage unless it can hang with a Wrangler in the rough stuff.  To be sure, the new compact SUV can be ordered in front-wheel drive if you have zero interest in venturing off-road, but for those who want additional traction and all-terrain credibility to go with their Jeep the Cherokee also offers three different four-wheel drive systems.  The first, Active Drive, can be thought of as an on-demand design that shunts power to the rear wheels on an as-needed basis, while Active Drive II provides low-range gearing as well as a torque management system that balances output between the front and back of the vehicle.  Trailhawk editions of the Cherokee feature Active Drive Lock, which adds the further wrinkle of a locking rear differential for more serious mud-slinging.
The Cherokee Limited that I drove came with the Active Drive II system, which, like all four-wheel drive Jeeps, also featured the Selec-Terrain system that can adjust traction, throttle, and transmission response to best handle a variety of different surfaces, including Sand/Mud and Snow.  Most of the time I left the dial in Auto, and while I could occasionally detect the front wheels initially slipping on the ice, I had no stability or control issues during a very cold week.  Interestingly, if you switch to Sport mode, traction control is automatically turned off, which I appreciated.
An Auspicious Debut
The 2014 Jeep Cherokee represents something truly different from the long list of small crossovers currently crowding dealer lots, a vehicle that stays faithful to the SUV-builder's image without cancelling out the day-to-day skill set that is so essential for a compact people mover.  I must admit that it took me some time to warm up to the Jeep Cherokee's out-there looks, but experienced in person there was something about its character that resonated with me.  Spending time with the Cherokee as I went about my weekly routine only reinforced my impression that Jeep has captured something special with this SUV - a combination of comfort, capability, and design that has been missing from its entry-level line-up for far too many years.
Share on Facebook