The Jeep Cherokee Heads to the Garage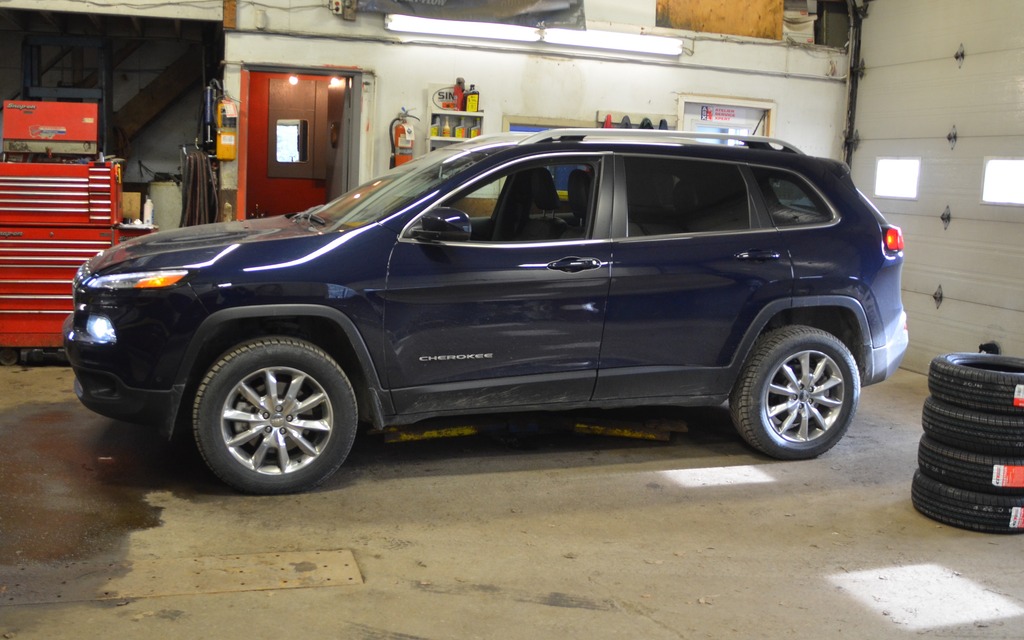 The Cherokee is most recent Jeep to hit the market, and everyone seems to have an opinion about it. People either love its style or hate it, especially the front section, which is not as Jeep-like as in the past.
But this time we were more concerned about the contents than the container. Wanting to get a better look at what makes this vehicle tick, the Car Guide took the Cherokee to the Roch Lavallée et Fils garage in Granby.
Under its controversial hood, there's a 3.2-litre V6. In fact, it's a Pentastar 3.6-litre V6 whose cylinder bore has decreased from 96 to 91 mm, though the stoke remains unchanged at 83 mm. In our vehicle, the 3.2-litre mill produces 271 horsepower at 6,500 rpm and 239 lbs.-ft. of torque at 4,400 rpm. It's paired with a brand-new nine-speed automatic transmission. Note that the Cherokee can also be equipped with a 2.4-litre four-cylinder. But with 184 horsepower and 171 lbs.-ft. of torque, I think it would be just minimally okay. While this engine can tow up to 2,000 lbs (907 kg), the 3.2-litre can tow up to 4,500 lbs (2,041 kg) provided that the vehicle also has the towing package.
Our Cherokee was a Limited model with Active Drive II all-wheel drive. This system comes with a LOW setting that locks the front and rear differentials. However, it's not a good idea to take it on rough roads. This system is more geared for towing a boat out of the water or for providing better traction on snow, but that's about it. In contrast, the Trailhawk version is "Trail Rated" and can tackle much more challenging situations than the Limited.
During our week-long test drive, our vehicle and its V6 engine drank 9.6 L/100 km, which is a very good average rate. That said, more than 60% of the distance covered was on a smooth highway, respecting the legal limit (or close to it). The transmission helps keep fuel consumption in check by ensuring that engine revs remain really low. For example, at 100 km/h, the engine runs at just at 1,600 rpm. But the transmission never did go into ninth gear. Even a short sprint up to 130 km/h failed to push it into ninth. But since its handling was a little abrupt, there's a chance that our Cherokee had some kind of problem and required an update to rectify the situation. Other journalists who have driven the same vehicle in the past or other Cherokees have not reported the same problems, though many have noted that the model can be hesitant at times.
Check out the photo gallery to find out more about what's hiding under the 2014 Jeep Cherokee!
Share on Facebook