2013 Chevrolet Traverse: Discreet yet Efficient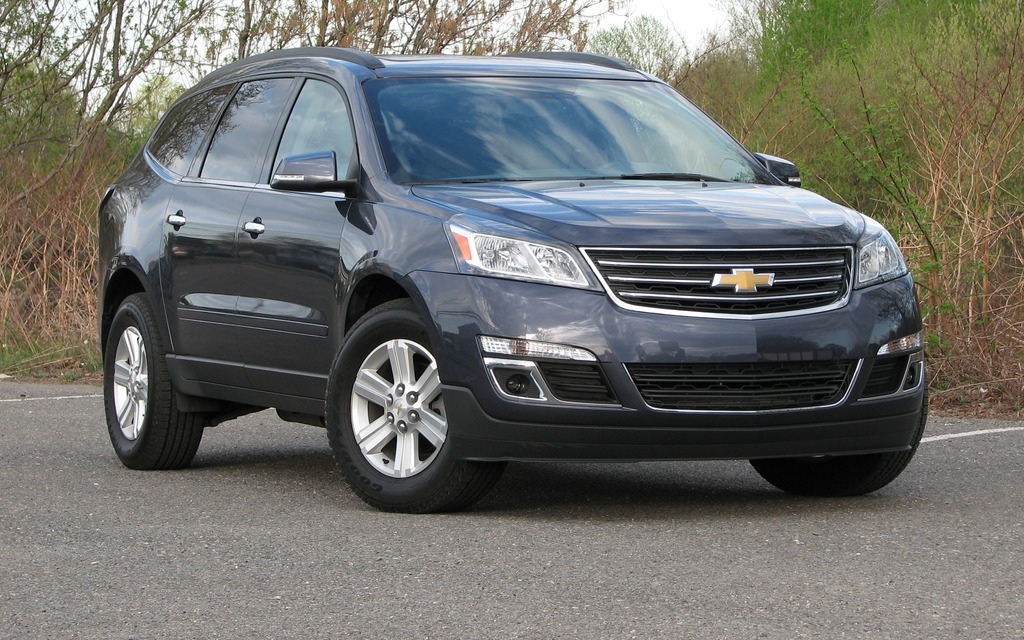 Strong points

Spacious interior
Complete equipment
Comfort guaranteed
Proven mechanics

Weak points

Bulky for city driving
Barely enough power
Questionable ergonomics
High fuel consumption
Full report
Some test vehicles make more of an impression than others. Most of the time, we pretty much know what we're going to get from a car, based on past experience. But in the case of the Traverse, a week-long trial resulted in some unexpected surprises.  
The Traverse is one of GM's three mid-size SUVs. This Chevrolet sits between the Equinox and the Tahoe, but it shares most of its components with the Buick Enclave and the GMC Arcadia. Of the three, the Traverse has without a doubt the most serious, discreet and classic exterior. It's designed for your average middle-class driver, whereas the Buick Enclave is more luxurious (and expensive) and the GMC Acadia is meant for more intensive use.
Think big!
First things first: the Traverse is big enough to rival pick-up trucks (which, incidentally, have seen their popularity plummet). Plus, it features a third row with so much head and leg room that even adults can sit there comfortably. However, if the passengers in the middle row move their seats all the way back, the leg room melts away like snow on a sunny day. And, as is often the case for third-row spots, the seats are so low that you end up with your knees up by your ears. And then there's the fact that the seats lack bolstering on the sides and cushion for your derrière. The third row is nonetheless easy to access.
Centre-row passengers also enjoy plenty of head and leg room. A bench seat is available, but you're better off with two bucket seats, as these provide exceptional support. Essentially, it's like sitting in a La-Z-Boy. Just imagine your two kids nestled in there to watch "Hotel Transylvania" with a big bag of chips – your Traverse becomes a movie theatre on wheels. Strangely enough, there are no individual reading lights for the middle row, much to the delight of my children who found themselves off the hook from doing their homework.  
Up front, the seats are comfortable, but devoid of lateral support. It's relatively easy to find a good driving position, except for the headrest, which is too far forward. This makes you feel like you're hunched over, and it's nearly impossible to comfortably lean your head back. The seat's ergonomic design is also questionable, as it presses into your shoulder blades. You might want to test drive one for a couple of hours before purchasing.  
Pleasant to drive
Driving a Traverse is akin to driving a motorhome. The passengers are so far away from you, it's like you're holding the reins of a massive vehicle. Fortunately, this SUV is easy and reassuring to drive. There's great visibility in all directions, except in back, but there's a rear back-up camera to help with that. Despite the long distances, everything is within reach, except the storage compartment at the top of the centre console. Other than that, the only weak point is the fact that you have to take your left hand off the wheel to activate the windshield wipers.
The Traverse's mechanics include a traditional 3.6-litre V6. It delivers nearly 290 horsepower, but given that the vehicle weighs 2,141 kg, that's just barely enough. In fact, when the Traverse is loaded down or towing a heavy burden, it actually feels short on power. If extreme heavy work is part of your day-to-day existence, you'd be better off with the Chevrolet Tahoe, which can beat the Traverse's 2,359 kg towing capacity by 1,361 kg, for a total of 8,184 pounds.
When driving a vehicle this big, you can forget about sport performance. Its accelerations are about average and pick-up can take a bit of time. Roll is definitely perceptible and the suspension seems to have been calibrated for an old-school Cadillac.
On the highway, the Traverse knocked back 13 litres per 100 km, which we found a bit much. In the city, fuel consumption hovered around 15 litres, despite our efforts to drive in a civilized manner and the fact that there's a sixth gear on the automatic transmission. Our test vehicle came with an all-wheel drive system that doesn't allow the driver to switch to two-wheel drive.
The Traverse's interior is vast, with excellent head and leg room up front, complemented with enough space in the middle row to rival my living room. The third row is also generous, with more room than average and a decent amount of space leftover for the cargo hold. With a reliable engine and all-wheel drive, this vehicle offers the full-meal deal. Too bad it's so bulky and guzzles nearly 15 litres per 100 kilometers.
Share on Facebook