2012 Chevrolet Orlando: Exotic name, acceptable execution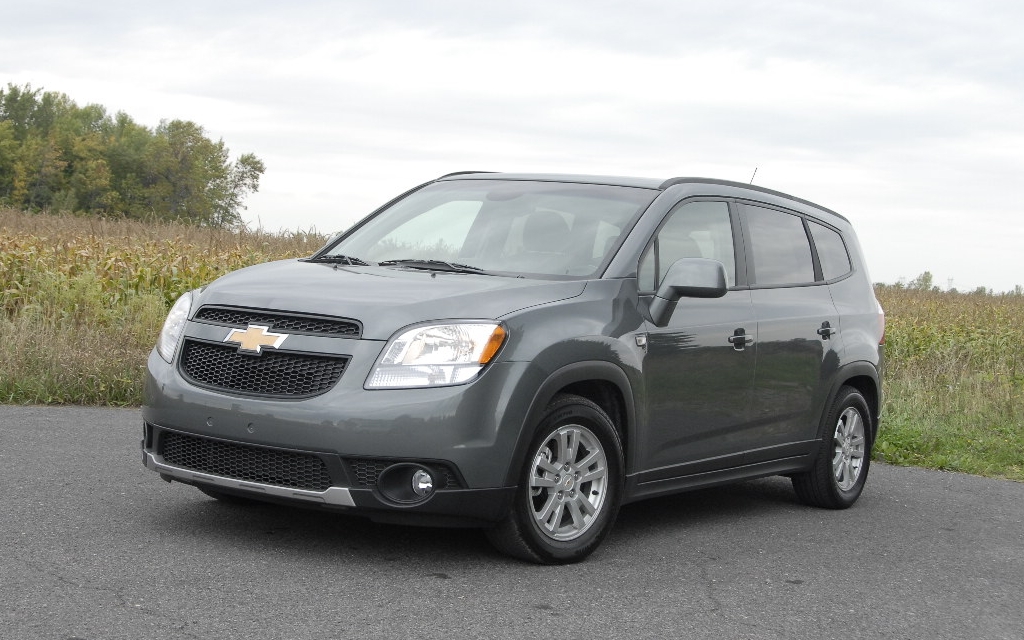 Strong points

Good roominess
Proven mechanics
Reliable handling
Serious fit and trim
Versatile passenger compartment

Weak points

No V6
No AWD
Power of the four-cylinder is a bit tight
Third row for children only
Full report
I must admit that the Orlando name is kind of catchy. It evokes the Florida heat, Disney World, Sea World and so on. And yet, despite its distinctly Floridian moniker, this crossover is exclusive to Canadians, as our neighbours to the south decided not to distribute it (although it's relatively popular on the European market). Maybe Americans don't want it because they feel that a crossover must be at least intermediate in size. It seems that the "think big" philosophy is still alive and well below the 45th parallel.
Be that as it may, General Motors of Canada should be congratulated for going against the grain and offering us this North American exclusive. It's a good quality vehicle – especially when it comes to versatility.
Armour grey?! Yuck!
When I went to pick up my test vehicle, I was had in mind the red version that rocked the last Montreal International Auto Show. Imagine my disappointment when they handed me the keys to an armour grey Orlando. The colour really didn't do much for show off its shape. Red and white are much more flattering than grey. Nonetheless, the people that we met during our test drive had positive things to say about the car's looks. If you can look past its colour, the body shape, while not necessarily original, is still sort of attractive and definitely functional. Naturally, like all new Chevrolet vehicles, a thick horizontal band stretches across the front grille in the same colour as the body, with the legendary Chevrolet bowtie in the centre.
The last 20 years of Chevrolet's history can almost be divided into two chapters: before and after filing for bankruptcy. Before, the passenger compartments offered plastic pieces of suspect quality and very basic assembly. Things are better today, and the Orlando is another example of this new approach. Although they're still relatively hard, the plastics are good quality, as proven by my failed attempts to scratch the dashboard with my fingernails. The cabin parts were well fitted and the ceiling featured a good quality covering.
The dashboard design, with a vertical console incorporating the audio controls, was better than average. Everything is at your fingertips and the buttons are a good size. A large information display sits atop it all. However, although these commands are easy to access and user-friendly, changing radio stations can prove a challenge. The panel where the audio controls are located tips upward to give you access to a storage compartment. My colleague Alain Morin had previously noted how fragile this covering was, but in our test vehicle, it was solid and functional. So what gives? I hope it's just the fact that Alain drove a pre-production model, whereas I had a regular production model.
Climate control is easily adjusted using the controls at the bottom of the vertical console. However, I have my doubts about the location of the button to deactivate lateral stability, as it is on the passenger side. The front seats, although some may find them a tad hard, offer excellent support. The back seats are roomy and comfortable and the 60/40 seatback reclines. Too bad the whole thing doesn't slide back on rails though; that would make accessing the third row seats much easier. Note that slightly larger-than-average people can fit back there, although there isn't much room for your feet. A sliding middle bench would have made things easier too. Of course, given the size of the vehicle, the rear loading space is practically nominal when the third row seats are in place. Once, they're folded down though, it's very good.
No mechanical surprises
In the past, GM tended to offer brand new models with either old mechanics that had been tweaked here and there or something groundbreaking but questionably designed. That era seems to be over. The Orlando's platform is derived from the Cruze sedan, which has a great reputation for solidity and rigidity. Like the Cruze, the Orlando has MacPherson front struts and a torsion bar in back, which is made of composite to make it more rigid and lighter.
Under the hood, there's the same 2.4-litre four-cylinder that's used in the Chevrolet Equinox. It's a reliable engine with a proven track record. It comes factory standard with a six-speed manual gearbox, but there's a six-speed automatic on option. The automatic is a manumatic and includes a hill-hold system that prevents the transmission from sliding when climbing. Finally, it has perforated disc brakes in front and full brakes in the rear.
Solid and predictable
Some people are definitely going to be unhappy that there's neither a V6 engine nor AWD available. The 2.4-litre engine's 174 horses will do the trick most of the time, but it's going to be a little tight with a full load, so you'll have to shift gears more frequently.
With two adults on board and a few bags, performance was fair but nothing to write home about. Then again, I seriously doubt that Orlando buyers are going to use it to go drag racing. The suspension strikes a good balance between comfort and handling, and while the steering could be less assisted, it's precise and feedback from the road is decent.
In conclusion, this Chevrolet may not be spectacular, but it proves to be a versatile vehicle with adequate fuel consumption and a predictable ride. Add a modular, comfortable passenger compartment and the Orlando is likely to interest a good share of buyers.
However, if you want to keep the price competitive, be careful to choose the right version and avoid overpriced options.
Share on Facebook