Test Drives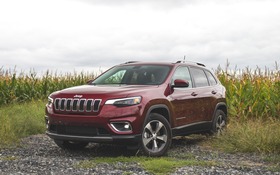 2019 Jeep Cherokee: Improved, but Still Lacking
3.0/5
The Jeep Cherokee hasn't had it easy ever since it came back, replacing the Liberty, in 2014. Gone was the traditional and much coveted longitudinal rear-wheel drive layout that made Jeep's SUV so distinguished and capable for almost three decades. More civilized, and more carlike than ever before, the Cherokee …
Blog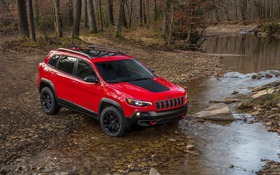 2019 Jeep Cherokee: Turbo or V6?
During a brief discussion with Scott Tallon, Director of U.S. and Global Jeep Product Marketing Coordination at Fiat Chrysler Automobiles, it was clear that for the brand, the compact SUV's refresh arrived a perfect time. First of all, FCA categorises the 2019 Jeep Cherokee as a midsize vehicle, but that …
First Drives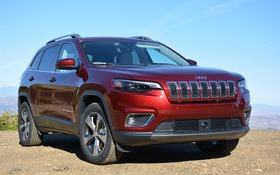 2019 Jeep Cherokee: New Look, New Engine, Same Exceptional Adventure
4.0/5
WESTLAKE VILLAGE, California – The Jeep brand has always taken on that rebel label. American-built and American-looking for that distinct, edgy design catered to a rugged, outdoorsy lifestyle. Back in 2014, the fifth-generation Jeep Cherokee drifted a bit away from that heritage mainly due to a makeover wanting to differentiate …
Spotlight on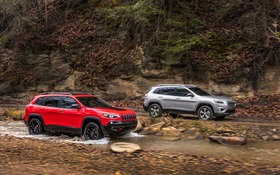 2019 Jeep Cherokee: Refreshed and Ready to Drive This Week!
With winter in full swing, The Car Guide escapes, albeit for a short time, to sunny California for a first drive program with the mid-cycle refreshed 2019 Jeep Cherokee, recently shown off at the 2018 North American International Auto Show in Detroit . The event takes place in Westlake Village, …
Special Events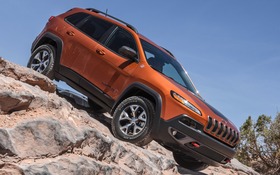 2015 Jeep Cherokee: An Urban SUV With A Heart For The Trails
4.0/5
Hell's Revenge is a 4x4 trail just outside of Moab, Utah. It runs for 10.5 kilometres along sandstone ridges and domes, and it carries a difficulty level of 6 on a scale of 10. There's a sign at the trailhead that recommends some of the equipment needed to navigate the …