All-New Lucid Gravity Offers Seating for Seven, Over 700 km of Range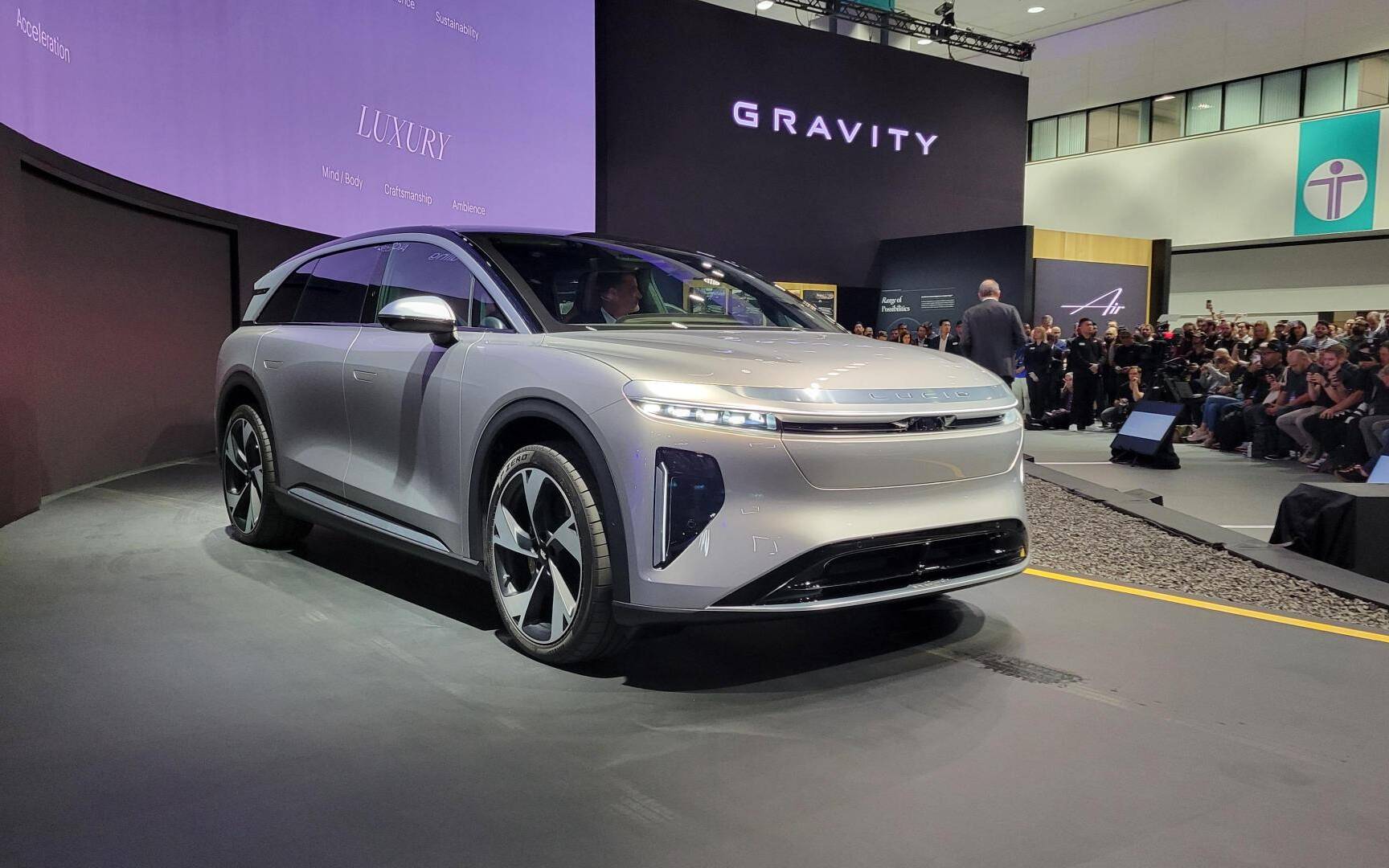 The Lucid Air sedan now has a big brother. As the Los Angeles Auto Show kicks off today, the company introduced the all-new Gravity, aiming to set a new benchmark for electric luxury SUVs.  
This unique seven-seater stands out with exceptional range and performance. Built on a new platform and featuring a smaller, lighter yet more energy-dense battery than that of every competitor, the Gravity promises a range in excess of 440 miles (708 km) and 0-60 mph (97 km/h) sprints in less than 3.5 seconds. It also provides a substantial payload capacity of over 1,500 lbs and an additional 6,000 lbs of towing.
Said battery happens to benefit from an evolution of Lucid's 900V electrical architecture and is able to regain up to 200 miles (320 km) of range in just 15 minutes, according to the automaker, which is absolutely remarkable.
With the Gravity, performance extends beyond paved roads as Lucid introduces an enhanced optional air suspension package—aptly named "Zero Gravity"—that automatically adapts to various terrain needs. Manual adjustments also offer the ability to raise the vehicle to maximize off-road capability or lower it to improve performance and range.
A highlight of the exterior is the incredible 0.24 drag coefficient, creating an aerodynamic profile unsurpassed by other three-row SUVs. The elongated cabin, pronounced shoulders and sporty rear spoiler are complemented by a gigantic windshield and glass roof, allowing a clear view of the sky.
Up front is a large frunk that maximizes cargo or alternatively doubles as a bench for two people when the vehicle is parked. The impressively roomy and luxurious interior features sliding second-row seats with integrated convenience tables. Lucid says the second- and third-row seats fold flat to reveal more than 112 cubic feet or 3,170 litres of total usable cargo space.
Lastly, we cannot ignore the massive 34-inch curved OLED display and new, hex-shaped steering wheel standing in front of the driver. Lucid's Pilot Panel returns in the Gravity with a quick-access touch bar and sitting alongside a new glass centre console that elegantly slides open for additional storage.
Oh, and one more thing: with interactive wellbeing features such as Lucid Sanctuary and Lucid Spaces, a single tap transforms the cabin into a serene oasis, immersing drivers in the soothing atmosphere of locations like Lake Tahoe or Joshua Tree National Park.
The Lucid Gravity will enter production in late 2024 and is expected to launch as a 2025 model. The company says the SUV will start under $80,000 USD, putting it almost on par with the Air sedan. We'll see how it goes in Canada. Customers are invited to register their interest on Lucid's website.
Share on Facebook