2024 Porsche 911 S/T: Anniversary Special is a Purist's Treat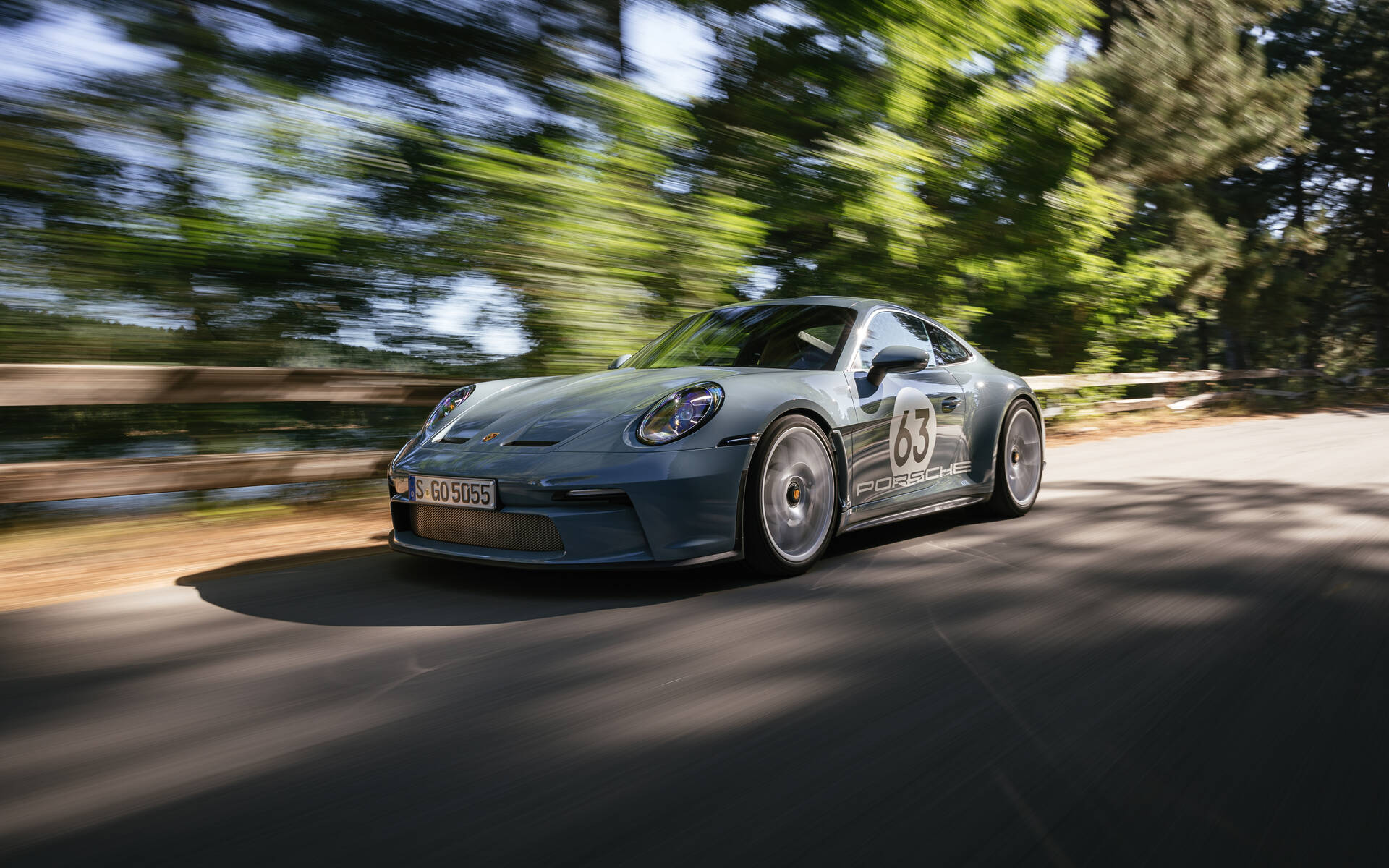 Strong points

High-performing engine
Exceptional dynamics
Outstanding fit and finish
Highly exclusive sports car

Weak points

Mind-blowing price
Only 1,963 units globally
Maybe too intense for passengers
Full report
Lamezia Terme, Italy—After firing up the naturally aspirated flat-six and letting it warm up for a while, we couldn't resist the urge to take a few jabs at the throttle with the transmission in neutral. WAP-WAP-WAP. The tach needle shoots up in the blink of an eye and falls back just as quickly, like in a true race car.
You see, this new Porsche 911 S/T is blessed with a single-mass flywheel and lightweight clutch that reduce rotational mass by 10.5 kg compared to a manual 911 GT3, so that's why the engine is so responsive yet easy to calm down. Mass inertia is just 0.074 kg per square metre versus 0.207 kg. It's one of many examples of Porsche engineers' obsession with weight reduction, resulting in the lightest 911 Carrera in the entire current lineup. At 1,380 kg, the S/T is about 40 kg lighter than a 911 GT3 Touring.
Time for a History Lesson
Celebrating the 60th anniversary of the iconic 911, the 2024 Porsche 911 S/T will be limited, fittingly, to 1,963 units. The moniker was first used in 1969 for a competition variant of the first-generation 911 S that was called 911 ST.
The special-edition model is essentially a cross between the GT3 Touring (body) and GT3 RS (powertrain), though with a manual transmission exclusively, something that's becoming increasingly rare nowadays.
2-3-4
From the Mediterranean Sea to the national park near Lake Ampollino at nearly 1,500 metres high, the 911 S/T revealed itself as a raging sports car. The tight and twisty roads around Lamezia Terme demand a lot of focus and can be pretty rough at times, but this Porsche has the quick reflexes and the poise to handle any situation.
Using the second through fourth gears, we reveled in the sound of the engine flirting with the 9,000 rpm redline. By the way, the 911 S/T features a lightweight stainless steel sport exhaust system rather than a fancy exhaust system with active valves, which is why it always sounds like it's angry at something.
The manual gearbox has 8-percent shorter gear ratios and a 5-cm shorter shifter, so it's a real treat to row through the gears. Downshifts are particularly rewarding as the engine responds immediately to throttle input during heel-and-toe shifting. You just need to make sure you release the clutch as soon as you drop to a lower gear, because the low inertia created by the single-mass flywheel and lightweight clutch sends the revs down in a hurry.
Of course, Porsche doesn't expect all drivers to be masters in the art of heel-and-toe shifting. Therefore, rev matching can be performed automatically if you prefer. The system must be activated via the touchscreen, meaning the car will always assume you're a seasoned driver unless you instruct it to do the work.
No Active Steering
Steering is a tad slower than the 911 GT3's, which makes it less responsive on-centre, but you have to remember that the 911 S/T is not designed for hot laps on a track—it's more about premier driving dynamics on the road. Moreover, for the sake of weight reduction, it doesn't boast rear-wheel active steering. Is agility an issue? Not at all, and not even in hairpin turns. Part of the reason why is Porsche Active Suspension Management (PASM) and Porsche Stability Management (PSM), which both get specific tuning.
The double-wishbone front suspension and five-link LSA rear suspension employ uniball-type ball joints and other specific calibrations to deliver remarkable precision with significantly reduced compression and nosedive when braking. Speaking of which, the 911 S/T comes standard with Porsche Ceramic Composite Brakes (PCCB) including 410mm front and 390mm rear discs.
Limited Aero Adds-On
Unlike the 911 GT3 RS and its ultra-sophisticated aerodynamics, or even the GT3, the new 911 S/T is almost completely aero-free. The lone notable exception is a Gurney flap on the extending rear spoiler. Said spoiler extends past 120 km/h rather than 80 km/h in order to maintain the classic 911 look for longer.
The front hood, roof, front wings and doors are all made of lightweight carbon fibre-reinforced plastic (CFRP). Porsche also fitted the anniversary model with 20-inch front and 21-inch rear lightweight centre-locking magnesium wheels, which save about 10 kg of unsprung weight. They're wrapped in ultra-high-performance 255/35ZR20 front and 315/30ZR21 rear tires.
The optional Heritage Design Package includes an exclusive new Shoreblue Metallic exterior colour and Ceramica wheel rim colour. On the doors, a starting number from 0-99 (63 is likely to be the most popular choice) as well as a decorative foil can be applied on request. The interior, meanwhile, features cloth seat centres in Classic Cognac with black pinstripes, which are another homage to heritage. Two-tone semi-aniline leather trim in Black/Classic Cognac leather with extensive leather surrounds, a roof lining in perforated Dinamica and other elements from Porsche Exclusive Manufaktur round out the package.
Oh, we forgot to mention: the standard CFRP bucket seats can be replaced at no cost by four-way-adjustable sport seats. Elsewhere, the instrument cluster and the clock of the Sport Chrono package are finished in a classic green Porsche colour scheme.
In a Class of Its Own
Driving the 2024 Porsche 911 S/T for the first time on the roads of Southwestern Italy was an experience for the ages. At this time, we don't know exactly how many of the 1,963 units will be allocated to North America, but we can tell you they won't be cheap. Think $291,600 ($343,900 in Canada), and add another $20,360 ($23,200 CAD) for the Heritage Design Package. Incidentally, every customer will receive a custom Chronograph 1 – 911 S/T worth $13,500 ($18,000 CAD). In other words, the 911 S/T is about a hundred grand more expensive than a GT3 Touring, which has no production cap.
Being so rare, the S/T will inevitably gain value over the years, making it a sound investment for the wealthy few who can get their hands on one. It's a real shame some of them won't even hit the road just to maintain a low mileage and increase their value even more. The 911 S/T is an awesome driver's car, an absolute treat for purists, and we already mourn those that will remain tucked away in a garage somewhere.
Watch: Porsche 911 GT3 RS Review 
Share on Facebook