2023 GMC
Sierra 1500

Denali Ultimate: Heir to the Escalade EXT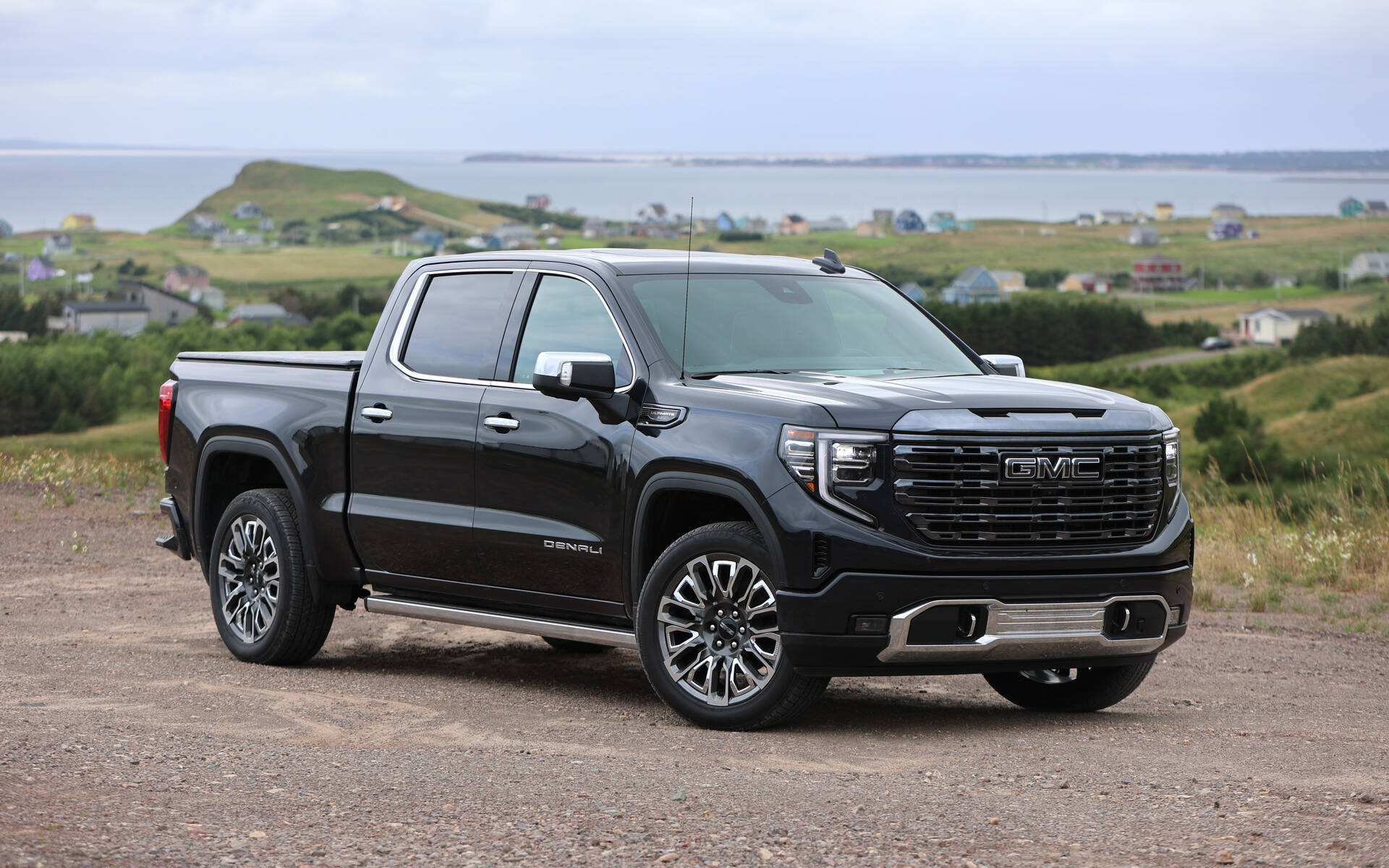 Strong points

Solidly built
Excellent road manners
Terrific engines (including a diesel option)
High levels of luxury inside

Weak points

6.2L V8 is a real gas guzzler
22-inch wheels affect ride quality
MultiFlex tailgate design needs improvements
Full report
Full-size pickups remain extremely popular despite their poor fuel economy ratings. In fact, they've increased their market share in North America as manufacturers keep prioritizing these highly profitable vehicles. It's no surprise, then, that some pickups have become genuine luxury products. They're not just for work anymore.
King Ranch, Denali, High Country and Laramie Longhorn are a few names that come to mind, but the bar continues to be raised year after year—both in the light-duty and heavy-duty segments—resulting in seriously opulent and expensive trucks. GMC's Sierra 1500 Denali Ultimate, which was introduced a year ago with a base price of $95,793 (including freight and PDI), returns for 2023 with a demand-driven hike. It now starts at a whopping $103,629, a six-figure tag that is subject to Canada's new luxury tax.
Ultimate
As if the Sierra Denali wasn't luxurious enough, GMC took it a step higher with the Denali Ultimate, which features a Vader (dark) chrome grille, 22-inch wheels and many other unique design touches. The Alpine Umber interior is the real highlight, though, with full-grain leather appointments, magnificent stitching and open-pore Paldao wood trim. Embossed and laser-etched across a number of surfaces are topographical maps of the summit of Mount Denali (formerly McKinley), the highest peak in North America.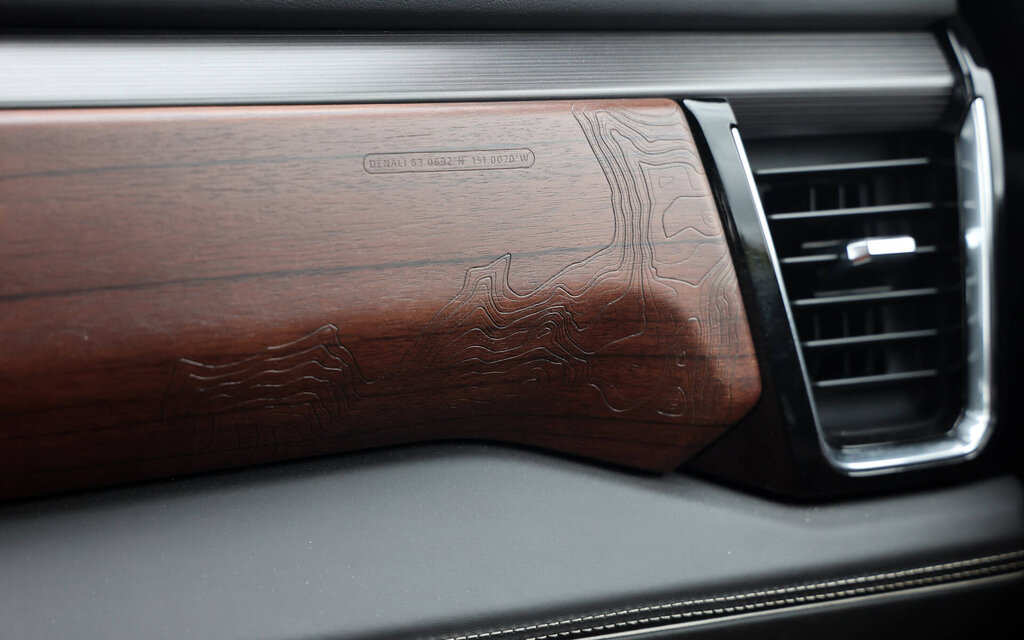 Several features that are optional in Denali trim come standard with the Denali Ultimate, such as the CarbonPro composite cargo box, power assist steps, rear camera mirror and Super Cruise hands-free driver assistance (with a three-year subscription to a GMC Connected Services plan).
About Super Cruise: it mostly sucks, at least from our experience. Despite having Lane Keep Assist, enhanced Adaptive Cruise Control and Automatic Lane Change, the Sierra we tested spent a lot of time zigzagging in its lane instead of maintaining a straight line. Any patrol officer would have stopped us assuming we were driving under the influence.
That's it as far as complaints go, mind you. We absolutely loved this truck. Oh sure, it would have been nice to get a different engine than the 6.2-litre gasoline V8 found in many other models. Optionally, you can select the 3.0-litre six-cylinder turbo-diesel, which is now rated at 305 horsepower and 495 lb-ft. of torque.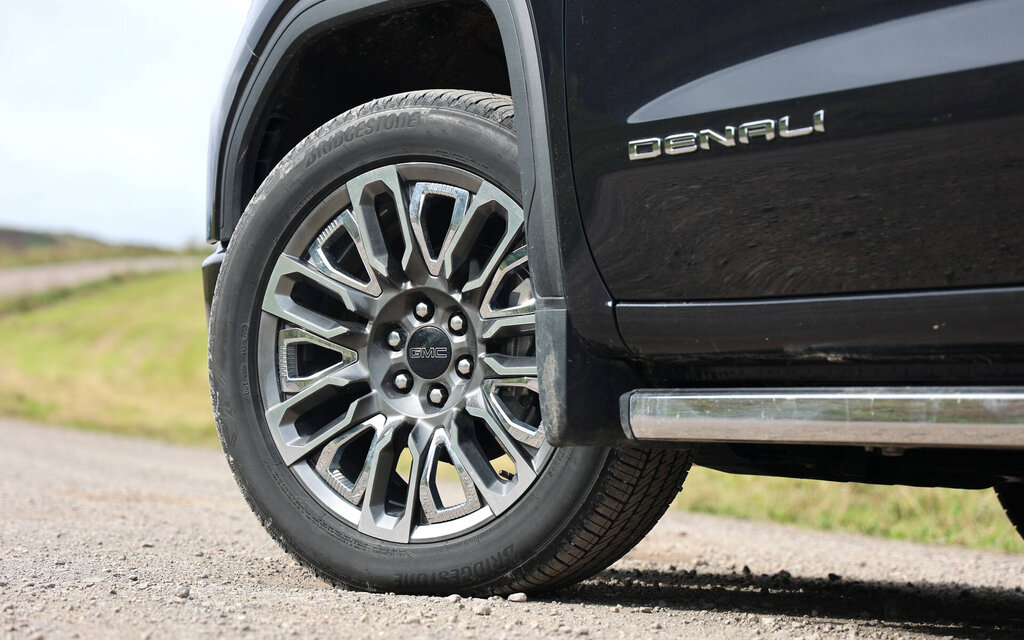 The V8's 420 ponies are quite satisfying and pleasant to the ear. On the other hand, combined fuel consumption is around 14 L/100 km without any kind of load in the cargo bed or a trailer in the rear. After driving for more than 3,000 km, two-thirds of which were on the highway, our tester posted an average of 13.3 L/100 km—roughly 40 percent higher than the number achieved by the exceptionally efficient diesel engine.
The cabin is wonderfully comfortable and quiet aside from the occasional jolts caused by the 22-inch wheels. Massive alloys may look great on a full-size truck, but they definitely affect ride quality. Just so you know, the regular Denali model comes with 20-inch wheels that are better suited to rough pavement.
The 460 lb-ft. of torque from the V8 are good enough to tow up to 13,000 lbs in some applications, but the Denali Ultimate is limited at 9,000 lbs. Pulling such a heavy load naturally requires a lot more gas—think 25 L/100 km or more. The smarter pick for this kind of work is still the diesel, which would burn approximately 15 L/100 km.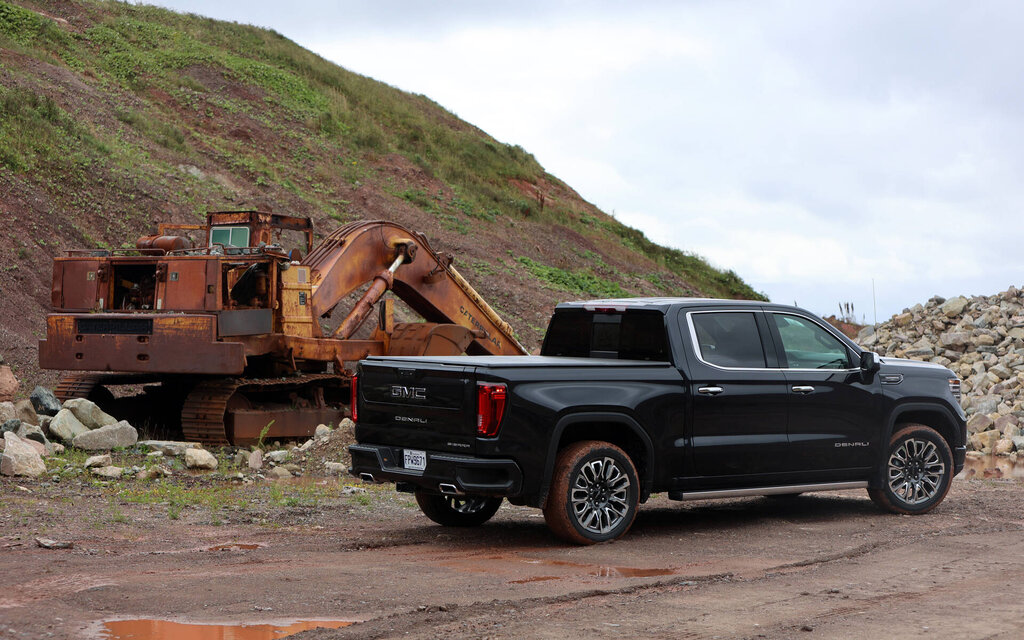 Major Update
The 2022 update to the Chevrolet Silverado and GMC Sierra was much needed because their interiors looked and felt underwhelming. It would be a stretch to say they've become the new benchmark, as Ford and Ram continue to excel in that department, but the elimination of the column-mounted shifter and the addition of a fantastic centre console have significantly elevated GM's game. Ditto for the fully digital and configurable instrument cluster complete with a practical head-up display.
We dig the new 13.4-inch centre touchscreen, which is powered by a Google-based infotainment system that proves attractive and user-friendly. Apple CarPlay and Android Auto are also included, needless to say.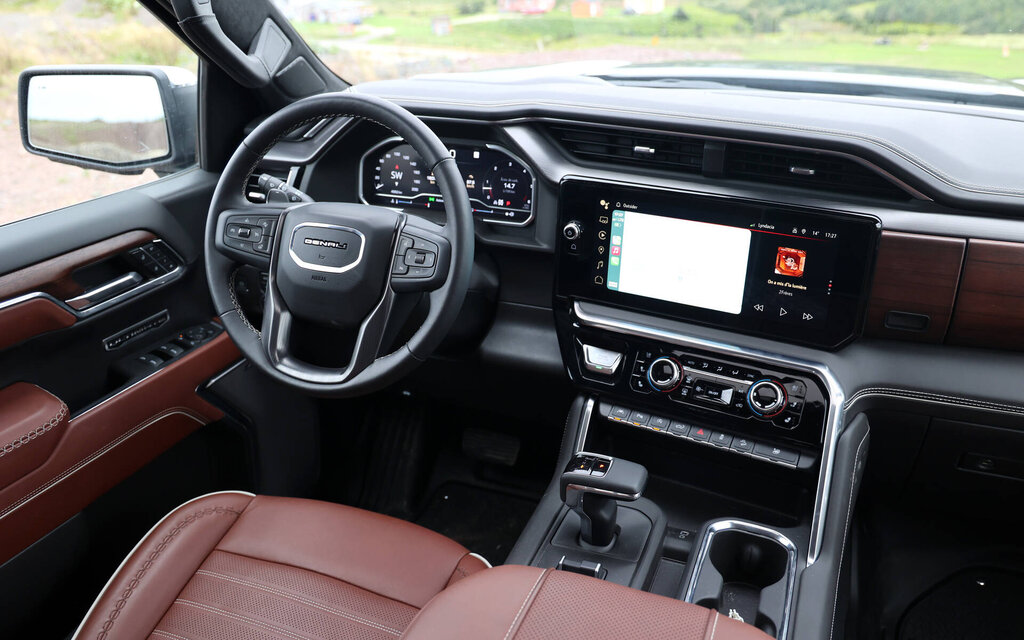 The good news is that designers have retained multiple physical controls, whether it's for HVAC or basic driving functions including towing. Moreover, you'll find tons of storage, even compartments on the back of the rear seats, allowing superior versatility.
The three-section MultiFlex tailgate, however, is quite heavy and not so easy to manipulate. Slush and mud also tend to build up inside the gaps, potentially leading to rust. Oh, and the risk of causing damage to the folding upper section of the tailgate against a tow hitch is very real.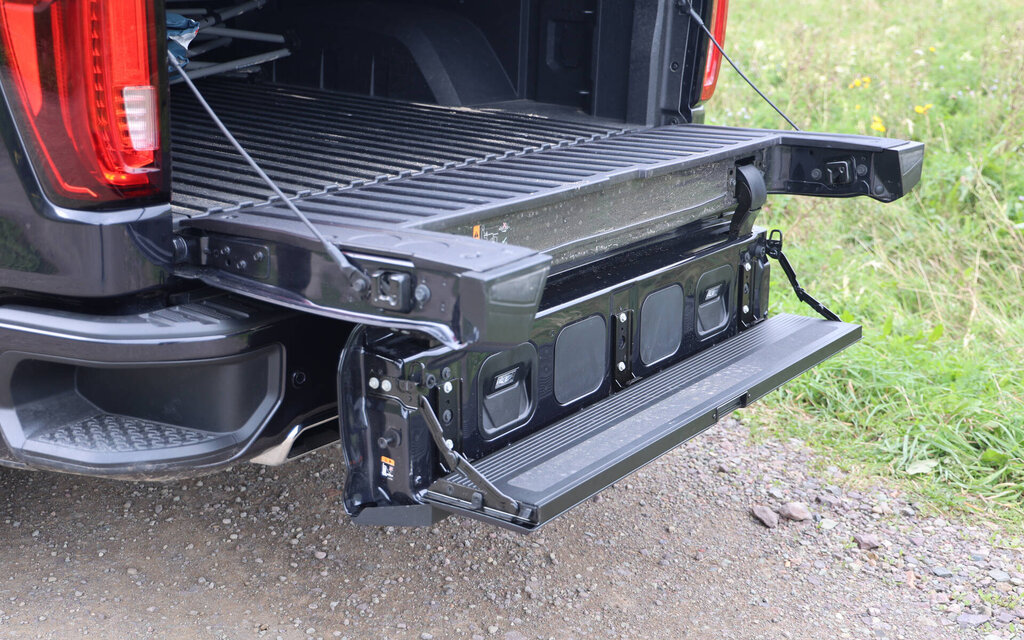 Should You Buy One?
Cadillac and Lincoln have long stopped selling pickups. Detroit's Big Three have realized they're better off creating luxury variants of their mainstream trucks. What we have here from GMC is a direct response to the Ford F-150 Limited and Ram 1500 Laramie Limited. Few people can afford these highly coveted models because of the ridiculous prices, but it must be said that depreciation is almost nil. The Sierra 1500 Denali Ultimate boasts tremendous build quality and refinement, plus it can be ordered with a diesel engine, something that competitors no longer offer.
Share on Facebook