2024 Chevrolet
Silverado 2500HD

High Country : Lionhearted Heavyweight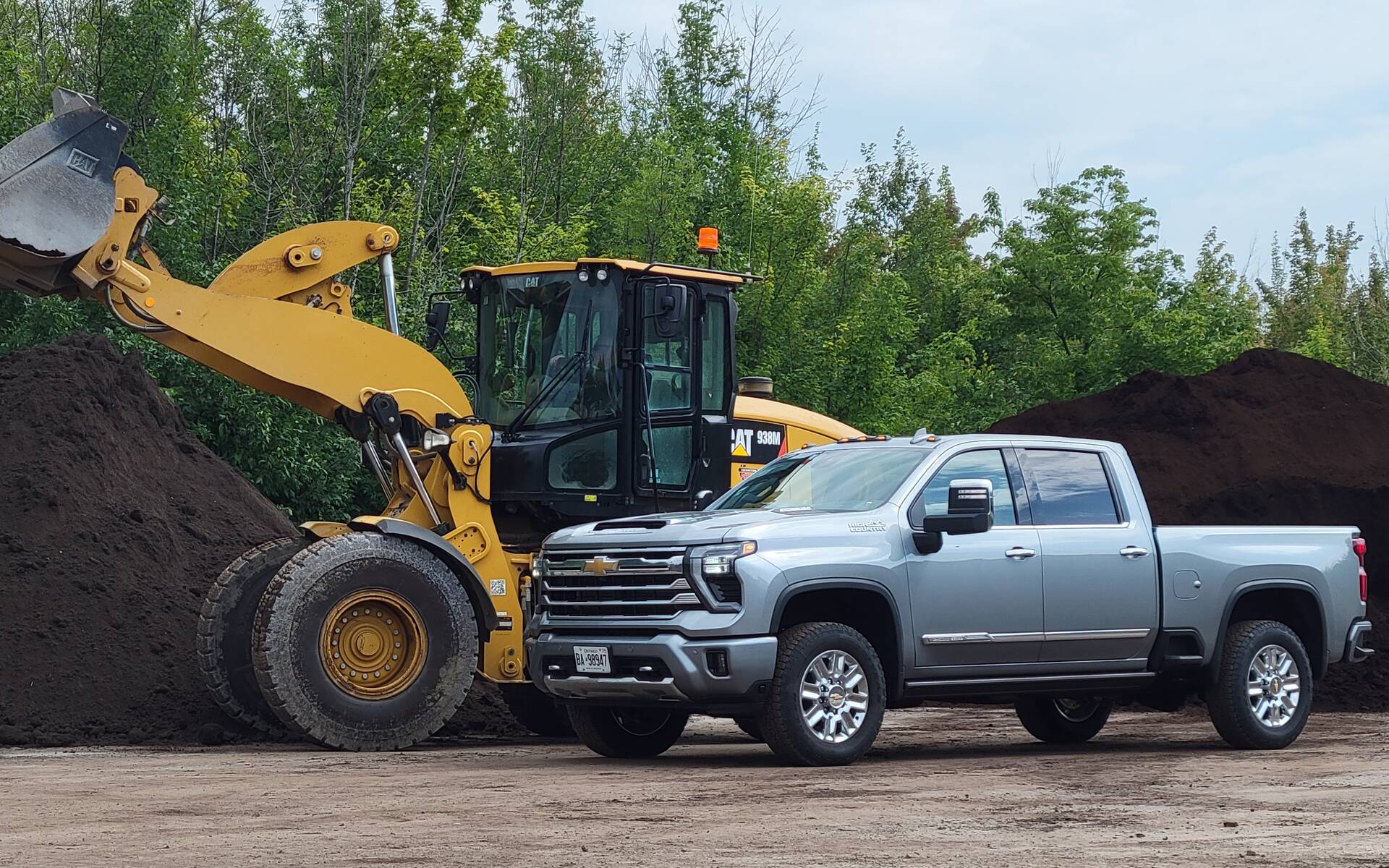 Strong points

Moteur diesel performant
Capacités impressionnantes
Habitacle (finalement) amélioré

Weak points

Consommation de carburant importante
Régulateur de vitesse adaptatif perfectible
Beaucoup trop gros!
Full report
Towing is the primary reason why buyers venture into the HD truck segment. And while HD truck brands have long emphasized these capabilities at the expense of comfort, the reality today is quite different. Today's truck interiors have made tremendous gains, both in terms of materials and technology, but also in terms of ride comfort. What's more, they're trying to attract a new type of customer by multiplying the number of off-road versions. Chevrolet's High Country and GMC's Denali, on the other hand, play into GM's luxury repertoire to offer a more plush experience with the price that comes with it.
In addition to visiting GM's Oshawa plant, which assembles the bow-tied brand's Silverado 1500 and HD models, the Car Guide was also able to test-drive the range-topping High Country variation of the Silverado 2500HD, a model that has received iterations in several respects this year.
More Techno-chic (relatively)
Even if the High Country's pricing rivals that of a luxury vehicle (the starting price doesn't give away its place at $96,730), the interpretation of luxury takes on a singular flavour in the cabin of the Silverado HD.
In other words, even if the wood trim, leathers and metal inserts are tasteful and enhance the cachet of this behemoth, it still feels like a truck! Then come the screens. This year, Chevrolet has given the Silverado HD a new configuration, including a 13.4-inch infotainment system screen facing the driver. Although the system's interface can get a little messy in some respects when navigating through the menus, it's relatively easy to get to grips with. But you should be aware that this renewed interior is reserved for LT and higher trim levels.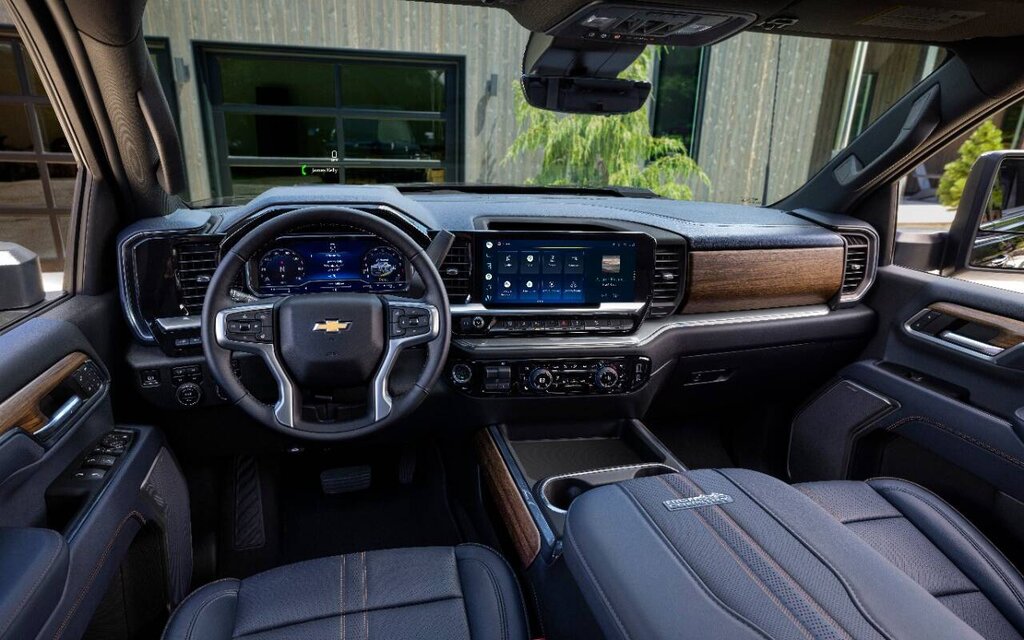 The upholstery of our High Country seems firm to the touch, but a return trip from Montreal to Toronto taught us that its comfort, together with the general ergonomics of the cabin controls, makes it ready for long-distance travel - an important criterion for the target clientele.
We also appreciate that the Silverado HD has not adopted the rotary knob for transmission controls, retaining instead the good old arm on the column. Even if it obstructs access to the audio system's volume control when in "D" position, operating it is far more satisfying than a knob.
Good Manners, Tons of Torque
The Silverado 2500HD can be delivered with a choice of two engines: a 6.6-liter gasoline V8 that develops 401 lb-ft of torque and a turbocharged V8 diesel of the same displacement, developing 470 hp and 975 lb-ft of torque. Both engines are now happily paired with the Allison 10-speed automatic transmission, providing towing capacity ranging from 17,700 to 22,500 lb, depending on the variant chosen.
Our guinea pig armed with the diesel engine delivered lively acceleration, leaving the impression that this 7578-pound pickup can be driven with surprising ease. Torque is extravagant, yes, but the transmission shifts through its gears with military motivation, giving the driver the feeling that the truck is lighter than it is - in a straight line, at least.
The Silverado HD's highway comfort is on par with rivals in the segment. But it is (unsurprisingly) compromised in town, an inevitability mainly attributable to suspension components designed for towing. Also, the wide turning radius doesn't help when maneuvering the urban jungle. Fortunately, we spent most of our time on the freeway. And it was under these conditions, over a distance of more than 800 kilometres, that we calculated the truck's efficiency – unloaded.
On a busy, construction-strewn Highway 401 between Montreal and Toronto, we quickly discovered that the adaptive cruise control system is a poor fit, at least as far as the diesel engine is concerned. Sudden braking, jerky acceleration and erratic operation: this system needs to be looked at. We hit an average fuel consumption of 13.4 L/100 km on the way to Toronto.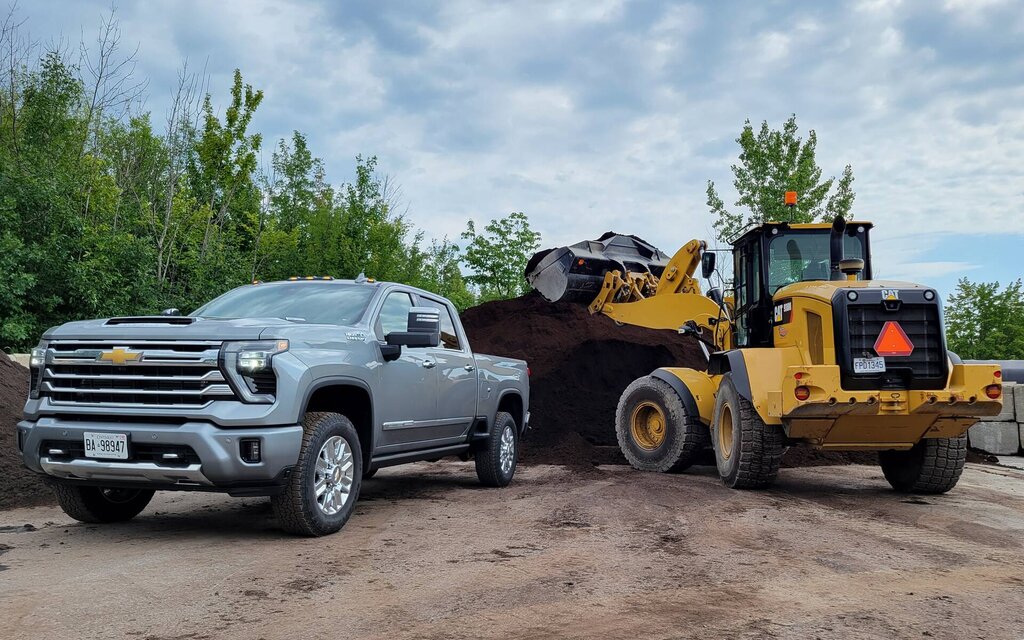 On the return journey, we deactivated the adaptive cruise control and used only the "normal" cruise control. Fuel consumption dropped to 12.1 L/100 km.
Despite a few minor hitches, the Silverado HD continues to shine in terms of capability and performance - but that's the least buyers expect in this segment. What's even more important, however, is that the Silverado HD has improved its reputation in terms of interior finish, technology and habitability, all of which are important to customers willing to pay six figures for a truck.
LP gives his driving impressions on the 2024 Chevrolet Siverado HD High Country in this episode of The Car Guide Podcast
Share on Facebook