2023 Ford Escape Plug-in Hybrid: Good but Pricey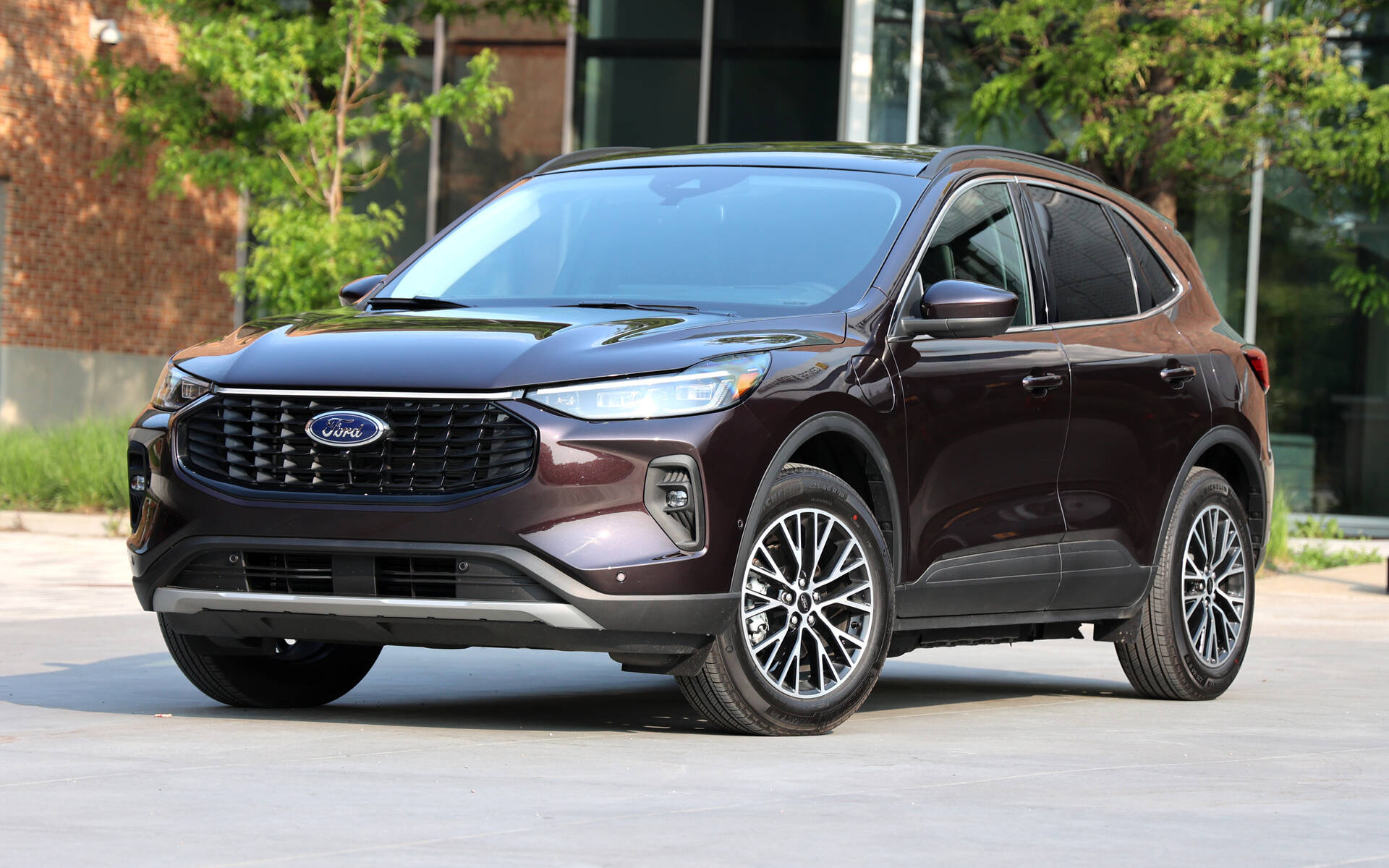 Strong points

Pleasant handling
Efficient powertrain
Comfortable interior

Weak points

Only one trim level
High price and financing rates
No AWD option
Full report
The fourth-generation Ford Escape launched in 2020 with more modern and more car-like styling that didn't quite sit well with typical Escape customers.
With no more Fiesta, Focus and Fusion in the Blue Oval's lineup, sales of the talented compact SUV should have gone up, but alas that's not what happened. Reliance on a base triple-cylinder engine as well as significantly increased prices are just two other reasons why Canadians have shunned the Escape and turned to the CR-V, RAV4, Rogue and CX-5 in greater numbers.
Where Does the Hybrid Fit?
The latest Escape marked the return of hybrid technology, starting with a regular hybrid powertrain that delivers a combined 200 horsepower and achieves around 6 L/100 km. It's by far the most appealing option in terms of efficiency, and it has proven to be reliable on top of that.
The plug-in hybrid variant of the Escape was initially delayed by a year due to design flaws involving the high-voltage battery. Following the start of deliveries in Europe (as the Kuga), the first units of the Escape PHEV in Canada hit the road in late summer of 2021. Since then, a bit more than 6,000 have found a home across the country, most of them in Quebec.
The Numbers
Under the hood of the 2023 Ford Escape Plug-in Hybrid is a naturally aspirated 2.5-litre four-cylinder engine mated to an 88kW electric motor. Total system output is 221 horsepower. A continuously variable transmission and 14.4kWh battery are also part of the package, which enables 60 km of pure electric driving. When the battery runs empty, fuel consumption amounts to 5.9 L/100 km on average.
These numbers are the real deal, by the way. EV range drops significantly in cold temperatures, of course, but it remains right on par with that of the Mitsubishi Outlander PHEV (officially 61 km) and Toyota RAV4 Prime (67 km). Through the federal government's iZEV program, customers are entitled to a $5,000 rebate. Provincial incentives also apply.
Where the Escape PHEV is at a disadvantage is the drivetrain. It comes in FWD-only configuration while most competitors offer AWD—something many Canadians view as a must. We understand Ford's reasoning—more weight means less fuel economy—but over 9,000 people from coast to coast have bought a RAV4 Prime so far, largely because it's more powerful and comes standard with AWD.
Superb Efficiency
The non-plug-in Escape Hybrid is a formidable handler—nimble, dynamic and just fun to drive. Comfort impresses, as well, with a quiet cabin adding to the experience. The PHEV variant handles differently, and you can put most of the blame on the larger and heavier battery. In fact, if you look under the vehicle, you'll see the battery compartment sitting closer to the ground than the door sills. That's because the Escape wasn't designed as a PHEV from the start and had to be adapted along the way.
But you know what? We still enjoyed our time on the road with this greener model. Sure, it lacks AWD, but the powertrain is so efficient that you can easily top 60 km running on pure battery power—in warm weather conditions, needless to say. The digital instrument cluster beautifully shows real-time energy consumption and EV operation so you know exactly what's going on and how to improve your eco-driving habits.
During a 235-km road trip on the highway, with an empty battery to start and no real opportunities to use regenerative braking at any point, our tester managed 6 L/100 km. The Escape PHEV may be less potent than competitors, but its lighter weight results in seriously zippy acceleration. On the flip side, steering is a little vague and the turning circle is disappointingly large. 
How Much?
Speaking of disappointments, model selection has been simplified for 2023. While there are more gas-powered Escapes to choose from (Active, ST-Line, ST-Line Select, Platinum, ST-Line Elite), only one PHEV model remains and you'll find it at the top of the line as the most expensive Escape there is. No more SE or SEL trim, just a fully loaded, Platinum-like offering.
In addition to a few cosmetic revisions up front, this model stands out with a luxurious interior—even more so if you select the Premium Package ($4,930) that includes quilted leather seats, a Bang & Olufsen audio system, 360-degree camera, Active Park Assist 2.0 and so much more, like the aforementioned 12.3-inch digital instrument cluster. We can't say enough good things about that last one.
The 2023 Ford Escape Plug-in Hybrid starts at $48,944 (all fees included except tax), compared to $43,394 a year ago. That's a hike of $5,550 that essentially offsets the federal incentive. What's more, instead of financing rates of 2.99-4.99 percent like those applied to gas-only Escapes, you're looking at 7.49-7.99 percent with the PHEV. In other words, your monthly payments would be the same as if you'd purchased a top-line Mitsubishi Outlander PHEV GT Premium.
Our Verdict
The Escape Plug-in Hybrid makes a compelling case with its versatile interior, pleasant handling and efficient powertrain, but the price is simply too high. It feels as though Ford doesn't really care about it anymore and would rather sell you an EcoBoost-powered Bronco Sport, or perhaps an upcoming hybrid variant of the latter. It won't be a PHEV, mind you.
Watch: 2022 Ford Escape Plug-in Hybrid SEL Review
Share on Facebook