Next-Gen 2024 Subaru Crosstrek Lands in North America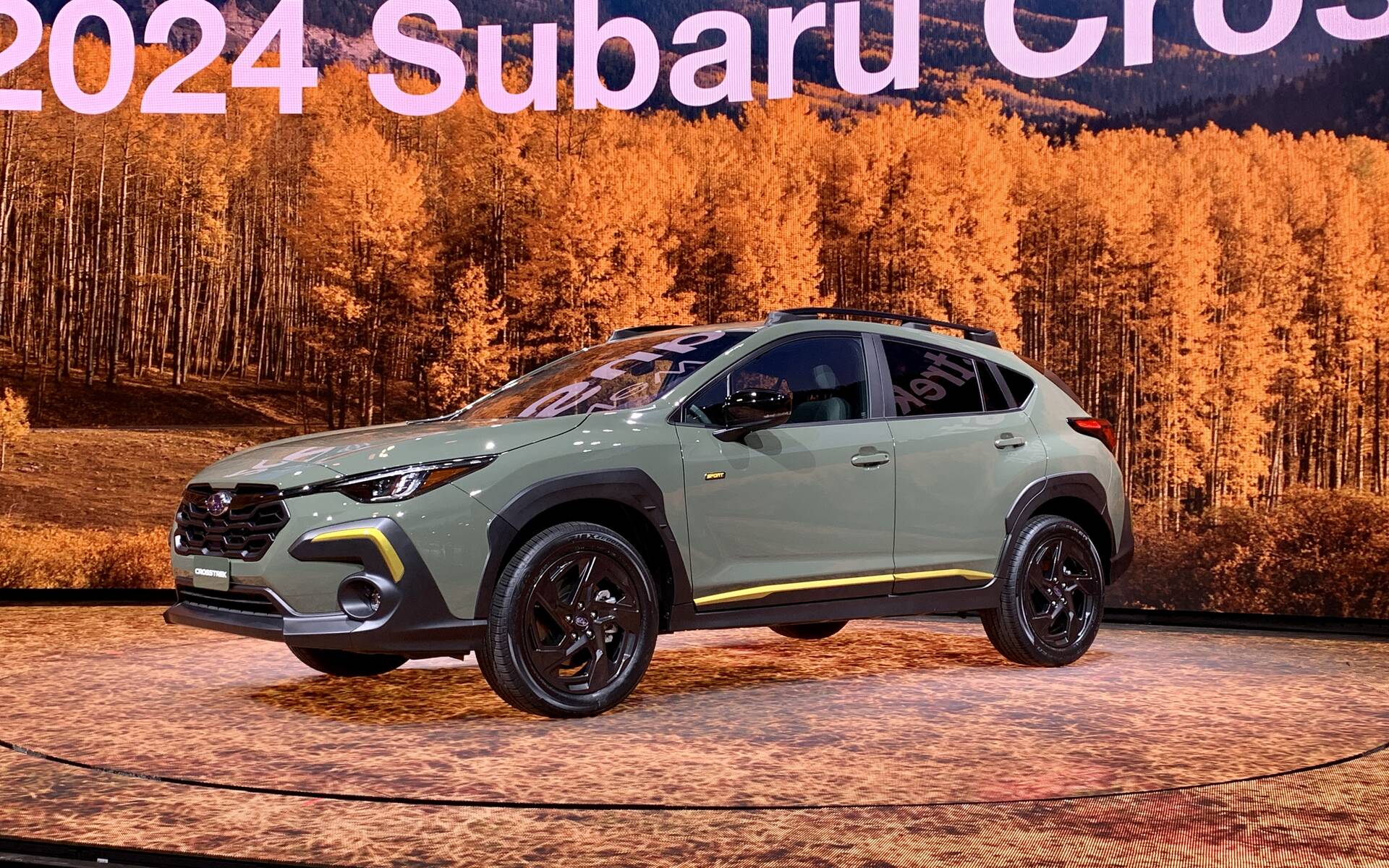 Following its world premiere in Japan last September, the third-generation Subaru Crosstrek made its North American debut today at the Chicago Auto Show.
The 2024 Crosstrek will go on sale in late spring with a base MSRP of $28,995, an increase of $4,000 from 2023. We'll tell you why below. Outdoor and Sport models have been replaced by the new Onyx at $33,995. The top-line Limited will start at $36,995.
Tougher Look
The new Crosstrek is essentially the same size and shape as its predecessor. Width and height are unchanged, and the 5 mm removed from the overall length are added to the wheelbase. That being said, the chassis is stiffer (10 percent increase in torsional rigidity) and all the body panels have been redesigned, Subaru assures.
Ditto for the front grille, which is larger and more aggressively styled. The headlights and taillights now look more like those on recent products from the brand. The plastic cladding on the bumpers, wheel arches and lower body is more pronounced, too, while new 17- and 18-inch wheel designs are available. Overall, these details give the Crosstrek a more rugged and adventurous appearance.
Quieter Interior With New Displays
The interior similarly evolves in subtle ways, except for the centre interface. Base models feature dual 7-inch displays—one for infotainment and a lower one for HVAC controls. Higher-end models receive a new 11.6-inch touchscreen (as found in the Legacy, Outback and WRX). There are fewer physical buttons as a result. The instrument panel sticks to analogue gauges with a small digital display in the middle.  
Subaru worked hard to improve noise insulation and make the 2024 Crosstrek quieter. The climate control system has been updated to focus on occupied seats (vs. entire cabin) for improved comfort and fuel economy. A more supportive front seat design increases overall comfort and minimizes fatigue. Elsewhere, the cargo area lower trim and side sill plates are textured with a mountain motif, which not only adds a cool touch but also provides slip and scratch prevention.
Same Engines, Extra Safety
When it comes to engine selection, the 2.0- and 2.5-litre options return, which is no real surprise. Output is still rated at 152 hp and 182 hp, respectively. The only change is the elimination of the manual transmission, hence the higher base MSRP. All models now rely on the CVT. As for the Crosstrek PHEV, it won't be back for 2024.
Standard across the model line is a revised Symmetrical All-Wheel Drive system with a faster response time, more agile handling and better control both on- and off-road. The 2024 Crosstrek also receives a version of the WRX's dual-pinion electronic power steering rack, providing a more direct and natural steering feel and greater responsiveness. 
Good news for safety-minded drivers: Subaru's next-generation EyeSight system is included, complete with a wide-angle monocular camera and revised software to identify bicycles and pedestrians at intersections sooner. An additional feature called Automatic Emergency Steering works in conjunction with the Pre-Collision Braking System to help avoid a collision at speeds less than 80 km/h. 
If you like small SUVs, remember that the Chevrolet Trailblazer and Kia Seltos both get a mid-cycle update for 2024, while the hugely popular Hyundai Kona arrives with a new generation just like the Crosstrek.
Watch: 2022 Subaru Crosstrek Outdoor Review
Share on Facebook