Watch: Mercedes-
AMG ONE

is Now the Fastest on the Nürburgring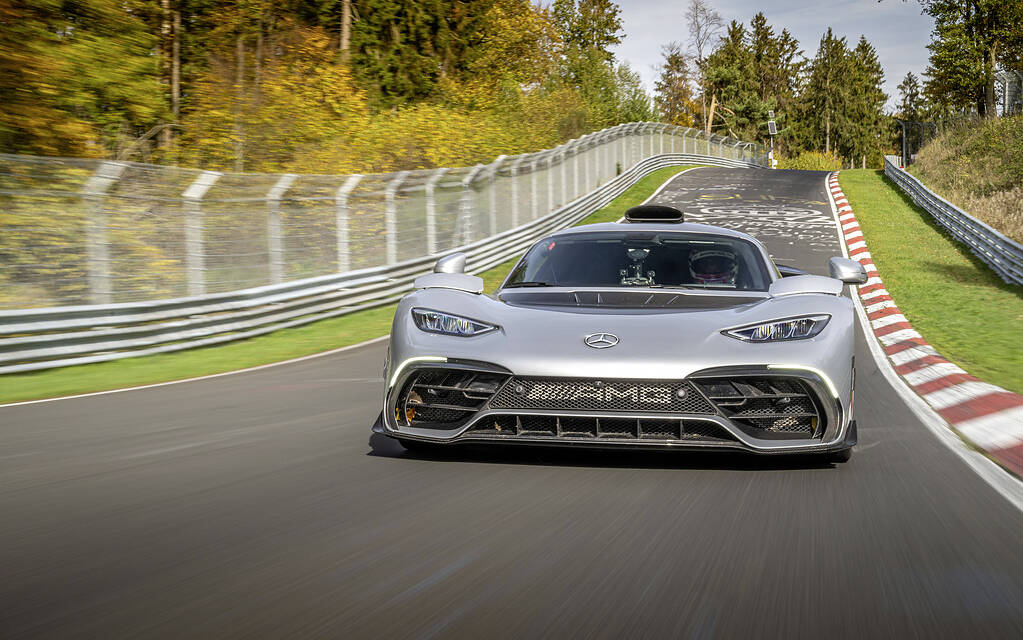 The Mercedes-AMG ONE hypercar is the new king of the ring—as in the Nürburgring-Nordschleife. With a lap time of 6:35.183 minutes, it's faster than any other road-legal production car on the planet.
The previous mark of 6:43.047 minutes—nearly eight full seconds slower—was set two years ago by a Mercedes-AMG GT Black Series.
The record-breaking event took place on October 28 but was only announced this week. Amazingly, the track was still damp and slightly dirty in some areas. DTM driver and AMG ambassador Maro Engel also had to deploy the electrical energy of the hybrid drive in the best possible way, which is no small task on such a long track as the "Green Hell" (20.83 km).
Here's how it went down:
Officials from TÜV Rheinland inspected and documented the car to ensure that it was in series production and not tweaked for track use. The record was achieved in "Race Plus" driving mode, which means active, maximum possible aerodynamics, tight chassis tuning, vehicle lowering by 37 mm at the front axle and 30 mm at the rear axle, and full power from all motors, of course.
The Mercedes-AMG ONE, just to refresh your memory, combines a turbocharged 1.6-litre V6 engine with four electric motors for a total of 1,049 horsepower and an electronically limited top speed of 352 km/h. Unlike a Formula 1 car, it has two seats and uses an AMG Performance 4MATIC+ all-wheel drive system with fully variable torque vectoring.
Now, what will be the next car to set a record at the Nürburgring? We'll let you know when that happens.
Watch: Mercedes-AMG ONE Debuts in Concept Form
Share on Facebook