Crashed Lucid Air Listed for Sale With Original Price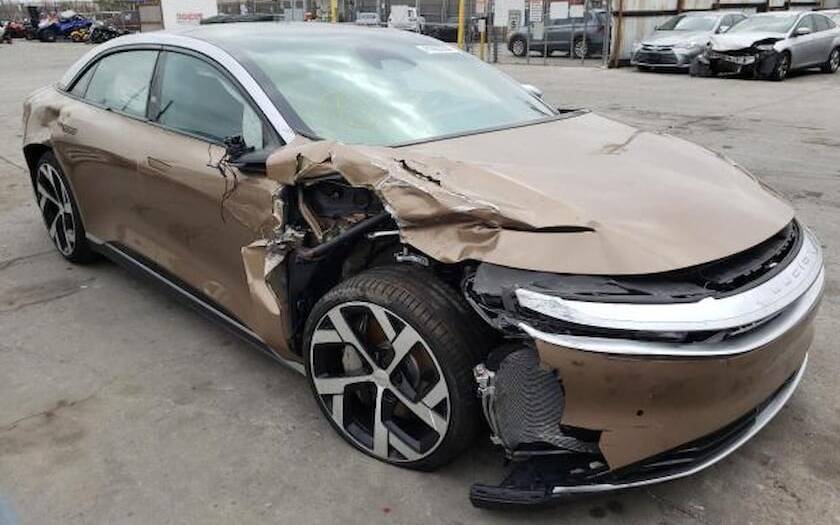 Deliveries of the Lucid Air electric luxury sedan began just a few months ago, but one unit in Los Angeles already finds itself in pretty bad shape. It's currently listed for sale by Copart and the estimated retail value reflects how insane the car market is these days.
For the record, it's one of only 520 Dream Edition models the company has built, offering a range of 520 miles (837 km).
As you can see on the pictures, there's substantial damage on this Lucid Air, starting with the front right fender that's completely torn apart.
The hood (and the frunk underneath), front bumper and right headlamp assembly took a major hit, too. On the side, the mirror is gone, while the rear door and fender are badly bruised and displaced. What's more, many of the car's airbags were deployed in the incident.
We don't know what kind of crash the car was involved in, or how much damage the chassis and electrical components have suffered. One thing's for sure, a full repair and restoration looks like a ton of work—and a massive bill.
The listing doesn't specify the mileage, either, but the retail value is estimated at $169,000 USD—same as the original MSRP.
Who in their right mind would pay that much money for such a severely damaged electric sedan? Probably the same type of buyer who would be interested in one of the early copies of the Dream Edition that wound up on eBay at more than $200,000 USD. The Lucid Air is rare and highly coveted, especially in its most exclusive, top-line trim.
Incidentally, the company has warned future customers that it will raise prices on June 1. We don't have the details for Canada yet, but the increases range from $10,000-$15,000 USD. The new, 1,050-horsepower GT Performance model won't be affected, however.
Share on Facebook