2023 Kia Sportage: Inspired Movement in the Right Direction
Strong points

More interior space
Updated exterior look
Lots of hi-tech bits and bobs

Weak points

You'll want to spring for the X-Line Unlimited
Rear wiper just doesn't clean enough of the rear window
Full report
There's something about returning to one's roots, but also exploring a region you've never been to before that's both comforting and exciting. The same can be said for a company like Kia who has taken one of their longest-running nameplates and not only solidly skyrocketed it into the future when it comes to design but also with technology and powertrain by sticking with what they know, while also exploring new advancements.
The Kia Sportage has been, and continues to be, one of Kia's most popular nameplates. Now in its 5th generation, when it first appeared in 2000 it was definitely not one of the better-looking or performing vehicles on the road. However, over the years and generations, Kia has vastly improved not only the exterior design of the Sportage, but the engine performance and interior comfort and technology as well.
The Sportage has evolved into a vehicle that can easily rival compact SUVs in the luxury segment.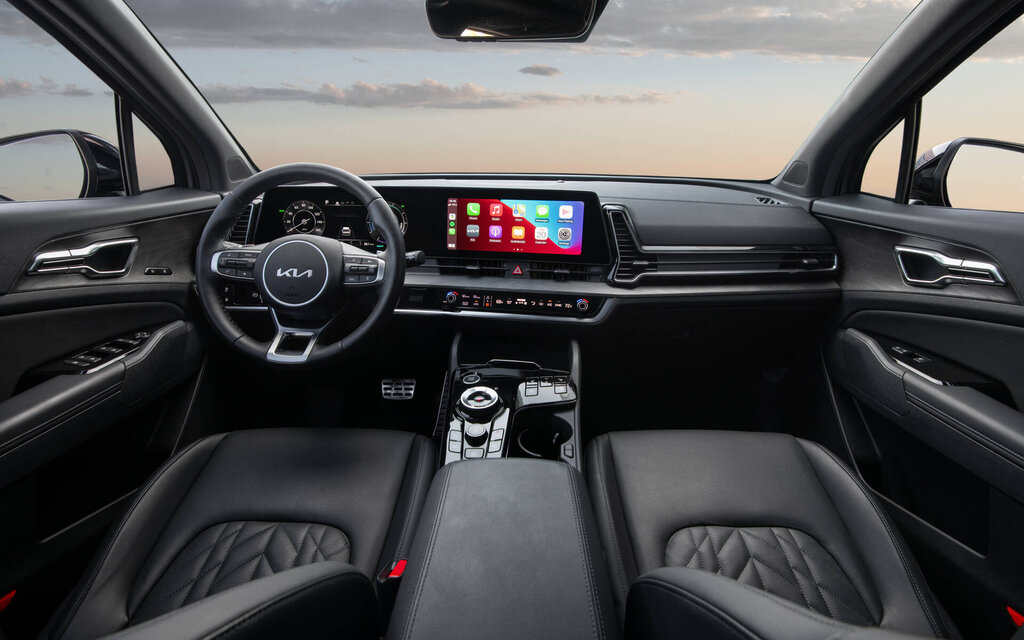 Let's Talk About That Dash
So, before we even get started on the all-new exterior design, let's talk about the incredibly stunning and surprisingly functional full-dash gauge cluster and infotainment screens. In the upper trim levels (X-Line and above) the 2023 Kia Sportage comes equipped with two 12.3" screens side-by-side that house the gauge cluster and infotainment/navigation that together makes an uber impressive talking point the moment you get into the car.
What might be most impressive about it is the special coating Kia added to the screen to prevent glare. So, it is essentially an exposed tablet that doesn't require a cover or sun shield in any way - and we can confirm that even in direct sunlight the screens always remained visible. This is highly impressive, as there are plenty of vehicles out there that still can't seem to get it right.
Below the massive screen is an interactive touchscreen bar that toggles between the HVAC controls and media/navigation. At first, we found it a bit counterintuitive and difficult to fiddle with while driving. However, the learning curve was far from steep and we quickly got accustomed to the setup.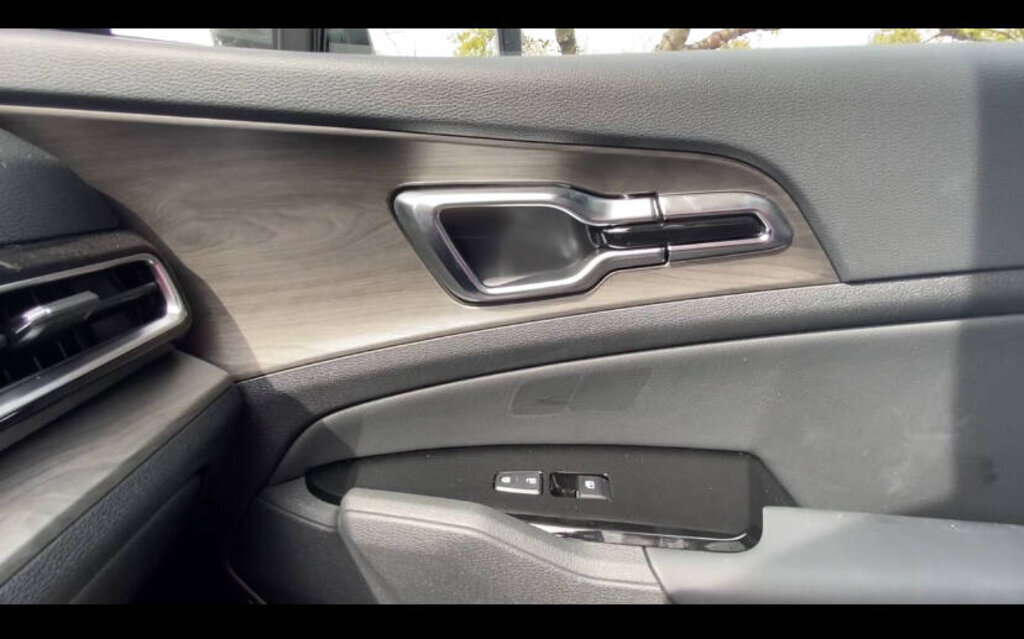 Best Door Handles in the Industry?
They just might be. And this might seem like a trivial point, but we have yet to find a door handle we liked as much as the Kia Sportages. Easy to grip, cool design, comfortable and in just the right spot, it seemed like an odd thing to appreciate but it's one of those things: You never know you need it or want it until you experience the right one for the first time.
Of course, the faux-wood inserts helped accentuate the handles and compliment the overall interior design in the Sportage.
Speaking of handles - Kia interior designers added lots of extras in the rear seats to make life that much easier in the compact SUV. From "hangers" on the back of the front seat headrests (for sports jackets or larger coats - and a feature we haven't yet seen outside of luxury brands like BMW or Audi) to bag hooks for groceries or even small purses on the back of each front seat, as well - this vehicle is all about practicality and it shows.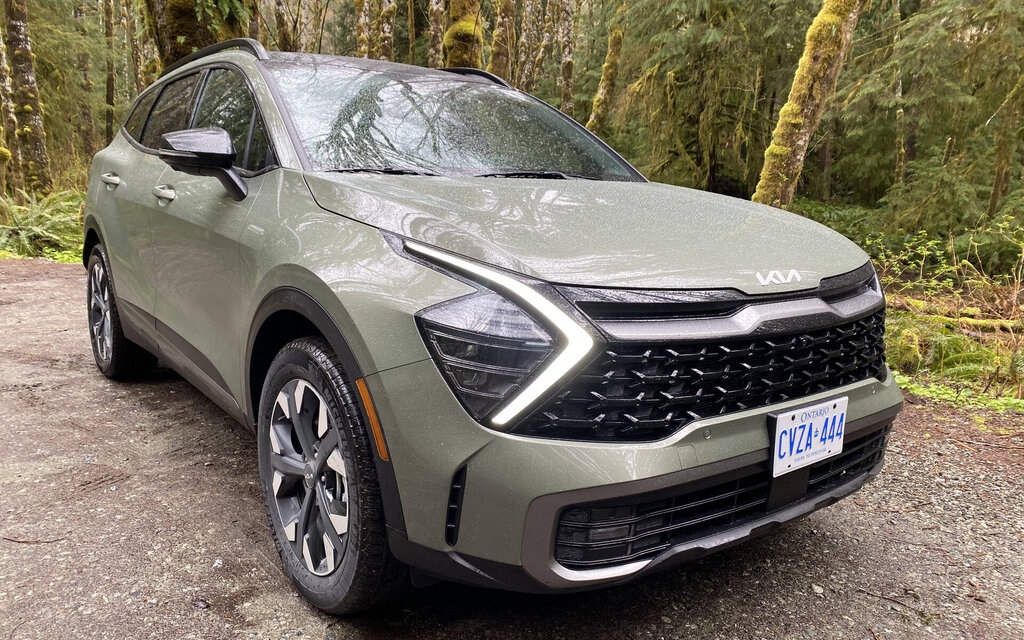 Tiger Grille - Rawr
We gotta hand it to Kia, they outdid themselves this time with the Sportage exterior makeover. The previous generation was not our most favourite, but this time they've taken it to a modern level that's just right without being over the top.
While it borrows slightly from its big brother the Telluride with the centre grille, the most prominent change is, of course, the introduction of the all-new Tiger Grille. The angular design elements house the LED daytime running lights and make for a stunning front end. And around the rear, it's pretty standard fare for compact SUVs these days, but that's not necessarily a bad thing and the new backend is stylish without being "too much." Plus the shape of the Sportage doesn't hinder the visibility out the rear window at all.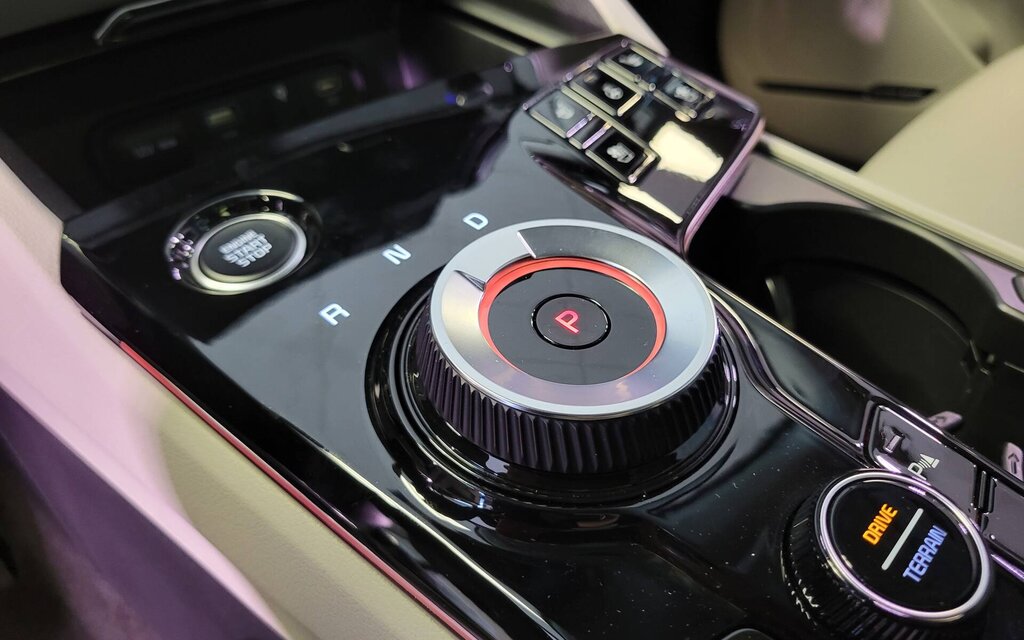 A Powertrain for Every Need
New for this model year, Kia is offering the Sportage with not only an internal combustion engine but also an available hybrid and PHEV version.
For our drive, we were able to enjoy the 2.5L GDI coupled with an 8-speed automatic transmission. This 4-cylinder mill produces 187 horsepower and 178 lb-ft of torque. It felt adequately powered and well-planted on the road - even on the twistier forest roads in and around Victoria, BC. The Sportage handled elevation changes as well as rapid deceleration and acceleration with limited body roll or pitch. Even on 19" wheels.
Available later this spring and into the summer, the Sportage hybrid (equipped with a 1.6L turbocharged engine coupled with a 44kWh battery) and Sportage PHEV (same engine but bigger battery) will both offer even more fuel efficiency, as well as more power with each claiming over 200 ponies of power and torque respectively.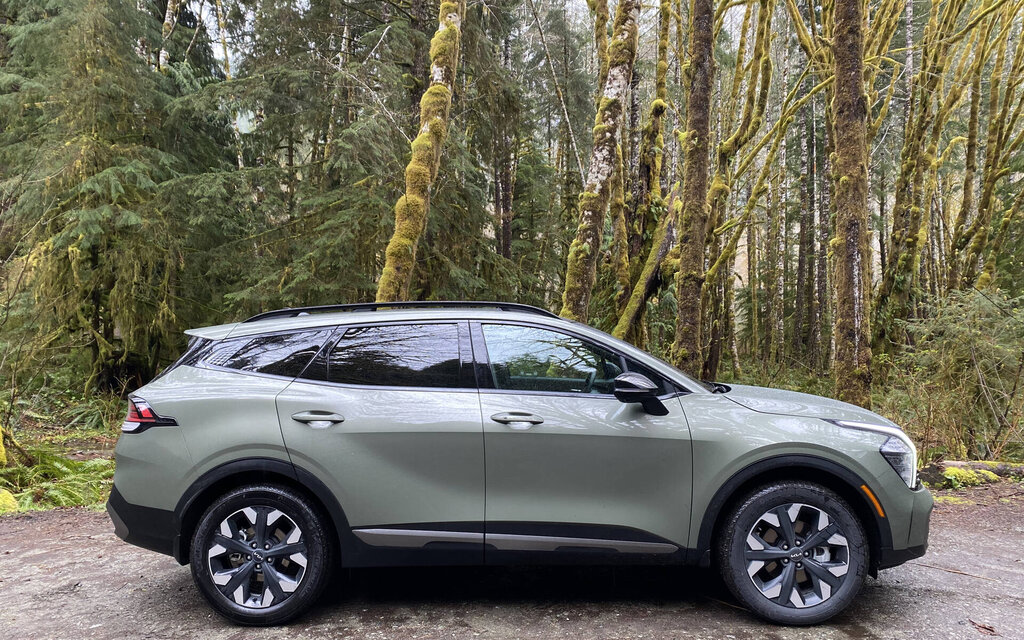 Doing What They Know In a Whole New Way
I grew up in BC. The mountains feel like home and the big ancient trees like old family friends. But, in all my years there I'd never ventured off the mainland and never been to Victoria. I was glad to make the hop and saw a side of BC I'd not experienced before - and while it felt very similar it was just different enough to spark some excitement, some interest in a province I thought I knew so well already.
Kia has taken a model we all know so well - or thought we did - and added some excitement to it. They've taken a vehicle that everyone thinks they know and tweaked it just enough to cause a stir and turn heads in a good way.
Share on Facebook