Mazda MX-5 is a Whole Lot of Fun Even in Winter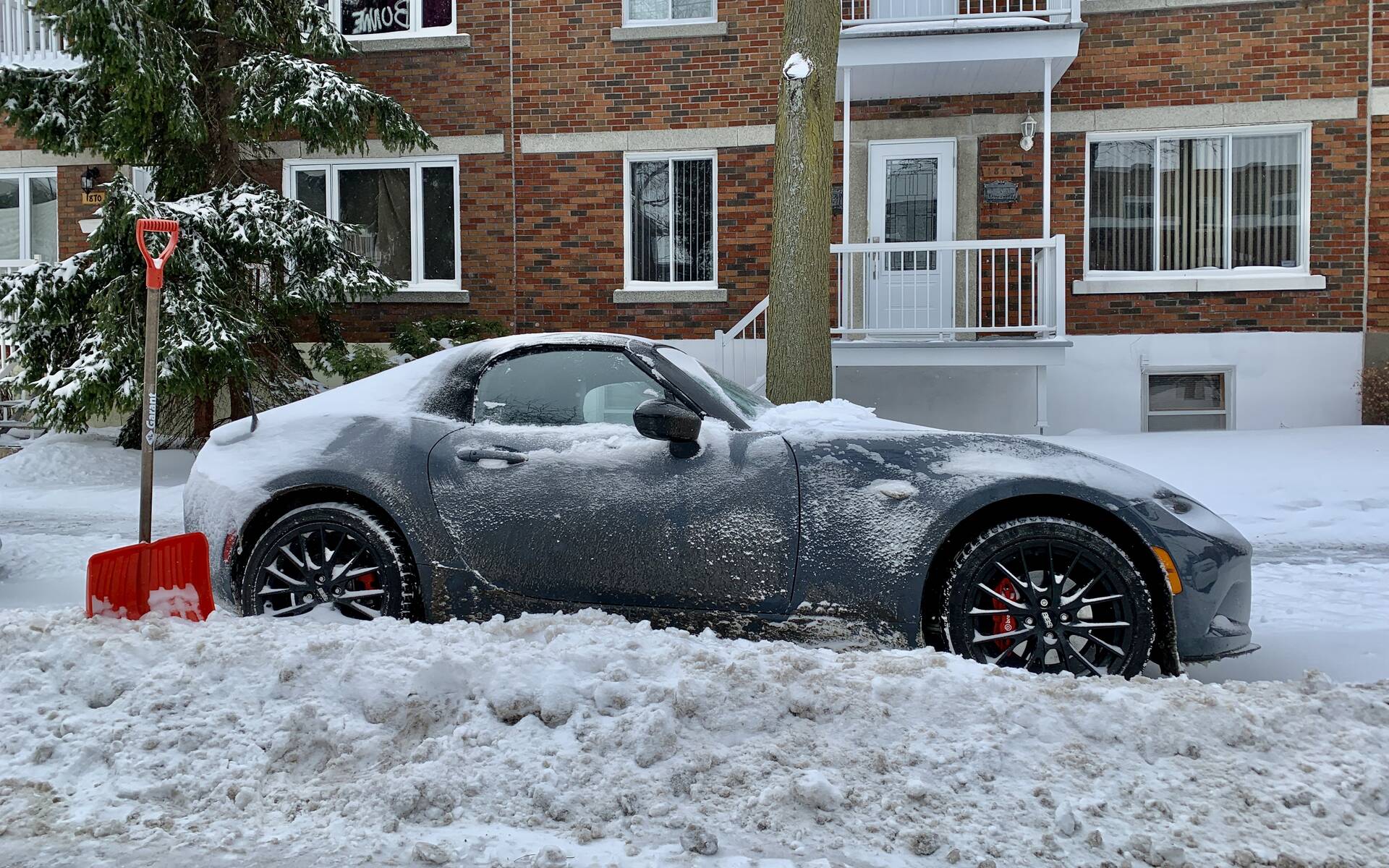 | | |
| --- | --- |
| Strong points | N/A |
| Weak points | N/A |
Full report
The Mazda MX-5 is the kind of summer toy we wish other automakers would try to emulate. Unfortunately, Canadian winters can be rough, and most owners choose to keep their little roadster stored until spring returns.
That's not what we did when we were offered the opportunity to test drive a 2021 Mazda MX-5 for a full week at the beginning of February. Can this car be fun all year long? Read on.
Soft Top or Hardtop?
The MX-5 has always been about the thrill of driving in its purest form—a naturally aspirated four-cylinder engine (now producing 181 horsepower), rear-wheel drive, two seats, few accessories and a manually folding top. With the fourth generation (ND), Mazda added a Retractable Fastback model with a power folding hardtop… and a premium of $7,000.
Naturally, the MX-5 RF is the better option if you plan to take on snow and ice, but for some reason Mazda decided to give us the keys to a soft top-equipped model instead.
Hold On to Your Toque
What did we do? Well, we went all in. On multiple occasions during the week, we dared to drive the MX-5 with the top down even at temperatures as low as -10°C. Honestly, with the heating system cranked to the max and the side windows rolled up, not to mention the highly effective heated seats keeping our butt warm, we felt relatively comfortable.
The only thing missing was a heated steering wheel. Granted, the MX-5 is designed for summer driving, but for owners who wish to make the most of the car, even during winter, a heated steering wheel would be very much appreciated. Oh well, you can always use gloves.    
Thank You, Neighbour!
As a RWD sports car, the Mazda MX-5 is fantastic in dry conditions. However, it's a different story when you have to deal with snow. The fairly short wheelbase and lightweight rear end can send you sideways in no time. You have to be smart with the clutch, throttle and brake pedal.
It's a good thing traction control can be (partially) deactivated. Don't hesitate to push the DSC Off button to get out of a snow-covered driveway or parking lot, but remember that there's not much ground clearance at your disposal. If you overestimate the MX-5's abilities, you risk ending up stuck sooner or later.
It happened to us once during the week. The car wouldn't move on its own any more, so we had to use a shovel and ask a passing neighbour for some help. Luckily, the MX-5 tips the scales at just over 1,000 kilograms, so we managed to free it from the snow with just a slight push.
Great Tires and Brakes
Our tester came with a set of excellent Bridgestone Blizzak winter tires, which made a huge difference in terms of handling. If you want to use your own MX-5 in winter like we did, we strongly recommend getting similarly capable tires to put yourself in the best possible position on the road.
In addition, we had the Sport Package which includes Recaro seats, BBS wheels, Brembo brakes and Bilstein shocks—must-have features for superior driving performance. The Brembos also provide extra confidence in winter. On the other hand, the Bilstein shocks make the ride extremely stiff, especially at this time of the year. A large and unavoidable pothole took its toll on the car, so much so that a crack began to form in the windshield. We're not kidding.
As for fuel consumption, which is a pretty hot topic these days as gasoline prices keep reaching new highs, the MX-5 is not like your typical, inefficient sports car. After more than 750 kilometres of winter driving, we recorded an average of 8.2 L/100 km. The only caveat? Premium gas (91 octane) is required.
Our Verdict
The Mazda MX-5 is immensely fun to drive in the summer, but it can be a joy in any other season, too. While not ideal for every single day of the year, it can realistically be used about 300 days—unless you live way up north, of course.
Share on Facebook