2022 Volkswagen Atlas: American SUV With German Roots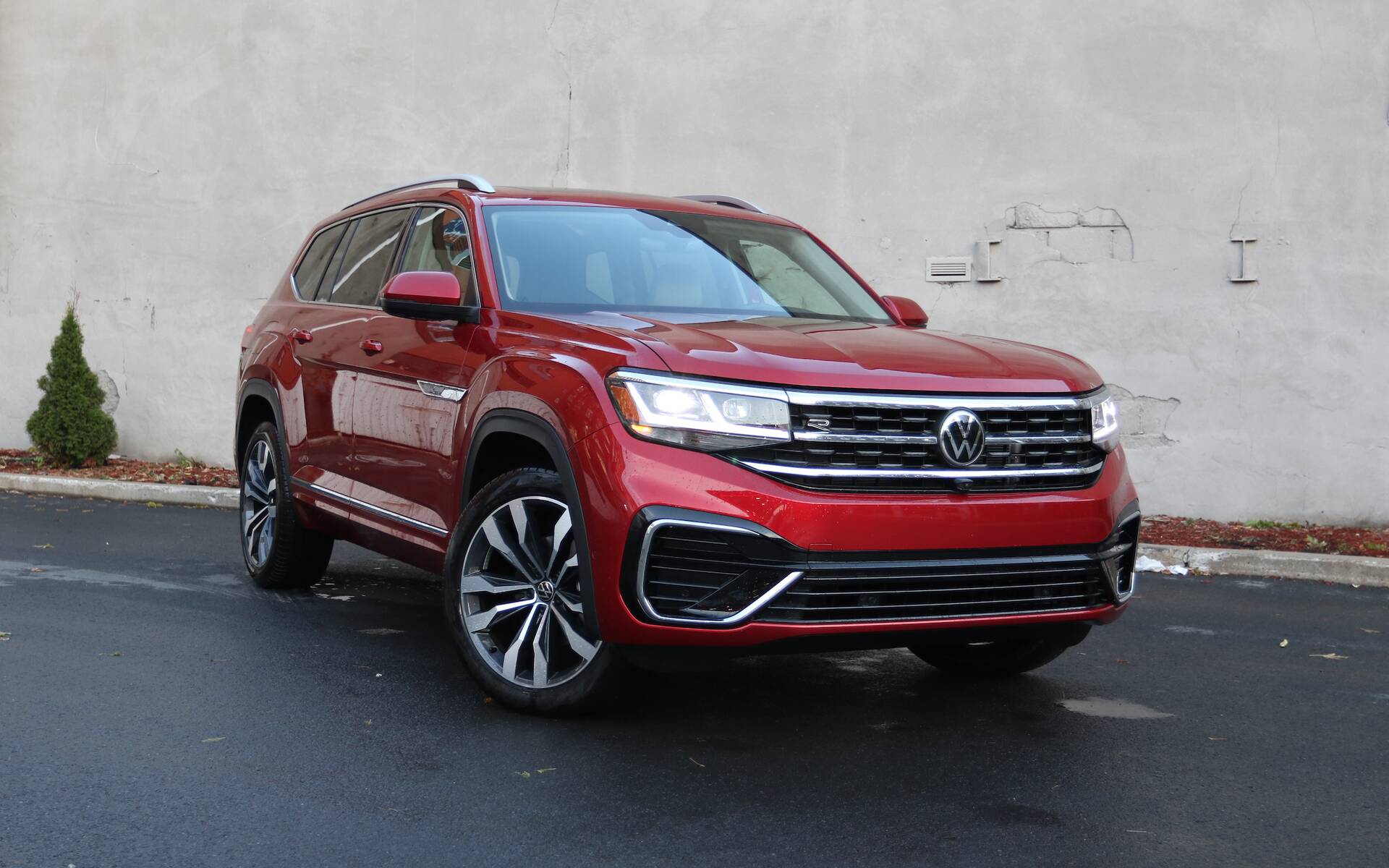 Strong points

Spacious and welcoming interior
Nicely calibrated steering
Good ride and handling

Weak points

V6 lacks some gusto
Below-average fuel economy
Cheap fit and finish for the price
Full report
Unlike the Touareg that was sold on both sides of the Atlantic, the Volkswagen Atlas is designed and built in North America for North American drivers. This change reflects the automaker's new strategy. Instead of a 100-percent German-bred SUV, the Atlas is a vehicle that is specifically tailored to meet the wants and needs of families in Canada and the U.S.
Whether you opt for the conventional, three-row variant or the coupe-style, two-row Atlas Cross Sport, there are four different trim levels to choose from. Pricing starts at $41,095 and $39,995, respectively. Both models will cost you about $780 a month with 3.99 percent financing for 60 months, or just over $550 a month if you lease for 48 months at 4.99 percent.
In base Trendline trim, content includes 18-inch alloy wheels, LED headlights, a 6.5-inch centre touchscreen with Apple CarPlay and Android Auto compatibility, 8-inch digital instrument panel and heated front seats. The standard engine is a turbocharged 2.0-litre four-cylinder that sends 235 horsepower and 258 pound-feet of torque to all four wheels via Volkswagen's 4Motion AWD system.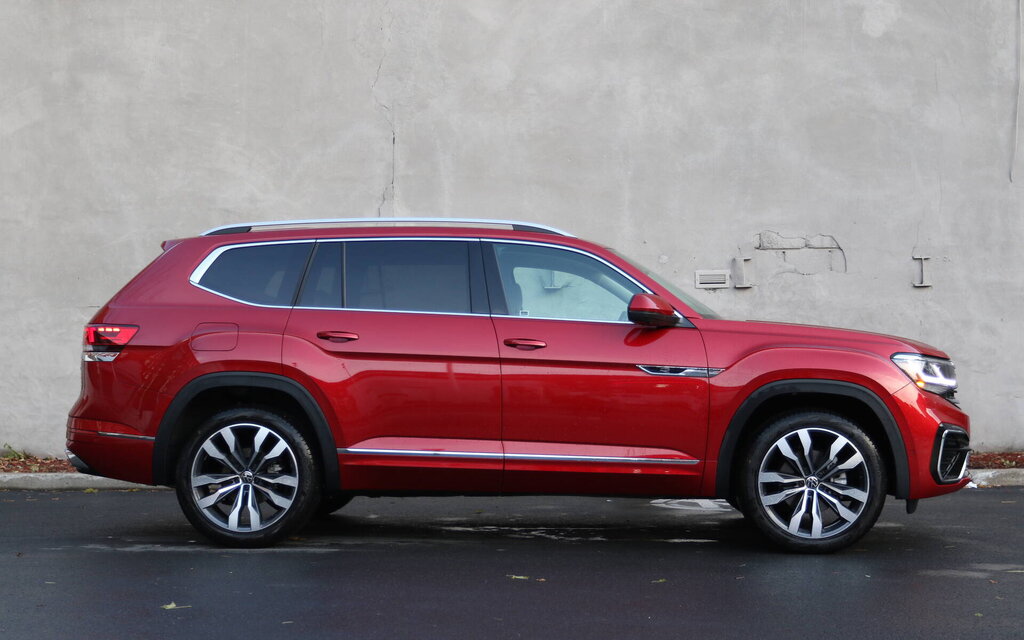 Higher trim levels are available with a 3.6-litre V6 that delivers 276 horsepower and 266 pound-feet of torque. This is the engine to get if you need to tow heavy loads, as maximum capacity increases from 2,000 pounds to 5,000 pounds.
Our top-line Atlas Execline tester featured second-row captain's chairs ($700) and cost $57,895. With 3.99 percent financing for 60 months, you'd be looking at monthly payments of $1,090. A 48-month lease at 4.99 percent (16,000 km a year) would result in payments of $824.
Space Galore and Plastics Eyesore
When you step inside the VW Atlas, the abundant space is the first thing you'll notice. The first and second rows are very generous in terms of legroom and headroom. The aforementioned captain's chairs make the middle section of the cabin even more inviting and comfortable.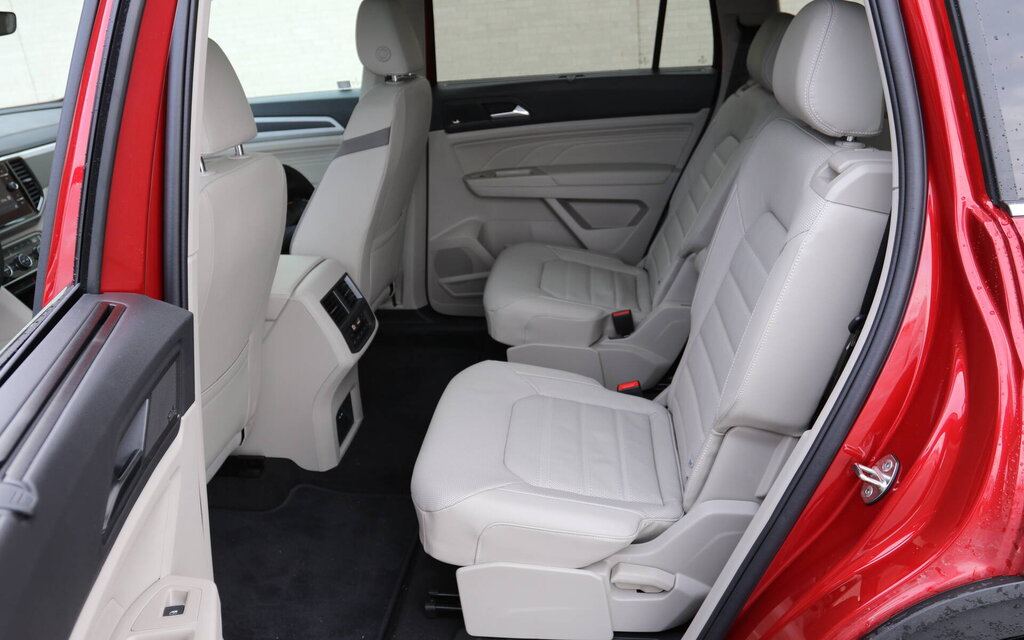 Naturally, there is less room in the rear, but still enough to enjoy the occasional ride. The folding mechanism is well designed and works great to provide easy access to the third row, which is not always the case with the competition. The trunk has a cargo capacity of 583 litres, but if you fold all the seats, that number increases to 2,741 litres. The flat cargo floor is ideal for loading long or large objects.
Material selection is definitely not as impressive. Forget about the trademark Deutsche qualität that many German vehicles are known for. A lot of hard plastics can be found, and finish is average at best. For a vehicle that costs over $55,000, one would expect to see finer materials.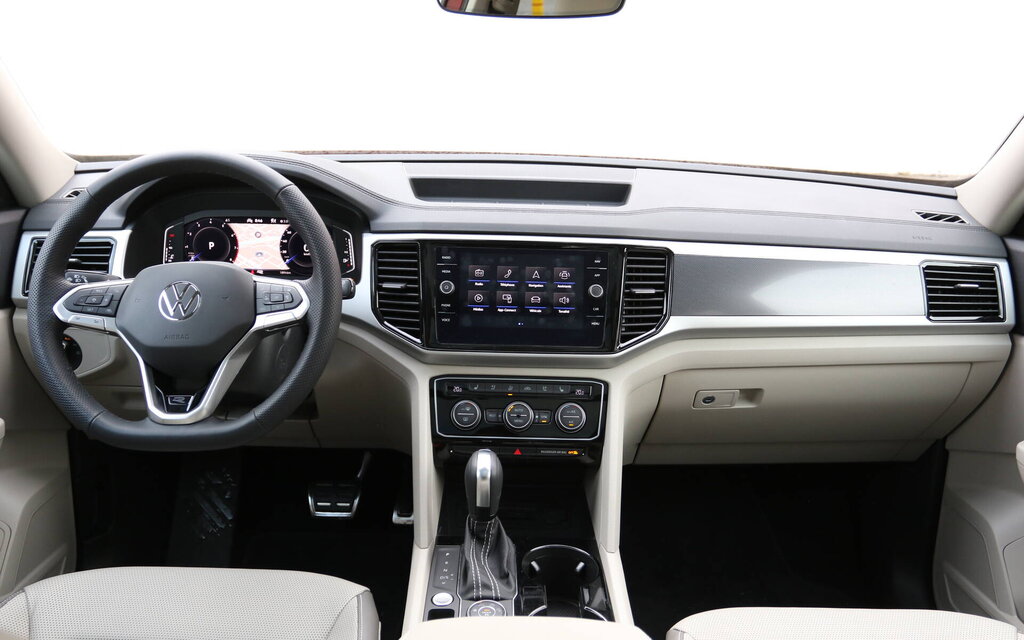 Volkswagen deserves praise for ergonomics and infotainment operation. Good old physical controls remain for the HVAC system, which is another thing that separates the Atlas from many rivals. It may not be as fancy or futuristic, but there's something to be said about the simplicity and ease of use of rotary dials.
Timid Power
Midsize SUVs are typically not a driver's choice. They're more about smooth, comfortable family trips. That being said, the Volkswagen Atlas shines with precise steering and sharper handling than most competitors.
Daily commutes prove pleasant thanks to a suspension that strikes a great balance of ride and agility. Alas, the V6 engine is no more than a decent performer. In fact, you could swear it lacks some of the 276 ponies the company is advertising. During a weekend getaway to the countryside with four adults and a trunk full of luggage, the Atlas seemed to run out of steam when going uphill.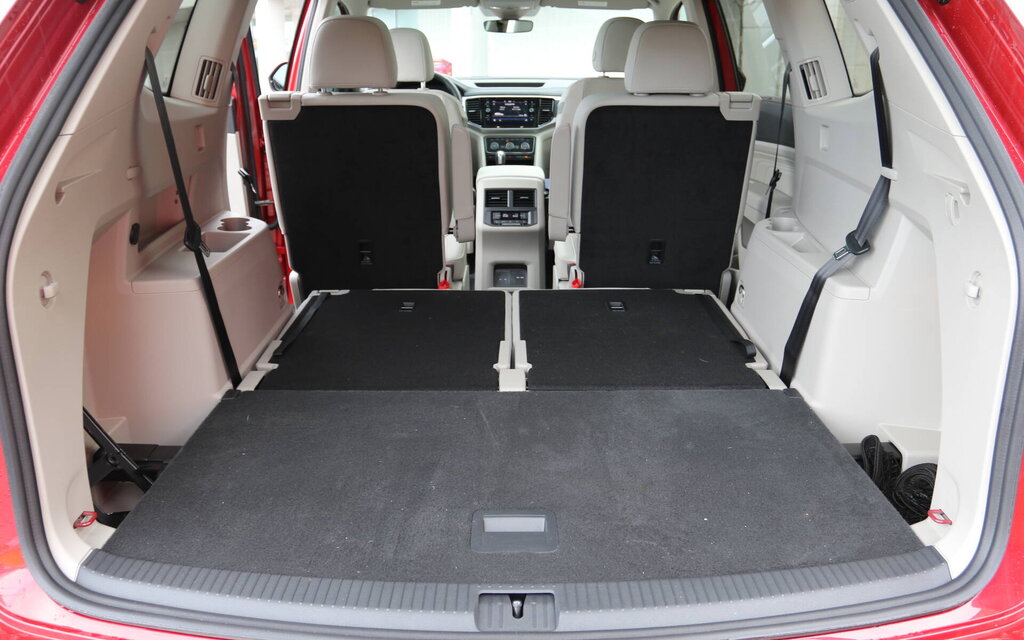 Passing manoeuvres are fairly slow, too. You need to put the pedal to the metal to really get things going. The transmission receives part of the blame as it sometimes takes too much time to downshift. The fact that the V6-powered Atlas weighs over 2,000 kilos doesn't help, either.
What about fuel economy? Again, it's less than impressive. Our tester netted an average of 12.1 L/100 km despite traveling mostly on highways and fast roads. Around town, it achieved around 14-15 L/100 km.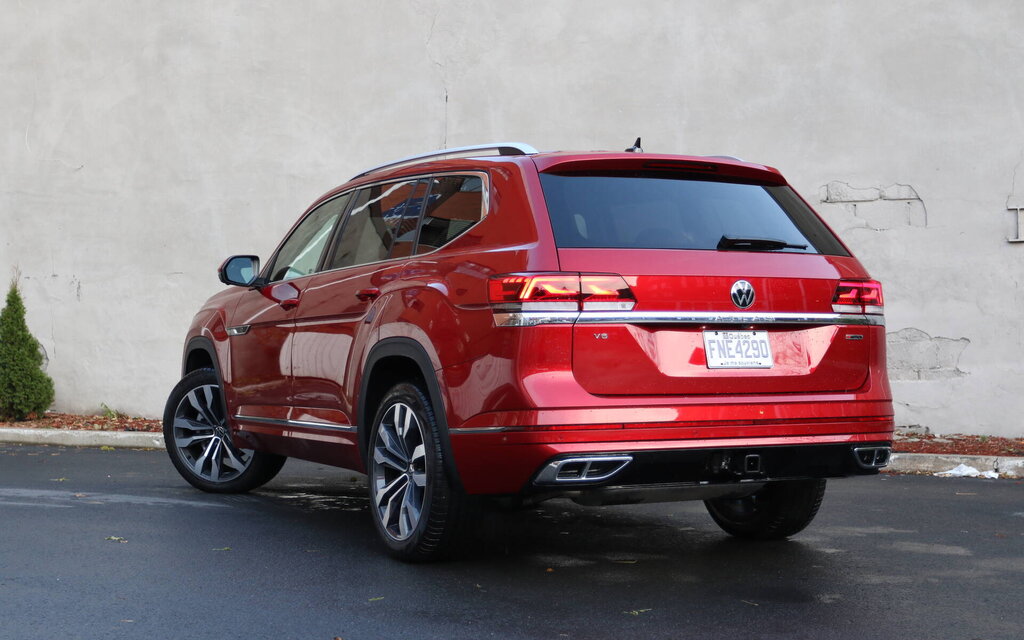 Where Does the Atlas Rank?
Overall, the 2022 Volkswagen Atlas is not close to being a leader in the segment. Even older models like the Honda Pilot continue to represent a better offering. Korea's Hyundai Palisade and Kia Telluride rank higher, as well. The Atlas is still a good SUV for Canadian families who can live with the various issues and shortcomings we talked about.
Share on Facebook